Israel — Latest News since April 10th 2018
Click here for prior news from July 28, 2017
Click here to look at earlier maps (and events) over 4000 years of history for Israel — Deep inside the plucky country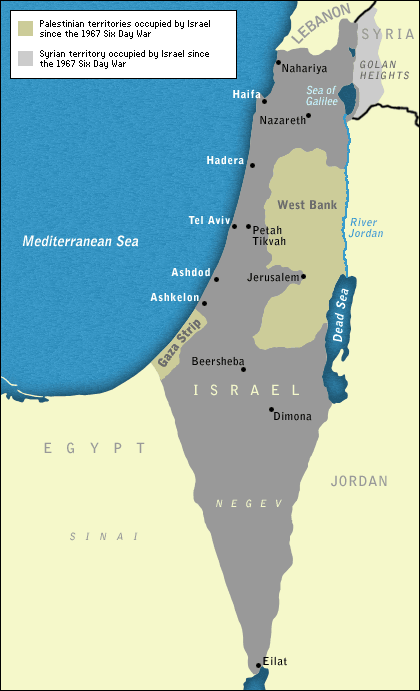 Click image for a larger map
Distances:
Tel Aviv to Jerusalem 63 kms
Tel Aviv to Haifa 95 kms
Source: Atlas of the Arab-Israeli Conflict, 7th edition — Sir Martin Gilbert;
Publisher: Routledge (Taylor & Francis), 2002;
ISBN: 0415281172 (paperback),
0415281164 (hardback); Map: NPR Online

Like diplomatic missions of nearly every other country, the US Embassy has been in Tel Aviv, a result of the ambiguous legal status surrounding Jerusalem for more than a century. British forces captured the city from the Ottoman Turks during World War I and maintained control under a League of Nations mandate for 30 years. In November 1947, a United Nations plan terminated the British mandate for implementation at midnight May 14 1948, and partitioned Palestine into a Jewish state and an Arab state with Jerusalem to become an international zone. While accepted by the Jews, the proposed plan never was implemented as civil war erupted. The British organized their withdrawal and intervened only on an occasional basis. When a cease-fire ended the fighting in 1949, Israeli forces held Jerusalem's western precincts while Jordan occupied the city's eastern districts, including the old city with its holy sites such as the Church of the Holy Sepulchre, the al Aqsa Mosque and the Western Wall.
Click here for more details and to see a map of the UN's original proposal. The State of Israel increased their area by almost 60% of the area that had been allocated to the proposed Arab state. This included the Jaffa, Lydda and Ramle area, Galilee, some parts of the Negev, a wide strip along the Tel-Aviv to Jerusalem road, and some territories in the West Bank, placing them under military rule. With Jordan occupying the West Bank and the Egyptian military occupying Gaza, no state was created for the Palestinian Arabs.
Israel and Jordan soon annexed the portions of Jerusalem they held, with Israel in 1950 declaring the city as its capital, but this accordingly went unrecognized by other nations. In the 1967 Six-Day War, Israel captured East Jerusalem, along with the West Bank. Israel later annexed East Jerusalem and reunified the city, again an act that has gone unrecognized by the international community while Palestinian claims remain unresolved.
Extract: Six days and 40 years since Israel asserted itself
Abraham Rabinovich
June 05, 2007
FORTY years after the Six Day War, the consequences of Israel's extraordinary victory are yet to be sorted out. Israel was a tiny Middle Eastern backwater in 1967, with a population of 2.6 million surrounded by a hostile Arab world of 80 million. This disparity seemed to defy the natural order of things and it was a virtual consensus in the Arab world that the Jewish state would fall, sooner rather than later. In Israel itself, the enthusiasm and energy that marked the founding of the state out of the ashes of the Holocaust had been dimmed by the petty problems of getting by in a country with a massive defence burden and a lame economy.
It was the Soviet Union, for reasons never adequately clarified, that lit the fuse that would transform the region. In mid-May 1967, it declared that Israel was massing troops in the north in preparation for an attack on Syria. Israeli prime minister Levi Eshkol offered to personally tour the north with the Soviet ambassador to show it wasn't true. The ambassador declined.
There had been small-scale skirmishing between Israel and Syria over the headwaters of the Jordan and Israeli leaders had issued warnings, but there was no massing of troops. Egyptian president Gamal Abdel Nasser, the leading figure in the Arab world, felt impelled to come to Syria's aid by moving his divisions through the Sinai desert towards Israel. With a hostile army deploying on its border, Israel mobilised its reserves.
Nothing happened for more than two weeks. But mobilisation had paralysed the Israeli economy and Jerusalem had to either stand down or strike. On the morning of June 5, Israeli planes, flying low to avoid radar, suddenly rose into the Egyptian skies. Within three hours, the Egyptian air force was destroyed. Soon after, the Jordanian, Syrian and part of the Iraqi air forces were gone, too.
On the third day of the war, the West Bank and Jordanian Jerusalem fell. Syria's Golan Heights followed. The Arab world was stunned, Israel euphoric. The war catapulted Israel into a new era. Brimful of self-confidence and renewed energy, it attracted Jewish immigrants from the West and more than a million from the Soviet Union. Since 1967, Israel's population has tripled to 7.1 million (of whom 1.4 million are Israeli Arabs), its gross national product has grown by 630 per cent and per capita income has almost tripled to $21,000.
A major result of the Six Day War was to persuade the Arab world that Israel was too strong to be defeated. Internalising that view, Nasser's successor, Anwar Sadat, became in 1970 the first Arab leader to declare readiness to make peace with Israel if it withdrew from all territory it had captured in the Six Day War. Israel insisted, however, on territorial changes.
It took the 1973 Yom Kippur War to persuade Israel to withdraw from all Egyptian territory and for Egypt to agree to peace without insisting on Israel's withdrawal on other fronts as well.
The Oslo accords in 1993, marking the beginning of a dialogue between Israel and the Palestinians, also enabled Jordan to make peace with Israel without being accused of betraying the Palestinian cause.
In 2000, Syria announced its readiness for peace. Though negotiations with Damascus broke down, virtually the entire Arab world now accepted the legitimacy, or at least the existence, of the Jewish state in its midst.
But increasing radicalisation has brought to the Palestinian leadership a movement dedicated to Israel's destruction. If there is an answer for Israel, it lies, as in 1967, in bold and imaginative leadership — but this time on the political playing field.
Click here for the whole article.

West Bank Fence
Extract: Article by Amos Harel, Haaretz.com
July 14, 2009
Seven years after construction work began on the West Bank separation fence, the project seems to have run aground. Work has slowed significantly since September 2007. With fierce opposition coming from the United States, Israel has halted work on the "fingers" — enclaves east of the Green Line that were to have included large settlement blocs such as Ariel, Kedumim, Karnei Shomron and Ma'aleh Adumim, within the fence. The military has, in practice, closed up the holes that were to have led to these "fingers." But giant gaps remain in the southern part of the fence, particularly in the southern outskirts of Jerusalem, in the Etzion bloc and in the Judean Desert.
Since the cabinet under former prime minister Ariel Sharon first approved construction of the fence, in June 2002, the route has undergone some dramatic changes. The original route, which was inspired by Sharon, was to have effectively annexed about 20 percent of the territory of the West Bank to Israel.
In February 2005, the cabinet amended the route to include just nine percent of the West Bank. In April 2006 an additional one percent was shaved off by the government of Ehud Olmert.
In practice, however, the route encompasses only 4.5 percent of West Bank land. The four "fingers" in the last map (and which Israel presented at Annapolis in November 2007) were never built, not at Ariel and Kedumim (where a "fingernail" was built, a short stretch of fence east of the homes of Ariel) — not at Karnei Shomron and Immanuel — not at Beit Arieh, nor south of that, at Ma'aleh Adumim. Instead, with little publicity, fences were put up to close the gaps closer to the Green Line, at Alfei Menashe instead of at Kedumim, at Elkana instead of Ariel and in the Rantis area instead of at Beit Arieh.
About 50,000 people in these settlements remain beyond the fence. West of Ma'aleh Adumim the wall built along Highway 1 blocks the gap in the barrier and leaves the city's 35,000 residents outside of the barrier, forcing them to pass through a Border Police checkpoint in order to reach Jerusalem.
Large gaps remain in the southern West Bank. Between Gilo in south Jerusalem and Gush Etzion are tens of kilometres of barrier, work on which was suspended due to High Court petitions. As a result access to Jerusalem from the direction of Bethlehem (now a part of the Palestinian Territories) is relatively easy — for commuters and terrorists both.
Click here for some news in Sep 2014.
A second, 30-kilometre gap in the fence, stretches from Metzudat Yehuda (Yatir) in the west to the Dead Sea in the east. The state announced during a recent High Court deliberation of a petition submitted by area Bedouin that work on the barrier there was suspended.
Defence Minister Ehud Barak is "determined to complete the security fence, despite the delays," his office said in a statement. "The minister and the military establishment are working to solve the problems delaying its completion."
Defence Ministry officials pointed out that Barak was "among the first supporters of the fence and did much to advance its construction."
Security officials claim the rate of construction depends on finding a solution to the legal issues and point out proudly that there is an unbroken barrier from Tirat Zvi in the Beit She'an Valley (in Northern Israel, just west of the Jordan River) to the southern entrance to Jerusalem, and from southern Gush Etzion (south west of Jerusalem) to Metzudat Yehuda (south east of Hebron).
Ma'ale Adumim and East Jerusalem
Click here for an article on East Jerusalem published by the Australia/Israel & Jewish Affairs Council (AIJAC) in mid 2011.
Unilateral Thinking in April 2006
Finally, after years in the planning, construction of an Israeli police station is under way in the now infamous E1 area, 12 square kilometers, a patch of empty West Bank land that stretches from the eastern municipal boundary of Jerusalem to the settlement-city of Ma'ale Adumim, which sits across the Jerusalem-Dead Sea highway some five kilometers (three miles) to the east.
Infamous, because every prime minister of Israel for the past decade has wanted to develop E1 in order to fill in the space between Ma'ale Adumim and Jerusalem, with the intention of securing Israel's hold over the settlement and its smaller satellite communities, which together constitute the Ma'ale Adumim settlement bloc. And every US administration up until now has nixed Israeli development here, on the grounds that it would seriously hamper Palestinian territorial contiguity between the north and south of the West Bank, as well as access from the West Bank to Jerusalem, thereby undermining the viability of a Palestinian state with East Jerusalem as its capital, the only realistic formula on the table for Israeli- Palestinian peace.
Click here for the full article
Updated photo December 1, 2012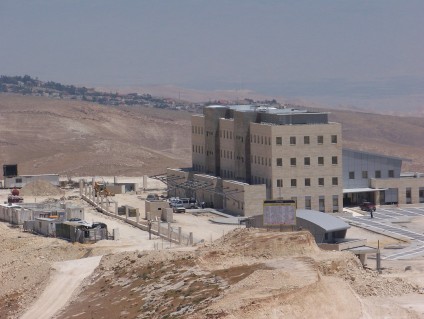 Gaza Strip
Israeli Gaza Strip Barrier
Wikipedia
The Israel and Egypt — Gaza Strip barrier is a separation barrier first constructed by Israel in 1994 between the Gaza Strip and Israel. An addition to the barrier was finished in 2005 to separate the Gaza Strip and Egypt. The fence runs along the entire land border of the Gaza Strip. It is made up of wire fencing with posts, sensors and buffer zones on lands bordering Israel, and concrete and steel walls on lands bordering Egypt.
Background: The Gaza Strip borders Egypt on the south-west and Israel on the south, east and north. It is about 41 kilometres long, and between 6 and 12 kilometres wide, with a population of about 1.5 million people. The shape of the territory was defined by the 1949 Armistice Agreement following the creation of Israel in 1948 and the subsequent war between the Israeli and Arab armies. Under the armistice agreement, Egypt administered the Strip for 19 years, to 1967, when it was occupied by Israel in the 1967 Arab-Israeli War.
In 1993, Israel and the Palestinian Liberation Organisation signed the Oslo Accords establishing the Palestinian Authority with limited administrative control of the Palestinian territories. Pursuant to the Accords, Israel has continued to maintain control of the Gaza Strip's airspace, land borders and territorial waters. Israel started construction of the first 60 kilometres long barrier between the Gaza Strip and Israel in 1994, after the signing of the Oslo Accords. In the 1994 Interim Agreement on the West Bank and the Gaza Strip, it was agreed that "the security fence erected by Israel around the Gaza Strip shall remain in place and that the line demarcated by the fence, as shown on the map, shall be authoritative only for the purpose of the Agreement" (ie. the barrier does not constitute the border). The barrier was completed in 1996.
The barrier was largely torn down by Palestinians at the beginning of the Al-Aqsa Intifada in September 2000. The barrier was rebuilt between December 2000 and June 2001. A one-kilometre buffer zone was added, in addition to new high technology observation posts. Soldiers were also given new rules of engagement, which, according to Ha'aretz, allow soldiers to fire at anyone seen crawling there at night. Palestinians attempting to cross the barrier into Israel by stealth have been shot and killed.

Israel blamed for striking Syria army air base after allied warning
The Australian
AFP
Tuesday, Apr 10, 2018
Damascus: Russia and Syria last night accused Israel of conducting missile strikes on the Syrian military airport at Tiyas after the US, France, Britain and Germany warned of a strong response to "horrific chemical weapons attacks" on a rebel-held enclave near Damascus. Moscow said two Israeli F-15 fighter bombers and missiles fired remotely from Lebanese territory had struck the central T-4 air base early Monday. Syria State News Agency SANA first said the missile strike on the T-4 base was a "suspected US attack", but later withdrew all reference to the US. A military spokeswoman for Israel, which has bombed Syrian regimen positions including those linked to chemical weapons, declined to comment.
Syrian state news agency SANA said "several missiles" had hit the T-4 airport, later adding that there were "dead and wounded". The Syrian Observatory for Human Rights said "at least 14 fighters" were killed, including Iranian forces allied to the Assad regimen. Washington and France denied responsibility for the strike, which came just hours ahead of an urgent UN meeting to be held early today over the use of toxic gas on Saturday on the town of Douma in Eastern Ghouta that killed at least 60.
Excerpt same day from a separate report: Residents said the gas was dropped on homes at 7pm on Saturday 7th April. The toxic clouds, twice as heavy as air, sank through the buildings, killing many trapped in makeshift basement shelters, where they had fled to escape conventional air strikes by Syrian government forces. "More than half of the dead are children. People died in their houses and in their basements as they tried to hide," Mohamed Hassan, a local reporter who helped with the rescue efforts said. "In one house I saw a mother and three babies, all were dead. The mother was on top of them trying to protect them. They all had foam on their mouths. They seemed to have struggled a lot before they died," he added. Photographs and videos taken inside the houses in Douma yesterday revealed piles of bodies, many of them babies, all with the telltale white foam around their mouths. Footage from hospitals showed doctors hosing down children who struggled to breathe.
Hours after the Saturday attack, Syrian media and Douma negotiators confirmed that rebels had agreed to relinquish the town.
A preliminary deal last week had seen hundreds of civilians and rebels from Jaish al-Islam quit Douma. After days of talks and a respite from bombing, talks collapsed and strikes resumed on Friday, killing nearly 100 people. On Sunday, Moscow said all military operations around Douma had halted and that 100 buses had arrived in town to help start ferrying out 8,000 fighters and 40,000 of their family members.
US President Donald Trump and his French counterpart, Emmanuel Macron, spoke by phone and vowed a "strong, joint response" to the chemical attack. The White House, along with the leaders of Britain and Germany, said the regimen of Bashar al-Assad "must be held accountable for its continued human rights abuses". Mr Trump had earlier issued a blistering warning to the Syrian regimen and its allies Russia and Iran via Twitter.
Damascus and its allies denounced the accusations, with the Syrian regimen brushing them off as an "unconvincing broken record". Russia's Foreign Ministry called the accusations a provocation. "A military intervention under far-fetched and fabricated pretexts in Syria, where there are Russian soldiers at the request of the legitimate Syrian government, is absolutely unacceptable and could have the most dire consequences," it said.
Foreign Minister Sergey Lavrov said Russian military had visited the site of the suspected poison gas attack and had not found any evidence to back up earlier reports. Military officials quoted a doctor and an ambulance driver in Douma hospital who both said they had not received anyone with symptoms of chemical poisoning. Kremlin spokesman Dmitry Peskov suggested the attack could have been staged by rebels to pin the blame on Damascus.
Syria medical relief group the Union of Medical Care Organisations, a coalition of international aid agencies that funds hospitals in Syria, said: "The numbers keep rising as relief workers struggle to gain access to the subterranean areas where gas has entered and hundreds of families had sought refuge."
Regime forces, backed by Russia, have pounded Eastern Ghouta in a seven-week assault to dislodge rebel fighters, killing more than 1700 civilians and prompting tens of thousands to flee.
The chemical attack on Douma prompted international anger, with UN chief Antonio Guterres saying any confirmed use of chemical weapons would be "abhorrent". The EU said "the evidence pointed towards yet another chemical attack by the regimen", while Turkey stated it had a "strong suspicion" Assad was to blame. Iran came to Assad's defence, saying the allegations were a Western conspiracy and echoing Russia's warning against foreign military action.

Extract: US Presses Allies to Back a Military Strike on Syria
Wall Street Journal
Dion Nissenbaum and Michael R Gordon in Washington and Stacy Meichtry in Paris
with Farnaz Fassihi, Jason Douglas and Matthew Dalton contributing to this article
Wednesday, Apr 11, 2018
The Trump administration worked Tuesday to rally international support for a possible military strike against Syrian President Bashar al-Assad for an alleged chemical-weapons attack, drawing initial backing from France, the UK and Saudi Arabia, who vowed a forceful response. As President Donald Trump and top administration officials conferred with international counterparts, the US and France positioned guided-missile destroyers within firing range of Syria.
Mr Trump, at the urging of his national security team, canceled plans to travel Friday to Latin America for a regional summit so that he can oversee the US response. Defense Secretary Jim Mattis also rearranged his travel schedule, putting off a planned trip to the West Coast. Mr Trump has vowed to punish Russia and Iran if the US concludes they helped with the strike that killed more than 40 people, including women and children. But there was no indication that the US would target Russian and Iranian forces in Syria. Instead, the US and its allies are looking at ways to cripple Mr Assad's ability to carry out more chemical attacks.
French President Emmanuel Macron said strikes could target the Syrian regime's chemical-weapons storage facilities. Mr Macron said he expected the small group of leaders crafting a response to take action "in the coming days."
Joining Mr Macron on Tuesday for talks in Paris was Saudi Arabia's day-to-day ruler, Crown Prince Mohammed bin Salman, who pledged his country's support for the evolving US plans. Prince Mohammed suggested the kingdom could participate in any military action taken against the regime, though it remains unclear what role his country would play. "If our alliance with our partners requires it, we will be present," he said at a joint news conference with Mr Macron.
Prime Minister Theresa May, who spoke with Mr Trump on Tuesday, wouldn't say explicitly that Britain would join in any military response. "We believe that those responsible should be held to account," she said.
The prospects for a US-led strike increased on Tuesday after Russia vetoed a US-crafted resolution before the United Nations Security Council that called for creation of a new group to investigate chemical attacks in Syria and determine who carried them out. Nikki Haley, US ambassador to the United Nations, said the vote marked a decisive moment in the Council's history to hold perpetrators of chemical attacks accountable and the council had failed due to Russia's repeated vetoes.
Russia accused the US of using the debate as a pretext for military strikes. And Russia's United Nations ambassador, Vassily Nebenzia, warned Tuesday of the "confrontational potential" of what he termed an "illegal military venture."
Trump Warns Russia US Missiles 'Will Be Coming' to Syria
Wall Street Journal
Louise Radnofsky in Washington, Sune Engel Rasmussen in Beirut and Thomas Grove in Moscow
Thursday, Apr 12, 2018
On Twitter Wednesday morning, President Donald Trump said that US missiles "will be coming" to Syria, and warned he was willing to challenge Russia directly in launching a military strike against Syrian President Bashar al-Assad over an alleged chemical-weapons attack.
Donald J. Trump @realDonaldTrump
Russia vows to shoot down any and all missiles fired at Syria. Get ready Russia, because they will be coming, nice and new and "smart!" You shouldn't be partners with a Gas Killing Animal who kills his people and enjoys it!
8:57PM - Apr 11, 2018 (6:57AM Washington DC)

The US and France have positioned warships armed with cruise missiles within firing range of Syria, and the US has been working to rally international support for a strike.
The president appeared to be responding to reported comments by the Russian ambassador to Lebanon, Alexander Zasypkin, who told a television channel run by Hezbollah early Wednesday that Russia would shoot down any missiles targeting Syria, "and even the sources from which the missiles were fired."
A spokeswoman for Russia's Foreign Ministry said in response to Mr Trump's tweet that Washington should direct its rockets at terrorists in Syria, not the lawful government fighting them. Maria Zakharova also suggested that a US strike could be directed at targets inside Syria to cover up a lack of evidence of the suspected chemical attack "so that international experts have nothing to search for as evidence."
The exchanges came in a day of fast-paced developments visible to the public while strategists hashed out plans and held consultations behind closed doors. In a phone call Wednesday, Russian President Vladimir Putin called on Israeli Prime Minister Benjamin Netanyahu not to take steps that would increase instability in Syria, a statement from the Kremlin said. Mr Netanyahu reiterated that he wouldn't allow Iran to establish a military presence in Syria, according to a statement from his office.
A Russian lawmaker said Moscow was in direct contact with top US military officials. "Governmental military, diplomatic and political bodies are already working around the clock for the third day in a row," said Vladimir Shamanov, head of the committee for defense at the state Duma, or lower house of parliament, on state television. He added that Russia "is in direct dialogue with the leadership of the US Joint Chiefs of Staff."
Russia's navy, meanwhile, began an exercise with rocket launches off the coast of Syria Wednesday, an aviation body said, posing new complications to US plans for a strike. The Cyprus Aeronautical Information Services said Russian Armed Forces had announced the training in the east Mediterranean, which was also reported by Russian media, where Cypriot planes regularly fly until April 26. The Defense Ministry didn't respond to questions for comment.
Russia currently has approximately 15 ships in the waters off Syria armed with anti-aircraft and cruise missiles meant to protect Syria's coasts as well as a Russian naval station near the city of Tartous. Syria on Wednesday said it had moved many of its aircraft to safer locations, on Russian-operated bases. Russia has broadly supported Damascus's description of the array of groups fighting Mr Assad as terrorists.
Mr Trump has vowed to punish Russia and Iran if the US concludes they helped with the weekend strike that killed more than 40 people, including women and children. But there was no indication that the US would target Russian and Iranian forces in Syria.
In a subsequent tweet Wednesday, Mr Trump said
Donald J. Trump @realDonaldTrump
Our relationship with Russia is worse now than it has ever been, and that includes the Cold War. There is no reason for this. Russia needs us to help with their economy, something that would be very easy to do, and we need all nations to work together. Stop the arms race?
9:37 PM - Apr 11, 2018 (7:37AM Washington DC)

Medical professionals and human-rights groups say that Syrian military helicopters dropped weapons containing poison gas that caused symptoms consistent with exposure to chlorine and a nerve agent. Dozens of people, including families hiding in their basements, died and hundreds were injured. The Syrian government has denied involvement, but faced with growing international pressure, offered with Russia to allow a fact-finding team into the country to investigate the attack. The US said it had little confidence in the offer, saying that those countries initially blocked access to the site of the alleged attack and that some of the evidence might have been destroyed.

Extract: Hundreds of Palestinians Injured, One Killed, in Clashes With Israel's Military
Wall Street Journal
Rory Jones in Tel Aviv and Abu Bakr Bashir in Gaza City
Saturday, Apr 14, 2018
Palestinians clashed with Israel's military on Friday, throwing Molotov cocktails and planting explosive devices at the fence dividing the Gaza Strip and Israel, as thousands gathered again despite the past two demonstrations turning deadly. One person was killed and some 700 Gazans were treated for injuries, including 163 from live fire, Palestinian authorities said.
The Israeli army, which responded with gunfire and riot-dispersal means, said about 10,000 Palestinians protested Friday, compared with some 20,000 last week, the army said. About 30,000 demonstrated the Friday before. The organizers this week didn't actively encourage Gazans to come out en masse, instead looking to next month when they plan a big march on May 15 for what Palestinians call "Nakba Day", or "Day of the Catastrophe", marking the day after the anniversary of Israel's founding.
The Israeli army said militants on Thursday left a device on the border fence that exploded on a military vehicle, prompting it to mount airstrikes on Hamas targets. One Hamas operative died in the strikes, Hamas-affiliated media reported.
Gaza's economy is in dire condition and Palestinian Authority President Mahmoud Abbas, who governs in the West Bank, has put financial pressure on the strip to encourage Hamas to cede control.
The Israeli military this week said it had launched an investigation into a video in which Israeli soldiers are heard cheering as a Palestinian appears to be shot at a demonstration in the Gaza Strip. The military said the video was filmed at a demonstration that took place in December after the White House announced it would recognize Jerusalem as Israel's capital and move the US Embassy there from Tel Aviv. The video was widely circulated on social media this week and came as the Israeli military already faced international calls for an investigation into whether it used unlawful force in recent weeks in dealing with Palestinians at the Gaza fence.
In total, Palestinian authorities have said at least 30 people, including a journalist with a flak jacket marked "Press", have been killed in demonstrations since March 30 and more than 2,500 injured, with roughly 1,000 from gunfire. Israel faced criticism this week for shooting dead the journalist and later saying the Palestinian was a captain in the Hamas military leadership. The journalist's family denied the accusation and said the US Agency for International Development had recently vetted his media company and offered it a grant only last month.
Later same day
Syria attack: Trump says US, UK and French forces strike
The Australian
Cameron Stewart
11:05AM local time (4:05AM Syria time)
The US and allies Britain and France have launched air attacks, including missiles, on Syria in retaliation for the Assad government's use of chemical weapons, amid a dramatic announcement by Donald Trump. Syria has responded with unspecified anti-aircraft defences (after the bombs landed) and also a statement. The three allied nations are assessing the results of what the Pentagon says is a limited action.
Russian and Syrian Response 12.48PM local time (5.48AM Moscow and Syria time)
Russia warns of unspecified consequences
"Again, we are being threatened," Russia's ambassador to the US, Anatoly Antonov, said in a statement. "We warned that such actions will not be left without consequences. All responsibility for them rests with Washington, London and Paris", Mr Antonov said.
"Insulting the President of Russia is unacceptable and inadmissable" added the envoy, after President Donald Trump directly called out his Russian counterpart Vladimir Putin over his support for the Assad government.
Syria's government said the joint attack is a "flagrant violation" that is "doomed to fail".
Report: US, allies launched more than 100 strikes 1.55PM local time (6:55AM Syria time)
The US says it and its allies waged more than 100 strikes on Syria in a "one time shot" that the Pentagon says followed conclusive evidence that Syrian President Bashar al-Assad was responsible for a chemical weapons attack using at least chlorine gas. US Defense Secretary Jim Mattis and Marine General Joseph Dunford, meanwhile, say three main chemical weapons facilities were targeted by both missiles from the sea and fired from aircraft, which triggered Syrian air defences. The Pentagon could not confirm how many missiles hit their targets. In fact, as learned later, all did.
Mr Mattis and General Dunford acknowledge the strike was designed to degrade Syria's chemical weapons capability without killing civilians or the many foreign fighters in Syria's multi-sided civil war, particularly those from Russia. "We specifically identified these targets to mitigate the risk of Russian forces being involved," General Dunford tells reporters, adding the US military advised Russia of airspace that would be used in the strike but did not "pre-notify them".
Mr Mattis acknowledges the US waged the attacks only with conclusive evidence that chlorine gas was used in the April 7 attack in Syria. Allegations of Mr Assad's chlorine use are frequent in Syria's conflict, raising questions about whether Washington had lowered the threshold for military action in Syria by now deciding to strike.
Last year, the US only waged strikes on Syria after determining that more deadly sarin gas was used. Some US media had reported that Washington was confident Mr Assad had also used sarin on April 7. Mr Mattis, however, suggests the evidence of sarin is so far inconclusive. "We are very confident that chlorine was used. We are not ruling out sarin right now," Mr Mattis says.
The Pentagon says one of the targets was a scientific research centre located in the greater Damascus area, which it says was involved in the development, production and testing of chemical and biological weaponry. The second target was a chemical weapons storage facility west of the city of Homs. "We assess that this was the primary location of Syrian sarin and precursor production equipment," General Dunford says.
The third target, which was also near Homs, contained both a chemical weapons equipment storage facility and a command post.
Iranian Response 5.30PM local time (12 noon Iran time)
Iran's supreme leader Ayatollah Ali Khamenei denounced US President Donald Trump, France's Emmanuel Macron and Britain's Theresa May. "The attack this morning against Syria is a crime," Khamenei said in remarks published on his Telegram channel. "The American president, the French president and the British prime minister are criminals."
Missile strikes 'highly successful' 5.50PM local time (8:50AM UK time)
British air strikes on a Syrian base on Saturday have been "highly successful" according to early indications and the crews of the four British fighter jets involved have returned safely, Defence Secretary Gavin Williamson said.
"Every early indication is that it has been a highly successful mission … Our service personnel have played an important role in terms of degrading the ability of the Syrian regime to use chemical weapons in future," Williamson told BBC
- AFP
Israel hammers Iran in Syria
The Australian
AP, The Times of Israel
Friday, May 11 2018
Jerusalem: Israel, in a pre-dawn raid Thursday morning, attacked "dozens" of Iranian targets in neighbouring Syria in response to an Iranian rocket barrage on Israeli positions in the Golan Heights, in the most serious military confrontation between Israel and Iran to date. Israeli military spokesman Jonathan Conricus said Israel was not looking to escalate the situation. But Lieutenant Colonel Conricus said troops would continue to be on "very high alert". "Should there be another Iranian attack, we will be prepared for it," he said.
Israel is suspected of striking an Iranian outpost near Damascus late on Tuesday, killing 15 people, at least eight of them Iranians. Just after midnight on Thursday morning, Israel said Iran's Al Quds force fired 20 rockets at Israeli frontline positions in the Golan Heights. According to Colonel Conricus, four of the missiles were knocked down by the Iron Dome air defense system and the rest failed to reach Israeli territory.
The Israeli mission in response — the largest air campaign carried out in Syria in over 40 years ever since a disengagement agreement was signed after the October war of 1973 — was ?very successful,? a senior air force officer said. Israel said the targets included weapons storage, logistics sites and intelligence centres used by Iranian forces in Syria. It also said it destroyed several Syrian air defence systems after coming under heavy fire and that none of its warplanes was hit. Since the civil war broke out in Syria in 2011, Israel has largely tried to stay on the sidelines, but has previously acknowledged carrying out more than 100 airstrikes over the past seven years, most aimed at Iranian weapons shipments bound for Hezbollah. With the civil war winding down and Iranian forces looking to establish a foothold on Israel's doorstep, Israel has stepped up its response.
Defence Minister Avigdor Lieberman said Israel would respond fiercely to further Iranian actions. "We will not let Iran turn Syria into a forward base against Israel. This is the policy, a very, very clear policy, and we're acting according to this policy," he said. "We … struck almost all Iranian infrastructure in Syria; they need to remember this arrogance of theirs. If we get rain, they'll get a flood. I hope we ended this chapter and that everyone understood."
Iranian media described the pre-dawn Israeli attack as "unprecedented" since the 1967 Mid-east war. News agency SANA said Israeli missiles hit air defence positions, radar stations and a weapons warehouse in southwestern Damascus. Activists said the onslaught lasted more than five hours. TV said Israel also targeted posts in southern Suweida province, including an air base, and struck near central Homs.
In recent months, Israel has warned that it would not accept a permanent Iranian presence in Syria. Iran has accused Israel of carrying out a series of deadly strikes on Iranian positions in Syria in recent weeks, and had vowed retaliation. Iran has sent thousands of troops to back Syrian dictator Bashar al-Assad, and Israel fears that as the fighting nears an end, Iran and tens of thousands of Shia militiamen will turn their focus on Israel.
Israeli Prime Minister Benjamin Netanyahu met Russian President Vladimir Putin in Moscow on Wednesday to discuss military co-ordination in Syria. Russia has also sent forces to back Assad. Israel and Russia have maintained communications to prevent their air forces from coming into conflict. After 10 hours with Mr Putin, Mr Netanyahu said he conveyed Israel's obligation to defend itself against Iranian aggression.
'Follow Trump to Jerusalem'
The Australian
The Times, AP
Tuesday, May 15, 2018
Benjamin Netanyahu urged world leaders to follow the US example and move their embassies to Jerusalem, claiming that recognising the city as the capital of Israel would be the first step to peace. Hours before the new US embassy opened in Jerusalem late last night, Mr Netanyahu thanked Ivanka Trump and the rest of the US delegation for strengthening the alliance with Washington.
Meanwhile, as thousands of Israelis took to the streets to celebrate Mr Trump's decision, thousands of protesters gathered at the Gaza border. The embassy was opened a day before the 70th anniversary of the Nakba, or "catastrophe", when Palestinians mourn the establishment of the state of Israel, which forced hundreds of thousands to flee their ancestral homes.
The status of Jerusalem is one of the most inflammatory issues in the decades-long Israeli-Palestinian conflict, as the city is claimed by both sides as their capital. Since the creation of Israel in 1948, the UN has defined Jerusalem as an international city due to the religious significance it holds for Jews, Muslims and Christians. Most of Europe has opposed the US embassy move. Only four ambassadors from the EU decided to attend the inauguration overnight — Austria, the Czech Republic, Romania, and Hungary.
The US embassy was opened by a delegation including Ms Trump, her husband, Jared Kushner, and Treasury Secretary Steven Mnuchin. At a ceremony yesterday, Mr Netanyahu said: "I call on all countries to join the US in moving their embassies to Jerusalem. It's the right thing to do … because it advances peace." Mr Mnuchin replied: "The US has no greater partner than Israel — nothing is more important."
Despite the growing violence and fears it will end any attempts at a fresh peace process, Mr Netanyahu's popularity in Israel has soared. In February many believed he was weeks away from being forced out of office, after the police recommended he be indicted on two corruption charges. But last week a poll cited by Army Radio said if elections were held now his Likud party would win 42 seats, a significant rise on the 30 seats it presently holds in the Knesset. A Hadshot TV news survey said Likud would secure at least 35 seats.
Israel has experienced improved relations with the US after a frosty period under Barack Obama. Buildings around the new embassy are covered with posters saying Mr Trump "is a friend of Zion", and the city's mayor said the street opposite the embassy would be named after the US leader. Israeli Construction Minister Yoav Galant said: "We are very lucky that the strongest kid in the classroom is our friend. We don't have a friend outside of the US. This is very important."

Same Day UPDATE:
Deadliest day since 2014 war
The White House has blamed Hamas for violent protests in Gaza on Monday that saw 55 Palestinians killed and thousands injured by Israeli forces, saying the Jewish state has the right to defend itself. "The responsibility for these tragic deaths rests squarely with Hamas," White House spokesman Raj Shah said, refusing to call on Israel to show restraint. The deadliest day in the Israeli-Palestinian conflict since a 2014 war between the Jewish state and Gaza's Islamist rulers Hamas came as US President Donald Trump hailed the opening of the US embassy in Jerusalem as "a great day for Israel".
As 40,000 Palestinians joined the Gaza protests on the border, at least 2,400 were injured and 55 killed as Israeli soldiers and snipers used live ammunition and barrages of tear gas to keep protesters from entering Israeli territory. Mr Shah said: "Hamas is intentionally and cynically provoking this response. Israel has the right to defend itself". Note, in a comment by Hamas on Wednesday, after claiming the march was peaceful, publicly said that of the 62 found to have been killed, 50 were its operatives - Steve
In the wake of the clashes, Turkey and South Africa recalled their ambassadors, with Turkish President Recep Tayyip Erdogan accusing Israel of "state terror" and "genocide", and the South Africa government blaming "violent aggression" by the Israeli armed forces against peaceful protesters. Mr Erdogan also announced three days of national mourning over the deaths, as well as a giant protest in Istanbul on Friday. "Israel is wreaking state terror. Israel is a terror state," Mr Erdogan told Turkish students in London in a speech broadcast by state television. "What Israel has done is a genocide. I condemn this humanitarian drama, the genocide, from whichever side it comes, Israel or America," he added.
Same day extract from The Times of Israel
In a response statement, Netanyahu said that "Erdogan is among Hamas's biggest supporters and there is no doubt that he well understands terrorism and slaughter. I suggest that he not preach morality to us."
Turkey furthermore requested that Israel's ambassador to Ankara, Eitan Na'eh, temporarily leave the country. In response, Israel expelled Turkey's consul to Jerusalem. Consul-General Husnu Gurcan Turkoglu, who represents Turkey to the Palestinian Authority, with Turkey's Consulate-General in Jerusalem having opened back in 1925, was summoned to the Israeli Foreign Ministry and told to leave the country. The move was extraordinary in that Israel rarely interacts with foreign diplomats dealing exclusively with the Palestinians. Head of Protocol Meron Ruben told Turkoglu that he was "requested to return to his country for consultation for a certain period of time," Foreign Ministry spokesperson Emmanuel Nahshon said. Turkey on Tuesday night then ordered Israel's consul general in Istanbul, Yossi Levi Sfari, to leave the country, the Foreign Ministry confirmed.
End of extract
Mr Shah insisted the latest violence would not impact the administration's peace plan for the region. "The peace plan will be brought forward at the appropriate time, it can be evaluated on its merits," he said. "The actions today — both the opening of the embassy in Jerusalem and these tragedies in southern Israel — we don't think it will impact the peace plan."
Lieutenant Colonel Jonathan Conricus, spokesman for the Israeli Defence Forces, cast doubt on the casualty numbers from the Hamas-controlled Health Ministry, saying a large number of the injured had only suffered gas inhalation. He had said ealier the army was expecting protesters to try to breach Israel's border, and it had deployed three additional infantry brigades to the borders of the Gaza Strip and West Bank. About 1000 police were positioned around the US embassy after scuffles on the Temple Mount between Israelis and Muslim security forces.
Same Day
Primrose Riordan, Political reporter Canberra for The Australian
The Prime Minister said the loss of life was "tragic" but Hamas was to blame for pushing people to the border with Israel. "Any loss of life like this is tragic in circumstances like this, but Hamas' conduct is confrontational. They're seeking to provoke the Israeli defence forces," Mr Turnbull told 3AW Radio. "If they're pushing people to the border in that context, in that conflict zone, you're basically pushing people into circumstances where they are very likely to be shot at as Israel seeks to defend itself."
Australia also joined France and Germany in urging restraint but Foreign Minister Julie Bishop said Israel had to protect its population and urged Palestinians to refrain from violence. "We recognise that Israel has legitimate security concerns and needs to protect its population, and we call on Israel to be proportionate in its response and refrain from excessive use of force," Ms Bishop said in a statement. "Australia urges Palestinian protesters to refrain from violence and attempting to enter into Israeli territory during the March of Return."
Mr Turnbull again ruled out following the US to move the Australian embassy to Jerusalem.
Former Prime Minister Tony Abbott repeated his call for the embassy to be moved on Twitter.
Tony Abbott @TonyAbbottMHR
The US embassy is now in West Jerusalem, which has been Israel's capital for nearly 70 years. Australia should consider following Trump's move.
10:19 AM - May 15, 2018

In their response, Labor leaders instead focused on urging Israeli authorities to show restraint. "I think it's dreadful what we've seen. In particular, when you see the death of children, no good comes of that. No good comes of that at all. That's a disaster. So we are urging restraint from Israel," Labor Leader Bill Shorten said. "We also support a two-state solution, and we believe that aggression from any party puts back the cause of peace."
Labor foreign affairs spokeswoman Penny Wong said Labor supported the right of peaceful protestors. "The deaths and injuries of Palestinian protesters in Gaza overnight are both shocking and tragic," she said in a statement. "Labor urges Israel to show restraint. We support the right for peaceful protest and call on both sides to deescalate tensions."

Egypt opens Gaza border for month of Ramadan
Weekend Australian
AFP
Saturday, May 19, 2018
Cairo: Egyptian President Abdel Fattah el-Sisi has made a rare decision to open the Rafah crossing with Gaza for a month, allowing Palestinians to cross during the holy period of Ramadan. The decision to keep the crossing open was taken "to alleviate the suffering" of residents in the Palestinian enclave, Mr Sisi said on Facebook yesterday.
The Rafah crossing is Gaza's only gateway to the outside world not controlled by Israel, but Egypt has largely sealed it in recent years, citing security threats. The last extended opening lasted three weeks in 2013, while usually Palestinians are able to cross for a few dozen days a year. Previous openings of Rafah have been cut short by violence in the Sinai peninsula.
Mr Sisi's announcement comes after 62 Palestinians were killed by Israeli fire on Gaza's frontier earlier this week, with the victims described by Egypt's Foreign Ministry as "martyrs". A total of 114 Gazans have been killed in protests and clashes since March 30, in the run-up to the opening on Monday of the US embassy in Jerusalem. Egypt has relations with Israel and Gaza rulers Hamas, giving Cairo a key role in easing tensions between the two and alleviating the pressure on the territory's two million residents. Hamas leader Ismail Haniya last Sunday visited Egypt, where he met the director of the country's intelligence services, Abbas Kamel.
An emergency summit of the Organisation of Islamic Co-operation was to be held in Istanbul last night. Turkish President Recep Tayyip Erdogan has vowed the meeting should send a "strong message to the world" over Israel's treatment of the Palestinians.
At an Israeli checkpoint yesterday, Palestinians were crossing from the West Bank town of Bethlehem to the first weekly prayers of Ramadan at Jerusalem's Al-Aqsa mosque compound.

Extract: Israel offers 'quiet for quiet' in Hamas ceasefire
The Australian
AP
Friday, May 31, 2018
Gaza City: Gaza's Hamas rulers said yesterday they had agreed to a ceasefire with Israel to end the largest flare-up of violence between the sides since a 2014 war. Senior Hamas official Khalil al-Hayya said Egyptian mediators intervened "after the resistance succeeded in warding off the aggression". He said militant groups in Gaza would commit to the ceasefire as long as Israel did. Israeli cabinet minister Arieh Deri told Israel's Army Radio he expected calm to be restored.
"If it will be quiet, we will respond with quiet. We've given Hamas a chance to prove that we can return to routine … If they release the reins there will be a very painful strike," he said. "There is a good chance that the routine will be restored after the blow the army unleashed on them."
The Israeli military struck dozens of militant sites in Gaza during the previous night as rocket fire continued towards southern Israeli communities, setting off air-raid sirens in the area. The military said it hit drone-storage facilities, military compounds, and rocket and munition workshops across the Gaza Strip.
The Hamas rocket fire reached the city of Netivot for the first time since the 2014 war. A home was struck, but no one was wounded.
After Gaza militants fired about 30 mortar shells on Tuesday, Israel responded fiercely, threatening to set off another round of confrontations. The Israeli military said most of the projectiles fired on Tuesday were intercepted, but three soldiers were wounded. One mortar shell landed in a kindergarten shortly before it opened, wounding one person.
Brigadier-General Ronen Manelis, the chief military spokesman, threatened tougher action and said it was up to Hamas to prevent the situation from escalating.

Same Day
Israel deal paves way for new Assad strike
Richard Spencer, The Times
Beirut: Russia and Israel have come to an extraordinary agreement over the role of Iranian troops in Syria, paving the way for a regime offensive against one of the last rebel-held areas in the south of the country. Russia has agreed to Israeli demands that Iranian-backed militias be held back from the border with the occupied Golan Heights, according to Israeli television. A separate report in a Saudi newspaper said the regime had agreed that Iranian militias would stay 25km away. Moscow has also agreed not to try to stop Israeli bombing raids on Iranian bases and militias elsewhere in the country. In return, Israel will not try to stop Syrian President Bashar al-Assad's forces retaking the rebel-held areas next to the Golan Heights and the nearby Jordanian border.
Israeli Defence Minister Avigdor Liberman flew to Moscow on Wednesday night to meet with his Russian counterpart Sergei Shoigu. "The primary focus of the defence establishment is preventing the entrenchment of Iran and its proxies in Syria," Liberman wrote in a tweet before his flight. The deal is said to have been finalised in a telephone call last Friday between Lieberman and Shoigu, and follows a visit to the Kremlin this month by Israeli Prime Minister Benjamin Netanyahu. Thanks to the agreement, Russia will be able to support a regime advance on southwest Syria, where rebels hold a stretch of territory from the border by the Golan Heights through the city of Daraa to a point on the Jordan border.
The fate of Daraa, once called the "cradle of the revolution", has been the subject of secret talks for months. The area is covered by a "de-escalation zone" negotiated between the US and Russia last year, meant to reassure Jordan and Israel that the war would not reach their borders. However, the Assad regime wants to regain control over all its territory; Daraa is an easier target than Idlib, the other main rebel pocket.
Russian Deputy Foreign Minister Mikhail Bogdanov said yesterday Moscow, the US and Jordan would meet to discuss the future of the Daraa de-escalation zone. A rebel official said Syria and Iran had never approved of the de-escalation agreement and were determined to break it.
** End of article