AU COVID-19 Virus Stats past 14 days and past month(s)
Click here for further Australian stats. Click here for latest Overseas Stats.
Click appropriate country for Local and Overseas announcements: Australia China France Germany India Iran Ireland Italy Japan NZ Russia S.Korea Spain UK US
Click here for the reported dates of the 21 people who have died in Australia from the coronavirus.
| | | | | | | | | |
| --- | --- | --- | --- | --- | --- | --- | --- | --- |
| 01/04/2020 | 4861 | | 2182 | | 781 | | 968 | |
| 31/03/2020 | 4560 | | 2032 | | 743 | | 917 | |
| 30/03/2020 | 4250 | 1071 | 1918 | 513 | 689 | 134 | 821 | 247 |
| 27/03/2020 | 3179 | 1032 | 1405 | 492 | 555 | 158 | 574 | 163 |
| 24/03/2020 | 2146 | 1075 | 913 | 478 | 397 | 176 | 411 | 182 |
| 21/03/2020 | 1071 | 505 | 435 | 169 | 221 | 127 | 229 | 108 |
| 18/03/2020 | 566 | 268 | 266 | 133 | 94 | 32 | 121 | 64 |
| 15/03/2020 | 298 | | 133 | | 62 | | 57 | |
| 29/02/2020 | 26 | | | | | | | |
| 31/01/2020 | 9 | | | | | | | |
NSW Govt Health Qld Govt Health
If self-quarantined on medical advice, and need groceries or medications delivered, or to have a health issue answered, call 13HEALTH i.e. 1343 2584.
In Qld, a new Community Recovery Hotline is now available 1800 173 349 for medications and grocery drops by charities to your door.
Tuesday 31st March

Front Page of The Australian – JobKeeper subsidy
Register for JobKeeper here (note, you must have an ABN)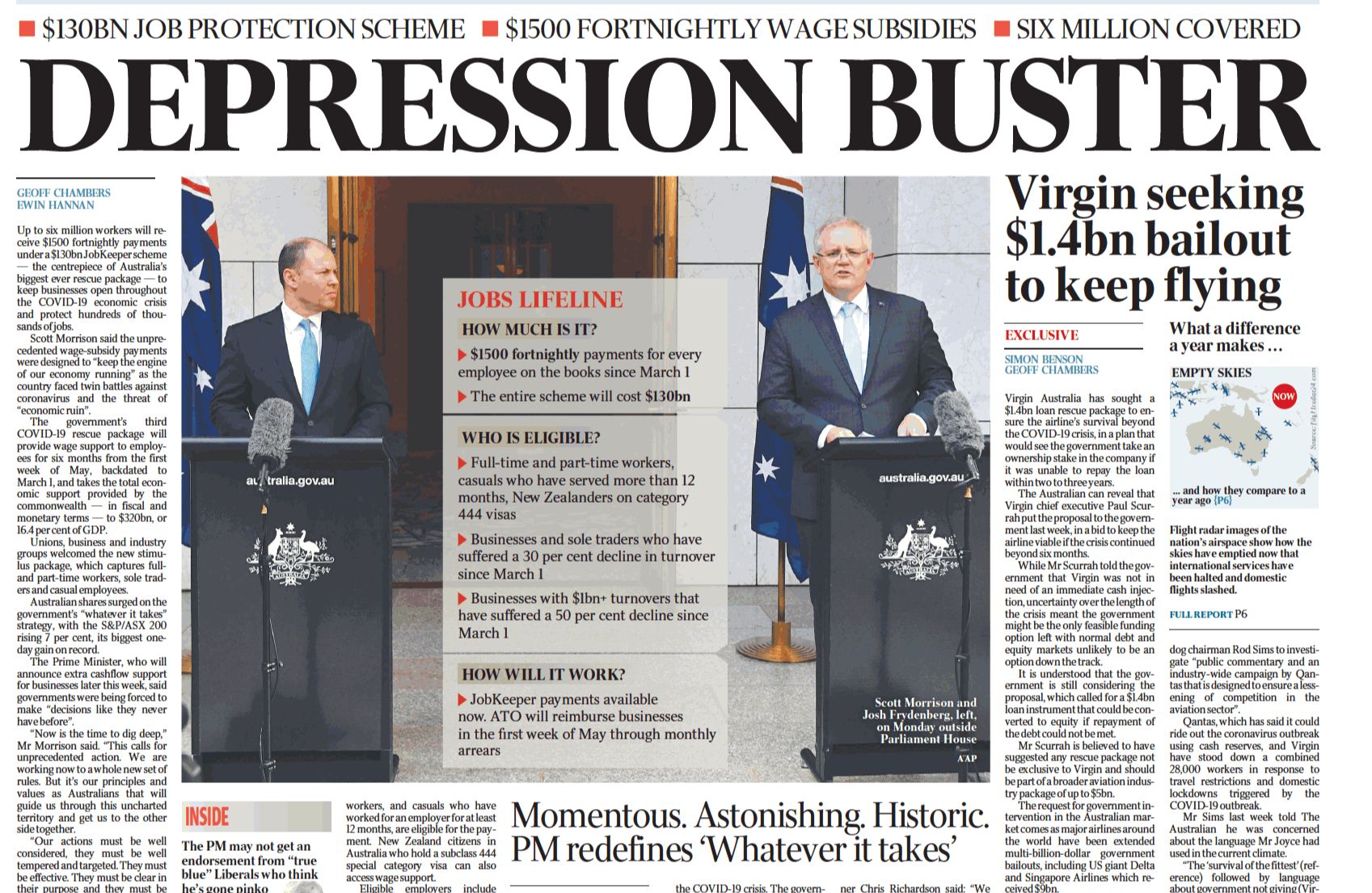 Click image for full screen
Click here for further fine print from business.gov.au and examples of self-employed, employees with multiple jobs, etc.
Basic Details on how it works
Wage subsidy is $1500 per employee per fortnight regardless of previous wage. If casual, needs to have been employed 12 months prior to March 1st.
It will be backdated to staff numbers at March 1st and it is planned for six months
It will include all stood-down employees, i.e. it is a temporary nationalization of up to six million workers, or half the total Australian workforce
Eligible Employers include companies, partnerships, sole traders, not-for-profits and charities.
Eligible Employees are Australian Citizens, New Zealand Citizens, Permanent Residents, Protected special category visas, or Non-protected special category visas with 10 years or more residency in Australia.

Update Wednesday 1st April.

The government's $130bn JobKeeper legislation will be put to federal parliament next Wednesday. Scott Morrison and Anthony Albanese agreed to recall parliament after discussing the wage subsidy package, with negotiations continuing in relation to how many federal MPs will be required to return to Canberra to pass the legislation.
As at 5pm, 452,236 businesses had registered for the JobKeeper scheme, which will pay a flat fortnightly payment of $1500 to up to 6 million Australians.


Note too, back on March 16th RBA governor Philip Lowe said that in response to a deterioration of trading liquidity in some markets as Australia's financial system adjusts to the coronavirus, the central bank "stands ready to purchase government bonds in the secondary market to support the smooth functioning of that market ... a key pricing benchmark for the Australian financial system." That should keep interest rates low, and ensure the massive boost in government debt issuance finds ready buyers.
Sunday 29th March
Public gatherings limited to two people. If you're outside, you can be with every member of your household/family unit or one person maximum if that person does not live with you. Existing arrangements for Weddings (5) and Funerals (10) will remain. These new limits come into force at midnight on Monday.

NSW Police Commissioner Michael Fuller said on-the-spot fines of $1000 could be used to enforce the new rules being enacted at midnight, which would limit gatherings outdoors to no more than two people. Mr Fuller said repeated breaches of these rules, or any others, could be taken to court, where six month prison terms could be applied.

In Victoria, Mr Andrews said police would "not be mucking around" in enforcing Stage Three rules banning gatherings of more than two people, breaches of which are punishable with on-the-spot fines of up to $1,652 for individuals. "Five hundred police are dedicated to this, but every general duties officer knows and understands what these rules are, and they won't hesitate to act either," he said.

Public playgrounds, outside gyms and skate parks will be closed from Monday.
Boot camps will be reduced to two people – making it a private session with a trainer.
Australians aged 70 and over should stay at home and self-isolate.
State and territories will put a moratorium on rental evictions of people in financial distress for the next six months.
Friday 27th March The PM announced this afternoon that everyone arriving at an Australian international airport will be forced to quarantine in a hotel for two weeks as the government responds to the large number of cases related to returning travellers. Australian Defence Force personnel would assist in the compliance of the measures, which are set to come into effect from midnight on Saturday.
At Sydney International Airport, the doors to the arrivals terminal on Sunday morning have been locked to any non-employee.

Chartered transfer buses waited for passengers outside the terminal and members of the Defence Force stood at the ready. Hundreds of people are expected to touch down and be escorted to quarantine by bus, however The Australian understands that only six people will be allowed on each transfer bus, with all passengers to enter through the back door.

NSW Police have warned friends and families of returning travellers not to come to the airport to greet them as they "will not be able to see them or physically communicate with them upon their arrival.
The travellers will be processed discreetly before being taken to their nominated hotels. They will then be able to get in touch with family and friends.
There are no areas in the Sydney International Airport in which family and friends will be able to see the returned travellers or make contact with them."
Premier Annastacia Palaszczuk said Qld schools will shift to student-free from next week, but children of essential workers will be able to remain in classrooms, while teachers prepare for online learning.
Wednesday 25th March PM Scott Morrison has effectively placed the country into near-total social shutdown, announcing sweeping new measures to battle the coronavirus pandemic.
From midnight on Wednesday, existing restrictions will be extended to include:
Food courts inside shopping centres - however, take-away will be allowed
Auction houses
Real estate auctions and open house inspections
Outdoor and indoor markets - excluding food markets
Beauty therapy, tanning, waxing, nail salons, massage and tattoo parlours
Amusement parks and arcades
Play centres, both indoor and outdoor
Community and recreation centres
Personal training will be limited to 10 people, with social distancing strictly enforced
Social and sporting-based activities, involving large groups
Galleries, museums, libraries and community facilities
Community clubs, halls and RSLs
Weddings are restricted to couples, the celebrant and witnesses (no more than five people)
Funerals have been restricted to no more than 10 people
States and territories will take control of decisions surrounding food markets, the prime minister said.
Hairdressers and barber shops will be allowed to continue, but social distancing must be strictly managed and time must be restricted to no more than 30 minutes, preferably less.
Shopping centres will remain open, but retail premises will be limited to businesses not included in the list of restrictions.
Monday 23rd March With the nation-wide shutdown announced on the weekend that started midday on Monday 23rd March, places staying open are takeaway food places, banks, supermarkets, petrol stations, newsagents, pharmacies, and convenience stores, such as JB HiFi at Westfields, Garden City.
Queensland will be closed to visitors and holiday makers from midnight on Wednesday, with police stationed at airports and permits issued to workers needing to cross the border
For all inside gatherings, rule of thumb is 4 square metres per person e.g. if a room is 4 metres by 10 metres, it can hold theoretically hold 10 people. Update, from midnight Monday 30th March, meeting with someone outside your household may only be one-on-one except for weddings(5) and funerals(10).
---
Currently there are 21 people in Australia who have died with the virus that have been reported.
21. On 1st April, NSW Health reported a 95 year woman died yesterday at the Dorothy Henderson Aged Care Home in Sydney. She is the fifth resident to die at the home since the fourth resident's death was reported on 28th March, and the 9th death inside NSW. Also on Wednesday, a patient died from complications related to COVID-19 at Orange Base Hospital in the state's west, becoming the 10th death inside NSW. The patient had previously been diagnosed with the virus before being admitted to hospital.
19. On 31st March, the Tasmanian Premier reported an elderly man at the Royal Hobart Hospital had died. Health Minister Sarah Courtney said both deaths in Tasmania "have been associated with travel on the Ruby Princess" cruise ship.
18. On 30th March, the Tasmanian Premier reported a woman, aged in her 80s, had died in the North West Regional Hospital in Burnie, the first death in Tasmania. And the ACT Chief Health Officer reported that a woman, aged in her 80s, acquired COVID-19 overseas on the Ruby Princess cruise ship and died during the weekend at Canberra Hospital, the first death in the ACT.
16. On 29th March, Vic Health reported a man in his 80s had died overnight, becoming Victoria's fourth victim. Qld Health reported that a 75-year-old woman in Caboolture Hospital who was a passenger on the Ruby Princess with "significant comorbidities" had also died. She became the 2nd death inside Qld.
14. On 28th March, NSW Health reported a 91 year woman died overnight at the Dorothy Henderson Aged Care Home in Sydney. She is the fourth resident to die at the home since the third resident's death was reported back on 15th March, and the 8th death inside NSW.
13. On 26th March, Vic Health reported three Victorian men aged in their 70s had died, two with a pre-existing cancer condition died overnight, and a third man with another pre-existing condition died later in the day in a Melbourne hospital. In Perth, WA Health reported that a man in his 70s had died. He had been aboard the Celebrity Solstice cruise ship which had been one of several to dock in Sydney between March 18 and 20. He became the 2nd death inside WA.
9. On 25th March, Qld Health reported that a 68-year-old man died on Wednesday afternoon in intensive care at Toowoomba Hospital. It is understood that he had a serious underlying medical condition before contracting the virus onboard the Voyager of the Seas cruise ship that docked in Sydney last week.
8. On 24th March, NSW Health reported that a female in her 70s had died. She had been aboard the Ruby Princess cruise ship which had docked in Sydney Harbour on Thursday 19th March with multiple COVID-19 infections after returning from New Zealand.
7. On 20th March, NSW Health reported that an 81-year-old woman had died overnight at Ryde Hospital in Sydney, having had close contact with another confirmed case of COVID-19.
6. On 18th March, NSW Health reported that an 86-year-old man previously confirmed to have tested positive to COVID-19 had died overnight in a Sydney hospital.
5. On Sunday 15th March, Qld Health reported that a Sunshine Coast woman from Noosaville aged 77 had died. She had high blood pressure and a linked medical condition, became "very unwell" on a flight from Brisbane to Sydney on Friday 13th March, was taken to hospital and died the same day. She was subsequently found to have had the virus, having just spent 2 weeks on the Sunshine Coast with her daughter recently arrived from San Francisco.
4. Three residents have died at the Dorothy Henderson Aged Care Home in Sydney, one on 15th March aged 90, one on 8th March aged 82, one on 3rd March aged 95.

1. On 1st March, one Perth resident died who had been on the Diamond Princess boat, aged 78.
---
Wednesday March 18th 2020 - The Australian
Formation of the National Cabinet of Australia On Wednesday 18th March, a special nine-member intergovernmental decision-making forum was formed composed of the Premiers of each of the six states, the Chief Ministers of the ACT and Northern Territory, and the Prime Minister. It will meet many times weekly to coordinate the national response to the 2019–20 coronavirus pandemic.
PM: Don't travel abroad
Scott Morrison has given an unprecedented warning for all Australians not to travel abroad.
Indoor gatherings of more than 100 people have also been banned as Australia declares a biosecurity emergency.
Update, from midnight Monday 30th March, meeting with someone outside your household may only be one-on-one.
Scott Morrison announced the measures on Wednesday morning and explained the move was the result of a recommendation from chief health officers around the country.
The Prime Minister also warned Australians not to travel anywhere overseas as the travel ban to citizens is raised to its highest level in history.
"This is a once in a hundred year type event."
"We are going to keep Australia running. We are going to keep Australia functioning. It won't look like it normally does."
Mr Morrison also threw cold water on the idea of locking down Australian cities, saying "there is no short-term, quick fix to how this is dealt with in Australia".
"The idea that you can just turn everything off for two weeks and then turn it all back on again and it all goes away. That is not the evidence, that is not the facts, that is not the information and it is not our way through this."
"We are looking at a situation of at least six months for how we deal with this. It could be much longer than that. It could be shorter. That is unlikely, given the way we are seeing events unfold."
Aged-care facility residents will not be allowed to receive more than one visit of up to two visitors in an effort to stop the spread of coronavirus. Scott Morrison announced that certain exceptions could be made for end of life care patients.
"There should be no large group visits or gatherings. Including social activities or entertainment to be permitted at this time. No school groups of any size should be allowed to visit aged care facilities," the Prime Minister said. "Children aged 16 years or less should be visiting only by exception."
Update Monday March 23rd

Germany's additional response:
Meetings banned of more than two people
Non-essential services ordered to close

UK's additional response:
Mr Johnson told the nation in a public address the public could not leave their houses except to shop infrequently for essentials, exercise outdoors once a day, to receive medical treatment or to travel to work if it is impossible to work from home. If they are outside they can only gather in groups of two or if with members of the same household. All weddings and baptisms are cancelled and the only religious ceremonies allowed are funerals.
Parents to keep their children at home, wherever possible, and for schools to remain open only for those children of workers critical to the COVID-19 response - who absolutely need to attend. While as many schools as possible should try to stay open for eligible pupils, this will not be possible for all settings and the local authority should coordinate pooling of resources so pupils are able to access provision elsewhere.

USA's additional response:
$US 2 trillion Economic Stimulus Package
Extra Beds and Face Masks supplied
Residents forced to stay indoors in several states
As well as in New York City, National Guard now deployed to New York, California and Washington (Seattle) States

China's additional response:
On 26th March, China announced it will temporarily close its borders to foreigners starting on Saturday, March 28.
Russia Its border with China was closed on January 30. On Monday March 16 Russian authorities announced a ban on foreign nationals from entering the country, shut state schools and have limited public gatherings in Moscow. The ban on foreign nationals will be enforced from March 18 until May 1, though diplomats, airplane crew members and some other categories of people will be exempt, the government said.
New Zealand Prime Minister Jacinda Ardern announced on Monday March 23rd that New Zealand is moving in 48 hours (on Wednesday) to almost complete shutdown.
From Level 3 (its current level) to Level 4 (its highest level of restrictions).
People will be instructed to stay at home
All educational facilities will close
All businesses will close except for essential services like supermarkets, pharmacies and clinics
Supply Rationing and Facility requisitioning
Travel severely limited
Major reprioritisation of Healthcare Services
India Prime Minister Narendra Modi on Tuesday March 24th has ordered the country's entire 1.3 billion people into "total lockdown" for 21 days, sparking panic buying with shoppers clearing out shelves. It followed a raft of lockdown measures that had already been brought in by individual states and territories. "From 12 midnight today (4.30am AEST Wednesday morning) the entire country will be in lockdown, total lockdown," Mr Modi said in a national television address to the world's second most-populous nation.
Indian Railways – one of the world's biggest networks carrying more than 20 million passengers daily – has cancelled all services except suburban and goods trains. E-commerce giant Amazon, which has a big presence in India, said in a statement on its website that it would only sell "high priority" products to customers.
Following his speech, Modi tweeted: "THERE IS ABSOLUTELY NO NEED TO PANIC." "Essential commodities, medicines etc. would be available. Centre and various state governments will work in close co-ordination to ensure this," he added. People working in essential services such as hospitals, police and media were exempted from the stay-at-home order, authorities added. A maximum of 20 people would be allowed to attend a funeral.
India has lagged behind other nations in the number of COVID-19 cases confirmed, but there has been a sharp increase in recent days to 519 infections, including 10 deaths, according to the government.
---
** End of Page