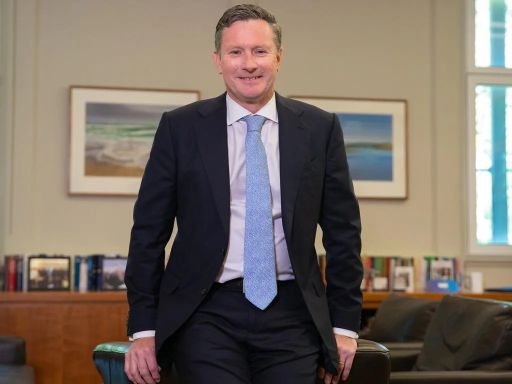 Andrew Shearer, 55, may be the most important person you've never heard of.
Andrew Shearer Office of National Intelligence
Greg Sheridan
The Australian
Thursday December 23, 2021
Andrew Shearer, 55, may be the most important person you've never heard of. He leads a group of organisations with 7000 employees and a combined budget approaching $3bn that routinely deals with the most cutting-edge technology and the most sensitive information on the planet. He supervises every secret we know as a nation and every secret we share. Our security is his responsibility.
He is the director-general of national intelligence since November 2020, succeeding Nick Warner, the director-general from when the position was inaugurated in December 2018. He heads his own agency, the Office of National Intelligence, but is also the leader of the 10 agencies that comprise the National Intelligence Community.
Shearer is leading an effort to streamline, strengthen and reform the intelligence community in a time of grave national security threats. He is also changing the way we relate, in intelligence matters, with our allies. This week, a year in the job, he gave his first on-the-record media interview to Inquirer. This is part of the coming out of the shadows process for Australian intelligence.
"There's a sense of urgency driving everything I'm doing at ONI and across the intelligence community," he says.
Shearer does not get to luxuriate in big-picture and structural issues. He also has to direct and co-ordinate the immediate daily crises and upsets that challenge national security. At the most intense period around the collapse of the Afghan government, the national security committee of cabinet met 16 times in 14 days. Each meeting began with a briefing from Shearer.
This year Shearer and his agencies have given the government real-time advice on issues including Covid-19, Russia's build-up on the Ukrainian border, Solomon Islands, Afghanistan's collapse and especially the threat of the Islamic State affiliate in Afghanistan, and of course countless issues related to China.
Says Shearer: "The key to our role is making sense of complexity and uncertainty. The role is more challenging and more important than it's been for some time. Our job is producing actionable intelligence insights for government. When we do our job well, Australian lives can be saved."
He is a calm person in a crisis, as one of his previous bosses attests. Shearer was the youngest senior foreign policy adviser to a prime minister when he filled that role (succeeding Peter Varghese) for John Howard as prime minister, a role Shearer later reprised for Tony Abbott when he was PM.
"Andrew's got the right combination of strong values and calm intelligence for that job," Howard says. "He believes in the supreme importance of national security and he has that calm, thoughtful way about him. I had a lot to do with him when he was my national security adviser and I thought he was first-class."
Shearer is also aware that security intelligence must be rigidly apolitical and nonpartisan.
"National security is rightly bipartisan in a more partisan world," Shearer tells me in one of several long discussions as part of this interview. "I take my statutory responsibilities for the integrity and independence of ONI's assessments very seriously. I've always considered myself a national security professional. I think I'm widely regarded that way in Australian politics and internationally. I've briefed the Opposition Leader, Anthony Albanese, and his senior colleagues numerous times. Our dealings have been cordial, constructive and professional."
Because Shearer has worked as the senior foreign affairs and national security adviser to two Liberal prime ministers, and before that worked for a time for defence minister Robert Hill, and because he's known to be hard-headed about China, Shearer is sometimes seen as a hawk or a somewhat partisan figure.
So I ask Albanese for his own assessment of Shearer.
"Dr Shearer heads an outstanding professional team who serve our national interest well," Albanese tells me. "He is always courteous and available, and presents intelligent and factual material in a clear and concise manner. It has been good to develop such a positive relationship with him."
This is an important statement, not so much for what it says about Shearer but for what it says about the confidence Albanese's Labor has in the national intelligence institutions and their baseline judgments and competence.
It is a flat-out rejection of the sometimes incoherent and irresponsible attacks former prime minister Paul Keating has made on the intelligence community and its leadership.
Albanese is not the only centre-left figure to have a high opinion of Shearer. Kurt Campbell, the Indo-Pacific co-ordinator in Joe Biden's administration, is the American father of the AUKUS agreement and probably Biden's most important policymaker on Asia. He is a lifelong Democrat. Between stints in the military, in think tanks and in business, he served in the Pentagon under Bill Clinton and was assistant secretary of state for East Asia in Barack Obama's first term. Campbell has known Shearer for decades.
"Andrew is a hard-headed and clear-eyed strategist who has helped guide Australia through a turbulent period," Campbell says.
"He is a skilled practitioner with a deep knowledge of the evolving circumstances in the Indo-Pacific region. In any endeavour with Australia, it's deeply reassuring to see Andrew sitting across the table."
Those are words of high praise, and a tribute to Shearer's long involvement in international security and the relationships around the world he has built up.
Shearer, like Campbell, has been a strong proponent of the Quadrilateral Security Dialogue involving Australia, the US, Japan and India. Shearer was present at the Quad's birth. He was stationed in Washington as the No.3 person in the Australian embassy when the terrible Boxing Day 2004 tsunami hit Indonesia, Thailand, Sri Lanka and other regional countries.
Shearer worked intensely on what was originally known as the "core group" as the US, Australia, India and Japan all responded with speed and effect to the disaster, and found themselves working intimately together.
In his new role, as Australia's intelligence supremo, Shearer has been intimately involved with the Quad. He puts its intelligence co-operation in a wider context of regional co-operation: "A key part of my job is building up our very important partnerships with Japan and with India and across Southeast Asia and the Pacific. Recently that included four-way intelligence talks ahead of the Quad summit (in September)."
Shearer and his American counterpart, Avril Haines, the US director of national intelligence, and their counterparts from India and Japan met in the first Quadrilateral Strategic Intelligence Forum. It was convened by Haines and held in Washington just before the Quad summit.
The Quad partners, even before the Quad itself existed as an institution, have always had a degree of intelligence sharing among them. This has now become more intimate and more formalised with the development of the Quadrilateral Strategic Intelligence Forum.
Like the Quad itself, it is an institution designed to meet a security need, rather than just a hangover from the plethora of liberal, rules-making institutions from the past.
Operating collegially with his fellow intelligence agency heads, for whom he has the highest regard, Shearer is working overtime to take the inherited institutions and structures of Australian intelligence and make them more effective.
Part of this involves combining the vast oceans of information that are out there unguarded in the public with the information Australia's intelligence agencies gather and transforming all this information into usable assessments.
Under the law, Shearer is the Prime Minister's principal adviser on intelligence. His own agency, ONI, does not produce its own clandestine intelligence: "We are not a collection agency but we do have an important open-source intelligence role. We can see, for example, Chinese and Russian efforts to undermine AUKUS by imputing that AUKUS weakens nuclear non-proliferation and involves nuclear weapons, not just nuclear propulsion. We see all that in open-source collection and we can channel that information to Australian policy agencies."
I ask Shearer whether such Russian and Chinese efforts involve dishonestly using anonymous or fake-identity third-party actors on the internet. He replies: "It covers the whole spectrum."
In just listing the issues his agencies deal with, Shearer gives a sense of the swarm of matters coming towards him every day, like a tennis player trying to play a traditional volley response to an automatic ball machine that suddenly fires 100 balls simultaneously. "The pace and scale of strategic change is unprecedented," he says. "China's rise is at the centre of that. You also see the change in technology, in cyber, social media, the energy transition – China's rise intersects with all of that. "China is front and centre of much that we do."
He thinks the label that some put on him of being a China hawk is tired and a bit inaccurate: "People tend to forget that I was the prime minister's senior adviser when Australia finalised a free-trade agreement with China and Tony Abbott led a massive business delegation to Beijing. (When working in the Victorian government) I advocated for the Victorian government to open a trade office in western China. I often say to people I prefer to regard myself as a China realist, with a strong analytical record to back that up."
Some of the changes Shearer and his fellow agency heads are working on may seem prosaic, but they have a purpose: "The changes in the intelligence community are directed at achieving more cohesion, scale and synergy."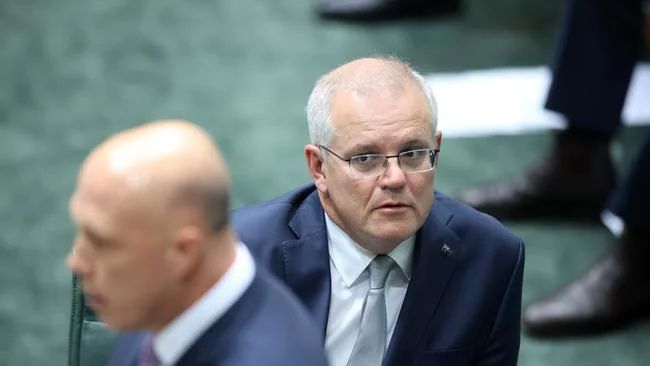 Prime Minister Scott Morrison with Defence Minister Peter Dutton during Question Time. Picture: NCA NewsWire / Gary Ramage
Shearer runs through some of the changes: "For decades, individual intelligence agencies did their own security clearances. On December 1, we established a new top-secret vetting hub for the intelligence agencies. It sits within ASIO." This will make it easier for personnel to transfer between agencies. It will save precious resources, prevent each agency from having to reinvent the wheel and enhance co-operation among the different agencies.
"The technology is moving so fast – I think of it as us trying to keep in touch with the peloton (supercomputer program at Lawrence Livermore National Laboratory, UC Berkeley)," he says. "The heads of agencies have endorsed a set of intelligence capability-sharing principles, so that we don't have different agencies duplicating each other and inventing different solutions to the same problems. "The new generation of agency heads are working together. They see the pace of change and the trends are very adverse for Australia."
One big change a few years ago was to bring police and domestic agencies into the National Intelligence Community. There are now 10 agencies that are part of the NIC.
These are the three defence agencies – the Defence Intelligence Organisation, the Australian Signals Directorate and the Australian Geo­spatial-Intelligence Organisation. Then there is Shearer's ONI, with the director-general serving as the leader of the entire NIC. Then there is the ASIO, which is under the Home Affairs Department, and the Australian Secret Intelligence Service, which is housed within the Department of Foreign Affairs and Trade.
These are all traditional intelligence agencies.
The big innovation of a few years ago was to bring within the NIC the intelligence division of the Home Affairs Department, as well as Austrac (which hunts money laundering), plus the Australian Criminal Intelligence Commission and the Australian Federal Police. This reorganisation recognises the increased connection between organised crime, terrorism and state actors. In security, as in everything else these days, the traditional boundaries are collapsing, reality is fluid, sinuous, constantly breaching borders and boundaries. It is extremely challenging for government agencies to match this with the requisite agility.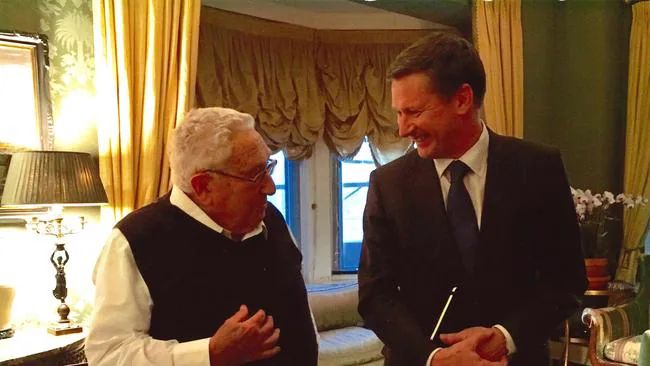 Andrew Shearer with Henry Kissinger.
Shearer has established a counter foreign influence analytical unit within ONI as a joint initiative with ASIO, and also involving the AFP and Austrac. All four of those agencies have a significant interest in countering foreign influence but previously they tended to operate in silos. Bringing them together is meant to create a more integrated, fused effort. The intelligence agencies are also co-operating on establishing a top-secret intelligence cloud that will enable the NIC to store its vast amounts of data securely and, for the agencies, accessibly.
Early next year, Shearer will establish a national intelligence academy with an inaugural director. Some of its courses, such as critical thinking, understanding data, creating the most efficient presentations, will not be security-sensitive and may even be given by outside institutions. But a lot of it will involve deep tradecraft and will therefore be conducted entirely internally, by and for the NIC itself. This will involve analytical tradecraft, data analytics and much else, especially skills and technologies that are applicable beyond just one agency.
Many of the security and intelligence challenges facing Australia require not just a whole-of-government response but, as Shearer sometimes says, a "whole-of-nation" response. Australia finds itself in strategic competition with a nation such as China which, with a very centralised system, is ruthless and effective in bringing every aspect of national power to bear on the effort of producing the effects its national government wants.
Shearer continues: "We need as an intelligence community much more systematic, dedicated outreach beyond government itself. We interact with the BCA, financial companies, resources companies. It's not just us briefing them – it's genuinely a two-way dialogue. We also conduct outreach with academia and think tanks; it's important that our judgments are contestable. "We also interact with the states and territories. There is a role for us, as statutory agency heads, to inform the public debate."
Shearer is an Australian original, with a very unusual mixture of domestic and international experience, working for a wide range of agencies in government and non-government roles. He has higher degrees from Melbourne and Cambridge universities. He started his professional life in the Defence Signals Directorate, then moved to the Office of National Assessments (ONI's predecessor), then the Department of Prime Minister and Cabinet, then DFAT. That's all conventional enough, if institutionally wide ranging. Then he went to the defence minister's office, then to Washington in a senior diplomatic role, and then was catapulted right to the top to become Howard's national security adviser.
But his career has an American style about it. Unusually for a Canberra mandarin, he moved from the prime minister's office, after Howard was defeated, to a think tank, the Lowy Institute. Then he became a deputy secretary in the Victorian government, overseeing the state's international engagement. After another stint at the top, as Abbott's national security adviser, he went to Washington.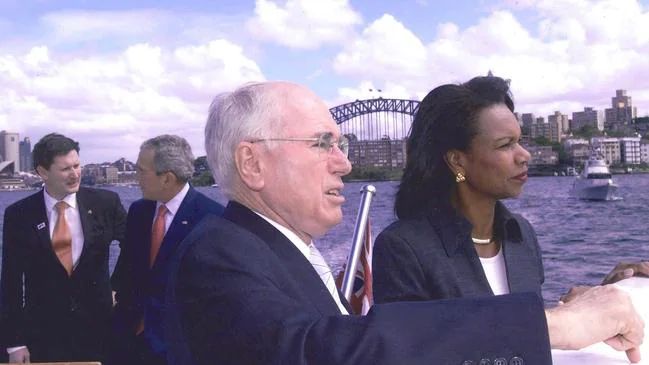 Andrew Shearer, far right, with George W Bush, John Howard and Condoleezza Rice.
He did this because he was headhunted by prestigious think tank the Centre for Strategic and International Studies. Campbell spent many of his non-government years there and it is perhaps the most influential of Washington's strategic think tanks. (Full disclosure, I was twice a visiting fellow there myself.) Shearer spent several years in Washington, deeply involved in all the Asia policy work, before coming back to Canberra as deputy DG of ONI, then became cabinet secretary, and a year ago was promoted to the very pinnacle of Australian intelligence.
I have known him well for 20 years, marvelled at his work ethic, and never seen him ruffled, bad-tempered or nonplussed. He doesn't win every Canberra battle but the broader lineaments of his strategic thinking, his understanding of national security, have a way of prevailing over time.
But all of this has done no more than prepare Shearer for the momentous time in which he serves. He cannot rest on any laurels, for he has promises to keep, and miles and miles to go before he sleeps.
** End of Page