Aussie TV Free-to-Air
Live Streaming via Foxtel iQ and Fetch Set-tops
Foxtel TV has provided live streaming for Australian free to air channels since its launch in 1995. Latest set-tops are iQ3 for cable and iQ4 for satellite.
Fetch TV now provides live streaming for Channel 7 and Channel 9, as well as Channel 2, via its Catch-up TV. You just need to set up a free account at Channel 7 and Channel 9 to activate the signal.
Microsoft Windows 10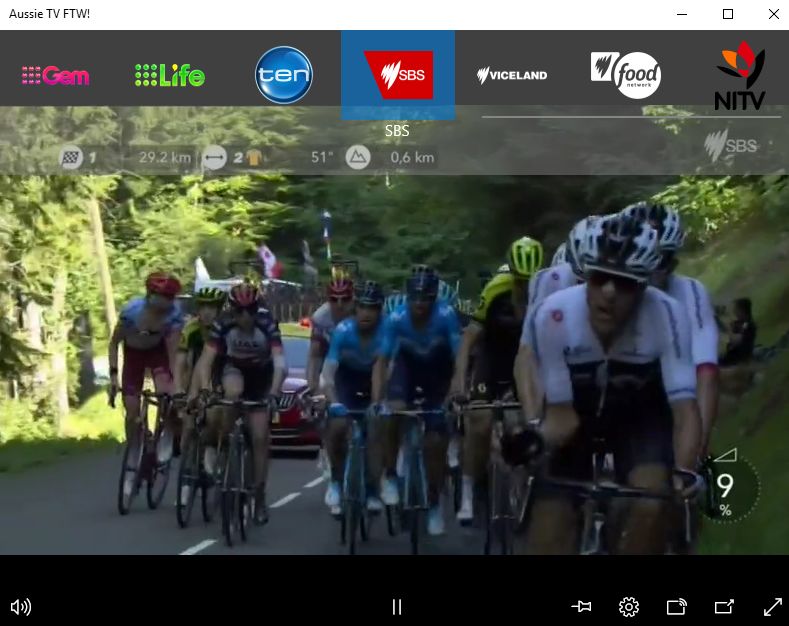 Click the following link to download an app to stream all Free-to-air TV channels to your Windows 10 PC
https://www.microsoft.com/en-au/p/aussie-tv-ftw/9nblggh5gmq4
Note, at present that hyperlink is not currently operational. And with many rogue sites around, best not to download it from elsewhere.
How to Run the App

When you open the app, its default channel is the last channel you were watching, or ABC Channel 2. To change to a different channel, use your left mouse button to click in the black area at the top. All of the free-to-air channels will then appear, left to right.


If the channel you're after doesn't appear, press and hold the left mouse button to drag a sliding bar that will come up across the top until the channel appears.

If your display freezes for some reason, jumping in and out of channels and pausing the screen can do this, just close the display and reopen it.
With regards to the app, apparently there are some legal issues in Australia about advertising it on the Microsoft Store catalogue directly.

It was written by a Tom Hollander under the pseudonym Thirty Hippos. Tom worked for Microsoft Australia 2000 - 2017. He currently works for a company called MongoDB.
Here's a link to Tom's LinkedIn profile.
** End of page