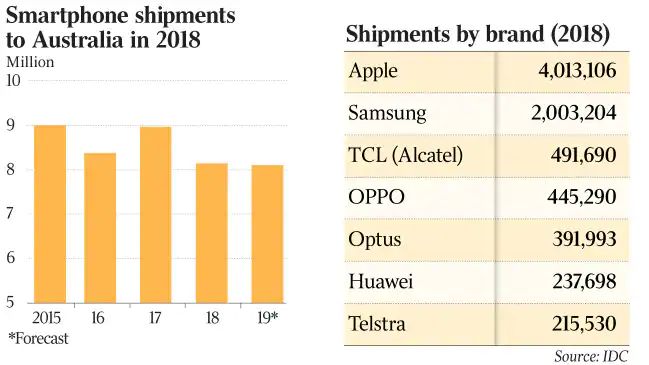 Total 8.59 million Source: Gartner
Update January-June sales 2021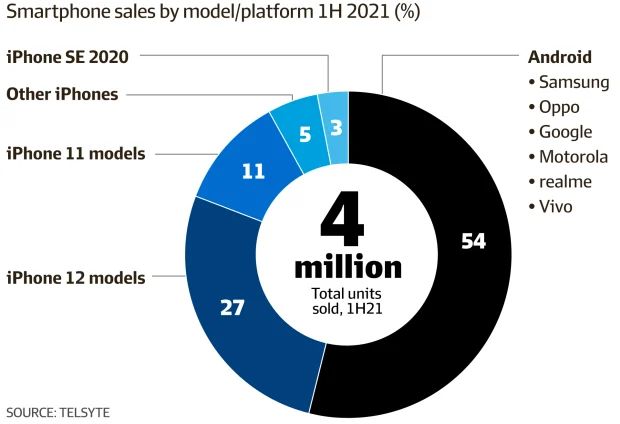 iPhones still on top as Aussie smartphone sales bounce
Australian Financial Review
Paul Smith, Technology editor
Nov 16, 2021
Australians' persistent loyalty to Apple's iPhones shows no sign of weakening, as new half-yearly phone sales data showed its local market dominance grew to 45.7 per cent of all phones sold in the first half of 2021, as the broader market grew four per cent from the previous year.
Apple has long enjoyed higher market share for its phones in Australia than elsewhere in the world, and demand for its iPhone 12 models was primarily responsible for growth in the local numbers, which research firm Telsyte said, saw four million smartphones sold in the first half of the year, compared to 3.8 million in the COVID-ravaged first half of 2020.
Telsyte's Australian smartphone and wearable devices market study found iPhone sales were up seven per cent in the half, compared to phones running on Google's Android operating system, which were up just one per cent.
After iPhones the next best-selling phones are all based on Android, with Samsung's Galaxy range in second place ahead of Chinese outfit Oppo, which sells lower-priced phones, and came in ahead of Google's own Pixel phones and devices from Motorola, realme and Vivo.
Despite the increase in sales for the first half of 2021, Telsyte managing director Foad Fadaghi said the second half would likely be worse than 2020's, despite the launch of the new iPhone 13 range. It estimates 4.5 million smartphones will be sold in the second half of 2021, down 1 per cent from a year ago.
Over 1.1 million smart wrist wearables, (which includes both watches and fitness bands) were sold during the first half of 2021.
** End of Report