Bronte and Cate Campbell: Olympic swimming hopefuls, sisters, rivals
by: Greg Bearup
From: The Weekend Australian Magazine
May 16, 2015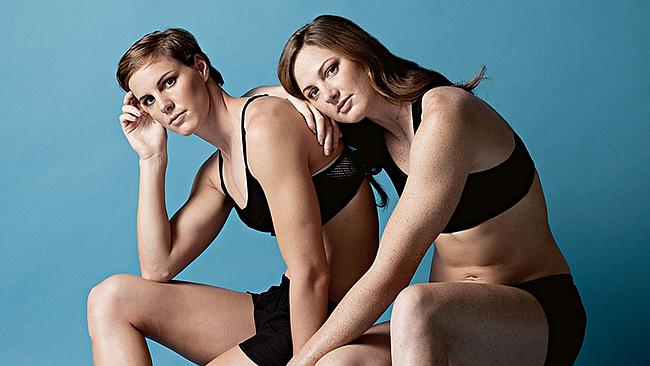 Bronte, left, and Cate Campbell: freestyle swimming stars. Picture: Eddie Safarik
Source: News Corp Australia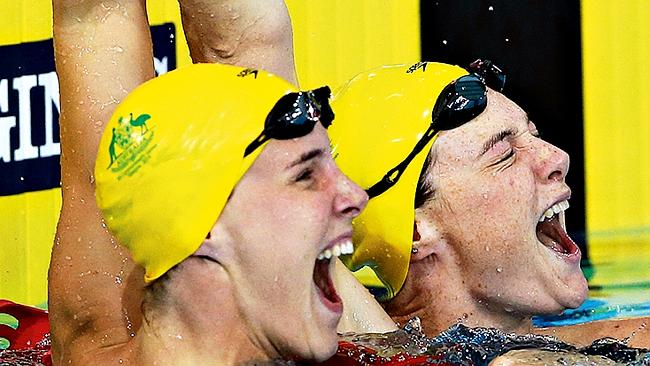 Triumph: Bronte (left) and Cate Campbell win gold and silver in the 100m freestyle final at the Commonwealth Games in Glasgow last year.
Picture: Quinn Rooney / Getty Images
Source: News Corp Australia
If you can fill the unforgiving minute
With sixty seconds' worth of distance run,
Yours is the Earth and everything that's in it
And — which is more — you'll be a Man, my son!
Rudyard Kipling's poem If is neatly pencilled on a wall of Bronte Campbell's Brisbane flat. If all goes well and the 21-year-old can keep her head when all about her are losing theirs, next year she'll be standing on the blocks in Rio's Olympic Aquatics Stadium loosening her muscular arms and shoulders for the swim of her life in the premier event, the 100m freestyle final. If she continues to improve, as she has, she could help reverse the Australian swim team's meagre haul at the London Olympics. Her next stepping stone on this road to glory will be the world swimming championships in Russia in July-August.
But there's one towering, broad-shouldered If she has to overcome in order to triumph in Rio and that If is seated at a dining table beside her. If Bronte Campbell is to win next year, something she's spent the past 14 years training for, she will have to beat her big sister Cate, who turns 23 this week. "It's a bit of a joke, really," Bronte says with a wry smile. "I am the third-­fastest swimmer in the world and yet I am the second-fastest swimmer in my family. It is ridiculous. It is not normal."
Cate looks at her and laughs, almost embarrassed that she stands between her sister and the prize. She desperately wants Bronte to succeed, but she holds the same intense desire for success in exactly the same events — the 50m and 100m freestyle. Since the London Olympics — where she won gold in the 4x100m freestyle, only to cruelly fall ill before her individual sprint events — Cate has consistently been the fastest female swimmer in the world. "I feel bad for beating her, but not when we are swimming," Cate says.
Theirs is a shared destiny and, even for sisters, they are incredibly close — "a bit like Siamese twins". They've moved out of home and live in an apartment they bought together in Bowen Hills, five minutes' walk from Brisbane's famous Valley Pool — home of the powerhouse Commercial Swimming Club that spawned Kieren Perkins, Libby Trickett, Susie O'Neill, Hayley Lewis, Samantha Riley and dozens of other Olympians. They train together twice a day, six days a week. As little girls, growing up in Malawi in Africa, they were home-schooled by their mother. They eat most of their meals together. They are best friends. They often finish each other's sentences.
Together they are greater than the sum of their parts. The success of one catapults the ther. "Cate wouldn't be as good without Bronte and Bronte wouldn't be as good without Cate," says their coach, Simon Cusack. "That's how it is." If Cate and Bronte finish 1-2 in Rio, or 2-1, it will be the story of the Games. Sports journalists tell me that such a familial feat, in an individual sport, is unprecedented in Australia; Cate and Bronte are ranked number one and three in the world in the 100m freestyle, and one and two in the 50m freestyle.
If the Campbell sisters succeed in Rio they'll join tennis's Serena and Venus Williams as the world's greatest sibling adversaries. It's a story that Australian swimming desperately needs in the wake of years of controversy: the Scott Volkers sexual assault allegations, the public meltdowns of Thorpie and Hackett, Nick D'Arcy's angry fists, the "Stilnox Six" and Geoff Huegill's drug bust; leery tax­payers, too, would like a return for the millions we lavish. The Olympic team needs a new clean-cut golden girl, someone who is as admirable away from the arena as she is in it. With the Campbell sisters, they might just get two.
"When we were seven and nine and we were sitting in the car going to training we'd talk about what we would do after we went to the Olympics," Cate says. "It was never one of us, it was always going to be both of us. The best moment of my life was the Australian national championships in 2012 and we hit the wall and there was 1-2 next to our names [in the 50m freestyle] — it still gives me goose bumps to think about it. It was in that moment our dream was realised." They'd both made the team for London.
But, she admits, it's been difficult for her sister. "Bronte's always been so competitive and so good for her age but as she was coming through people would always say, 'That's Cate Campbell's sister'. It has only been in the last year that she has really stamped herself on the world stage." I ask: what happens if she starts winning regularly, which means beating you? "I would hope I would be graceful but if she was beating me regularly it would be hard. But I would never let something like a swimming race come between us. It is just a swimming race."
At the recent Australian championships Cate narrowly beat Bronte in the 100m freestyle. "I touched the wall, and turned to Bronte and said, 'I'm sorry, I love you very much'." Unexpectedly, in the 50m sprint, Bronte looked up to see that she had beaten her big sister for the first time in a major event. Bronte turned and hugged her sister and told her how much she loved her. She too was sorry. There can only be one winner at Rio in this sisterly duel — and the chances are it'll be Simon Cusack, their coach. "If Cate wins gold and Bronte wins silver, or vice versa, well, that'll be the least of my worries."
There's a nip in the air and an autumn shadow falls across the Valley Pool. Beneath a board honouring champions past, Cate and Bronte are stretching on towels and bantering with their fellow Australian teammates: butterflier Jayden Hadler, freestyler Tommaso D'Orsogna and current world champion 100m breaststroker Christian Sprenger. The boys are solid and ripped while the girls are wiry and angular.
Bronte is tall at 179cm, but her sister towers over her at 186cm. "My nickname at school was bean pole," Cate reveals. She talks with a broad Australian accent while her younger sister still carries hints of southern Africa in hers. Cate is the more assertive of the two. The Australian's swimming writer, Nicole Jeffery, says Cate's height gives her a natural advantage over her sister, and most other swimmers. Like maxi-yachts, taller swimmers are faster through the water, and in a tight finish have a longer reach. It takes Cate just 33 strokes to complete a lap while Bronte does it in 39 or 40. "In swimming terms, Cate is a supermodel," Jeffery says. "She has the perfect physique. She is over six feet tall, she has broad shoulders, she has next to no hips and she has very long legs. That is just a gift from God." Jeffery says it has been inspirational to witness her comebacks from illness and injury. But Bronte is possibly the more hungry and driven of the two.
After some stretching exercises the girls wriggle into their swimsuits, shielded by a towel, and then slip into the water and push off for their warm-up laps. Even to my untrained eye there's a huge difference in styles between them and their teammates. The boys use their power to bludgeon their way from one end of the pool to the other, as though the water is an adversary to be subdued. The Campbell girls, however, seem to slide through the water; each stroke is definite and precise. It is as though they are whispering to the element and it has agreed to part, to allow them smooth passage. Propulsion seems effortless, like a kangaroo at a canter. It is beautiful and mesmerising to behold, lap after elegant lap.
"They have an intimate feel for the water," says Cusack, a laconic Queenslander. "They feel the water on their hands and their limbs, it is instinctual and almost impossible to teach."
Cusack, a former jackaroo, has been coaching the girls since they were seven and nine and newly arrived in the country. Was it evident, early on, that he had a pair of champions? "Na, not really," he says. "You see a lot of kids who come through who have aspects of what it takes to be good but there are so many phases that go into creating a champion swimmer and they aren't all generally revealed when they are young." What was evident early on was discipline. "It was never their parents who pushed them," he says. "They walked to training themselves, even as little kids. They always got themselves out of bed. It's always been their dream, not their parents' dream."
Cate and Bronte are the two oldest in a brood of five; there's Jessica, 19, and Abigail, 13, and Hamish, 17, who is severely disabled, and very ill, with cerebral palsy. "So," says Cusack, "for the family to function they've had to be very disciplined because they grew up in a family where a lot of time was dedicated to their brother in a wheelchair … everyone had to pull their weight. There was no escaping it."
The girls, he says, have a sense of self-worth that is not reliant on winning — it sounds corny, but both are satisfied when they've done their absolute best. Unlike many other athletes, "not everything is riding on their success in sport". Both are studying at university — Bronte, business and PR; Cate, media and communications — and Cusack has no doubt they'll make a success of life after their swimming careers are over. There'll be no ugly transition period, no fodder for the tabloids. "Guarantee it," says the coach.
Cusack spends more time with the girls than their parents, but he rarely sees them away from the pool. It is a very professional relationship. "I am not their father, that's their father's job," he says. Interestingly, their father, Eric, says: "I don't know anything about swimming. I don't get involved at all. Swimming is Simon's job."
I catch up with Eric and Jenny at their home on a big bush block a half-hour's drive from Brisbane's CBD. Eric is cleaning the pool. I had expected the house to be full of swimming trophies and medals but he says they've always tried to keep things in perspective. "There are some families that we've seen, they've got three children but you'd never believe that when you walk into their house," he says. "The house is a shrine to the kid who is an elite athlete. You think, 'Haven't you got another son and daughter as well?' With Cate and Bronte, it can't be all about them." All their medals, including Cate's two bronze medals from Beijing, and the gold from London, are not on display in the family home — they're piled up in a bottom drawer somewhere.
Jenny and Eric, who are both South African, met in Johannesburg, travelled the world and decided to settle in Malawi when Eric, an accountant, was offered a job there. They went for two years and stayed for 10. They lived in a big house with a big yard and there was no TV. "We had turkeys, guinea pigs, rabbits, dogs, cats and chooks," Cate recalls. "Every morning was like an Easter egg hunt; the chickens would lay eggs all around the house." And they had a pool. Jenny, a nurse, had been a competitive synchronised swimmer in South Africa and taught them all how to swim. They socialised with the small expat community and Jenny home-schooled her children.
It was a privileged upbringing, with housemaids and gardeners, but there was no sense of entitlement. "I remember Mum used to always buy extra loaves of bread to give out to the street kids," Bronte says. "Lots of children lead pretty tragic lives in Africa … Growing up looking at this makes you so grateful for what you have."
However, the opportunities for the Campbell children in Malawi were limited and so, in 2001, the family migrated to Brisbane — Jenny was then pregnant with her fifth child and she was a full-time carer to Hamish. Cate and Bronte joined the local Indooroopilly swimming club to meet other kids. They lucked upon Simon Cusack, who'd drifted back into swimming after a time jackarooing in the Gulf Country and working on ranches in America. Cusack had been a champion swimmer. His father, Robert, was also a well-known coach and an Olympic bronze medallist. Right from the start Simon concentrated on teaching the girls perfect technique, leading them to the point where they could attain that elusive "feel for the water". He's a calm, self-­assured man who gains respect by talking only when he needs to. He rarely raises his voice.
At first, Bronte was the better and more dedicated swimmer. When they went to an early carnival she came home with a bunch of medals and trophies. "It was terrible," says Cate. "She would wear her medals around her neck and bring her trophies to the breakfast table to taunt me." The older sister was intensely jealous. She did the logical thing; she stole all Bronte's medals and hid them under her own bed. "In retrospect, probably not the greatest hiding spot," says Cate. "Mum eventually found them. She sat me down and said, 'If you want to win medals like Bronte you will just have to put in as much effort as she does'."
She did. And she grew and grew. Less than five years later, in 2007, she broke her first Commonwealth record. At 15 she was in the Australian team and she turned 16 just before arriving in Beijing for the Olympics. She was the great hope. "But she was very, very young," says Jeffery, "she was like Bambi in the headlights." She was overwhelmed by the experience but still managed to help the team win bronze in the 4x100m freestyle relay, even though she felt she had swum badly.
"I was so young," Cate says. "I was so naive. I was so unprepared for what an Olympic games is. I performed well below my expectations in the 100m free and I was terrified that I'd let the team down in the relay. I really was a bit of a mess." Cusack sat her down and told her to relax. "It was at that point that I just decided I would have fun," she says. "I swim because I love competing and I decided I would just enjoy the experience." She swam an excellent race in the 50m final and won bronze. "I was thrilled with that bronze medal because I'd performed to the very best of my ability. I was thrilled too that I could feel so low and that I could pick myself up."
It was a good lesson because so often she's had to pick herself up. In 2010 she got glandular fever, which turned into a post-viral fatigue — she was unable to swim for a year. She spent much of the time sleeping. It wasn't until the end of 2011 that she started swimming fast again. She qualified for London, and Bronte, then aged just 18, scraped in to make the team too. All was going to plan.
On the opening night of the Olympics, Cate teamed with Brittany Elmslie, Mel Schlanger and Alicia Coutts to win gold in the 4x100m freestyle. It would turn out to be Australia's only gold medal in the pool. But then she fell ill, very ill. She swam poorly in the 50m freestyle then had to withdraw from the 100m freestyle — an event most thought she would win. She was later diagnosed with pancreatitis — a condition usually associated with old alcoholic men. Just to finish off her run of rotten luck she tripped over a television cable in the Olympic venue and broke her hand. It could have ruined a lesser individual, but as her father says, it's not all about them. Her parents had flown back to Australia to take Hamish to hospital for bowel surgery; it didn't go well and they feared he could die. They waited until after the closing ceremony to tell the girls. Not winning a swimming race suddenly felt pretty insignificant.
The girls flew back to Australia from the Olympics in tears, not knowing what awaited them. "Frankly, they didn't have time to wallow in self-pity," their father says. "Jenny was in the hospital 24-7 for eight weeks with Hamish, and Cate and Bronte were called in to help run the house and look after their younger sisters. I think Cate was disappointed — that she knew she had it in her after that very first night, when she won gold, to do well …" Her mother Jenny cuts in: "But it's all a case of 'would have, could have, should have'." Besides, she adds, it's bit disrespectful to the girls who did win to claim Cate could have beaten them. There you have it, from Mum: You did your best, you got ill, we're still very proud of you, get over it and get on with it.
And so they have. Since the London Olympics Cate has recovered and Bronte is nipping at her heels — both are in stunning form and Cusack thinks they can go faster. He tells me his philosophy for training sprinters was informed by his time as a stockman. In the States he worked on a new method of training horses that was about quality of movement rather than quantity, "rewarding the horse immediately if they had executed the move correctly" and then letting it recover before doing it again. This was reinforced by what an old stockman told him, up in the Gulf, when he was learning to crack a whip. "I used to try and try and try until my arm got sore until one day this wise old fella said, 'As soon as you get one good whip-crack, put it away and come back to it later.'" He's applied this to swimming training: his charges complete laps as quickly and correctly as they can, then he rests them until they've recovered enough to do it flat out, and perfectly, again.
A five-minute walk from his pool the world's fastest and third-fastest female swimmers sleep in adjoining bedrooms, both on single beds. Boyfriends have so far not entered the equation; they haven't got time, they say, and their coach and father are both very happy about that at the moment. "I might only have six years left of this," Bronte tells me. "This is only going to be a small part of my life. It is all I have ever wanted to do. I may as well take advantage of it and put everything I have into it." They've both read and enjoyed Andre Agassi's searingly honest autobiography, Open, which begins: "I play tennis for a living even though I hate tennis, hate it with a dark and secret passion and always have." Agassi was pushed into the sport by his maniacal father.
Their experience, they say, has been the polar opposite. They both love the training and especially competing, pushing themselves to the limit. "I want to see how fast I can go," Cate says. "I want to see how much pain I can take. You are almost conquering instinct, in a way." There are races where she remembers nothing from the moment she dives in. It is, she says, almost like a state of nirvana. "It is like I am watching myself from above and my subconscious has taken over." She is moving through water as fast as any woman ever has in human history and what she experiences is tranquillity. It is short-lived: after the race, the build-up of lactic acid in her system often causes her to vomit.
In Rio next year, Simon Cusack will send the two sisters and rivals off to the blocks with the same succinct motivational speech he always delivers: "Have fun. See you on the other side." As the world sees it, only one of them can come out on top — but that's not the way they see it. "If we both swim as well as we can possibly swim and we both lose, we'll still be satisfied," says Bronte. "Simon will be happy that we've done our best and Mum and Dad will be as proud as if we'd won gold." The sentiment is summarised in another poem, pencilled on the wall above ­Bronte's desk next to Kipling's If. It is Invictus by William Ernest Henley.
It matters not how strait the gate,
How charged with punishments the scroll,
I am the master of my * fate,
I am the captain of my soul.
* fate from Greek phemi (literally, what gets said)
---