National Broadband Network to hit million-home target
The Australian
Mitchell Bingemann, Business Review
May 28, 2015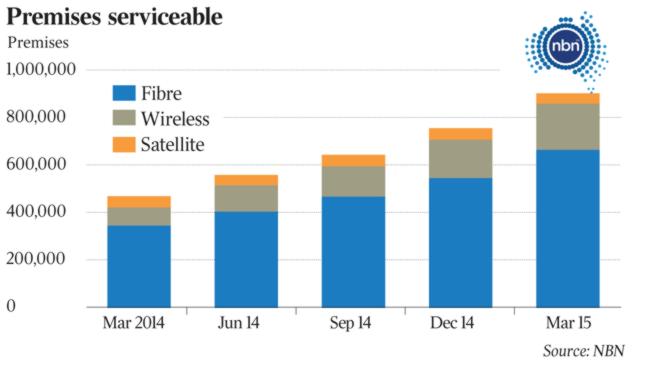 Extract: NBN released its third-quarter results yesterday, revealing it had brought in $106m in telecommunications revenue — almost three times as much as was earned in the same period a year earlier — for the nine months to March 31. "To put that in perspective, we've earned more money in just nine months than over the entire history of the project up to that point," said NBN chief executive Bill Morrow. Chief financial officer Stephen Rue attributed the rise in revenue to an increase in active premises and an uptick in average revenue per user, which increased from $37 a month to $40 for the quarter.
Some 899,000 homes and businesses have now been passed by the NBN, with 389,000 having signed up for active services on the network. "If you look at where we were last year, we were making around 7000 homes and businesses serviceable each week. Today that figure is in excess of 12,000, an increase of more than 70 per cent," Mr Morrow said.
NBN revealed $2.2bn in capital expenditure in the nine-month period, a loss of $785m in earnings before interest, tax, depreciation and amortisation, following operating expenses of $893m, which took its total accumulated losses over the life of the project to $4.9bn.
NBN also revealed it was in the final stages of negotiation with construction companies, including Telstra, for the contracts to roll out the multi-technology mix.
"We want the highest success factor that we can get. We need to keep the cost as low as possible … and we don't care who it is," Mr Morrow said. "If they have the quality and the resources and we can get the lowest possible cost, we're going to use them. The sooner customers can connect, the quicker we can accrue revenue and start paying back the taxpayers' investment in Australia's largest ever infrastructure rollout."
** End of report