Latest News North Korea
North Korea Tries to Launch Missile Amid US Tensions


Jonathan Cheng, WSJ  

Type of missile used in failed launch is still being assessed
 
Sunday April 16, 2017 11:17 a.m. AEST 

SEOUL A North Korean ballistic missile "blew up almost immediately" after it was fired on Sunday morning, US military officials said, less than a day after leader Kim Jong Un paraded a never-before-seen long-range ballistic missile through the streets of Pyongyang.

The missile was launched Sunday at 5:51am Seoul time (5:21am North Korea time, 6:51am Brisbane time) from Sinpo, a site on North Korea's east coast where it has a shipyard and last year claimed it tested a submarine-launched ballistic missile, said Cmdr. Dave Benham, a spokesman for US Pacific Command in Hawaii. 

Cmdr. Benham said the type of missile that was fired Sunday was still being assessed. The South Korean Joint Chiefs of Staff, who confirmed the failed launch, also said they were working on analyzing the type of missile. A senior US official told The Wall Street Journal that the projectile wasn't an intercontinental ballistic missile.

In response to the launch, Kim Kwan-jin, South Korea's director of national security, convened a special meeting to examine the security situation. 

The launch was seen as a sign of North Korea's determination to push ahead with its weapons program even after US President Donald Trump warned Pyongyang against any bellicose behavior, and the US sent an aircraft carrier group into the waters around the Korean Peninsula. "The president and his military team are aware of North Korea's most recent unsuccessful missile launch," Secretary of Defense Jim Mattis said in a statement Saturday. "The president has no further comment."

The failed test on Sunday came just hours before US Vice President Mike Pence was set to touch down at a US air base outside of Seoul for a three-day visit that is expected to focus on security issues. Mr Pence was briefed on the failed launch while aboard Air Force Two and was in contact with President Trump, according to a White House press pool report.

---


North Korea, US tensions escalate

Monday April 24, 2017 2:07PM AEST

Tensions around the Korean peninsula are heightening amid fears the reclusive North is planning another nuclear test amid reports that a third US citizen has been arrested in Pyongyang. The arrested man, a Korean-American professor named Tony Kim, had been teaching at a university in Pyongyang set up by a Korean-American Christian businessman, two people familiar with the matter said.

US President Donald Trump has held telephone conversations with the leaders of Japan and China amid South Korean talks about joint drills with a US aircraft carrier strike group.

Mr Trump was due to call Chinese President Xi Jinping after talking with Japanese Prime Minister Shinzo Abe earlier today. It comes after North Korea said it is ready to sink the US aircraft carrier, the USS Carl Vinson which Mr Trump has ordered to waters off the peninsula as a warning to the North.

Japan said on Sunday it had sent two Japanese destroyers to join the carrier group, led by the USS Carl Vinson, for drills.

Mr Abe described his conversation with Trump as a "thorough exchange of views". "We agreed to strongly demand that North Korea, which is repeating its provocation, show restraint," Abe told reporters. "We will maintain close contact with the United States, keep a high level of vigilance and respond firmly," he said. Mr Abe also said he and Mr Trump agreed that China, North Korea's neighbour and sole major ally, should play a large role in dealing with Pyongyang. A Japanese official said the phone call between Mr Trump and Mr Abe was not prompted by any specific change in the situation.

Mr Kim is the third known US citizen to be detained by North Korea in recent months. Pyongyang last year sentenced Otto Warmbier, a University of Virginia undergraduate, and Kim Dong-chul, a Korean-American businessman, to terms of 15 years and 10 years of hard labour, respectively.


AAP, Reuters
---


North Korea: White House in extraordinary Senate briefing
The Australian
Thursday April 27, 2017 7:27AM AEST


The Trump administration hosted senators for an extraordinary White House briefing at a perilous moment with North Korea, marked by the unpredictable nation's nuclear threats and stern talk of military action, if necessary, from the United States. 

All 100 senators were invited and transported in buses for the unprecedented, classified briefing. President Donald Trump's secretary of state, defence secretary, top general and national intelligence director were to outline for them the North's escalating nuclear capabilities and US response options, officials said. The briefing team was to meet later with House members in the Capitol.

The Trump administration says North Korea's pursuit of nuclear weapons is an urgent national security threat and the US will exert pressure through diplomatic measures and tighter economic sanctions. That's according to a statement issued by State Department, defence and intelligence chiefs Wednesday after briefing senators.

It says President Donald Trump aims to pressure North Korea into dismantling its nuclear, ballistic missile and proliferation programs, and is engaging the international community to achieve that and persuade Kim Jong Un's government "to de-escalate and return to the path of dialogue." The US "remains open to negotiations" to achieve denuclearisation of the Korean Peninsula, but the statement adds, "we remain prepared to defend ourselves and our allies."


Overnight North Korea's UN mission said it would react to "a total war" with the US with nuclear war. It said it would win in a "death-defying struggle against the US imperialists." 

The North has conducted large-scale, live-fire artillery drills, witnessed by national leader Kim Jong Un, as a reminder of its conventional threat to US-allied South Korea. South Korea started installing key parts of a contentious US missile defence system against North Korean missiles that also has sparked Chinese and Russian concerns.

America's Pacific forces commander, Adm. Harry Harris Jr., told Congress the system would be operational within days. He said any North Korean missile fired at US forces would be destroyed.

"If it flies, it will die," Harris said.

China has been urging restraint by both Pyongyang and Washington. In Berlin, Chinese Foreign Minister Wang Yi said Wednesday that North Korea must suspend its nuclear activities, but "on the other side, the large-scale military manoeuvres in Korean waters should be halted." China opposes the Terminal High-Altitude Area Defense system, or THAAD, being installed in South Korea. The US says it will only target North Korean missiles, but China and Russia see the system's powerful radars as a security threat.

In Beijing, Chinese foreign ministry spokesman Geng Shuang said THAAD would upset the "strategic balance" in the region. He said China will take "necessary measures to defend our own interests."


AP
---
North Korea missiles edge closer

The Australian
Primrose Riordan, Rowan Callick
Monday May 15, 2017

North Korea may now have the capacity to launch a nuclear strike on targets "close to" Australia's nearest northern neighbours, a US missile technology expert says. As the rogue Kim Jong-un regime yesterday launched what might be a new kind of ballistic missile, US physicist David Wright revealed modelling showing the North's rockets could have a range of 4500km. Darwin is 5800km from the latest launch site.

South Korea's military said the missile from yesterday's launch travelled 700km and Japanese Defence Minister Tom­omi Inada said it had a steeper trajectory than previous tests, reaching about 2km altitude before landing in the Sea of Japan. It travelled for 30 minutes from the launch site at Kusong, northwest of the capital, Pyongyang, and landed 400km from North Korea, close to Russia and Japan. "The type of missile is being assessed and it is not consistent with an intercontinental ballistic missile," a US Pacific Command spokesman said.

The missile shot overshadowed the most important event in China since the 2008 Olympic Games, Sunday's grand launch of President Xi Jinping's Belt and Road Initiative. The test also emphasised North Korean defiance following the election last week of Moon Jae-in as South Korean president. Mr Moon, a leftist, has offered talks with its volatile neighbour.

North Korea's two previous missile test attempts ended in failure. The latest launch, while strongly criticised by regional and world leaders, does not cross the widely assumed "red line" - a sixth nuclear bomb test or the testing of an ICBM that could carry a warhead to the US mainland or to Australia's east coast. Crossing that "red line" is thought likely to trigger a tough international response.

Dr Wright said yesterday's test could have been a KN-17 medium-range ballistic missile. He said the launch showed the regime's technology had advanced, which would cause concern in Washington. Dr Wright used computer modelling to hypothesise that the new Korean technology could now have a 4500km range.

He said this meant the missiles could reach Australia's neighbours, but not Australia as yet. "It would have to be 6000km (range), and they would just reach the northern tip, so you're safe still," he told The Australian. "It would get close to Indonesia. It almost reaches Papua New Guinea ... it could reach (US Pacific territory) Guam with this." However, Dr Wright said, considering North Korea could already hit closer US allies if it wanted, it was unlikely to target Australia. He said yesterday's test was the likely "next step" in Pyongyang's path to developing longer range missiles, and it was likely the new missile was displayed in an April military parade.

"Clearly the aspiration of the North Korean regime is to develop an intercontinental ballistic missile that has the capability of dumping a nuclear payload on the US," Foreign Minister Julie Bishop said in Cairns. She said Australia was working with the US and its allies to bring the regime back to negotiations.

South Korea's Mr Moon, who - like US President Donald Trump - has said he wants to negotiate with the North, attacked the test as a "reckless provocation". After an emergency meeting of national security advisers, the President's spokesman said dialogue with Pyongyang "is only possible when the North shows a change in attitude."

In Washington, Mr Trump called for tougher sanctions against North Korea, saying: "Let this latest provocation serve as a call for all nations to implement far stronger sanctions against North Korea." The test impacted "so close to Russian soil ... the president cannot imagine that Russia is pleased", the White House said, adding that North Korea "has been a flagrant menace for far too long".

Australian Defence Minister Marise Payne said Malcolm Turnbull spoke to Mr Moon on Friday. "They discussed the issues of current insecurity on the Korean peninsula and the President welcomed Australia's engagement in the region and, of course, our condemnation of North Korean actions," she said.

---
North Korea Launches 2nd Missile In a Week


CHOE SANG-HUN
Motoko Rich contributed reporting from Tokyo.
The New York Times
Monday 22nd May 2017

SEOUL, South Korea - North Korea fired a missile on Sunday, a week after its successful test of a new intermediate-range ballistic missile, South Korean officials said. The missile took off from a location near Pukchang, northeast of Pyongyang, the North Korean capital, and flew 310 miles before falling in waters off the county's east coast, the South Korean military said in a statement.

The United States Pacific Command said it had "detected and tracked" a medium-range ballistic missile that was launched by the North around 9:59am Hawaii time (4:29am North Korean time) and landed in the Sea of Japan. It said that "the missile launch from North Korea did not pose a threat to North America."

The launch was made while President Trump, who has pressed China to rein in the nuclear ambitions of the North's leader, Kim Jong-un, was on a nine-day trip to the Middle East and Europe. In a statement, the White House said: "We are aware that North Korea launched an MRBM. This system, last tested in February, has a shorter range than the missiles launched in North Korea's three most recent tests."

The Japanese military said it was analyzing the height and trajectory of the missile. Prime Minister Shinzo Abe said that by conducting another test just a week after the last one, the North was "trampling on the international community's efforts aimed at a peaceful settlement." On Monday, North Korea said the missile was a Pukguksong-2, a ground-to-ground, medium to long-range missile. The state-run Korean Central News Agency said Mr Kim had watched the test, which it called successful, and had ordered rapid mass production of the missile system for deployment.

On May 14, North Korea successfully launched what it called a new ballistic missile that can carry a large, heavy nuclear warhead. The ground-to-ground missile, known as Hwasong-12, landed in the sea between the North and Japan, prompting angry comments from Mr Trump, as well as from the newly elected president of South Korea, Moon Jae-in, and Mr Abe. The missile soared to an altitude of 1,312 miles before falling in open water about 480 miles from the launching site. It was believed to have a longer range than any North Korean missile tested before. Analysts said it looked like an intermediate-range ballistic missile that could fly far enough to target key American military bases in the Pacific, including those in Guam. In its statement Monday, North Korea claimed that the Hwasong-12 was capable of reaching Hawaii and Alaska.

The successful test drew keen attention in the region because its extended range indicated that North Korea was making progress toward building an intercontinental ballistic missile. North Korea later claimed that the launch was in part to test the "re-entry" technology, which is needed to protect a warhead from the intense heat and vibration as a long-range missile crashes through the atmosphere. After an initial analysis of the flight data from the test on Sunday, the South Korean military also identified the missile as a Pukguksong-2. The North last test-launched a Pukguksong-2 on Feb 12, while Mr Trump was hosting Mr Abe on an official visit. That missile flew 310 miles.

North Korea has said a Pukguksong-2 could carry a nuclear payload. The missile was also fired from a mobile-launch vehicle and used a solid-fuel technology that experts say will make it easier to hide and launch on short notice. Although North Korea has vowed to develop the ability to attack the United States with nuclear warheads and has tested missiles that can reach throughout the Korean Peninsula and its vicinity, it has never tested a long-range missile that could fly across the Pacific. Missile experts say North Korea may still be years away from mastering the technologies needed to build a reliable intercontinental ballistic missile. Under a series of United Nations Security Council resolutions, the country is banned from developing or testing ballistic missiles.


---
N Korea test fast-tracks threat

The Australian
Rowan Callick
Wednesday 5th July, 2017

Additional reporting: Simon Benson, Primrose Riordan

Australia has condemned North Korea for undermining world security after the pariah nation tested its first intercontinental ballistic missile, believed to be capable of delivering a nuclear weapon to Darwin, Cairns or the US state of Alaska.

The launch - years before experts anticipated and timed to coincide with Independence Day celebrations in the US - radically shrinks the timescale for tackling the North Korean threat. It sparked immediate tensions between the Trump administration and China on the eve of the G20 meeting in Germany. G20 leaders are due to discuss steps to rein in Pyongyang's weapons programs, which the North has pursued in defiance of UN Security Council sanctions.

The launch of the Hwasong-14 missile was ordered and supervised by leader Kim Jong-un, North Korea's state media said. The missile travelled 933km, reaching an altitude of 2802km over a flight time of 39 minutes. Officials from South Korea, Japan and the US said the missile landed in Japan's exclusive economic zone after being launched near an airfield in Panghyon, about 100km northwest of Pyongyang.

The launch yesterday - North Korea's 11th test this year - was at first viewed by military analysts as an intermediate-range ballistic missile. But after assessing the details, South Korea's military analysts upgraded their findings - provisionally confirming the claims of North Korean TV, that it was indeed a "landmark" intercontinental missile test.

US physicist David Wright, with the Union of Concerned Scientists, agreed with South Korea that, if fired at a more standard trajectory, the Hwasong-14 missile could have flown more than 6700km, far enough to qualify as an intercontinental missile. The launch alarmed experts who believe North Korea's only remaining major challenge is to miniaturise a nuclear weapon to fit it onto a missile nose cone.

A woman announcer on North Korean TV pronounced that the launch confirmed that the country was "a strong nuclear power state" which had "a very powerful ICBM that can strike any place in the world".
Japanese Prime Minister Shinzo Abe said the launch showed that the threat had grown.

China called for "restraint" from all parties and efforts to peacefully resolve the tensions. Foreign ministry spokesman Geng Shuang defended China's "relentless efforts" to resolve the North Korean nuclear standoff. Mr Xi was yesterday otherwise engaged, visiting his close inter­national ally Russian President Vladimir Putin.

Foreign Minister Julie Bishop yesterday described North Korea's missile tests as "provocative" and in breach of numerous UN resolutions. "North Korea continues to threaten its neighbours while undermining regional and global security," Ms Bishop said. "Its long-term interests would be best served by ceasing its nuclear and missiles programs, and focusing on improving the lives of its long-suffering people."

A US source said Mr Trump, who arrives in Hamburg tomorrow for his first G20, was becoming increasingly frustrated at China's lack of action to rein in the rogue state. Mr Trump is likely to meet Chinese President Xi Jinping on the sidelines of the summit, with the issue of North Korea now casting a shadow over the relationship. "The Trump administration is increasingly of the view that China is not doing enough on North Korea," the source said. "It could make for an uncomfortable meeting. The love-in three months ago in Mar-a-Lago has soured somewhat."

The US recently imposed sanctions on a Chinese bank for maintaining financial dealings with North Korea.

Mr Trump, who tweeted "it won't happen" early this year after Mr Kim said North Korea was close to testing an intercontinental ballistic missile, yesterday fired off a series of enraged tweets after the missile was launched on US Independence Day, but before it was labelled an ICBM. "Does this guy have anything better to do with his life?" he said. "Hard to believe that South Korea and Japan will put up with this much longer. Perhaps China will put a heavy move on North Korea and end this nonsense once and for all!"

---
US flexes military muscle after North Korea's ICBM test

USA TODAY
Sunday July 30, 2017

The United States confronted North Korea on Sunday over its latest missile test amid signs that time is running out to halt the rogue nation's headlong rush to build a nuclear weapon capable of reaching American cities. The US flew two B-1 bombers over South Korea in a show of force after North Korea again tested an intercontinental ballistic missile on Friday.

North Korea's latest missile test signaled that parts of the US mainland, including Los Angeles and Chicago, may be in range of Pyongyang's weapons. Vice President Pence said Sunday that the US and its allies plan to increase pressure on North Korea to end its nuclear program. "The era of strategic patience is over," Pence said while in Estonia. "The president of the United States is leading a coalition of nations to bring pressure to bear until that time that North Korea will permanently abandon its nuclear and ballistic missile program." 

The missile flew 2,300 miles into space and flew for about 45 minutes. If the missile was on a flatter trajectory, it could reach US cities, according to David Wright, an analyst at the Union of Concerned Scientists, and other experts.

Friday's missile test was North Korea's second test this month of an intercontinental ballistic missile (ICBM). The launches are part of the North's intensified efforts to build a nuclear missile capable of reaching the United States. "This was the year they decided to go all out," said David Albright, president of the Institute for Science and International Security. North Korean leader Kim Jong Un saw an opportunity to push ahead with the nuclear program as new governments in both South Korea and the United States settled in, he said.

"North Korea remains the most urgent threat to regional stability," Gen. Terrence O'Shaughnessy, Pacific Air Forces commander, said in a statement announcing Sunday's flyover of bombers.

Kim Jong Dae, a member of South Korea's National Assembly and a defense expert, said North Korea is making rapid progress on its nuclear program but isn't yet able to miniaturize a warhead to fit on an ICBM and hasn't perfected the technology so a warhead can re-enter the atmosphere without burning up. "The reliability (of North Korea's missiles) has increased remarkably," he said. Estimates vary on when North Korea will be able to reach US cities with a nuclear warhead. A new estimate from the Defense Intelligence Agency said the country could place a nuclear warhead on an ICBM by next year, The Washington Post reported. Kim Jong Dae estimated it will be "within three years."

The options for stopping North Korea's nuclear ambitions are limited. President Trump has expressed frustration about China's reluctance to place pressure on North Korea to halt its nuclear program. North Korea's economy depends heavily on China. "I am very disappointed in China," Trump said in a pair of tweets Saturday. "Our foolish past leaders have allowed them to make hundreds of billions of dollars a year in trade, yet they do NOTHING for us with North Korea, just talk, We will no longer allow this to continue. China could easily solve this problem.

Friday's test touched off a variety of responses, in addition to the flyover of US bombers. South Korea said it will hold talks with the United States about increasing the limits on the size of warheads on its own missiles. A current treaty between South Korea and the United States limits the size of the warheads that South Korea can place on missiles.

The US Missile Defense Agency said it conducted a test of its Terminal High Altitude Area Defense (THAAD) in Alaska by launching a ballistic missile over the Pacific Ocean. The test missile was fired by a US Air Force C-17 plane and was successfully intercepted, the agency said. 

---
North Korea says nukes only for US

Wall Street Journal
Monday August 7, 2017

Twitter Feed: Donald J. Trump @realDonaldTrump  Just completed call with President Moon of South Korea. Very happy and impressed with 15-0 United Nations vote on North Korea sanctions. 11:22 AM - Aug 7, 2017

Defying pressure from new United Nations sanctions, North Korea threatened to use nuclear weapons against the US if militarily provoked and said it would "under no circumstances" negotiate on its nuclear and missile weapons programs.

North Korean Foreign Minister Ri Yong Ho on delivered the strongly worded statement to reporters on the sidelines of an Asian regional security conference hours after US Secretary of State Rex Tillerson vowed to implement the stiffest sanctions yet imposed on the Pyongyang regime. Washington is seeking to build support in its campaign to pressure North Korea to give up its nuclear program after the country launched ballistic missiles last month capable of reaching the US. The sanctions adopted unanimously by the Security Council over the weekend had the crucial support of China, North Korea's chief economic partner, and Russia.

Mr Ri's statement rejected assertions by some Security Council members that North Korea's military programs constituted a global threat and said they were instead a legitimate option for self-defence "in the face of a clear and real nuclear threat posed by the US" If the US attacks North Korea, the country "is ready to teach the US a severe lesson with its nuclear strategic force," the statement said. Other countries were not being threatened unless they joined the US in a military attack, it said. "The unwise conduct of the US will only speed up its own extinction," North Korea said in the statement, adding that the US was getting "more frenzied and desperate" instead of learning to coexist with the country.

Diplomats said the reaction from North Korea showed that the new sanctions would have an impact. "Ultimately, the regimen bears responsibility for these sanctions. They hold the key to creating conditions for their removal," said the UK's ambassador to the UN, Matthew Rycroft.

The sanctions are meant to close loopholes that have allowed the rogue regimen to cultivate trade, financing and labour ties, thereby generating revenue to support its nuclear and military prograMs The sanctions ban trade in coal, iron and other items with North Korea and bar countries from employing North Korean labourers and entering into joint ventures with Pyongyang. The sanctions resolution aims to cut a third, or $1 billion, from North Korea's annual foreign revenue.

Earlier, Mr Tillerson said that if North Korea wants talks with Washington, it must first stop launching missiles. "That would be the first and strongest signal," he said. "We have not had extended periods of time where they were not taking some type of provocative action by launching ballistic missiles." Asked how long a missile moratorium would have to last to be taken as a signal, Mr Tillerson said, "We'll know it when we see it."

Mr Tillerson said the next step for the US is to see that sanctions are fully enforced around the world. The US will monitor that carefully, he said, and have "conversations" with any country not fully embracing both the spirit of the sanctions and their "operational execution."

On Monday, President Donald Trump received an intelligence briefing and spoke for an hour with Mr Tillerson and Chief of Staff John Kelly to discuss North Korea, the White House said.

At a dinner for conference attendees Sunday, North Korea's Mr Ri told his South Korean counterpart that Seoul's offer last month of talks lacked "sincerity," Yonhap News reported, citing a South Korean government source. The offer came from the administration of new South Korean President Moon Jae-in, the country's first left-leaning president in nearly a decade. Sunday night, Mr Moon requested a call with Mr Trump, in which the two leaders discussed North Korea's July 28 launch of an intercontinental ballistic missile, the White House said, as well as the UN sanctions.

Asia remains divided on how best to address North Korea's effort to produce a long-range nuclear missile. Some experts say they believe North Korea could develop a missile capable of handling atmospheric re-entry as early as next year. It is uncertain whether North Korea has developed the technology to miniaturise a nuclear device for such a missile.

Australia and Japan said in a joint statement with the US that they were pushing the international community to enforce sanctions and impose additional diplomatic and economic measures. China and Russia say they prefer diplomatic engagement with North Korea, despite supporting the sanctions, and have called on the US to end military exercises in the Korean Peninsula. Speaking in Manila on Monday, Chinese Foreign Minister Wang Yi stressed Beijing's commitment to the Security Council's resolution, but noted the potential economic impact on China. "Given China's traditional economic relationship with North Korea, the price paid in implementing the resolution will mainly be paid by China," Mr Wang was cited as saying in a statement posted Tuesday to the Foreign Ministry's website.

Le Luong Minh, the Vietnamese secretary-general of the Association of Southeast Asian Nations, the conference host, said in an interview that most of its members "are not for unilateral [actions] and largely not for sanctions. We are for mutual existence." The difference of opinion has left an opening for Kim Jong Un's regimen, experts say, because it is able to maintain enough diplomatic and economic ties to continue developing weapons while stopping short of agreeing to negotiate. "We are all forgetting that North Korea has only one card to play and no amount of talking or sanctions will change their mind," said James Chin, director of the Asia Institute at the University of Tasmania and an expert on North Korean sanctions evasion.

North Korea's recent missile tests surprised the international community with their capability. One of the missiles would be able to fly more than 6,400 miles, according to one analysis, putting Los Angeles, Denver and Chicago within range. In his statement, Mr Ri said the North Korean regimen was seeking nuclear capability as a deterrent and wouldn't use the weapons against any country except the US unless another nation aided in an attack against North Korea. Washington had sought the UN sanctions against Pyongyang to make the conflict an international issue, Mr Ri said. The world was "becoming gradually aware of the danger" of Mr Trump's "America First" policy of prioritising US interests in international affairs, Mr Ri added.

Mr Tillerson meanwhile briefed allies Japan and South Korea on US efforts to urge countries in Africa, Asia and the Middle East to stop using North Korean contract labour, a US official said. The secretary called the practice "a human-rights concern because of the unfair treatment, trafficking conditions and misuse of wages," according to the official. The latest UN action makes clear that there is "no daylight among the international community as to the expectation that North Korea will take steps" to denuclearise the Korean Peninsula, Mr Tillerson said.

---
North Korea threatens Guam strike

Cameron Stewart in Washington, The Australian
Wednesday August 9, 2017

Armed conflict with North Korea will have catastrophic consequences, Malcolm Turnbull has warned. The prime minister welcomed the latest UN sanctions on Pyongyang, again calling for the regime to come to its senses and stop its illegal provocations. "A conflict would be shattering. It would have catastrophic consequences. We all understand that," he told reporters in Canberra.

Mr Turnbull spoke after Pyongyang announced it was "carefully examining" a plan to strike near the US Pacific territory of Guam with missiles, and after US President Donald Trump told the North that any threat to the US would be met with "fire and fury". A spokesman for the Korean People's Army, in a statement carried by the North's state-run KCNA news agency, said the strike plan would be "put into practice in a multi-current and consecutive way any moment" once leader Kim Jong-in made a decision.

Earlier, Trump threatened to hit North Korea with 'fire and fury like the world has never seen' if it escalates its nuclear threat against the United States. His strong words came after the revelation that North Korea has successfully miniaturised a nuclear warhead, removing the last major obstacle to Kim Jong-un's regime launching a nuclear attack on the United States or Australia. It was met by a furious response from the president. "(They) best not make any more threats," he said. "They will be met with fire and fury like the world has never seen."

The frightening new assessment by US intelligence is a game-changer for the west, catapulting the rogue regime into the status of a genuine nuclear weapons state. "The IC [intelligence community] assesses North Korea has produced nuclear weapons for ballistic missile delivery, to include delivery by ICBM-class missiles," says a confidential US intelligence assessment by the Defence Intelligence Agency reported by the Washington Post. A separate US intelligence assessment also estimates that North Korea now has as many as 60 nuclear weapons, up three times the number of previous estimates.

---
North Korea fires missile over Japanese island of Hokkaido

The Australian
Tuesday August 29, 2017

Japan's Prime Minister Shinzo Abe has condemned North Korea's launch of a missile over its territory as an "unprecedented, serious and grave threat" as he called for an emergency UN Security Council meeting. Mr Abe vowed to enhance pressure on the nuclear-armed state as tensions spike over Pyongyang's weapons development ambitions.

"Their outrageous act of firing a missile over our country is an unprecedented, serious and grave threat and greatly damages regional peace and security," he told reporters in Tokyo. "We have protested to North Korea." Calling for an emergency meeting of the UN Security Council, he said Japan would "strongly call for increased pressure on North Korea in cooperation with the international community".

The missile was fired from the vicinity of Sunan in Pyongyang at 5:57 am (AEST) and flew east, according to the South Korean Joint Chiefs of Staff. "It passed through the sky over Japan," the JCS added. The missile flew around 2700km.
While the Japanese government said the missile had landed in the Sea of Japan, the national broadcaster NHK reported it had flown directly over the northern island of Hokkaido before breaking into three pieces and falling into waters 1180km east of the island. The Pentagon has confirmed the missile flew over Japan and said in a statement it is still assessing the launch.

Malcolm Turnbull condemned the launch and called on China to put more pressure on Pyongyang to stop aggressive and provocative military acts, saying Kim Jong-un's regime threatened the security of the Asian region and the world.
"We condemn this latest missile test in the strongest terms," Mr Turnbull told Adelaide radio station 5AA. "The North Korean regime continues recklessly to threaten the peace and stability of the region, and indeed the world, and we call on all nations to impose the harshest sanctions as stipulated by the (UN) Security Council against North Korea and in particular it is vitally important that China plays its part."

The missile was fired as North Korea tried to take its complaints about US and South Korean military exercises to the UN Security Council, saying the annual manoeuvers are recklessly provocative at a time of tension. A letter from Pyongyang, dated Friday, asked Egypt as Security Council president to schedule a discussion urgently. North Korea's UN ambassador, Ja Song Nam, wrote that the exercises are "provocative and aggressive" when the Korean peninsula is "like a time bomb." The Egyptian, US and South Korean missions didn't have any immediate comment Monday.

Amid the exercises, North Korea fired several rockets into the sea on Saturday.


Later Same Day


South Korea responded to the North's missile launch over Japan earlier today with an aggressive show of "overwhelming force", conducting a live-fire drill near the border between the two countries. Seoul's presidential spokesman Park Su-hyun said four F-15 fighters dropped eight MK-84 bombs - each with the explosive yield of a ton - that accurately hit targets at a military field in Taebaek, on the eastern coast. The South Korean air force said the exercise was aimed at sharpening the military's ability to completely destroy "the enemy's leadership".

The South Korean defence ministry is reportedly drafting a new plan to thwart a full-fledged North Korean military offensive and occupy Pyongyang within weeks without waiting for US troop reinforcements.

The Chosun Ilbo newspaper says the ministry has briefed President Moon Jae-in on its key objectives and vowed to formulate an "aggressive wartime action plan led by our military." A military source told the newspaper, one of South Korea's major newspapers, that the gist of the plan is "the mobilisation of airborne troops and Marines to infiltrate Pyongyang to quickly bring down the North Korean regime." Vice Defense Minister Suh Choo-suk said: "In the event of an invasion from the North, we will engage in an aggressive, deep-offensive operation" inside North Korea. The ultimate aim is to keep any war as brief as possible.

Japan's military also kicked off the drill of antimissile batteries at the US bases following North Korea's ballistic missile launch, a Japanese media outlet has reported. According to the Mainichi Shimbun newspaper, the Japan Air Self Defense Force carried out the planned exercises at Yokota Air Base in western Tokyo and at Marine Corps Air Station Iwakuni in western Japan.

South Korea also launched rare footage of its own tests on new ballistic missiles last week.

The Agency for Defence Development said the missiles would serve as core elements of the country's Kill Chain pre-emptive strike system and the Korea Massive Punishment and Retaliation scheme. "Our military has the missile capability with top-level precision and power to strike any place in North Korea if necessary," the ADD said.

Mr Park said national security director Chung Eui-yong called President Donald Trump's national security adviser H.R. McMaster to discuss the North's launch early this morning. Mr Trump also spoke with Japan Prime Minister Shinzo Abe, telling him the US is "100 per cent with Japan."

The UN Security Council will hold an emergency meeting on Tuesday (AET) over the launch.

---
North Korea shaken by strong tremors in likely nuclear test. Sunday September 3, 2017. The USGS (United States Geological Survey) initially reported a first tremor as a 5.6 magnitude, but later raised it to 6.3, while China's earthquake administration said it detected a 6.3 magnitude earthquake in Northeastern North Korea, calling it a "suspected explosion," Reuters reported. The depth of that quake was recorded as zero kilometers, the China earthquake administration said, according to Reuters.
The report cited the USGS as saying the first tremor occurred at around 12 noon North Korea time, 1:30pm AEST.
Earlier Sunday, photos released by the North Korean government showed Kim talking with his lieutenants as he observed a silver, peanut-shaped device that was apparently the purported thermonuclear weapon destined for an ICBM.
North Korea: US warns of 'massive military response'

The Australian, Wall Street Journal
Monday

US Defence Secretary James Mattis has warned North Korea in stark terms that any attack on the US or its allies would trigger a massive military response, in comments that came after a national-security briefing with President Donald Trump following Pyongyang's sixth and most powerful nuclear test. "We have many military options and the president wanted to be briefed on each one of them," said Mr Mattis in brief comments, accompanied by General Joseph Dunford, chairman of the Joint Chiefs of Staff. Mr Mattis warned that any attacks on the US, Japan or South Korea "will be met with a massive military response, a response both effective and overwhelming."

Mr Mattis urged the regime to heed calls from the US and other members of the United Nations Security Council to step back its nuclear escalation, "because we are not looking to the total annihilation of a country, namely North Korea, but as I said, we have many options to do so."

Earlier, President Trump denounced North Korea as a hostile "rogue nation," while also lashing out at China and South Korea, which he says have done too little to restrain the Pyongyang regime. The Trump administration also said it was drawing up new steps to further cut off North Korea's economy in the wake of the latest nuclear escalation, which is shaping up as the most consequential national-security challenge of Mr Trump's young presidency.

Mr Trump attended St. John's Church near the White House on Sunday morning to mark a National Day of Prayer for victims of Tropical Storm Harvey. When he left the church, a reporter asked, "Mr President, will you attack North Korea?" He responded, "We'll see."

The UN Security Council plans to hold an open emergency meeting on North Korea later today at the request of the US, UK, France, Japan and South Korea.

Mr Trump's comments in recent months on North Korea have been conciliatory at times. In a speech on Aug. 23 in Phoenix, President Trump said North Korea's leader, Kim Jong Un, was starting to show respect to the US and that "maybe something positive can come about."


Donald J. Trump @realDonaldTrump
North Korea has conducted a major Nuclear Test. Their words and actions continue to be very hostile and dangerous to the United States.....
9:30 PM - Sep 3, 2017
11,434 11,434 Replies 24,690 24,690 Retweets 76,287 76,287 likes
Donald J. Trump @realDonaldTrump
..North Korea is a rogue nation which has become a great threat and embarrassment to China, which is trying to help but with little success.
9:39 PM - Sep 3, 2017
10,524 10,524 Replies 20,414 20,414 Retweets 73,605 73,605 likes
Donald J. Trump @realDonaldTrump
South Korea is finding, as I have told them, that their talk of appeasement with North Korea will not work, they only understand one thing!
9:46 PM - Sep 3, 2017
17,754 17,754 Replies 21,720 21,720 Retweets 74,307 74,307 likes
The United States is considering, in addition to other options, stopping all trade with any country doing business with North Korea.
2:14 AM - Sep 4, 2017
23,155 23,155 Replies 33,251 33,251 Retweets 117,621 117,621 likes


But in Twitter posts overnight, Mr Trump had harsh words for North Korea, saying its "words and actions continue to be very hostile and dangerous" to the US. He then targeted two countries he has been leaning on to pressure the Pyongyang regime, saying North Korea's actions were an "embarrassment" to China and criticising South Korea for not taking a firmer line with its northern neighbour. "South Korea is finding, as I have told them, that their talk of appeasement with North Korea will not work," Mr Trump posted on Twitter. "They only understand one thing!" Later, Mr Trump tweeted that the US "is considering, in addition to other options, stopping all trade with any country doing business with North Korea."

Treasury Secretary Steven Mnuchin said he has spoken to the president about further isolating North Korea economically. "It is clear that this behaviour is completely unacceptable," said Mr Mnuchin on Fox News. "We've already started with sanctions ... but I am going to draft a sanctions package to send to the president for his strong consideration that anybody that wants to do trade or business with them would be prevented from doing trade or business with us."

North Korea's main trading partner is China, and it has trade ties with other nations including Russia and India as well. South Korea's national security adviser, Chung Eui-yong, said that Moon Jae-in, the South Korean president, had called for the "strongest punitive measures" against Pyongyang. That includes diplomatic measures and a new UN Security Council resolution to "completely isolate North Korea."

The US and its European allies at the Security Council have called for all member states to increase economic and diplomatic pressure on North Korea and better enforce the existing sanctions on Pyongyang. The Security Council in August unanimously approved new punitive measures. Ms Haley told the Council last week that the US would act alone if the Council and the UN failed to prevent North Korea's repeated provocations. It added that, during meetings in June and July, both Washington and Seoul had agreed that the purpose of the pressure was to try to bring Pyongyang to the negotiating table, and added that because Korea had experienced war, it was determined to seek denuclearisation of the Korean peninsula through peaceful means.

Complicating matters, Mr Trump's criticism of South Korea comes as Mr Trump has expressed interest privately about ending the Korea Free Trade Agreement, which his national security advisers have warned him against, according to people familiar with the deliberations. A State Department spokeswoman said Secretary of State Rex Tillerson spoke with South Korea's foreign minister, Kang Kyung-wha, and is making calls to other officials in the region.

Scheduled for later this month is the annual UN General Assembly meeting, where world leaders will take the podium one after another to address the global body. President Donald Trump is expected to address world leaders Sept. 19. The General Assembly meeting will provide the first opportunity since North Korea's recent missile and nuclear bomb tests for the US to meet face-to-face with the heads of allies Japan and South Korea. In addition to Mr Trump's highly anticipated speech. North Korea will be represented by a top official, according to a preliminary list of speakers, but no interaction is expected between North Korean and American diplomats. Mr Kim isn't expected to attend.

North Korea described the underground explosion as a "perfect success in the test of a hydrogen bomb for an ICBM." Just hours earlier, Mr Kim had showed off what he described as a hydrogen bomb capable of being mounted on an intercontinental ballistic missile. The nuclear test was estimated to have a yield of as high as 100 kilotons — about 10 times the power of the North's previous test and roughly five times that of the atomic bomb that the US dropped on Nagasaki, Japan, in 1945, according to Kim Young-woo, a South Korean politician who is chairman of the legislature's defence committee and received a briefing from military authorities.

In Washington, officials said they haven't confirmed the nuclear test involved a thermonuclear device, although they don't question the blast was larger than past tests.


---
North Korean tensions escalate amid threats and show of force


BEN KESLING Dow Jones 7:14 AM September 24, 2017 (AEST)

In a new escalation of hostility between Washington and Pyongyang, North Korea's foreign minister warned in a United Nations speech Saturday that a rocket attack on the US mainland was "inevitable" while US warplanes flew off the east coast of North Korea in an explicit show of force.

A total of eight US aircraft flew close to the North Korean coastline while remaining in international airspace, the Pentagon said in a statement, adding it was the farthest north of the demilitarised zone between North Korea and South Korea that US warplanes have flown since North Korea started testing ballistic missiles and nuclear weapons in the 1990s. "This mission is a demonstration of US resolve and a clear message that the president has many military options to defeat any threat," said Pentagon spokeswoman Dana White. "We are prepared to use the full range of military capabilities to defend the US homeland and our allies."

The moves on Saturday capped a week of growing hostility between the two countries and directly involving their top leaders. The rising animosity has spurred world leaders to call for restraint and diplomacy, but neither capital so far has shown an inclination to back down from the standoff. President Donald Trump this week derided North Korean leader Kim Jong Un as "Rocket Man," saying he was on a suicide mission and that the US would annihilate North Korea if forced to defend itself or its allies. He drew a personal response from Mr Kim, who called Mr Trump "deranged" and warned of retaliation.

North Korean Foreign Minister Ri Yong Ho suggested to international officials at the annual General Assembly gathering that military strikes by his country are inevitable. North Korea has been steadily advancing in both its missile and nuclear warhead programs, and is considered close to possessing the capability of an intercontinental strike. "Trump might not have been aware what is uttered from his mouth, but we will make sure that he bears consequences far beyond his words, far beyond the scope of what he can handle, even if he is ready to do so," said Mr Ri. "He committed an irreversible mistake of making our rockets' visit to the entire US mainland inevitable all the more," he added.

US officials watched as Mr Ri spoke, but the US mission to the UN didn't comment on Mr Ri's speech.

The North Korean official delivered a series of personal attacks on Mr Trump, calling him "mentally deranged," "evil," and an "old gambler" who had turned the White House into "a noisy marketing place" and the UN into a "gangster den." He said it was Mr Trump, not North Korea's leader Kim Jong Un, who was on a "suicide mission" and that he should be blamed if innocent American lives were lost. Mr Ri also said North Korea's nuclear program had entered into the phase of completion and that the country was a "responsible nuclear state" that would only use its weapons against nations that took military actions against Pyongyang.

In the US air operation east of North Korea, eight planes including Air Force B-1 Lancer bombers and F-15C Eagle fighter escorts flew off the east coast of North Korea, the Pentagon said Saturday. Ms White, the Pentagon spokeswoman, said this US air mission underscored "the seriousness with which we take DPRK's reckless behaviour, " referring to North Korea by its acronym.

Two B-1 bombers flew from the US territory of Guam, home to two US military bases, including Andersen Air Force base and its fleet of B-1 bombers. Mr Kim in August threatened to launch a missile attack on the island of Guam, located roughly 3,800 miles west of Hawaii and 2,100 miles south-southeast of Pyongyang, though he ratcheted back that threat days later.

The six F-15C escorts were deployed from Kadena Air Base in Okinawa, Japan, US Pacific Command spokesman Cdr David Benham said.

Cdr Benham didn't comment on the planes' armaments, but said the F-15s provided fighter escort and "they are prepared to defend against attack, if necessary."

Japan is well within the range of North Korea's ballistic missiles, and in mid-September Mr Kim launched a missile over Japan, the second such launch in the span of a month. That missile flew an estimated 2,300 miles, according to South Korea's joint chiefs of staff, which also would put Guam within range. Cdr Benham declined to comment on whether North Korea responded in any way to the mission, citing policy to not discuss intelligence matters.

At the UN, Mr Ri argued that his country was a victim of unfair sanctions and biased action by the UN and said the world body was tilted in favour of the five permanent members of the Security Council, the US, UK, France, Russia and China. "We will take preventive measures by merciless pre-emptive action in case the US and its vassal forces show any sign of conducting a kind of decapitating operation on our headquarters or military attack against our country," he said.

North Korea appeared defiant against international criticism and UN Security Council action, dismissing both as unjustified pressure by the US and its allies. In many ways Mr Ri's speech marked a setback to hopes that Pyongyang was open in the short run to attempts to de-escalate tensions in the interest of diplomacy and negotiations.

Seven representatives from North Korea were sitting in the country's designated area in the General Assembly hall. Two American delegates were also present, listening to the speech and taking notes.

North Korea's speech has been one of the most anticipated at the gathering of world leaders this year, along with Mr Trump's speech. North Korea has very little interaction with the outside world and the annual General Assembly meeting offers a unique opportunity for world leaders to hear directly from Pyongyang's regime. Many world leaders mentioned North Korea's crisis in their own speeches to the Assembly this week, urging its leaders to abandon its nuclear and missile tests in favour of diplomacy.

Ireland's minister for environment, Denis Naughton, spoke at the podium Saturday before Mr Ri. He urged North Korea to calm the tensions. "This is a conflict the world does not need and we need to move away from," said Mr Naughton.

Dow Jones Newswires

---
Extract: North Korea missile launch
News Corp Australia Network
NOVEMBER 29, 2017


NORTH Korea has just conducted its most successful intercontinental ballistic missile test yet.

About 3am local time, the ICBM was launched on a steep trajectory before crashing back to Earth 960km away in the Sea of Japan, 210km from the Japanese coast. South Korea's Yonhap news agency says that during its 53 minutes flight time, the missile soared some 4500km into space.

Defence analysts say this demonstrates it has the power and range of a fully functional ICBM capable of travelling more than 10,000km - putting all of the United States mainland and most of the world within its reach.

The UN Security Council will hold an urgent meeting tomorrow to discuss the implications of the launch.

"We will take care of it," Trump said in remarks at the White House after the test.
Trump told reporters that "it is a situation that we will handle."


---
A wave of panic rattles Hawaii after false missile alert
The Australian
January 15, 2018


The second blunder in a month in Hawaii's planning for a possible North Korean nuclear attack left islanders shaken yesterday after an emergency alert warning of an imminent strike sounded on hundreds of thousands of cellphones. For nearly 40 minutes, people waited. Then came the second mobile alert: someone hit the wrong button during a shift change: there was no missile.

Some people abandoned cars on the highway and others gathered in the interiors of their homes to wait for what seemed like the inevitable, a blast that would cause widespread death and destruction.

The message sent statewide just before 8.10am on Saturday (4.10am Sunday Brisbane time) read: "Ballistic missile threat inbound to Hawaii. Seek immediate shelter. This is not a drill."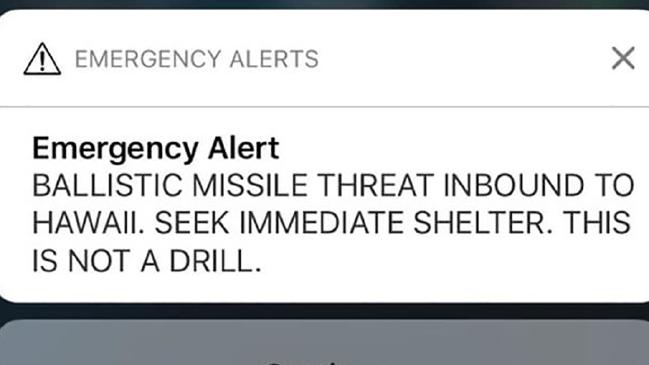 Hawaii Emergency Management Agency administrator Vern Miyagi said he took responsibility for the mistake. He said officials would study the error to make sure it didn't happen again. The state adjutant general, Major General Joe Logan, said a written report would be prepared. State legislators announced they would hold a hearing next Friday. And Federal Communications Commission chairman Ajit Pai said on social media the panel would launch an investigation.

The backlash from politicians was swift. Hawaii House Speaker Scott Saiki said the system Hawaii residents had been told to rely on had failed miserably: "Clearly, government agencies are not prepared and lack the capacity to deal with emergency situations." Hawaii senator Brian Schatz tweeted that the false alarm was "totally inexcusable ... There needs to be tough and quick accountability and a fixed process," he said. State senator Donna Mercado Kim said the false alert was detrimental to the integrity and trust of the emergency management system.

The HEMA tweeted there was no threat about 10 minutes after the alert, but that didn't reach people not on the social media platform. The recall reached mobile phones more than 38 minutes later. Many people said they were resigned to the fact there was little they could do if a missile were to be launched towards the remote island chain, especially with only 15 minutes of warning time for a strike from North Korea.

With the threat of missiles from North Korea on people's minds, the state reintroduced the Cold War-era warning siren tests last month, but there were problems there, too. Even though the state says nearly 93 per cent of the islands' 386 sirens worked properly during the test, 12 mistakenly played an ambulance siren. In the tourist hub of Waikiki, the sirens were barely audible, prompting officials to add more sirens there and reposition those already in place.

Mother Mary Hirose questioned why it took civil defence so long to send out the all-clear and why they tweeted before sending a mobile push alert. Hawaii officials apologised repeatedly and said the alert was sent when someone hit the live alert button instead of an internal test button during a shift change.

"Today is a day that most of us will never forget," said Governor David Ige. "A day when many in our community thought our worst nightmare might actually be happening. A day when many frantically tried to think about the things that they would do if a ballistic missile launch would happen." The agency did not have a plan for a false alarm in place. Mr Ige called the mistake unacceptable. "I am sorry for the pain and confusion it caused," he said. "I, too, am extremely upset about this."

On the H-3, a major highway north of Honolulu, vehicles sat empty after panicked drivers ran to a nearby tunnel for shelter. The White House said President Donald Trump, at his private club in Florida, was briefed on the false alert. White House spokeswoman Lindsay Walters said it "was purely a state exercise".

AP



---
Extract - Shadow of war over Korean peninsula lifted only temporarily
The Australian
ROWAN CALLICK, China Correspondent Beijing
Friday, 19th January, 2018


The Winter Olympic Games sometimes struggle to gain traction among Australians, few of whom have much experience of the sports, and coming as the Games usually do in the wake of cricket Tests and the Australian Open tennis. Next month will be different. For these Olympics will bear the stamp of North Korea's "Supreme Leader" Kim Jong-un, the most glamorously malevolent figure in today's pantheon of dictators. They will attract huge global attention.

North and South Korea - who have in the past dozen days rushed into a heady detente - have announced they will form their first unified Korean team, including a joint women's ice hockey squad. Furthermore, their athletes will parade together at the opening ceremony, as they did to acclaim at the glorious Summer Olympics in Sydney in 2000, and will as then march behind a blue and white "unification" flag.

The bitterly opposed countries have never competed together at an Olympics since the 1950-53 Korean War in which almost three million people died, and which remains subject to a truce but not a formal peace treaty.

The North Korean delegation to attend the PyeongChang Games in the northwest of South Korea from February 9 to 25 will include a 230-member cheer squad, a 30-member taekwondo demonstration team, the 140­person Samjiyon orchestra and probably also the 10-woman pop group Moranbong Band.

The most prominent North Korean athletes to participate will be figure skating pair Ryom Tae-ok and Kim Ju-sik. They will perform their key routine to The Beatles' A Day In the Life in which John Lennon sings enigmatically: "I read the news today, oh boy/About a lucky man who made the grade/And though the news was rather sad/Well I just had to laugh ..."

Before the Olympics, the two Koreas will stage a joint cultural event at Diamond Mountain, a famous beauty spot in the North.

After the Olympics, the North will send a delegation of 150 officials and athletes to the Paralympics in March.

Moon and Kim have together engineered a detente that looks very much like the proposal of China and Russia; that the North suspends further testing while the South and the US suspend further military exercises.


---
Extract: Donald Trump to meet Kim Jong-un who promises to stop all nuclear testing
North Korean leader Kim Jong-un and Donald Trump will meet by May.
The Australian
AFP
Friday, 9th March 2018


The White House has confirmed that President Donald Trump has agreed to meet with North Korea's Kim Jong-un to seek a deal on denuclearisation, while stressing US sanctions will remain in place. Mr Trump, accepting an invitation from Kim to have face-to-face talks, praised the North Korean leader's willingness to discuss denuclearisation and cease his nuclear missile testing program.

"Kim Jong-un talked about denuclearisation with the South Korean Representatives, not just a freeze. Also, no missile testing by North Korea during this period of time," Mr Trump tweeted after a top South Korea official announced the talks would be held by May. "Great progress being made but sanctions will remain until an agreement is reached. Meeting being planned!"

Donald J. Trump
@realDonaldTrump

Kim Jong Un talked about denuclearization with the South Korean Representatives, not just a freeze. Also, no missile testing by North Korea during this period of time. Great progress being made but sanctions will remain until an agreement is reached. Meeting being planned!

8:08 PM - Mar 8, 2018 Washington time


No serving American president has ever met with a North Korean leader.

White House press secretary Sarah Sanders said in a statement following the announcement by South Korea: "President Trump greatly appreciates the nice words of the South Korean delegation and President Moon."

"He will accept the invitation to meet with Kim Jong-un at a place and time to be determined. We look forward to the denuclearisation of North Korea. In the meantime, all sanctions and maximum pressure must remain."


Sarah Sanders
@PressSec

@POTUS greatly appreciates the nice words of the S. Korean delegation & Pres Moon. He will accept the invitation to meet w/ Kim Jong Un at a place & time to be determined. We look forward to the denuclearization of NK. In the meantime all sanctions & maximum pressure must remain

7:49 PM - Mar 8, 2018 Washington time


Earlier in an extraordinary appearance on the White House driveway, South Korean national security director, Chung Eui-yong, who met Kim this week, said the North Korean leader had offered to meet Mr Trump to secure a deal to remove nuclear weapons from the Korean peninsula. "I told President Trump that at our meeting North Korean leader Kim Jong-un said he's committed to denuclearisation," Chung said. "Kim pledged that North Korea will refrain from any further nuclear or missile tests. He expressed his eagerness to meet President Trump as soon as possible. President Trump appreciated the briefing, and said he would meet Kim Jong-un by May to achieve permanent denuclearisation."

The meeting will be the first of its kind between a leader of North Korea and a sitting president of the United States. The two countries have been in a formal state of war since the Korean War in the 1950s.

The invitation came in a letter from Kim and was delivered to the White House earlier in the day by Chung.

South Korea announced Tuesday that the North had stated there was "no reason" to hold on to its nuclear weapons "if military threats towards the North are cleared and the security of its regimen is guaranteed." Seoul had earlier announced the two Koreas would hold a historic summit in the Demilitarised Zone next month - and that the North's leader was ready to halt provocative missile and nuclear tests and sit down with its old enemies.

In the past North Korea has indicated that security guarantees mean US forces leave the Korean peninsula and break a mutual defence treaty with the South.

The United States says Pyongyang is testing - and will soon complete - an intercontinental ballistic missile capable of delivering a nuke to the continental United States. That ominous technological breakthrough would put cities like Los Angeles and even New York in striking distance of a hostile regimen, something that is unthinkable to many in the West Wing.

The offer of talks, not yet publicly confirmed by North Korea, is a tantalising one for the White House - offering a possible off-ramp from the road to a bloody war. But it is also fraught with risks. On multiple occasions, Kim's father Kim Jong-Il dangled the prospect of talks and denuclearisation as a means of buying time, easing sanctions and dividing South Korea from its allies.


---
Extract: Kim Jong-un and Moon Jae-in make historic nuclear pledge
The Australian
The Times
Friday, April 27, 2018 10:09PM


The leaders of North and South Korea have agreed to work to rid the Korean peninsula of nuclear weapons after holding an historic summit. The announcement was made by the North's Kim Jong-un and Moon Jae-in of South Korea after talks at the border.

The two also agreed to push towards turning the armistice that ended the Korean War in 1953 into a peace treaty this year and would look to resolve issues of divided Korean families. They are also looking to ease military tensions when their respective defence ministers meet in May and agreed on the first day of the same month to end all propaganda activities, including the use of loudspeakers and the dropping of leaflets.

In a sense, the vague statement by the leaders to achieve "a nuclear-free Korean Peninsula through complete denuclearisation" kicks the issue down the road to a much-anticipated summit between Kim and US President Donald Trump in coming weeks.

Even so, the Koreas' historic summit on Friday might be remembered as much for the striking images of two men from nations with a deep and bitter history of acrimony holding each other's hands and grinning from ear to ear as they crossed back into the North and then returned again to the South after Kim first made history by walking over the border to greet Moon. Kim was the first North Korean leader to touch southern soil since the end of the Korean War. It marks a surreal swing in relations for the Koreas, from nuclear threats and missile tests to intimations of peace and cooperation.

World leaders respond

United States President Donald Trump has delivered a series of tweets praising the new moves towards peace on the Korean Peninsula.

Donald J. Trump
@realDonaldTrump

After a furious year of missile launches and Nuclear testing, a historic meeting between North and South Korea is now taking place. Good things are happening, but only time will tell!

8:41PM - Apr 27, 2018 (6:41AM Washington time)
Donald J. Trump
@realDonaldTrump

KOREAN WAR TO END! The United States, and all of its GREAT people, should be very proud of what is now taking place in Korea!

8:55PM - Apr 27, 2018 (6:55AM Washington time)
Donald J. Trump
@realDonaldTrump

Please do not forget the great help that my good friend, President Xi of China, has given to the United States, particularly at the Border of North Korea. Without him it would have been a much longer, tougher, process!

9:50 PM - Apr 27, 2018 (7:50AM Washington time)


Japanese Prime Minister Shinzo Abe welcomed the historic summit between the two Koreas urging Pyongyang to take "concrete action" on the peninsula's denuclearisation and other issues. "Today President Moon Jae-in and Chairman Kim Jong Un held earnest discussions about North Korea's denuclearisation. I want to welcome that as a positive move toward comprehensive resolution of various issues concerning North Korea," Abe told reporters in Tokyo. "We strongly hope that North Korea will take concrete action through this meeting and a summit between the US and North Korea."

Russia also praised a landmark summit between the leaders of the two Koreas as "very positive news", saying direct dialogue on the divided peninsula was promising. "This is very positive news," President Vladimir Putin's spokesman Dmitry Peskov told reporters. "Today we see that this direct dialogue has taken place (and) it has certain prospects," he said



---
Extract: Trump works to keep Kim on track
Weekend Australian
Cameron Stewart, Washington Correspondent
Saturday, May 19, 2018


Donald Trump has promised North Korea will become a rich, industrious and protected nation under the continued leadership of Kim Jong-un if it agrees to a nuclear deal with the US. But the US President also warned the regime risked being decimated if it did not make a deal with Washington at the leaders' summit in Singapore next month.

On the world stage, in a series of remarks aimed at enticing Kim to proceed with the June 12 summit, Mr Trump offered unspecified security "protections" for North Korea if it struck a deal to get rid of its nuclear weapons. Mr Trump, who said he still didn't know if the summit would proceed, also blamed China for North Korea's abrupt change of tone this week when it threatened to cancel the summit unless the US dropped its demand for the North to abandon its nuclear weapons. The North also lashed out at US-South Korean "Max Thunder" military exercises, calling them a preparation for invasion.

The President delivered a rebuke to his outspoken National Security Adviser John Bolton by saying the US did not want to pursue the "Libya model" in denuclearising North Korea because Libya was decimated whereas North Korea would not be. "The Libya model isn't the model that we have at all when we're thinking of North Korea," Mr Trump said. "In Libya, we decimated that country. That country was decimated."

He said any deal with North Korea "would be with Kim Jong un, something where he'd be there, he'd be in his country, he'd be running his country, his country would be very rich, his country would be very industrious. If we make a deal, I think Kim Jong-un is going to be very happy. He will get protections that would be very strong ... he will have very adequate protection. It's a tremendous part of the world. I think it's got tremendous potential. I think it's got tremendous potential for its leader and for its people. But we'll see how it all works out."

The President has asked the Pentagon for options to reduce the 30,000 US troops in South Korea, fuelling speculation that this may be part of the carrot offered to Pyongyang as part of any deal to dismantle its nuclear weapons program.

Mr Trump said he was still planning on the Singapore summit proceeding unless he heard otherwise. North Korean officials were discussing logistics planning "as if nothing happened". "Nothing has changed on North Korea that we know of. We have not been told anything," he said.

Mr Trump said Chinese President Xi Jinping might have influenced North Korea to threaten the cancellation of the summit unless the US backed off its demand for full and complete denuclearisation of the North. "It could very well be that he's influencing Kim Jong-un," he said. Mr Trump noted that the change in tone by North Korea began after Mr Kim made an unexpected second trip this year to the northern Chinese city of Dalian to meet Mr Xi.

Mr Bolton angered Pyongyang earlier this week when he said the "Libya model" in which leader Muammar Gaddafi traded away his nuclear program in the early 2000s was one that the US would like to follow with North Korea. Gaddafi was killed by rebels in 2011, whereas Mr Trump said yesterday Kim would get "protections". Although he warned of potentially severe dangers to Kim and his regime if it failed to make a deal with the US. "That model would take place if we don't make a deal," he said.

Mr Trump said his aim with North Korea was to have long-term peace. "I want to have peace in the world, more so than the Nobel Peace Prize," he said. "I'd like to see peace. North Korea is going to be very important."

The White House is hoping that North Korea's threat to cancel the summit is a tactical move to improve its bargaining position rather than a serious threat. It was Kim who suggested a summit and in recent weeks he has taken a series of conciliatory steps to improve relations with the US. These include the release of three US hostages, a ban on all nuclear and missile tests and the promise to close down a nuclear test site.


---
Trump Calls Summit Cancellation a 'Setback for the World'
North Korea 'still willing to resolve issues' as Donald Trump cancels meeting with Kim Jong-un
The Australian
Cameron Stewart, Washington, Primrose Riordan, Canberra
Friday, May 25, 2018 at 11:36AM


UPDATED: North Korea has responded to Donald Trump's decision to cancel his summit with Kim Jong-un, saying Pyongyang is still willing to resolve issues with Washington. A statement released on state news agency KNRC said the cancellation was not in line with the wishes of the world.

Kim Kye Gwan, North Korea's First Vice Foreign Minister, said in a statement carried by the state-run KCNA news agency: "The abrupt announcement of the cancellation of the meeting is unexpected for us and we cannot but find it extremely regrettable. "We again state to the US our willingness to sit face-to-face at any time in any form to resolve the problem," Mr Kim added.

Earlier, in a stunning move Donald Trump blamed North Korea's 'tremendous anger and open hostility' towards the US for his move.

Mr Trump's decision came after North Korea issued another angry retort to the US following comments made by Vice President Mike Pence in which he warned that North Korea could end up like Libya.

"I was very much looking forward to being there with you," Mr Trump said in an open letter released by the White House. "Sadly, based on the tremendous anger and open hostility displayed in your most recent statement, I feel it is inappropriate, at this time, to have this long-planned meeting."

Foreign Minister Julie Bishop said the news was "disappointing" but cautioned that progress was always going to be slow toward a solution to the crisis on the Korean peninsular. "It would be disappointing if the summit were not to go ahead but it seems that President Trump has invited Kim Jong Un to demonstrate his commitment to the summit," she told 2GB. "I expect that President Trump was not satisfied that Kim was genuine when he spoke of wanting lasting peace and denuclearisation but it is incumbent on North Korea to make the sorts of commitments that demonstrate that its promise to denuclearise are real and substantive."

Ms Bishop warned it would be a "long drawn out diplomatic process" to achieve a solution to North Korean aggression and to taming their nuclear ambitions. "I think we need to be cautious about progress. I've said on many occasions we have seen false dawns on the part of North Korea in the past, made many promises and not honoured them, but we can't jump to conclusions about the next steps," she said.

"There are a range of options from here. The cancellation of the summit doesn't dent my resolve to continue to work towards a diplomatic solution, and the United States, Australia and the world community must continue to apply maximum diplomatic political and economic pressure until it makes concrete commitments to complete a verifiable denuclearisation."

The two leaders, were due to meet in Singapore on June 12 in what would have been the first ever meeting between a sitting US president and a North Korean leader. Mr Trump said the cancellation of the meeting was for the good of both parties "but to the detriment of the world."

But Mr Trump held out the prospect of a future summit, saying: "Someday I look forward very much to meeting you."  "If you change your mind having to do with this most important summit, please do not hesitate to call me or write."

Speaking later, Mr Trump said it was still possible that the existing summit scheduled for June 12 could take place. "A lot of things can happen...it's possible that the existing summit could take place or a summit at some later date. Nobody should be anxious. We have to get it right. Hopefully positive things will be taking place with respect to the future of North Korea but if they don't we are more ready than we have ever been before."

In his letter to Mr Kim, the president said: "The world, and North Korea in particular, has lost a great opportunity for lasting peace and great prosperity and wealth. This missed opportunity is a truly sad moment in history."

Mr Trump lost patience with Mr Kim after a North Korean official was quoted Thursday as saying it would have second thoughts about the summit if the US kept making critical statements about North Korea.

The official, Vice Foreign Minister Choe Son-hui, described as "ignorant and stupid" comments made by Mr Pence in an interview on Fox News on Monday. She accused the Vice President of making 'unbridled and impudent remarks that North Korea might end up like Libya.' Ms Choe also referred to unspecified "unlawful and outrageous acts" by top American officials. The attack was the second by North Korea in a week and was the final straw for the White House.

The summit had increasingly been in doubt after North Korea last week threatened to pull out over comments made by Mr Trump's national security adviser John Bolton. Mr Bolton, like Mr Pence, had drawn comparisons between North Korea and Libya. In 2003 Libyan leader Moammar Gaddafi traded his nuclear weapons program for the lifting of economic sanctions. But Pyongyang did not like the comparison because Gaddafi was overthrown and killed eight years later.

Mr Trump had reportedly been having second thoughts about the meeting over the weekend after North Korea's initial threat to withdraw last week. The president feared he might not achieve a meaningful outcome and that he would risk losing face on the world stage if the much hyped summit failed to deliver a deal on denuclearizing North Korea.

In his letter to the North Korean leader, Mr Trump said the US "greatly appreciates your time, patience and effort" over the negotiations for the summit and pointed out that the meeting was initiated by North Korea, although he also said that fact was "totally irrelevant" to the US. "I felt a wonderful dialogue was building up between you and me and ultimately it is only that dialogue that matters," he wrote. The president thanked Mr Kim for the recent released of three US hostages from North Korea. "That was a beautiful gesture and was very much appreciated," Mr Trump said.

But Mr Trump also made it clear that the US policy of maximum pressure against the regime would continue. He said the US was willing to defend itself against the regime if Mr Kim wanted to react with hostility to the decision to cancel the summit. "You talk about your nuclear capabilities, but ours are so massive and powerful and I pray to God I hope they will not have to be used," Mr Trump wrote. Later he said: "Our military - which is by far the most powerful anywhere in the world and has been greatly enhanced recently - is ready if necessary."

He said South Korea and Japan were also ready to shoulder the financial burden and other costs of confrontation with North Korea "if such an unfortunate situation is forced upon us."

Mr Trump said Mr Kim had the opportunity to make his country wealthy and relieve the suffering of his people. "North Korea has the opportunity to end decades of poverty and oppression...and I hope that Kim Jong Un will ultimately do what is right not only for himself but, perhaps most importantly, what is right for his people who are suffering greatly and needlessly.'

The Trump administration had shown a more flexible approach to its demands on denuclearization in recent days, saying it wanted to see the beginning of a process for North Korea to get rid of nuclear weapons. This contrasted with its more strident demand previously for an immediate destruction of the country's nuclear weapons and its nuclear program.


---
Wikipedia


US President Donald Trump met with North Korean Supreme Leader Kim Jong-un on June 12, 2018, in Singapore, in the first summit meeting between the leaders of the United States of America and the Democratic People's Republic of Korea (North Korea). They signed a joint statement, agreeing to security guarantees for North Korea, new peaceful relations, reaffirmation of the denuclearization of the Korean Peninsula, recovery of soldiers' remains, and follow-up negotiations between high-level officials. Immediately following the summit, Trump announced that the US would discontinue "provocative" joint military exercises with South Korea, and he wishes to bring the US Soldiers back home at some point, but he reinforced that's not part of the Singapore equation. On 1 Aug 2018, US Senate Passes Defense Bill that Makes zero reduction in USFK (US Forces Korea) as it relates to the essential terms of North's complete denuclearization process.

Singapore, considered a politically benign territory by both sides, made thorough preparations to host the summit, which took place at the Capella Hotel on Sentosa Island. According to Prime Minister Lee Hsien Loong, the summit had cost the Singaporean government S$16.3 million (US$12 million), half of which was spent on security measures. Each leader also met with Prime Minister Lee prior to their summit meeting.


---
North Korea accuses US of 'hatching a criminal plot to unleash a war'
Zachary Cohen, CNN
CNN's Junko Ogura contributed reporting from Tokyo. Sophie Jeong reported from Seoul
Tuesday, August 28, 2018 at 10:21 HKT
Washington (CNN): North Korea's state newspaper accused the US of "hatching a criminal plot to unleash a war against the DPRK" while "having a dialogue with a smile on its face" Sunday following a report on South Korean radio that American forces in Japan were running drills aimed at invading Pyongyang.


"We can not but take a serious note of the double-dealing attitudes of the US as it is busy staging secret drills involving man-killing special units while having a dialogue with a smile on its face," the commentary from North Korea's Rodong Sinmun said, citing South Korean reports that US special units had been flown to the Philippines as part of an invasion drill.

"The US would be sadly mistaken if it thinks that it can browbeat someone through trite 'gunboat diplomacy' which it used to employ as an almighty weapon in the past and attain its sinister intention," it added.

US Forces Japan (USFJ) told CNN on Monday it was "not aware of the drills" mentioned in North and South Korean media reports.

"In general, US aircrafts and ships operate from Japan every day in support of our commitments to our allies and partners in the region and in the interests of regional peace and security," Col. John Hutcheson, the Director of public affairs of USFJ, said in a statement.
 
The harsh rhetoric from Pyongyang comes just days after President Donald Trump nixed plans for Secretary of State Mike Pompeo to make what would have been his fourth visit to North Korea, citing insufficient progress on the issue of denuclearization.

"I have asked Secretary of State Mike Pompeo not to go to North Korea, at this time, because I feel we are not making sufficient progress with respect to the denuclearization of the Korean Peninsula," Trump tweeted on Friday. "Secretary Pompeo looks forward to going to North Korea in the near future, most likely after our Trading relationship with China is resolved."

A diplomatic source told CNN that while it is possible that high-ranking officials in Seoul were informed of Trump's decision to cancel the trip prior to the tweets, the announcement caught South Korean diplomats at the working level off guard. South Korean President Moon Jae-in plans to visit Pyongyang next month for a third summit with North Korean leader Kim Jong Un.

The South Korean Foreign Ministry said Foreign Minister Kang Kyung-hwa and Pompeo spoke by telephone Saturday to discuss the canceled trip and where negotiations might go from here.

A statement released by the ministry said Pompeo explained "in detail" the reasons for postponing the trip. The statement did not elaborate.

According to the South Korean Foreign Ministry, Kang called the cancellation "regrettable" while Pompeo reaffirmed the US position that it will continue to solidify South Korea-US cooperation.


---
North Korea economy needs to deliver 'telling blow'
Joyce Lee, Reuters
Friday, April 12, 2019
Seoul: North Korean leader Kim Jong-un says his country needs to deliver a "telling blow" to those imposing sanctions by ensuring its economy is more self-reliant.

It's the first time Kim has stated North Korea's position on the second US-North Korea summit in Hanoi that collapsed in February, and signalled a continued focus on economic development, a strategic direction officially declared a priority last April. Mr Kim said yesterday he would double down on efforts to create a self-supporting national economy "so as to deal a telling blow to the hostile forces who go with bloodshot eyes miscalculating that sanctions can bring (North Korea) to its knees", according to state media Korean Central News Agency.

US-North Korean engagement has appeared to be in limbo since the February 27-28 summit in Hanoi, which collapsed over differences about how far North Korea was willing to limit its nuclear program and the degree of US willingness to ease economic sanctions against Pyongyang. Kim has continued to highlight his economic push in recent weeks, despite the lack of sanctions relief. Despite not explicitly naming the "hostile forces" that imposed sanctions, he displayed a harder stance toward Washington than was recently in state media.

The comments came ahead of a summit between Donald Trump and South Korean President Moon Jae-in in Washington to discuss North Korea and other alliance issues. Mr Moon has suggested that sanctions could be eased to allow inter-Korean economic engagement in return for some nuclear concessions by North Korea, but so far Washington has not agreed.

US Secretary of State Mike Pompeo told a congressional committee on Wednesday that he would like to leave "a little room" in the sanctions in case North Korea makes "substantial" progress toward giving up its nuclear weapons. In Hanoi, Kim sought relief from major UN sanctions, but Mr Pompeo said those must stay in effect until North Korea completely denuclearises.

Kim made no mention yesterday of nuclear weapons, nor did he criticise his US counterpart. Mr Trump and Kim held their first landmark summit in Singapore last June, where the pair signed a vaguely worded agreement on the "denuclearisation of the Korean peninsula". But the failure to reach agreement in Hanoi - which broke up without a joint statement - has raised questions over the future of the wider process.

Both sides expressed willingness to talk further and Mr Trump has repeatedly said since that he maintains good relations with his North Korean counterpart, boasting that he had blocked new sanctions planned for Pyongyang. North Korea has also been careful not to criticise Mr Trump personally, while saying last month that sanctions against it were an "action against humanity to destroy modern civilisation and turn the society back in a medieval dark age".


---
North Korea tests multiple rocket launchers
AP
Sunday, May 5, 2019


North Korea has tested long-range multiple rocket launchers and tactical guided weapons in a "strike drill" overseen by leader Kim Jong Un, state media said. The Korean Central News Agency said the drill took place Saturday, when North Korea also fired projectiles into the sea in what could be Pyongyang's first short-range missile launch for more than a year as it seeks to up pressure on Washington with nuclear talks deadlocked.

"The purpose of the drill was to estimate and inspect the operating ability and the accuracy of striking duty performance of large-caliber long-range multiple rocket launchers and tactical guided weapons by defence units in the frontline area and on the eastern front," KCNA said. It said the drill took place in the East Sea, also known as the Sea of Japan, as with the projectiles.

The projectile weaponry was under review by the South Korean and US military, said the South's Defence Ministry, which didn't provide more details. President Trump was briefed on the launch by his national security adviser John Bolton, a senior administration official said. Initial reports don't immediately suggest the projectiles were ballistic or long-range missiles. That is a key distinction because North Korea has instituted a self-imposed moratorium on testing ballistic or long-range missiles, a development that Washington sees as a sign that diplomacy has proven beneficial. North Korea hasn't test-fired a ballistic missile since November 2017.


Donald J. Trump @realDonaldTrump
Anything in this very interesting world is possible, but I believe that Kim Jong Un fully realizes the great economic potential of North Korea, & will do nothing to interfere or end it. He also knows that I am with him & does not want to break his promise to me. Deal will happen!
11:42 PM - May 4, 2019
84.9K likes
---
40.4K people are talking about this
---
North Korea's New Weapon Likely to Better Evade Missile Defense
Andrew Jeong and Na-Young Kim
Wall Street Journal
Friday, May 10, 2019
SEOUL: The short-range missiles tested by North Korea can strike much of South Korea and may be able to carry a nuclear warhead, military experts said, providing Pyongyang with extra firepower as diplomatic frictions grow with Washington.


Pyongyang test-fired a pair of short-range missiles Thursday that soared to a height of 50 kilometers (about 31 miles) before landing in the sea off the country's east coast. Leader Kim Jong Un directed the test and lauded the weapons' "long-range strike" capabilities, according to North Korean state media, which provided little other detail. The Thursday launch came just five days after Pyongyang fired multiple projectiles, including a short-range missile.

The missile tests suggest Pyongyang has a new type of powerful, evasive weapon, according to military experts. They said, based on the projectiles' flight paths and launch vehicle's appearance, the short-range missiles bear an uncanny resemblance to Russian Iskander missiles, which can carry nuclear warheads.

The new missiles can travel far enough to hit US military bases in South Korea hosting missile-defense systems designed to fend off incoming North Korean ballistic missiles, according to Cheon Seong-whun, a former South Korean National Security Council official. "I don't think South Korea or the US forces here have the requisite missile-defense system to protect the country from North Korean Iskander missiles," said Mr Cheon, noting other US military bases in the region were too far away to be at risk.

The Iskanders can fly at altitudes that are difficult for US and South Korea missile-defense systems to reach, said military analysts. A North Korean Iskander would also likely better evade missile defenses, as its flight path can be controlled after launch, unlike other short-range ballistic missiles in North Korea's arsenal, such as the Scuds.

"The weapons appear to be ballistic missiles that have addressed a traditional ballistic missile's weak point, by adding a cruise missile's guidance features," said Kim Dong-yub, a professor of security studies at South Korea's Kyungnam University. The weapons further give North Korea its version of a "bloody-nose" counterstrike plan, should the US military conduct a limited strike against one of North Korea's military targets, Prof Kim said.

Tensions have dialed up between Pyongyang and Washington in recent days: The Kim regime's two weapons tests in under a week was shortly followed by a US announcement it had seized a North Korean cargo ship it alleges violated sanctions by illicitly transporting coal.

On Friday, Stephen Biegun, the US special envoy on North Korea, met South Korean counterparts in Seoul, saying the "door for North Korea's return to negotiations remains open," according to the South's foreign ministry. A day before, President Trump told reporters at the White House he doubted Mr Kim would abandon nuclear talks, though "nobody's happy" about the short-range missile test. The US and North Korea hit an impasse in denuclearization talks after a Vietnam summit earlier this year ended without a deal.


---
US holds war games despite Kim protests
AFP
Friday August 2, 2019


The US and South Korea will press ahead with joint military exercises, a Pentagon official said yesterday, defying demands from a furious Pyongyang for their cancellation as it carries out a series of weapons tests.

North Korea fired what Seoul called two short-range ballistic missiles on Wednesday after two similar launches last week, one of which Pyongyang described as a "solemn warning to the South Korean warmongers" over the planned military drills.

The joint exercises are set to begin on Monday and last for just over two weeks after the US and South Korea scaled them down earlier this year amid a flurry of diplomatic exchanges with the North. But the military activities on both sides raise questions over the prospects for an imminent start to negotiations on Pyongyang's nuclear arsenal.

Washington is Seoul's security ally and stations 28,500 troops in the South against its nuclear-armed neighbour, and the annual drills have always enraged Pyongyang, which sees them as a rehearsal for invasion. Peace and military exercises could "never go together", a commentary by the North's state-run Korean Central News Agency said on Wednesday. An "overall and permanent halt to anti-north war drills" was a "prerequisite" for improving inter-Korean relations, it added.

But despite the North's threats, a senior US official said yesterday there was "no adjustment or change in plans". "We have to do two things," the official said. "We have to give the diplomats appropriate space for their diplomacy and help create an environment that's conducive to the talks when they resume — which we expect."

Pyongyang and Washington are engaged in a long-running diplomatic process over the North's nuclear and missile programs in which there have been an unprecedented three encounters between their leaders in the space of a year. Donald Trump and North Korean leader Kim Jong-un agreed to resume nuclear talks during their impromptu June meeting in the demilitarised zone that divides the Korean peninsula, but that working-level dialogue has yet to begin.

On his way to the ASEAN regional forum in Bangkok, where the North will be high on the agenda, US Secretary of State Mike Pompeo said the talks had been expected "within weeks" but were taking "a little bit longer" to start.

The North is banned from ballistic missile launches under UN Security Council resolutions but Seoul said the devices it fired on Wednesday from the Wonsan area on the east coast were two short-range ballistic missiles that travelled about 250km. US National Security Adviser John Bolton also described them as missiles. "But you have to ask if, when the real diplomacy is going to begin," he told Fox Business. "We're still waiting to hear from North Korea."

Yesterday, KCNA said the test had involved "a newly developed large-calibre multiple launch guided rocket system". Kim oversaw the successful firing and said the system would be "an inescapable distress to the forces becoming a fat target of the weapon", KCNA reported. Similarly, Pyongyang said the devices it fired last week were a "new-type tactical guided weapon", but they were widely described as ballistic missiles, including by the US-South Korean Combined Forces Command and the government in Seoul.

Mr Trump — who has invoked his relationship with Kim — brushed off the North's bellicose language, saying it was warning Seoul rather than Washington. Diplomats said the UN Security Council was set to meet behind closed doors today to discuss the North's actions on requests by Britain, France and Germany. "We're going to discuss the latest missile launches that are violations of Security Council resolutions," a source said.


---
Office explosion destroys Korean detente
Richard Lloyd Parry, The Times also Reuters, Wikipedia
Thursday June 18, 2020


South Korea warned it would "strongly respond" to further hostile action after North Korea blew up a liaison office jointly run by the two countries, in a dramatic collapse of Seoul's diplomatic engage­ment with Kim Jong-un.

The destruction of the office, in the North Korean border city of Kaesong, came hours after Pyongyang threatened to advance military units into the demilitarised zone. Such a move would encourage a reciprocal action by South Korea, and mark the end of two years of efforts to reduce tensions between them. It would also mark the latest, and perhaps terminal, setback in US President Donald Trump's efforts to persuade Kim to give up his nuclear arsenal after two summits failed to close the gaps between them.

In the absence of formal diplomatic relations, the building had functioned as a de facto embassy and provided a direct communication channel for the two nations. It was headed by North Korean Representative Jon Jong-su, vice chairman of the Committee for the Peaceful Reunification of the Fatherland and South Korean Representative Chun Hae-sung, vice minister of the Ministry of Unification.

The destruction of the joint liaison office was filmed by cameras in South Korea and confirmed by the North's state-run Korean Central News Agency. The agency said the explosion expressed the "mindset" of the North Korean people towards defectors, who have enraged Pyong­yang by dropping anti-Kim propaganda over the border by hot-air balloon. It said the action would "surely force human scum, and those who have sheltered the scum, to pay dearly for their crimes".

The general staff of the Korean People's Army said the razing of the office would be followed by further action on the border: "We (are) studying an action plan … to make the army advance again into the zones that had been demilitarised under the North-South agreement, turn the frontline into a fortress and further heighten the military vigilance against the South."

South Korea later warned the North that any further action could not be ignored. "The government expresses strong regret over North Korea's unilateral detonation of the inter-Korean liaison office building," a spokesman for the presidential Blue House said. "We sternly warn that we will strongly respond to it if North Korea takes any action that further worsens the situation. The government makes it clear that all responsibility of this situation lies in the North."

The liaison office, where officials from both sides worked under one roof, was the first permanent official South Korean presence in the North since the end of the Korean War in 1953.
The office was located in a four-story and a basement building with an area of 4500m2 constructed in 2005 as the "Inter-Korean Exchange and Cooperation Consultation Office". The construction cost at the time was $7 million paid by the South Korean goverment.

The four-storey building had been part of the joint industrial complex that was abandoned by the South after a North Korean nuclear test in 2016. However, Seoul had spent $12.5m restoring a water treatment plant and other repairs and renovations, completing it in October 2018 amid warming relations between President Moon Jae-in and Kim. In that year, delegates travelled to one another's countries for two meetings, established military hotlines and cleared guard posts and landmines from their border.

It had been closed since January 2020 as a precaution against coronavirus.

The symbolic destruction of the liaison office came days after threats were issued by Kim's sister Kim Yo-jong, who has been an increasingly prominent critic of the South. "We will soon take a next action," she said on Sunday. "Before long, a tragic scene would be seen of the North-South liaison office completely collapsed."

North Korea also said it had rejected South Korea's offer to send special envoys to defuse the situation. Kim Yo-jong "flatly rejected the tactless and sinister proposal", KCNA reported. It said Mr Moon "greatly favours sending special envoys for 'tiding over crises' and raises preposterous proposals frequently, but he has to clearly understand that such a trick will no longer work on us". "The solution to the present crisis between the North and the South caused by the incompetence and irresponsibility of the South Korean authorities is impossible and it can be terminated only when proper price is paid."



---
North Koreans 'heartbroken' over 'emaciated' leader Kim Jong-un
The Australian, AFP
Monday June 28, 2021

North Korean state television has aired a citizen's comment about Kim Jong-un's "emaciated" condition, a highly unusual broadcast in a country where public discussion of the leader's health and personal life has always been off-limits. Analysts say the remarks showed authorities were seeking to use the change to Kim's weight to reinforce loyalty to the regime in desperate times.

The impoverished, nuclear-armed country is more isolated than ever behind its self-imposed coronavirus barricade, and this month admitted it was tackling a food crisis, sounding the alarm in a nation with a moribund agricultural sector that has long struggled to feed itself. At the same time Kim's health has long been closely watched internationally as his sudden death would raise questions over succession and stability.

Known as a heavy smoker, the leader has long been obese, with his weight appearing to increase steadily in recent years. But he looked noticeably less overweight in media images published on June 15 by Pyongyang's official Korean Central News Agency and on state television.

Kim's personal life is normally taboo for North Korea's state media – Pyongyang has never confirmed how many children he has – but KCTV last week aired a clip of an unnamed resident of the capital claiming everyone in the country was "heartbroken" by his "emaciated" condition. "Seeing our respected general secretary looking emaciated breaks our people's hearts the most," he said. "Everyone is talking about how their tears welled up immediately."

Analysts say Pyongyang is using Kim's appearance as a way to glorify him by portraying him as a "devoted, hardworking" leader as the country struggles to tackle its food crisis and other challenges. It shut its borders in January last year to protect itself against the pandemic, and as a result trade with Beijing – its economic lifeline – has slowed to a trickle while all international aid workers have left the country.

"The message Pyongyang is sending is that Kim is a leader who works very hard for his people even to a degree he skips meals and loses weight," said defector-turned-researcher Ahn Chan-il.

Global speculation about Kim's health flared last year after he missed the commemoration of the birthday of his late grandfather, and was absent from public view for about 20 days. Kim's father Kim Jong-Il and grandfather Kim Il-Sung were also obese and heavy smokers. Both died of heart attacks.

In 2016, South Korea's spy agency reported Kim had bulked up to 130kg, having piled on around 40kg since taking power in 2011, "bingeing on food and drink". Last year, it estimated he had put on another 10kg, taking him to around 140kg.

But Yang Moo-jin, a professor at the University of North Korean Studies, pointed out it was unlikely his recent weight loss was a symptom of acute ill health, as he had attended several public events this month. "No one can really know why he lost weight," he said. "What's clear – from the KCTV footage – is the regime wants the world to think that its people love and care for their leader, to the point where they would cry over his thinner appearance."


---
North Korea fires two more missiles
The Australian, Dow Jones
Monday January 17, 2022


North Korea test-fired two suspected short-range ballistic missiles off its east coast on Monday, South Korea's military said, in what is Pyongyang's fourth weapons launch of the month.

The missiles were fired from the Sunan airfield, which is located in the northern outskirts of Pyongyang, South Korea's military said. The precise time of the launch and how far the missiles travelled couldn't immediately be learned.

The Kim Jong-un regime has recently asserted that the weapons activity is part of the country's national defence, and therefore a sovereign right. United Nations Security Council resolutions prohibit such ballistic-missile tests from North Korea.

Mr. Kim, showing relative indifference to foreign affairs in recent policy speeches, has implored officials to grow the country's "strategic military muscle," according to North Korea's state media. The dictator made the remarks last week during his first official appearance at a weapons test in nearly two years.

The prior tests in recent days included two missiles fired from a railway car and what Pyongyang claims is hypersonic technology.

North Korea has turned inward during the pandemic, with Mr. Kim urging self-reliance and warning of food shortages. Pyongyang hasn't held formal denuclearisation talks with Washington in more than two years.

North Korea considers restarting nuclear weapons tests
The Australian, Dow Jones
Thursday January 20, 2022

North Korea suggested it might consider restarting long-range and nuclear-weapons tests, promising to take "practical action" as it says the US threat to the country can no longer be ignored.

The Kim Jong-un regime for more than four years hasn't launched an intercontinental ballistic missile or conducted a nuclear test — major provocations that have previously drawn recrimination even from close allies in Beijing and Moscow.

At a Wednesday Politburo meeting, North Korea blasted the US for maintaining hostilities against the cloistered regime, from sanctions enforcement to combined Washington-Seoul military exercises to America's own strategic-weapons testing, according to North Korea's state media. Kim presided over the meeting.

The Politburo, the top decision-making body for the ruling Workers' Party, unanimously recognised the need to prepare for a long-term confrontation with the US, agreeing to "take a practical action" to defend the country's dignity, state interests and sovereign rights, state media reported on Thursday.

Pyongyang would reconsider at "an overall scale the trust-building measures that we took on our own initiative" after the 2018 Singapore summit and would "promptly examine the issue of restarting all temporarily suspended activities," the report said.

That is probably a reference to the multiyear pause in major weapons tests, given that Pyongyang has recently unleashed a barrage of shorter-range missile launches. Other facets of the country's nuclear production have also been active, including an apparent resumption of a plutonium-producing reactor, the UN' atomic agency said in a report last year.

North Korea can make exaggerated threats in state media, though the regime is also deliberate — and often forthright — in ratcheting up pressure ahead of weapons provocations.

In April 2018, Kim, as a goodwill gesture for diplomacy, said he would pause any major weapons tests. Nuclear talks with the US broke down the following year. Then, in a policy speech published Jannuary 1, 2020, Kim said he no longer felt bound by his self-imposed weapons moratorium.

The country hasn't returned to ICBM or nuclear tests. But Kim unveiled a mammoth-sized ICBM at an October 2020 military parade. Last year, as part of the country's five-year strategic weapons policy, Kim mentioned developing an ICBM that could fly 15,000km, or about 2000 kilometres further than what it has previously tested.

Kim in a year-end speech didn't mention the US or President Joe Biden. Earlier this month, North Korea's foreign ministry issued a statement promising a "stronger and certain" reaction if the US kept taking a confrontational stance with the Kim regime.

---
Kim Jong-un 'ready for nuclear conflict' with US
Weekend Australian
Dasl Yoon, Dow Jones
Saturday July 30, 2022
Seoul: North Korean leader Kim Jong-un said the country's nuclear missiles stand "fully ready" for a military conflict with the U.S. and threatened to annihilate South Korea's military should it attempt a pre-emptive strike.

The 38-year-old dictator made the remarks while delivering a speech for the country's Victory Day, an annual July 27 holiday that celebrates the signing of the armistice that halted fighting in the Korean War nearly seven decades ago. Without a peace treaty, the conflict remains technically ongoing.

The Kim regime has grown more bellicose in recent months, with a new conservative South Korean administration planning to resume full-scale, joint military exercises with the U.S. next month. Pyongyang has conducted 18 rounds of missile tests this year and, according to Seoul officials' assessments, has completed preparations for a seventh nuclear test.

In his first direct references to South Korea's new leader, Mr. Kim called out President Yoon Suk-yeol three times by name, according to North Korean state media. President Biden went unmentioned in the speech. Washington continues "dangerous, illegal hostile acts" along with Seoul by conducting the military exercises that threaten Pyongyang's security, Mr. Kim added.

Mr. Kim, who attended the celebration with his wife, Ri Sol Ju, condemned the Yoon administration and its "military gangsters" for threatening pre-emptive strike, which Seoul officials have floated as a possibility should a North Korean attack look imminent.

"Our armed forces are thoroughly prepared to respond to any crisis, and our nation's nuclear war deterrence is also fully ready to mobilise its absolute strength faithfully, accurately and promptly to its mission," said Mr. Kim, as quoted in state media.

Pyongyang is laying the groundwork for further provocations — including a potential nuclear test — by expressing aggression toward the U.S. and South Korea, said Yang Moo-jin, a professor at the University of North Korean Studies in Seoul.

"The speech shows that he is set on maintaining a state of conflict for now," Prof. Yang said.

Mr. Kim's threats aren't new, a spokesman for South Korea's defence ministry said Thursday. But North Korea's nuclear and missile threats are escalating, the spokesman added. The North Korean leader's remarks echo what his sister and regime mouthpiece, Kim Yo Jong, said in April, when she warned a more confrontational South Korea could face a "shower of fire" and a "miserable fate little short of total destruction and ruin." South Korea and the U.S. will revive combined exercises that have been scaled down since 2018 under the left-leaning Moon Jae-in administration, which gave priority to diplomacy with the North. Mr. Moon's five-year term ended in May.

Even before taking office on May 10, Mr. Yoon — a conservative who backs a tougher line against North Korea — vowed a return to large-scale joint field exercises. Earlier this month, Mr. Yoon ordered the military to "swiftly punish" North Korea if it carries out a provocation.

Pyongyang has conducted a record number of weapons launches this year, including an intercontinental ballistic missile capable of reaching the U.S. mainland, a submarine-launched weapon and a hypersonic missile.

The Yoon administration has condemned each of Pyongyang's recent launches as provocations — phrasing that the prior Moon government used sparingly. Earlier this month, the new head of South Korea's Joint Chiefs of Staff warned that North Korea's provocations will be met with "unsparing retaliation." North Korea has completed preparations for its seventh nuclear test, with only the political decision remaining before it is conducted, South Korean officials said. At a Tuesday press briefing, State Department spokesman Ned Price warned that any North Korean nuclear test "would carry tremendous costs." North Korea watchers say Pyongyang may have postponed its nuclear test due to the recent Covid outbreak. Since late April, North Korea has reported more than 4.7 million fever cases and 74 deaths, according to state media. But in recent days, daily cases have fallen to double digits. At an indoor event for war veterans on Tuesday, hundreds of North Koreans gathered without social distancing or face masks, according to state-media photos of the event.

---
North Korea fires more missiles, eight in two weeks
The Australian
AFP
Sunday October 9, 2022
North Korea fired two ballistic missiles into the sea on Sunday, the South's military said, the latest in a blitz of launches amid tensions over US-led military exercises in the region, Yonhap reported. The South Korean military's Joint Chiefs of Staff announced that the launches – the seventh and eighth in two weeks – came from the southeast of the country, without giving further details.

"While strengthening our monitoring and vigilance, our military is maintaining a full readiness posture in close co-operation with the United States," the Joint Chiefs of Staff said, according to Yonhap.

North Korea on Saturday had defended its recent flurry of missile tests as a legitimate counter to US military threats, following days of joint military exercises between the South, Japan and the United States.

The Japanese prime minister's office also confirmed at least one of Sunday's launches on Twitter. "North Korea has launched a suspected ballistic missile. More updates to follow," the office said.

Japanese Senior Vice Defense Minister Toshiro Ino said it is possible the missiles, which he said were fired just before 2.00am and travelled 350 kilometres at a maximum altitude of 100 kilometres, were launched from submarines, according to Kyodo news agency.

The missiles, fired toward the East Sea, also known as the Sea of Japan, seem to have fallen outside Japan's exclusive economic zone, the Japanese government said, according to Kyodo. The coast guard said it had so far not received any reports of damage to Japanese ships, national broadcaster NHK reported.

The United States military's Indo-Pacific Command meanwhile said in a statement they were "aware of the two ballistic missile launches and are consulting closely with our allies and partners," saying the launch shows the "destabilising" nature of North Korea's missile program. "The US commitments to the defence of the Republic of Korea and Japan remain iron-clad," the statement said.

Sunday's launches were the latest in a flurry that included an intermediate-range ballistic missile fired Tuesday over Japan, prompting an alert for people in affected areas underneath to take cover. And on Thursday, North Korea fired two ballistic missiles, the same day Seoul, Tokyo and Washington carried out fresh exercises involving a US navy destroyer from the USS Ronald Reagan aircraft carrier's strike group.

The United States redeployed the nuclear-powered aircraft carrier to waters east of South Korea as part of a broad-ranging military response to Pyongyang's Tuesday test, which also included joint bombing and missile drills. Exercises between South Korea and the United States concluded Saturday, according to Yonhap.

Additionally, Seoul's military said it had scrambled 30 fighter jets Thursday after 12 North Korean warplanes staged a rare "formation flight north of the inter-Korean air boundary [and] conducted air-to-surface firing drills."

'Counteraction measures'

Pyongyang's foreign ministry earlier this week called the recent launches "the just counteraction measures of the Korean People's Army." And on Thursday, the United Nations Security Council held an emergency meeting to discuss Pyongyang's launch over Japan. The United States called for the meeting after the firing of what officials and analysts said was a Hwasong-12 that travelled likely the longest horizontal distance of any North Korean test.

At the meeting, North Korea's longtime ally and economic benefactor China blamed Washington for provoking the spate of launches by Kim Jong-un's regime, with Deputy Chinese ambassador to the UN Geng Shuang accusing the United States of "poisoning the regional security environment". US ambassador to the UN Linda Thomas-Greenfield called for "strengthening" of existing sanctions on North Korea, something China and Russia vetoed in May.

The council has been divided on responding to Pyongyang's nuclear ambitions for months, with Russia and China on the sympathetic side and the rest of the council pushing for punishment.

Analysts say Pyongyang has seized the opportunity of stalemate at the UN to conduct ever more provocative weapons tests. Kim has declared isolated North Korea an "irreversible" nuclear power, effectively ending the possibility of denuclearisation talks.

---
NK fires ICBM as 'warning to the US'
The Australian
Claire Lee, Cat Barton, AFP
Monday February 20, 2023
Seoul: North Korea said on Sunday it had test-fired an intercontinental ballistic missile as a warning to Washington and Seoul, saying the successful "surprise" drill demonstrated Pyongyang's "capacity of fatal nuclear counterattack". Leader Kim Jong-un ordered the "sudden launching drill" at 8am on Saturday and a Hwasong-15 missile — a weapon first tested by the North in 2017 — was fired from Pyongyang airport that afternoon, the official KCNA reported. South Korea's military said it detected an ICBM launch at 5.22pm, which Japan said flew for 66 minutes before splashing down in its exclusive economic zone, with their analysis indicating it was capable of hitting the mainland US.
North Korea's leadership hailed the test — the country's first in seven weeks — saying it showed "the actual war capacity of the ICBM units which are ready for mobile and mighty counterattack", KCNA said. The launch was "actual proof" of the country's "capacity of fatal nuclear counterattack on the hostile forces", it added.
The sanctions-busting launch came days before Seoul and Washington are due to start joint tabletop exercises aimed at improving their response in the event of a North Korean nuclear attack. Pyongyang had last week warned of an "unprecedentedly" strong response to upcoming drills, which it describes as preparations for war and blames for the deteriorating security situation on the Korean Peninsula. The latest test is significant as "the event was ordered the day-of and so this is not so much a traditional 'test', but an exercise," US-based analyst Ankit Panda said. "We should expect to see additional exercises of this sort."
The exercise appeared to be "Kim's way of telling the US and ROK that his country is continuing to hone its ballistic missile capabilities for eventual use in a real-time scenario", said Soo Kim, a former CIA Korea analyst who now works at management consulting firm LMI. "The weapons aren't for display only. This layer of imminence is probably intended to intimidate the allies, notably as they're making efforts to strengthen deterrence in the Korean Peninsula." But the nine-hour process from Kim's order to the actual launch was "a long time", she said, suggesting Pyongyang may face "greater challenges in launching in a realistic scenario".
Relations between the two Koreas are already at one of their lowest points in years, after the North declared itself an "irreversible" nuclear state and Kim called for an "exponential" increase in weapons production, including tactical nukes. In response, the South's President Yoon Suk-yeol has sought to boost co-operation with ally the US, pledging to expand joint military exercises and improve Washington's extended deterrence offering, including with nuclear assets.
On Sunday, North Korea spokeswoman and Kim's sister, Kim Yo-jong, claimed it was these moves by Seoul and Washington that "further endangers the situation every moment, destroying the stability of the region". "I warn that we will watch every movement of the enemy and take corresponding and very powerful and overwhelming counteraction against its every move hostile to us," she said.
All of this points to "the start of high-intensity provocations from North Korea", said Park Won-gon, professor at Ewha University in Seoul. "What's different from 2022 is that last year their justification was that the launches were part of their five-year military plan. Now they are making clear that they will counter the US and South Korea." He said the redoubled aggression from Pyongyang could also indicate the domestic situation had worsened. South Korean officials have warned the North could be facing severe food shortages after years of pandemic-linked isolation. "North Korea always takes a hardline approach and creates external crises as part of its 'siege mentality' tactic to overcome internal struggles. It is a typical North Korean behaviour to unite the people by highlighting the South Korea-US threat."
---
US, South Korea kick off largest drills in five years

The Australian
Sunghee Hwang, AFP
Tuesday March 14, 2023

South Korea and the US kicked off their largest joint military exercises in five years on Monday, after nuclear-armed Pyongyang warned such drills could be seen as a "declaration of war". Washington and Seoul have ramped up defence co-operation in the face of growing threats from the North, which has conducted a series of banned weapons tests in recent months.

The US-South Korea exercises, called Freedom Shield, are scheduled to run for at least 10 days from Monday and will focus on the "changing security environment" due to North Korea's redoubled aggression, the allies said. In a rare move, the Seoul military this month revealed that it and Washington special forces were staging Teak Knife military exercises — which involve simulating precision strikes on key facilities in North Korea — ahead of Freedom Shield. All such exercises infuriate North Korea, which views them as rehearsals for an invasion. It has said its nuclear weapons and missile programs are
for self-defence.

Over the weekend, North Korea fired two "strategic cruise missiles" from a submarine in waters off its east coast, the official KCNA news agency reported on Monday. The agency cited the country's "invariable stand" to confront a situation in which "the US imperialists and the South Korean puppet forces are getting ever more undisguised in their anti-DPRK military manoeuvres". PRK is the initialism for North Korea's official name, the Democratic People's Republic of Korea. "Pyongyang has military capabilities under development it wants to test anyway and likes to use Washington and Seoul's co-operation as an excuse," said Leif-Eric Easley, a professor at Ewha University in Seoul.

In a separate statement, North Korea's foreign ministry said the US was "scheming" to call a UN Security Council meeting on human rights in the reclusive communist state, to coincide with the joint manoeuvres. "The DPRK bitterly denounces the US vicious 'human rights' racket as the most intensive expression of its hostile policy toward the DPRK and categorically rejects it," the ministry said.

Last year, the North declared itself an "irreversible" nuclear power and fired a record-breaking number of missiles, with leader Kim Jong-un last week ordering his military to intensify drills to prepare for a "real war". Washington has repeatedly restated its "iron-clad" commitment to defending South Korea, including using the "full range of its military capabilities, including nuclear". South Korea, for its part, is eager to reassure its increasingly nervous public about the US commitment to socalled extended deterrence, in which US military assets, including nuclear weapons, serve to prevent attacks on allies.

Although the official policy of both countries towards the North — that Kim must give up his nuclear weapons and return to the table for talks — has not changed, experts said there had been a practical shift. Washington has "effectively acknowledged that North Korea will never give up its nuclear program", said An Chan-il, a defector turned researcher who runs the World Institute for North Korea Studies. This Freedom Shield training is the first since that happened, meaning it "will be very different — both qualitatively and quantitatively — from previous joint exercises that took place in recent years", he said.

North Korea, which recently called for an "exponential" increase in weapons production, including tactical nukes, had been widely expected to respond with missile launches and drills of its own — with experts saying more were likely over the course of the US-South Korean exercises.

---
Vladimir Putin accepts Kim Jong-un's invitation to visit North Korea

The Australian, AFP
Friday September 15, 2023

Russian President Vladimir Putin has accepted an invitation to visit North Korea, Pyongyang's state media said Thursday, as Kim Jong-un wrapped up a rare trip to meet with his ally.

The isolated Kim, who seldom leaves his country and has not travelled since pre-pandemic, had a "historic meeting and talks" with Mr Putin on Wednesday, the Korean Central News Agency said. Among the results of the summit were Russian promises of help with North Korea's fledgling space program, according to Russian news agencies, while Mr Putin told reporters he saw "possibilities" for military co-operation.

Historic allies, Russia and the North are both under rafts of global sanctions – Moscow for its Ukraine conflict, Pyongyang for its nuclear tests – with Kim's visit sparking US concerns over illicit arms deals. After touring a space centre and attending a lavish banquet in his honour, Kim "courteously invited Putin to visit the DPRK at a convenient time", KCNA said, referring to the country by its official name.

"Putin accepted the invitation with pleasure and reaffirmed his will to invariably carry forward the history and tradition of the Russia-DPRK friendship." Mr Kim told Mr Putin on Wednesday he was sure Russia would win a "great victory" over its enemies.

Western countries have repeatedly raised concerns of a possible arms agreement between Russia and North Korea, as Moscow's war in Ukraine grinds on. "The summit signals a seismic change in the northeast Asian geopolitics," said Kim Jong-dae, a former MP and visiting scholar at Yonsei Institute for North Korean Studies. A stronger alliance between North Korea, Russia and China could become a "destabilising force in the region" and ammunition from Pyongyang could significantly affect the war in Ukraine.

Russia became a pariah in the West after invading Ukraine last year and has looked to strengthen alliances with other leaders facing similar isolation. Mr Putin on Wednesday praised the "strengthening of cooperation and friendship between our countries", while hosting Mr Kim at a spaceport in Russia's far east. He said Moscow could help Pyongyang build satellites – after the North failed twice recently to put a spy satellite into orbit.

In Washington, State Department spokesman Matthew Miller said any co-operation would be "quite troubling and would potentially be in violation of multiple UN Security Council resolutions".

Mr Kim, who travelled overland to Russia in his bullet-proof train, was accompanied by a military-heavy entourage, with top Russian military officials including Defence Minister Sergei Shoigu also involved in the talks. "With Kim Jong-un's latest visit to Russia, North Korea-Russia relations can be said to have completely returned to the level of blood alliance during the Cold War," said Cheong Seong-chang, researcher at the Sejong Institute. "There have been many summit meetings between North Korea and Russia so far, but there has never been a time when North Korea brought in almost all of its key military officials."



** End of Report