UQ Background and Mayne Hall
On Thursday, June 13, 2013 at 7:17 PM, "Stephen Williamson" wrote:
Subject: Brisbane's own Sweeney Todd — and an innocent man hanged
Hi all
Yes, it was a hideous sin, but a deathbed confession — and then of all things, a marvellous redemption.
Patrick Mayne, the "mad" Irish butcher of Queen Street, and at his death in 1865 possibly one of the richest men in Brisbane. And he had a beautiful son and daughter, but after their mum's warning they never married / had kids. Another brother and sister of theirs did go mad. And an embarrassed society didn't want anything to do with them. But boy, didn't those two do good things for Brisbane.
Makes me think of that movie "Lorenzo's Oil" I watched Tuesday night (click here for the story), you work hard, you may not be acknowledged easily, feel like you're "ploughing uphill" but with God's help you can make a difference.

Ok, here's the story, I'd heard rumours of it years ago, working at Moorlands House with the Blue Nurses. Moorlands was where the family lived, it had been bequeathed to the University of Queensland when Mary, the daughter finally died in 1940. Her brother had died a couple of years previously. The UQ then sold it to the Methodist Church (now Uniting Church) along with the adjoining land in 1971, where the Wesley Hospital was built in 1975.
Originally stored at http://www.abc.net.au /dimensions/dimensions in time/ Transcripts/s527155.htm
The Mayne Murder Mystery
Broadcast 6.30pm April 8th 2002 on George Negus Tonight
Since the murder at Kangaroo Point in 1848, mystery and rumours have haunted the Mayne's — a wealthy family who donated the magnificent site on which the University of Queensland now stands. Author Rosamond Siemon delves into this tale of murder, madness and scandal across the generations in her best selling book, The Mayne Inheritance.
ROSAMOND SIEMON, AUTHOR 'THE MAYNE INHERITANCE': I'm sitting here on the St Lucia campus of the University of Queensland. It's undoubtedly the most beautiful campus in Australia. The students wouldn't be here if it hadn't been for a family in Brisbane called the Maynes. The family were enormously wealthy but they were disliked by the people of Brisbane. Not because of their wealth, but because their father had killed a man. Nobody knew who he'd killed, when he'd killed or where he'd killed. The story was lost to people and so they built up all sorts of rumours.

(During research for her book, Rosamond Siemon unravelled the mystery behind the murder that Patrick Mayne had confessed to on his deathbed.)

Back in 1848, there was a hotel here. It was called the Bush Inn. Among the drinkers on this particular night, there was a man called Cox. He'd been a timber-getter and had been paid off for an awful lot of cedar. Everybody knew he had money. And most of the other drinkers here were pretty poor. Penniless, in fact. And um, three butchers, Knowsley, Lynch and Mayne -- Patrick Mayne -- came back after midnight to find out where he was. They were told he was drunk and he had gone.

Anyway, they went home, supposedly. The next morning, a man rowing up the river saw down here a body. At least, parts of it. It was just the legs and the loins of a man. That was at seven o'clock. It took them another hour to find up here the upper part of the body was in long grass. Eventually they found the head, propped up so it would look at whoever found it. And then, horror upon horrors, over the -- the, um, milk and butter and cheese in the well behind the hotel, there were the entrails decorating them. It probably is and was Brisbane's most bizarre murder.

A year later, Patrick Mayne, one of the slaughtermen, produced exactly the amount of money that had been robbed from the murder victim. Er, Patrick was never questioned about this but he used that money to open a butcher shop in Queen Street. Every time he made another 10 shillings, he bought an acre or two of property around town. Eventually, he owned about a thousand acres in the CBD.
He was, in fact, one of the richest men in the colony.

And, ah, many, many years later, in 1865, Patrick Mayne confessed. Unfortunately the wrong man had been hanged at the time, and that was the cook from the hotel, a man called Fyfe. Although Patrick was uneducated, he was a highly intelligent man. He became one of the foundation aldermen of the municipality of Brisbane. But it became pretty evident, in his last years, that all was not well with Patrick. He was vicious, he used to hit people with his stock-whip, and signs of madness were pretty clear.

When he did die in 1865, ah, it had been so evident that he was mentally disturbed that Mary, the mother -- who was also an intelligent but uneducated woman -- decided that it would be better if the children at no time married. Patrick Mayne said, in his confession, that he'd murdered a man for whom the wrong person had been hanged. And, so, when people don't know the truth, they tend to make up rumours, and boy, did they make up rumours about Patrick Mayne. The family had to live with this stress.

Society in Brisbane would have nothing to do with them. One man told me that they knew they lived there, but they wouldn't take tea with them. When they built Moorlands, they were determined to do something for their father. After all, he was their dad, and he was insane, and probably, in their books, not responsible for what he did. So all through the house there are little symbols which speak of Patrick Mayne. For instance, the staircase is really in his memory. James and Mary Emelia were very generous, and they were very interested in education and sport, young people. They were probably among Australia's biggest benefactors, and certainly the State's biggest benefactor, because, you name it, whatever the cause was, they gave money.

This land was given to the University Of Queensland. They didn't want it at first, but eventually, they were pressed so hard for space, they took it. But the Maynes themselves have never really been honoured, I don't think, for the amount of money they ploughed into this land.

(In 1972, the Vice Chancellor opened Mayne Hall in honour of the Mayne family. Today the legacy of their real estate empire still provides the University with an annual income.) There's very little else in Brisbane to commemorate the Maynes. It's rather sad, because here we have the biggest benefactors in the State. Hardly anybody knows who they were, what they did. They were incredibly strong people, and tried to do, all their life, what was right. They weren't responsible for the murder. They were entirely innocent, decent, honourable, good citizens. But they paid the price for the deed their father did in 1848 killing Cox, the timber-getter.

http://www.yourbrisbane pastandpresent.com /2009/06/dr-james-oneil-mayne-and-miss-mary.html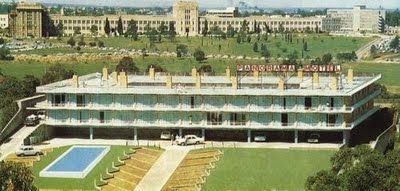 Photo: State Library of Queensland and John Oxley Library; #193526)
In the background of the picture above, taken in 1968, is the University of Queensland, nestled in a pocket of the river at St Lucia opposite Highgate Hill, which is from where this photo was taken. Originally, the University was situated in the city on George St, but the space there eventually became inadequate, and there was no possibility of finding more land in the crowded city centre. A new site near the (Royal) Brisbane Hospital at Victoria Park had been proposed for the University, but there were problems with that site — levelling it would involve an astronomical cost. To the rescue of the city and the University came Dr James Mayne, who indicated that he and his sister wished to purchase a tract of land at St Lucia to be donated as the new site for the University. This altruism was no flash in the pan, for Dr Mayne had already donated his entire salary from his years as a surgeon at Brisbane Hospital back to the hospital for improvements that included the hospital's first X-Ray machine. With the support of Brisbane's Lord Mayor, William Jolly, the Maynes purchased the land at the then huge cost of £80,000, and handed it to the University Senate in December 1926. This magnificent gift was in addition to a previous gift of land at Moggill to be used for the University's Department of Agriculture.

Unfortunately, it then took several years for the University to commence building on the site, with the result that the Maynes didn't see their dream fulfilled. Not long after the laying of the foundation and the commencement of building, firstly James and then Mary Emelia passed away. Even though the University was desperate for room, Siemon's book explains that the delay in building, and the subsequent muted response to this outstanding bequest, were due to the stigma attached to the Mayne name as a result of the secret Patrick Mayne revealed to the world as he lay dying.

Despite these apparent snubs, the Maynes' generosity continued. After their death, their identically-framed wills bequeathed their entire estates, some £200,000 at that time (probably more than 6 million of today's dollars!), to the University's medical faculty. In addition, the site of the original Mayne family home in Queen St, which James Mayne had transformed into the beautiful Brisbane Arcade, was part of that legacy and continues to provide a substantial annual income to the University.
Also the Regent Theatre, on the other side of Queen Street, which the UQ sold for a huge sum to a property developer in 2007 — Steve
Blessings all

Steve
Stephen Williamson Computing Services Pty Ltd
www.swcs.com.au/aboutus.asp