5G (and 4G) Snapshot Worldwide
Forecast published by Ericsson, Sweden in November 2023
5G Plan is 4½ billion in 2028, currently 1½ billion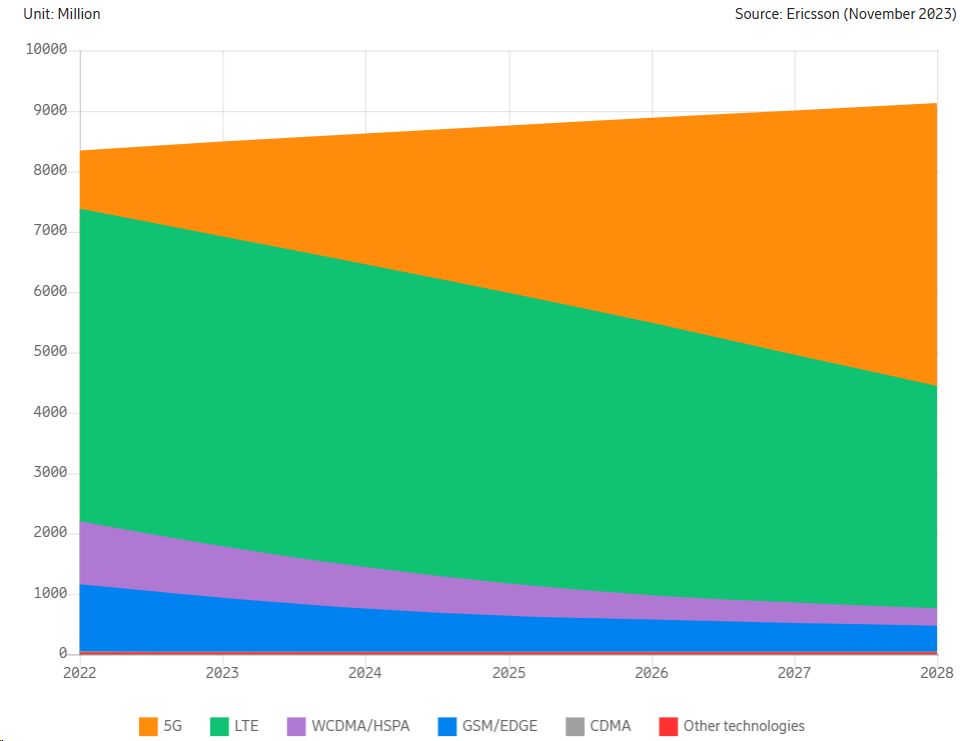 LTE=4g, WCDMA/HSPA=3g, GSM and GPRS and others=2g. 2g is switched off in Australia.
At the close of 2023, 4G subscribers worldwide are estimated at 5.1 billion, 5G 1½ billion, 3G 850 million and 2G 890 million.
5G in Australia
Telstra On 28 May 2019, Telstra launched its first 5G mobile phone plans.
Click here for Telstra's current Coverage Map.
Vodafone launched 5G in seven UK cities on 3 July 2019. It switched on its 5G network in Australia in March 2020, in Parramatta in Sydney.
Click here for Vodafone Australia's current Coverage Map.
Optus started its 5G rollout in August 2019.
Click here to see Optus's current Coverage Map.
5G coverage is now available (at least partially) in all capital cities except Darwin, and in a number of regional centres in each state.
Note that according to Ericsson's 2022 5G article, as the first country to launch 5G in the southern hemisphere Australia is ahead of many other markets in 5G adoption, an estimated 5G mobile subscriber penetration of 30 percent at the end of 2022.
End of article