Worldwide Mobile Network Phones
Forecast published by Ericsson, Sweden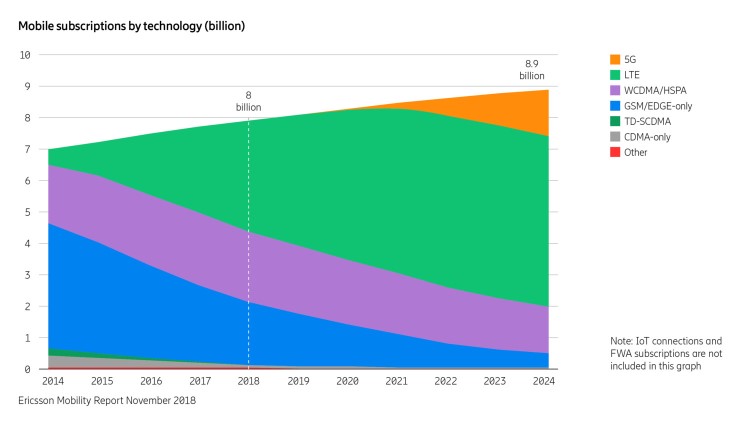 LTE=4g, WCDMA/HSPA=3g, GSM and GPRS and others=2g. 2g is switched off in Australia.
5G Telstra On 28 May 2019, Telstra launched its first 5G mobile phone plans (a Samsung Galaxy S10 smartphone at $199 per month for unlimited data), and mobile modems (HTC 5G Hub at $104 per month for 100GB and $10 per gigabyte thereafter). Coverage is primarily available in the CBD at this stage, in Qld in Toowoomba, Brisbane and the Gold Coast.
Vodafone Australia have said "We are carrying out detailed network infrastructure planning, including timeline and vendors, and we will announce details when they are finalised." They do plan on launching first in the UK, later this year.
Optus, who said in late May it was "months away" from launching its 5G network, has also competitively said using its 5G network would cost $70 per month for unlimited data.
But 5G coverage will be an issue for a while.
Click here for the background article to the chart at the top.
End of article