5G (and 4G) Snapshot Worldwide
Forecast published by Ericsson, Sweden in November 2019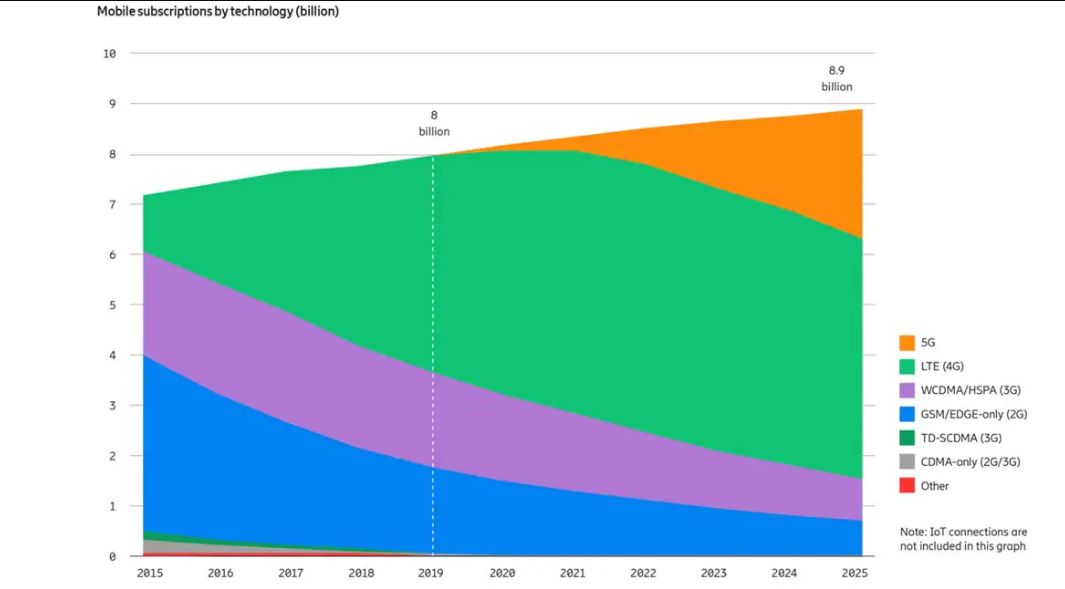 LTE=4g, WCDMA/HSPA=3g, GSM and GPRS and others=2g. 2g is switched off in Australia.
In November 2019, 4G subscribers worldwide number 4 billion, 3G 2 billion, 2G 2 billion, and 5G (see below) just 13 million.
5G in Australia
Telstra On 28 May 2019, Telstra launched its first 5G mobile phone plans (a Samsung Galaxy S10 smartphone at $199 per month for unlimited data), and mobile modems (HTC 5G Hub at $104 per month for 100GB and $10 per gigabyte thereafter). Both Telstra plans have since been altered to 150GB maximum allowance for $100 plus device (the phone is $40 over 36 months) and rather than excess charges being applied, speed is instead capped at 1.5Mbps.

In July 2019, Telstra has established 5G coverage at
Brisbane Airport and Brisbane CBD
at the Gold Coast (from Southport to Coolangatta)
and in Toowoomba.
Click here to view these and other Queensland locations.
Click here for other Telstra locations in Australia.
Vodafone Australia said "We are carrying out detailed network infrastructure planning, including timeline and vendors, and we will announce details when they are finalised." They have since launched in seven UK cities on 3 July.
Optus, who said in late May it was "months away" from launching its 5G network, also competitively said using its 5G network would cost $70 per month for unlimited data. Their rollout started in August.
Click here to see Optus's 5G Mobile Coverage Map, now available in a few places.
Click here for Optus's 5G mobile phone plans, at $132 ($79plan plus $53phone over 36 months), with 240GB data each month (then $10 per gigabyte thereafter). Includes overseas roaming.
Throughout Australia, 5G coverage will be an issue for a while.
Click here for Ericsson's background article to the chart at the top.
End of article