Australian States Population Stats
http://www.abs.gov.au /AUSSTATS/ TABLE 1.1. Population by sex, states and territories, 31 December 1788 onwards - 23 May 2014
* Queensland breakdown of cities 1901-2018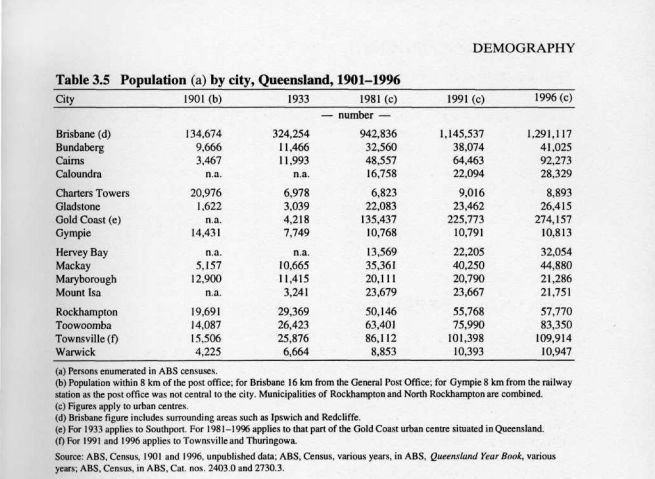 1901 City Country Total
1933 City Country Total
1981 City Country Total
1991 City Country Total
1996 City Country Total
2018 City Country Total
2018 census (Click here for Wikipedia breakdown) of Significant Urban Areas
* Brisbane GCCSA Greater Capital City Statistical Area. Since 1971, Greater Brisbane has steadily stretched to a distance of 200 kms that now includes Brisbane north to Caboolture and Kilcoy, west to Laidley and Esk, south to Boonah, Beaudesert and Beenleigh, but excluding the Sunshine Coast and the Gold Coast.
Local Govt Areas are: Brisbane City (from Eight Mile Plains in the south to Aspley in the north) 1.23 million, Moreton Bay Region (Strathpine, Redcliffe and Caboolture in the north) 460 thousand, Redlands in the east 160 thousand, Logan in the south 320 thousand, Ipswich in the west 210 thousand, Somerset (Esk) in the west north-west 25 thousand, Lockyer Valley (Gatton, Laidley) in the west south-west 40 thousand, and Scenic Rim (Beaudesert) in the south-west 40 thousand.
** In 2008 the city of Caloundra merged with the shire of Maroochy to form the Sunshine Coast region. While the shire of Noosa was temporarily part of this amalgamation, following a referendum, the shire of Noosa was re-established in 2014. However, Noosa is included in the above figure.
---
** End of Page