Alexander Downer, signing off
The Australian
APRIL 28, 2018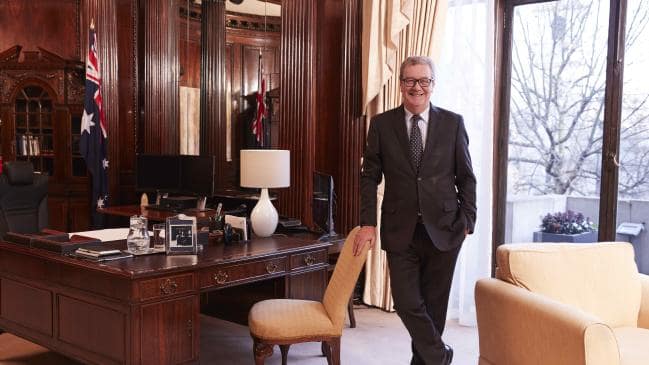 Australian High Commissioner Alexander Downer. Picture: Chris Floyd
Alexander Downer is sitting in the comfy Australian high commissioner's office at the century-old Australia House that overlooks the Strand. As the bells of St-­Martin-in-the-Fields ring in the background, he leans across the coffee table and insists conspiratorially: it was just the one gin and tonic.
And to stress the point, he says the gin measure was typically mean — just 25ml, which is normal for a London bar, not the sort of lavish pour one might offer friends at Stoke Lodge, the Australian government's residence near Hyde Park.
But it was over that single short drink, accompanied by Erika Thompson, a counsellor at the high commission, late one afternoon in May 2016 that Downer met George Papadopoulos, then an adviser in Donald Trump's campaign team.
Downer wasn't to know that one meeting in the Kensington Wine Rooms would come to define his four-year tenure as high commissioner to the UK. Since arriving to take over from Mike Rann shortly before the EU elections and Scottish independence referendum, he has seen the tumult of Brexit, a spate of terror attacks across Britain and Europe, some which killed Australians; and the horrific Grenfell Tower inferno that claimed the lives of 71 people including two Australians.
But Downer's nose for diplomatic intrigue was piqued when Papadopoulos publicly attacked the then British prime minister, David Cameron, for criticising Trump as "divisive, stupid and wrong''. Papadopoulos demanded an apology.
Downer had been a teenager growing up in the rooms of Australia House while his high commissioner father, Alick Downer, was reporting back with some dismay on the trade concerns as Britain prepared to join the European Economic Community, the forerunner to the EU.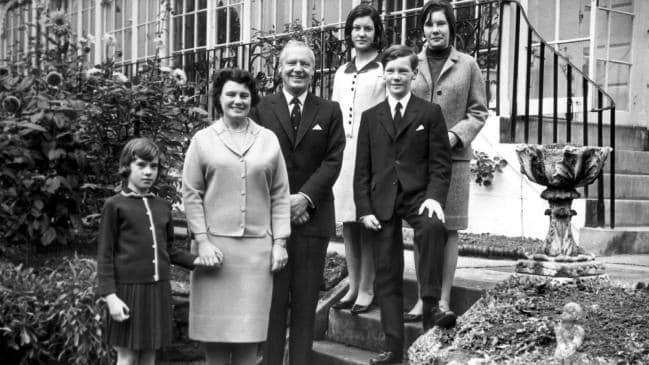 Sir Alexander (Alick) Russell Downer with his wife Mary and their children Una, Stella, future Australian politician Alexander Downer and Angela in London, 1964.
It's a neat bookend that Downer departs the plum British post this weekend just as Britain prepares to leave the EU.
Not surprisingly, Downer has been the most upbeat diplomat in London about Britain regaining judicial and trading autonomy.
In between his stays at Australia House, he was Australia's longest serving foreign minister as under Coalition prime minister John Howard. While his self-deprecating humour has landed him in trouble before — most famously in 1994, when he quipped that the Liberal Party's slogan "The Things That Matter" should be changed to "the things that batter" to reflect its domestic violence policy, then again two years later when he posed in a stocking and stiletto for charity — Downer's political instincts were sharpened when he sought out Trump's adviser.
Downer, or Thompson at Downer's request, made contact with Papadopoulos through an Israeli contact in early May 2016.
In an interview with The Weekend Australian last week, Downer spoke for the first time about his conversation with the Trump campaign aide and how Papadopoulos let slip his knowledge of a Russian "dirt file" on Hillary Clinton. Within 48 hours Downer had sent an official cable about what he had heard to Canberra.
After a period of time, Australia's ambassador to the US, Joe Hockey, passed the information on to Washington, possibly around the same time that the hacked Democratic Party emails were being published by WikiLeaks. This eventually led to the inquiry into Russian collusion in the election headed by FBI director and special counsel Robert Mueller.
Of the conversation at the upmarket Kensington Wine Bar, Downer recalls: "We had a drink and he (Papadopoulos) talked about what Trump's foreign policy would be like if Trump won the election.
"He (Trump) hadn't got the nomination at that stage. During that conversation he (Papadopoulos) mentioned the Russians might use material that they have on Hillary Clinton in the lead-up to the election, which may be damaging.''
Did Downer think, "Oh boy, this is intriguing?"
"Well, it was worth reporting,'' he said. "It wasn't the only thing we reported. We reported (back to Australia) the following day or a day or two after … it seemed quite interesting.''
Did you realise you were one of the first people to have known about this dirt?
Downer doesn't hesitate: "He didn't say dirt, he said material that could be damaging to her. No, he said it would be damaging. He didn't say what it was.''
Downer's conversation with Papadopoulos then apparently drifted into other areas, such as what Trump as president would be like on foreign policy. Australia's interests were firmly focused on the Trans-Pacific Partnership, with the aim of ease any trade protectionism with the US, as well as promoting a steady US policy towards China, where any deviation could have a big effect on Australia's economic prospects.
"We didn't know anything about Trump and Russia and we had no particular focus on that,'' Downer says of the Papadopoulos meeting.
"For us we were more interested in what Trump would do in Asia. By the way, nothing he (Papadopoulos) said in that conversation indicated Trump himself had been conspiring with the Russians to collect information on Hillary Clinton. It was just that this guy (Papadopoulos) clearly knew that the Russians did have material on Hillary Clinton — but whether Trump knew or not? He didn't say Trump knew or that Trump was in any way involved in this. He said it was about Russians and Hillary Clinton; it wasn't about Trump."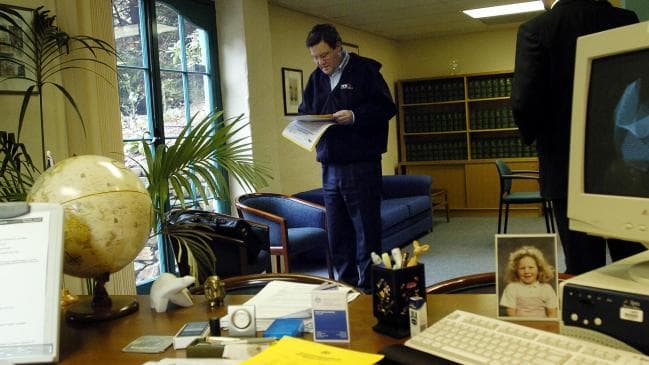 Foreign Affairs minister Alexander Downer prepares for his stand up with media about the London bombings in 2005.
Papadopoulos has been co-operating with the Mueller investigation after initially pleading guilty to lying to the FBI, and it has emerged that the young Trump adviser met Joseph Mifsud, a professor at the University of Stirling, in March 2016 in Italy, after which he began to pitch meetings between Trump officials and Russian officials.
Mifsud introduced Papadopoulos to Ivan Timofeev, a director at the Russian International Affairs Council with links to the Russian Foreign Affairs Ministry, as well as revealing to Papadopoulos in an April 2016 meeting the dirt on Clinton.
According to Papadopoulos's account, Mifsud alleged that the Russians had "thousands of emails'' on Clinton. By May 21, Papadopoulos was trying to broker a meeting between Trump and the Russians by emailing Trump's campaign chairman Paul Manafort.
Downer's reporting of his contact with Papadopoulos in the midst of Papadopoulos lobbying for a Trump-Russian connection was unveiled by The New York Times. The notoriety catapulted him to a standing as one of London's highest-profile diplomats alongside Russian ambassador Alexander Yakovenko, albeit for very different reasons.
Where Downer is seen as a loyal ally of the Conservative Cameron and May governments, even becoming the first guest editor of the Westminster publication The House last month, the Russian ambassador is kept at a distance, more so now because of the Russian novichok poisoning attack on former MI6 spy Sergei Skripal and his daughter Yulia in Salisbury.
Downer says of that episode: "I am not an expert on chemical weapons but I take the advice of experts and I have not heard any doubt from anybody who could expect to know anything about it professionally," he said.
On the subject of Russian President Vladimir Putin, whom he has met, and Foreign Minister Sergei Lavrov, whom he has known since his foreign minister days, he does not hold back.
Downer says Russia's behaviour is "quite troubling'', particularly the invasion of Crimea and eastern Ukraine and "their very aggressive behaviour'' in Syria and the Middle East. He says Russia's policies have caused European countries to move away from Russian energy supplies, adversely affecting the country's already declining economy.
"It is not in Russia's medium-term interests to arouse the unity and the wrath of the West,'' he says.
"If they do fear the West, perhaps it would be wiser not to provoke the West by disregarding an international rules-based system and interfering in the internal politics of Western countries, cyber activities of one kind or another, using chemical weapons as they have done, backing anti-Western regimes."
He then adds: "Look, in the end, what they have succeeded in doing is unite a pretty fractured West and a dispirited West after the divisions of the Iraq war, and they have united them and led to a West recovering its resolve. So how is this in Russia's medium-term interest?
"I should include in my list the absurd denials and stories that they tell as well."
His message to Russia? "Just don't do that. The thing about continually lying and misleading and making up stories and making absurd allegations is that it destroys your credibility. The President of Russia, the Foreign Minister ... running these sorts of lines and denials of the obvious does them no good at all.''
Downer says historically Russia had not shown any inclination towards brokering peace and he doesn't see the Syrian conflict ending anytime soon.
"There isn't any doubt that (Syrian President Bashar) al-Assad, with the support of Iran and Russia, has the upper hand, but whether they can completely suppress the opposition … to win to the extent the opposition lays down their arms, it is hard to see.''
With that, an alarm sounds across Australia House. It turns out the cleaning of the building's facade has sparked a false alarm. Trump and his associates could only wish that the spotlight on their role in the Russia story could be so easily switched off. But it's also a neat illustration of Downer's four years as Australia's man in London: from calming church bells made famous in the nursery rhyme Oranges and Lemons to shrieking emergency clanging, it's been quite a ride.
-
Alexander Downer on …


The Australia-Britain relationship: "There hasn't been a postwar period when the relationship between Australia and the UK has been closer … they have appreciated our enthusiasm for the (post-Brexit) relationship."
On free trade agreement with Britain and Europe: "We are obviously trying to get one with the EU but personally I think it will take a long time and it will be quite hard to do, (whereas) I think the UK could be quite easy to do."
On visas between Britain and Australia: "We are not looking for allowing Brits to come to Australia visa-free or limitless migration but we want to make it a bit easier for business and professionals to work here than is currently the case, with mutual recognition of qualifications."
On an Australian republic: "Do you want to replace, in practice, the governor-general, who is seen to be above and beyond politics? If you replace the governor-general with an elected president, and if you have a republic that's what the public will tolerate, well then, inevitably you are going to involve an election … they will wage a campaign and you end up with a politician in Government House and people will hesitate about that. They think, well, the governor-general is beyond politics.''
On the royals: "The Queen has emerged as a much-loved and respected queen. I think people have grown to like Prince Charles and Camilla seems quite popular and the young royals are very popular, Prince William, Kate, Prince Harry and now Meghan on the scene."
On British perceptions of Australia: "We don't have fancy palaces and castles and cute 16th-century villages — one of the great things to see in Europe — but we do have a wonderful lifestyle, people live extraordinarily well in Australia, and they know that here in London and they admire it. They think we are blunt, outspoken, but very friendly, and, by the way, it's a nonsense they look down on us."
On the hardest part of the job: "Being away from home and away from closest friends, and the hardest thing was my mother died here. She came over here to see us, she was only here for six days and then she died."
On George Brandis as British high commissioner: "He will be quite a success. He is very intellectual and in this country it is a great advantage to have a lot of intellectual interests. I have high expectations he will do an excellent job. We may be trading up going to him."
On his future: "Just some consultancy things, working with business and their relations with governments, Australia and international. Beyond that let's see what else turns up. I would like to get involved in universities again."