Elton John "Rocketman"
Elton John (born 25 Mar 1947) and Bernie Taupin (born 22 May 1950)
In 1967, Elton John answered an advertisement in the British magazine New Musical Express, placed by Ray Williams, then the A&R manager for Liberty Records. At their first meeting, Williams gave Elton John an unopened envelope of lyrics written by Bernie Taupin, who had answered the same ad. Elton John wrote music for the lyrics and then sent it to Bernie Taupin, beginning a partnership that still continues. Thus they joined Dick James's DJM Records in London as staff songwriters in 1968, and over the next two years wrote material for various artists, among them Roger Cook and Lulu. Bernie Taupin would write a batch of lyrics in under an hour and give it to Elton John, who would write music for them in half an hour, disposing of the lyrics if he could not come up with anything quickly.
1.Empty Sky First Studio album. Recorded Nov 68-Apr 69
Released Jun 69 (Minimal sales)
2.Elton John Recorded Dec 69-Jan 70
Released April 1970 (Slow sales initially. *Cert.gold Feb 71)
3.Tumbleweed Connection Recorded March 1970
Released October 1970 (*Cert.gold Mar 71)
Elton John's first American concert took place at the Troubadour in Los Angeles on 25 August 1970, and was a success
Friends soundtrack album. Recorded in London September 70
Released March 10 1971 with the movie. (Little known today but *Cert.gold Apr71)
Your Song single from the Elton John album released 26 October 1970 flipside Take me to the Pilot which was the original A-side, but disc jockeys in the US preferred Your Song. Heavy airplay, reaching number 8 in the US and number 7 in the UK in Jan 71.
17-11-70 Live Album recorded New York
Released April 1971 (Reached Top 20, becoming fourth Elton John album to simultaneously land in Top 100)
Met John Reid apparently at a Tamla Motown Christmas party in London where John Reid was providing management services for their record label. Elton lost his virginity to the man, and shortly after they moved in together. John Reid became his personal manager for the next 28 years, though their physical relationship ended after 5 years. John Reid also managed Queen (1975-1978).
4.Madman across the Water Fourth studio album. Recorded in London Feb 71 plus extra songs (Tiny Dancer) in Aug 71
Released Nov 29 1971. Low sales in UK but *Cert.gold US Feb72.
Tiny Dancer, written by Bernie Taupin about his wife (at the time) and released as a single Feb 72, also low sales, except in Canada and Australia where it made the Top 20.
5.Honky Chateau Recorded in France Jan 72
Released May 72. Became Elton John's first US number one album. *Cert.gold Jul72.
Two Singles Rocket Man March 72 (major hit worldwide) and Honky Cat Aug 72 (minor hit)
6.Dont Shoot Me Piano Player Recorded in France Jun 72
Released Jan 73. Went straight to number one in US, UK and Australia. *Cert.Gold Feb73.
Two Singles Crocodile Rock October 72 (major hit worldwide) and Daniel Jan 73 (also major hit)
7.Goodbye Yellow Brick Road Recorded in France May 73. Widely regarded as Elton John's best album and is his best-selling studio album.
Released 5 October 73. *Cert.gold Oct73. Stayed at number one worldwide for two months.
Four Singles Saturday Night's Alright for Fighting Jun 73 (Top 10 hit) Goodbye Yellow Brick Road Sep 73 (Major hit) Bennie and Jets Feb 74 (Major hit) Candle in Wind Feb 74 (UK only Top 10 hit)
*RIAA Cert. gold album $US1 million wholesale 1958-1975. After 1975, 500,000 units sales required, same for singles. Platinum after 1986 is 1 million albums or 2 million singles.
Click here for Australia Gold records.
But Elton John wasn't well, he was breaking up his personal relationship with John Reid. In 1975, as guests lounged around the pool In his home in Los Angeles the singer, dressed in a bathrobe, announced he'd taken an overdose of Valium and then threw himself in the water.
He was pulled from the pool, then paramedics were called to save his life by pumping his stomach.
In 1976 he told Rolling Stone magazine: "Everybody's bisexual to a degree. I don't think it's just me."
In 1978 "Song for Guy" was released, one of his biggest singles in UK. Guy Burchett was a messenger boy, 17, for Elton's label, Rocket Records. According to reviewer Claude Bernadin, Elton wrote and recorded piece on the afternoon of Sunday, August 18, 1978. He had felt it was a song about death, and only learned the next day that Guy had been killed that very afternoon in a motorcycle accident.
Click here for the video. In series 4 episode 3 of the Nov 2020 release of The Crown, we see Lady Diana Spencer dancing alone to the music in a Buckingham Palace ballroom.
In 1984, Elton wed German Renate Blauel in Sydney, before divorcing four years later.
In 1990, he checked into Chicago's Parkside Lutheran Hospital in a bid to cure himself of his addictions i.e. cocaine, sex, alcohol and shopping, with anger issues and also bulimic.
The movie does not mention a major catalyst for this decision – the death of a young friend, Ryan White, from Aids a few months earlier.
Extract from his book published in 2012.

"My time at Parkside Lutheran was as challenging as it was transformative. The first days were especially difficult. When you deprive your body of cocaine after having used very much and very frequently, as I had, the craving for it is inconceivably enormous. I went through bouts of extreme anxiety and irritability. I couldn't sleep. I couldn't think about anything but my own misery. This was compounded by the fact that I had stopped using not just cocaine but everything I had self-medicated with: the booze, the food, the sex. I was depressed and alone. I felt sick and weak and foggy. Needless to say, the first stages of rehab were among the most trying periods of my life. The most important part of my time in rehab was that, to all with whom I interacted, I was not Elton John the rock star. I was just Elton. Elton the addict. For years I had thought that my station in life provided me with the tools I would need to help myself. I thought I was somehow uniquely situated to overcome what other people could not.
"How wrong I was. From the moment I walked into that hospital, the playing field was leveled. We were all the same. Suffering, struggling addicts who wanted to get better but didn't know if we could. We were all people who had made bad choices and seen the consequences, but then made the same choices despite ourselves. And we had done so again, and again, and again. The truth of it all was that simple: no matter where we had come from, what we had accomplished or failed to accomplish, what our life experiences had been up to that point, we were all the same. And none of us would get better without asking others for help. The path to recovery wasn't a straight one, by any means. I remember quite clearly, on many occasions, wanting desperately to run away.
"Two separate times, I came awfully close to doing just that. It didn't merely seem like the easier path; it categorically was. I could have left, been on a plane back to London, and been back in my room, with the relief that would come with the buzz of cocaine and a drink. If not for Ryan [White] and Hugh [Elton's boyfriend at the time], I would indeed have run away. Thank God I stayed. Over time it did get easier. I could feel a genuine transformation happening inside me. I was working hard at it, and I could feel myself changing. Every day of staying sober was a challenge, but it was invigorating to feel that I was regaining control over my life, my direction, my choices. And I'd say the biggest driver of my progress was the overwhelming kindness of the strangers I met in rehab. People were remarkably helpful."
End of extract
In 1993, he started his relationship with David Furnish (born 25 October 1962), having two children in 2010 and 2013 via a surrogate friend in California (nameless).
With regards to the "Rocketman" movie, note the following comments below regarding its accuracy.
www.thesun.co.uk
Posters say it is "based on a true fantasy", so audiences have been warned there is a fair dollop of fiction among the facts.
Here, Grant Rollings and Mike Ridley sort the myths from the reality in the new film.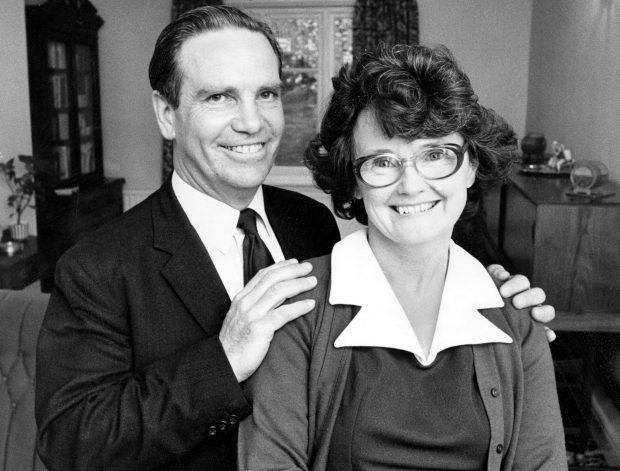 Elton John's parents Stanley (1925-1991) and Sheila(1925-2017)

DAD Stanley was uncaring to young Reg

Stanley married Elton's Mum when Elton was 6. Elton was her only child. After years of rows between his parents, the RAF pilot walked out when Elton – then Reg Dwight – was 11. He married second wife Edna and had four boys, Stanley, Robert, Simon and Geoff. Half-brother Geoff, from Ruthin, North Wales, says: "My dad was kind and gentle. He spoke his mind but encouraged us all, including Elton, to do what we were good at. As a boy when he started supporting Watford it was my father who took him to the matches."

Elton's parents were both musical. Stanley, who played trumpet in a band, bought a piano for the young Elton and wrote to congratulate him on winning his scholarship to the Royal Academy as a young boy. Half-brother Geoff says his dad always thought highly of Elton, telling people right up to his death aged 66: "I have five great sons."

DID Elton's mother really tell him, as she does in the film: "Do you know what a disappointment it is to be your mother?"

After her divorce when Elton was young, his mum Sheila married Fred Farebrother, who treated Elton like his own son when they all lived together in a maisonette in Pinner, North London. In the film, Fred appears to get on well with his step-son. But when Fred died in 2010 aged 88, Sir Elton did not attend the funeral.

According to an article in Vanity Fair, much appears to have been connected to David Furnish. A fiery woman, even at 90, Sheila told press in 2015, "I'd like to give Furnish a punch right on the bloody earhole! If I had the chance, I'd do it…. I've had all the upset and crying and the worrying and the nastiness."
After eight years of estrangement, John told The Daily Mirror that he and his mother had finally reconciled. "I have always shied away from speaking publicly about our relationship," he said. "However, I can say that we are now back in touch and have been so since my mother's 90th birthday." Sheila died 2 years later.

WAS Elton's first manager, Dick James a foul-mouthed Cockney who hated many of the star's early songs?
In reality, Dick became Reg Dwight's first manager in 1967 and encouraged "the fat boy from Pinner" to change his name. Caleb Quaye, 70, who was in Elton's first band Bluesology, says: "Dick James was a gentleman. He wasn't Cockney. "He was an old-school music man, who dressed smartly and you never heard him cuss. "He was a principled businessman."

Since the movie, Elton John had been trying to settle out-of-court with ex-wife Renate Blauel, over what was, she felt, an unwelcome new interest in their marriage by the press. The matter was resolved, in October 2020, click here for further background.

** End of Page