Front Page Article on Margaret Court
On 3 Jun, 2017 1:52 PM, "Stephen Williamson" wrote:
Subject: Headlines Front page of the Australian: Pastor, helper, champion: a WA interview with Marika Court, Margaret Court's daughter
Hello all
Praise the Lord, a great front page article, and as I start reading it "There She Goes" by Sixpence none the richer comes playing over Gloria Jean's sound system.
Followed two songs later by a fairly "delicate" song, Coldplay singing "I will try — fix you", apparently written by Chris Martin when Gwyneth's father died.
I was just dwelling on Margaret's comment below "as a man thinketh, so is he".
Actually the quote that's from Solomon , click here, tells us to not ever desire the "ruler's table", because as it then says literally, "as his/her gatekeeper splits open to the person's soul (as seen via the evil eye) so is he/she. Eat and drink, he says to you but his heart is not with you.", and clarified further in the New Testament in how the "Word of God" divides the spirit from the soul and reveals all that is in the heart, yes, if not before, certainly when we die.
For those who can enjoy it :-) , here then is the video and lyrics
I will try — fix you

And here's the great article in the Weekend Australian :-)
---
Pastor, helper, champion: Margaret Court takes defiant
stance in the court of public opinion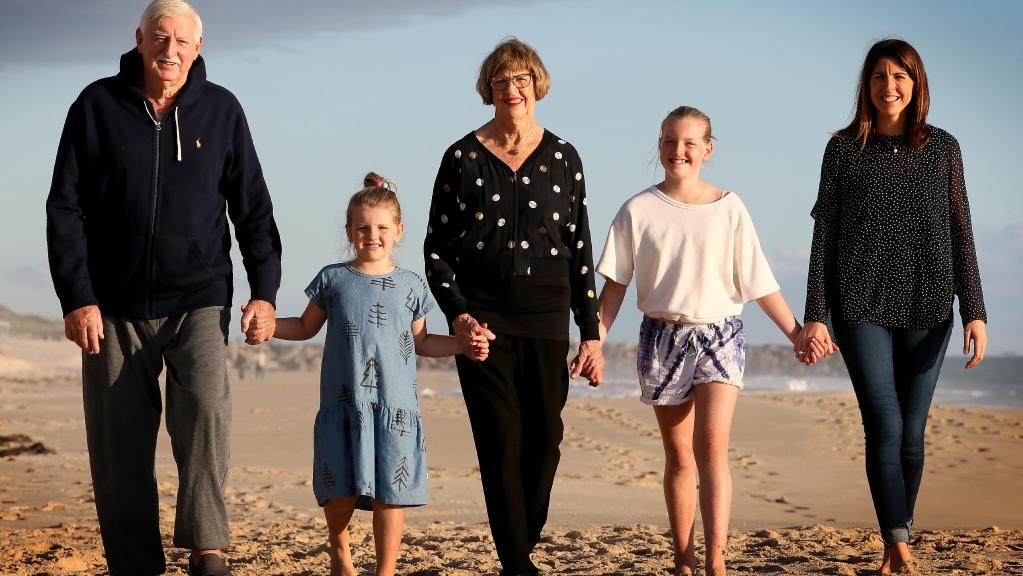 Margaret Court with husband Barry, daughter Marika and grandchildren Daisy and Jemima
at Floreat beach yesterday. Picture: Colin Murty
Paige Taylor WA Bureau Chief, Perth
Marika Court barely recognises the Margaret Court she has read about over the past fortnight.
"My mother has the biggest, kindest, most loving heart of anyone I know," she says of the 74-year-old. "She is the one helping when other people have given up or just walked on by."
Grand slam champion Margaret Court is wearing the labels racist and bigot on the inter­national stage where she was once lauded as the greatest tennis player who ever lived. She is hearing calls for her name to be dumped from the tennis court at Melbourne Park that honours her.
Her decision to repeatedly broadcast her views about gays, including that they must not marry, and on transgender children — she says they are being influenced by the devil — are ready-made news for websites across the globe. They are also the stuff of nightmares for any publicist charged with managing her reputation. Except she does not have a publicist. Instead, she has an unshake­able belief she is following the scriptures.
So pretty much any reporter who calls her mobile can have fresh quotes from the Pentecostal pastor explaining all manner of controversial views, including that gays and lesbians can retrain their minds. "As a man thinketh so is he," she said yesterday.
Marika, 41, who is also a pastor at Mrs Court's church, is clearly distressed that these are the only things so many people know about her mother.
"This is a woman who found a man rummaging through her bin on the verge and invited him in for dinner," Marika said.
"When we were kids, she was constantly pulling meat out of the freezer and giving it to people because she was worried they couldn't afford to eat well."
Mrs Court's Victory Life church hands out 24 tonnes of food a week to the poor.
She said that since she excoriated Qantas for its marriage equality stance in a letter last month to her local newspaper, The West Australian, she had received some 800 emails of ­support. She said some may be surprised that her supporters included gay men who are part of her church and, like her, do not believe in gay marriage.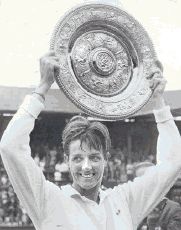 Mrs Court at Wimbledon in 1970.
Among them is a Perth man who said he came out as gay at 17, was now married to a woman and described himself as "experiencing a degree of same-sex attraction". He said his wife asked him to share his story anonymously because of threats and intimidation from Mrs Court's opponents.
"Pastor Margaret Court recognises that each person's life is a constant process of transformation," the man said. "She knows that nobody's life is perfect. Hers isn't. And mine definitely isn't. Pastor Margaret's heart cry for children to be able to be raised at every possibility by their biological mother and father is an ­honourable way of standing up for the most vulnerable in our ­society. This should be applauded, not criticised. Pastor Margaret may not support gay ideology, but neither do all same-sex attracted people across Australia.
"Those who call her bigoted or homophobic do not know her and have never experienced the ­tangible compassion she has for every person, irrespective of their sexual attraction."
Yesterday, Mrs Court said she regretted that the backlash to her comments had caused pain for some in her family.
Mrs Court's nephew Phil Shanahan, who runs a tennis academy named for her in Albury, NSW, said he had received "ugly" abuse from around the world and threats of a boycott. He said he loved his aunt and she was en­titled to express her views. He said his door had been "smashed" in the middle of the night and said his family was "nervous".
Mrs Court said she did not understand why she has been ­accused of being a supporter of South African apartheid, particularly when she clearly recalled being frustrated by the policy on a tennis tour with Evonne Goola­gong. The allegation stems from comments she is reported to have made in the 1970s, describing South Africa as managing its "situation". "I don't know what I said — I could have said something but I have never been in favour of apartheid," she said.
On Thursday, transgender woman Catherine McGregor, a cricket writer and newspaper columnist, offered a view of the controversy over Mrs Court that was both critical of the pastor and those who wish to rename Margaret Court Arena.
McGregor said Mrs Court had gone beyond her faith in her comments but added: "I don't think that persecuting a 74-year-old Christian pastor is actually going to take us anywhere."
She said calls for Margaret Court Arena to be renamed was "Stalinist airbrushing of someone's history … that is wrong".
Mrs Court is unguarded when talking about her experience of depression as a young mother of four. Her husband of almost 50 years, former WA Liberal Party president Barry Court, was away a lot working on the couple's farm.
Mrs Court said it was around then that she turned from Catholicism to being a Pentecostal.
Former Victorian premier Jeff Kennett denounced calls to rename Margaret Court Arena: "It would be an absolute travesty in the practice of democracy in this country if they bow to those sorts of pressures ... it would be a travesty if expressing one's views somehow leads to a penalty. I don't agree with her views, but that doesn't mean she doesn't have a right to express them."
Reader comments on this site are moderated before publication to promote lively and civil debate. We encourage your comments but submitting one does not guarantee publication. We publish hundreds of comments daily, and if a comment is rejected it is likely because it does not meet with our comment guidelines, which you can read here. No correspondence will be entered into if a comment is declined.
232 comments

284 people listening

Newest Comments
Rod 1 hour ago

The furore over comments made by Margaret Court during this past week has provided us with a unique opportunity to engage in an informal debate over SSM. My overall impression is that those advocating for the legalisation of SSM form a small cadre within the LGBTI community. Under the guise of "equality" these people, who exemplify all of the characteristics of the intolerant, bigoted bullies, they claim to oppose, have one aim in common and that is to destroy the meaning of traditional marriage. Without logical argument to support their demands they have resorted to venomous personal attacks on a great Australian.

You can be sure that if a plebiscite eventuates a loud and emotive campaign supported by the likes of GetUp and individuals such as Alan Joyce, the ABC and the popular press will be launched. Opponents will be ridiculed and labelled as homophobic in much the same way as Margaret Court has been recently. It is a great pity that other community leaders lack the intestinal fortitude to make a similar stand to Margaret but I can understand why they might cower following recent examples of personal attacks on potential opponents to SSM legislation.

Nevertheless, I hope that many decent Australians who still believe in the maintenance of traditional family values will stand shoulder to shoulder with Margaret Court and continue to resist this flagrant and unwarranted attack on the meaning of "marriage".

11 Like


William 1 hour ago

My opinion of and respect for the LGBTI lobby and their cause has plummeted in view of the verballing and public bullying that's gone on over the past few weeks. What a disgraceful, spiteful display, I'd be ashamed now to be seen with them.

3 Like


Melanie 1 hour ago

Thank you Australian newspaper for standing up for freedom of speech for all people. And on your front page!
Blessings all

Steve
** End of page