Israel News since September 2nd 2014
Click here for prior news from June 21, 2014
UN chief Ban condemns Israeli decision regarding West Bank area known as Gva'ot
Jerusalem Post online
Tovah Lazaroff, Herb Keinon and Khaled Abu Toameh contributed to this report.
Tuesday, September 2, 2014
The decision signaled the end of the civil administration's investigation into the possibility that parcels of the land were private Palestinian property.
UN Secretary-General Ban Ki-moon condemned Israel's decision to include an area of land beyond the Green Line under Israeli control, in a statement released on Monday.
"The Secretary-General is alarmed by yesterday's announcement by Israeli authorities to declare as so-called 'state land' nearly 1,000 acres of land in the Bethlehem area of the West Bank," the UN chief's office said in a statement. "The seizure of such a large swathe of land risks paving the way for further settlement activity, which — as the United Nations has reiterated on many occasions — is illegal under international law and runs totally counter to the pursuit of a two-state solution. The Secretary-General calls on Israel to heed the calls of the international community to refrain from settlement activity and abide by its commitments under international law and the Quartet road map."
The area to which Ban was referring is known as Gva'ot, just outside of Alon Shvut, in an area of Gush Etzion that Israel believes will be included within its final borders in any final-status solution. The decision signaled the end of the civil administration's investigation into the possibility that parcels of it were private Palestinian property.
There is a 45-day period for objections to be raised. The land had previously been listed as survey land, a designation that prevented settlers and the army from moving building plans through the planning system.
Gush Etzion Regional Council head Davidi Perl welcomed the announcement that the near 1,000 acres, which help create territorial contiguity between his communities and the pre-1967 lines, had been declared state land. "This paves the way for the establishment of a new city in Gush Etzion," Perl said.
The other four Israeli cities past the Green Line are Modi'in Illit, Betar Illit, Ma'aleh Adumim and Ariel.
The area of Gva'ot was first developed as an IDF Nahal community in 1984, following a 1982 cabinet decision. The military closed it in 1996. For the next decade, the Shvut Yisrael Yeshiva made use of the site with small modular homes. Since 1998 the Gush Etzion Regional Council has consistently pushed to build a city in that area. Initial plans for 6,000 homes in Gva'ot were abandoned in 2000 because the diplomatic climate was not supportive.
The plans were picked up again in 2008 and moved forward in 2009 after the Annapolis peace process fell apart. In 2012, the Defense Ministry gave initial authorization to build 523 homes there but then froze the project.
In June of this year, the Gush Etzion Regional Council re-issued its call for work to move forward on Gva'ot as a response to the deaths of Naftali Fraenkel, Gil-Ad Shaer and Eyal Yifrah. The three teens were kidnapped at a bus stop near the Gva'ot site.
"Those who killed the three teens wanted to instill fear, disrupt our lives, undermine our right to all of this land and to Gush Etzion in particular," Perl said. "Our response is to strengthen the settlement enterprise, strengthen our sovereignty over Gush Etzion and Judea and Samaria and to build within and without the settlement blocs. I trust that the government will continue to advance the construction of a new city that will provide thousands of new homes. In this way it will prove to our enemies who wanted to uproot us that they have only deepened our hold on the land," he said.
The Palestinian Authority immediately condemned what it called the seizure of its land in the West Bank and claimed that it belonged to the districts of the two Palestinian cities located nearest to the parcel — Bethlehem and Hebron. Nabil Abu Rudaineh, a spokesman for PA President Mahmoud Abbas, said that this status change must be reversed."This decision will lead to more instability. This will only inflame the situation after the war in Gaza," Abu Rudaineh said.
Putin reveals seven-point ceasefire plan with Ukraine
The Australian online
AP
Thursday, September 4, 2014 at 6:12AM
RUSSIA and Ukraine say they are working on a deal to halt months of fighting in eastern Ukraine, an announcement that threatened to upstage a crucial NATO summit on the crisis that has chilled East-West relations. Western leaders expressed some scepticism over the plan, noting it wasn't the first attempt to establish a truce, and that earlier efforts had failed.
Ukrainian President Petro Poroshenko's office said after a telephone conversation with Russian President Vladimir Putin that the two leaders have agreed on steps for a ceasefire. In a televised statement, Putin spelled out a seven-point plan for ending hostilities in eastern Ukraine, where Russian-backed separatists scored significant gains last week against government forces after four months of fighting.
Putin, speaking on a visit to Mongolia, said the rebels should halt their offensive and the Ukrainian government forces should pull back to a distance that would make it impossible for them to use artillery and rockets against residential areas. He also urged international monitoring of a ceasefire, a prisoners exchange and the delivery of humanitarian aid to war-ravaged regions. Representatives of Russia, Ukraine, the rebels and the Organization for Security and Cooperation in Europe could finalise the peace deal as early as Friday, Putin said.
Poroshenko also voiced hope that Friday's talks in the Belarussian capital of Minsk would allow both sides to "take real steps to achieve peace." He discussed the plan with German Chancellor Angela Merkel, saying it should include the OSCE monitoring of a ceasefire, the withdrawal of foreign troops, a buffer zone on the border and the release of all Ukrainian prisoners held in Russia, according to his office.
The Ukrainian leader met with Putin in Minsk last week, but they didn't announce any agreement after that session.
Ukrainian officials said the bodies of 87 soldiers had been retrieved from the area near the city of Ilovaysk, the scene of a horrific government defeat over the weekend. Ukraine and the West said the rebel offensive was spearheaded by regular Russian army units, an allegation Moscow has rejected.
President Barack Obama on Wednesday dismissed the Kremlin denials, saying that "Russian combat forces with Russian weapons in Russian tanks" were in eastern Ukraine. Obama, on a trip to Estonia to reassure allies along Russia's border, said it was too early to say if the announced truce could hold, noting that "we haven't seen a lot of follow-up on so-called announced ceasefires."
Foreign Minister Frank-Walter Steinmeier of Germany, which has been pushing hard for a ceasefire, also was sceptical. "What we have experienced today is, unfortunately, a bit of a repeat of the Minsk meeting — there seem to be preliminary agreements, and then things come apart again," Steinmeier said in Hamburg. "It may be a small sign of hope, but whether it is good news will only become clear in the coming days." Poroshenko announced a unilateral ceasefire in June, but it failed to stop the fighting, with Ukraine and the separatists blaming each other for violating it.
Obama left Estonia for Wales, where he and other Western leaders will attend a NATO summit that starts Thursday. The alliance is expected to approve plans to station more troops and equipment in Eastern Europe, with the aim of building a rapid response force that could deploy within 48 hours
Steinmeier hinted at some discord within NATO over Ukraine, saying: "I found that some things that came out of Brussels, from NATO headquarters, in these last few weeks weren't always helpful." But he added that it is Russia, not the alliance, that is responsible for the crisis in Ukraine. At the same time, the European Union was preparing a new set of economic sanctions against Russia over its actions in Ukraine. EU leaders said over the weekend that the new punishment can be enacted in a week, but Putin now may hope to dodge the blow with the ceasefire deal. The leaders of Britain, France, Germany and Italy will join Obama for Thursday's summit and are expected to discuss the potential for deeper economic sanctions on Russia.
Miroslav Rudenko, one of the rebel leaders, welcomed a ceasefire plan in remarks carried by the Interfax news agency, saying "there'll be no sense in a military solution to the conflict" if Kiev withdraws its troops. Putin's demand for Ukrainian forces to pull out from the vicinity of populated areas in the east could be something that has already happened under the brunt of the latest rebel offensive.
Dmitry Trenin, director of the Carnegie Moscow Center, said a truce would be a victory for Putin. "A ceasefire, in my view, is an important victory for Russia," Trenin told reporters. "And having secured a ceasefire, if it actually goes through, Russia will be bargaining from a position of strength, using the domestic political situation in Ukraine, the economic plight of the country, the social consequences from that plight."
Col. Andriy Lysenko, a spokesman for Ukraine's National Security Council, said the situation in the east is "not simple, but we see a reduction of military activity, a reduction of the use of artillery and other heavy weaponry." He did not give specifics.
Even if the ceasefire holds, negotiating a lasting peace in the east will be a daunting challenge in the conflict, which the UN estimates has killed nearly 2,600 people and forced over 340,000 to flee their homes. Rebels have dropped a demand for full independence, saying they are ready to discuss staying inside Ukraine in exchange for a broad autonomy for mostly Russian-speaking regions in the east — a stance that reflects Putin's desire to maintain leverage over its neighbour and prevent it from ever joining NATO.
Poroshenko has promised to grant more powers to the provinces, but he has yet to spell out his proposal, and it remains unclear if Russia sees it as sufficient. The Ukrainian leader's attempt to negotiate a compromise with the rebels could put him under fire at home, where many would see it as kowtowing to Moscow.
The peace plan already met stiff resistance from Ukrainian Prime Minister Arseniy Yatsenyuk, who described it as a manoeuvre by Putin to avoid new Western sanctions — criticism that appeared to reflect divisions in the Ukrainian leadership.
Stock markets jumped on first reports of a possible ceasefire deal but later eased back slightly. By early afternoon in Europe, Russia's MICEX benchmark was up 2.7 per cent, while the rouble rose 1.4 per cent against the US dollar. Germany's DAX index, which has been particularly sensitive to news on the crisis because of the country's economic ties with Russia, was up 1.2 per cent.
Also on Wednesday, officials said France suspended the delivery of a warship to Russia at least until November, following pressure from allies. The Vladivostok, the first of two Mistral-class helicopter carriers ordered by Russia, was due to be delivered next month as part of a 1.2 billion euro contract — the biggest-ever sale of NATO weaponry to Moscow.

Editorial: Arab states must join fight against Islamic terrorists
The Australian
Monday, September 8, 2014
THE formation of a US-led, 10-nation "core coalition", including Australia, to degrade and destroy the Islamic State terrorist force is a sign Barack Obama now has a coherent strategy to deal with the threat posed by the onslaught sweeping Iraq and Syria. The announcement of the coalition following the NATO summit in Wales was welcome, but a broader alliance, including major Middle Eastern nations, is needed if the Islamic extremists are to be repelled.
As a country with dozens of home-grown jihadists in combat and support roles with Islamic State, Australia has a direct stake in helping ensure the defeat of the forces of what Tony Abbott accurately termed "the death cult". The Prime Minister indicated our precise role in the coalition has yet to be defined. But he and Foreign Minister Julie Bishop were right to pledge firm support alongside the US, Britain, France, Germany, Canada, Turkey, Italy, Poland and Denmark. Lacking in this "core" line-up, with the notable exception of Turkey, are Saudi Arabia, Jordan and the Gulf states. They face a greater threat from the jihadists' malevolent menace than any Western nation. All are included in the Islamic State's projected caliphate "map", however fanciful that may be.
The absence of demonstrable Arab backing for the anti-Islamic State cause must be remedied. It would be unconscionable for Middle Eastern nations to expect the West to shoulder the burden alone. They should have been part of the original line-up announced at the NATO meeting and US Secretary of State John Kerry, who has gone to the Middle East to seek support, should cast his net wide to ensure that tackling Islamic State is not perceived as just a Western endeavour. Saudi Arabia is especially important because of its leadership of the Sunni world. So is Jordan, which has better intelligence than most nations on Islamic State operations.
Arab support, as the US President said, is "absolutely critical". For good reason, British Prime Minister David Cameron had hoped the coalition against Islamic State would be led by Middle Eastern countries, not the West. Arab states are undermining their own interests by allowing themselves to be cowed by fears of terrorist retribution. Disengagement will not protect them. And military intelligence assessments show Islamic State is more powerful and more ambitious than al-Qa'ida before 9/11. Arab states must follow Turkey, whose involvement will be a strategic advantage. Through its 800km border with Syria, Turkey is highly vulnerable to jihadist attack and must be helped to bar the flow of foreign recruits joining the fight by travelling on the so-called Jihadist Highway.
As James F. Jeffrey, the former US ambassador to Iraq and Turkey, wrote on Saturday, the first step in defeating Islamic State — using trusted Iraqi troops, Kurdish Peshmerga fighters and local Sunni allies as the ground force, supported by US and coalition weapons, intelligence and airstrikes — will be to drive it back towards Syria. Defeating it there will take longer.
Same Day
Australia ready as Henry Kissinger calls for all-out attack on Islamic State
Toby Harnden AND Jared Owens
HENRY Kissinger has urged US President Barack Obama to "launch an all-out attack" on the Islamic State terrorist group, warning that Americans have become "bystanders" in the Middle East. The former US secretary of state said airstrikes should be of "limited duration as a punitive measure" and "not make any distinction between Syria and Iraq". "There can't be any debate any more about fighting them," he said.
Dr Kissinger accused Mr Obama of failing to appreciate that other countries yearned for American guidance in the Middle East and other crisis areas. "We don't have the power to impose our preference, but without us, and without some leadership from us, the new order cannot be created," he said. "That I think has not (been) understood." He said Mr Obama "has not understood all the currents that need to be dealt with" in the world.
During last week's NATO summit in Wales, Britain and the US announced a 10-nation coalition to "degrade and ultimately destroy" Islamic State. The criticism of Mr Obama by Dr Kissinger will increase pressure on the White House to order military action in Syria and Iraq. "In my view, this should have happened already," Dr Kissinger said.
Foreign Minister Julie Bishop said on Friday that Australia was prepared to offer military assistance for a US-led campaign of airstrikes as soon as a formal request was made, but joined the US and Britain in ruling out combat troops on the ground. It is expected Australia will commit to providing air support and potentially special forces, which are not considered combat troops.
Tony Abbott said at the weekend that Australia had made "no specific decision to join a military response" to the jihadists, but "will do what we can to help". "We've certainly received no specific request as yet. We've made no specific decision to join a military response, we have not," he said.
British Prime Minister David Cameron will this week start drumming up support from Arab countries for airstrikes.
Extract: 10 Arab states join US coalition
The Weekend Australian
AFP
Saturday, September 13, 2014
TEN Arab states, including heavyweight Saudi Arabia, have agreed in Jeddah to rally behind Washington in the fight against Islamic State jihadists, as it seeks to build an international coalition. "The participating states agreed to do their share in the comprehensive fight" against Islamic State, said a statement at the end of a meeting yesterday between US Secretary of State John Kerry and his Arab counterparts.
In addition to Saudi Arabia, the other Arab states are Bahrain, Egypt, Iraq, Jordan, Kuwait, Lebanon, Oman, Qatar and the United Arab Emirates. Although Turkey was represented in the meeting, it was not mentioned in the final communique and a Turkish government official said Ankara had refused to take part in combat against the militants. Mr Kerry was flying to Ankara yesterday for urgent talks with officials for Washington's key ally.
French President Francois Hollande arrived in Iraq yesterday to support the new government, in the first visit by a head of state since jihadists overran large parts of the country three months ago. Mr Hollande's plane was carrying 15 tonnes of humanitarian aid to be delivered in the Kurdish capital of Irbil, after talks in Baghdad with his counterpart Fuad Masum, parliamentary Speaker Salim al-Juburi and Prime Minister Haidar al-Abadi.
France has been supplying arms to Kurdish forces fighting the Islamic State jihadist group since last month and has also been flying in humanitarian supplies. Mr Hollande travelled to Baghdad with Defence Minister Jean-Yves Le Drian and Foreign Minister Laurent Fabius. He is going to push for a "solution that takes into account several facets", a source said — not only the military aspect, but also humanitarian and political.
On Monday, Mr Hollande and Mr Masum will jointly host foreign ministers from the region and other allies in Paris for an international conference on Iraq.
In Jeddah, the 10 countries and Washington declared their "shared commitment to stand united against the threat posed by all terrorism, including the so-called Islamic State in Iraq and the Levant". Participation in the fight will include, "as appropriate, joining in the many aspects of a co-ordinated military campaign against (Islamic State)", said the statement.
The fight will include "stopping the flow of foreign fighters through neighbouring countries, countering financing of ISIL and other violent extremists, repudiating their hateful ideology, ending impunity and bringing perpetrators to justice". It will also include "contributing to humanitarian relief efforts, assisting with the reconstruction and rehabilitation of communities brutalised by ISIL, supporting states that face the most acute ISIL threat".
Meanwhile, the Pentagon announced that US warplanes would start using a base outside Irbil, having previously been operating from air bases and carriers outside the country. Mr Kerry was to meet Turkish President Recep Tayyip Erdogan and its new Prime Minister Ahmet Davutoglu last night in the hope of shoring up their support for airstrikes. But, on the eve of the visit, a Turkish official said: "Turkey will not be involved in any armed operation but will entirely concentrate on humanitarian operations."
Same Day
Extract: Crimea will be ours, promises Ukraine's Petro Poroshenko
AFP
UKRAINIAN President Petro Poroshenko yesterday vowed that the Crimean peninsula, which was annexed by Russia in March, would be returned to his country. He described the loss of Crimea as a "significant problem" but told an international conference in Kiev: "Crimea will be back together with us, not necessarily … by military means."
Mr Poroshenko's comments came shortly after new EU sanctions targeting Russia over the crisis in Ukraine went into force yesterday, despite the threat of retaliation from Moscow. The sanctions target major oil firms, defence companies and state-owned banks, denying them access to finance in crucial European markets. They also add 24 individuals to a blacklist of people facing a travel ban and asset freeze.
The sanctions took effect after being published in the EU's official journal.
Russian oil giants Rosneft and Transneft plus the petroleum unit of gas giant Gazprom are specifically targeted by the new punitive measures. They also target United Aircraft Corporation — the parent company that produces MiG and Sukhoi fighter jets among others — tank-maker Uralvagonzavod and state-controlled aerospace holding company and helicopter maker Oboronprom.
EU nations finally approved the sanctions earlier yesterday after a week of divisions about whether they should be implemented despite a ceasefire in Ukraine. European Council president Herman Van Rompuy said the punitive measures could be lifted after a review of the truce at the end of the month.
The Russian rouble slumped to a new record low of 37.72 against the US dollar yesterday, after the sanctions entered into force.
US President Barack Obama had also announced Washington would intensify punitive measures against Moscow over its "illegal actions" in Ukraine to further isolate the Kremlin, despite a ceasefire deal between Kiev and the pro-Russia separatists unveiled six days ago. The co-ordinated announcements came after Kiev and NATO said about 1000 Russian troops remained in Ukraine after allegedly crossing the border to bolster the separatist rebellion in what has been described as an invasion by stealth. Kiev also acknowledged that the insurgents had extended their control over territory on the eastern border to the Sea of Azov after a counter-offensive last month reportedly backed by Russian forces.
Moscow, its economy already on the brink of recession, has responded furiously to the new measures by its largest trading partner. "By taking this measure, the EU has practically decided against the process of a peaceful settlement of the Ukrainian crisis," the Russian Foreign Ministry said earlier, urging Europe to give Ukraine "a chance for peace".
The EU move had been delayed after some member states — wary that further Kremlin reprisals could hit their own fragile economies — had said they wanted to wait and see what happened on the ground in Ukraine before acting.
Russia has threatened to bar EU airlines from its airspace, and said it had drawn up a list targeting imports of consumer goods and secondhand cars from the West.
Also, Same Day
Russia to turn on the taps again after gas supply warning
David Charter and Ben Hoyle, The Times
POLAND said yesterday that Gazprom had pledged to restore natural gas flows overnight (AEST) after almost a week of reduced supplies raised fears of an energy war between Russia and the West. About half the expected level of gas was delivered on Wednesday by the Russian state company, Warsaw said, after reductions of 20 per cent on Monday and 24 per cent on Tuesday.
The cuts coincided with deliberations in Brussels over fresh sanctions against Russian energy interests in response to the Ukraine crisis, and were seen in Warsaw as a warning that Moscow was prepared to use gas to retaliate. The map of the conflict zone yesterday indicated clearly that (Ukraine) government forces have been driven out of or lost control over the entire southeastern corner of Ukraine. It made a mockery of a declaration by the Ukrainian military the day before that Kiev had begun building a wall along its border to keep Russian troops and militants out.
Yesterday Slovakia also reported 10 per cent reduced flows of gas from Russia for a second day although, like Poland, it insisted there was no danger of consumers going short for now.
Polish Economy Minister Janusz Piechocinski said: "After a few hours of silence, we have a declaration that tomorrow's supplies will be according to schedule. Our Russian partner has ensured that, starting tomorrow, Poland's gas orders will be realised." Gas flows to Poland were fully balanced, he said, and increased supplies from Germany and the Czech Republic were compensating for the shortfall.
Poland had not, however, been able to resume its "reverse supply" to Ukraine, which is not receiving deliveries from Russia, due to a dispute over pricing. "You could say that Russia is putting in place sanctions against us," Jaroslaw Kaczynski, a former Polish prime minister who leads the populist opposition, said. "It is part and parcel of Russia's overall aggressive strategy to rebuild its empire."
The EU said it had been invited to broker talks between Russia and Ukraine in Berlin on September 20 in an attempt to end their dispute over gas deliveries. Russia cut supplies in mid-June, demanding that the pro-Western government in Kiev pay upfront for new deliveries after it ran up an unpaid bill of $5.7 billion.

US bombs Baghdad as PM says Australian troops have flown to Middle East
The Australian online
Additional reporting: AFP
Tuesday, September 16, 2014 at 2:34pm
IN an escalation of its military campaign in Iraq, the US has bombed the Islamic State near Baghdad, as Prime Minister Tony Abbott confirmed Australian forces began covertly deploying to the Middle East. American warplanes carried out one air strike near Baghdad and another near Mount Sinjar, in the north of Iraq, in the past 24 hours, according to a US defence official.
The strikes, announced less than a week after US President Barack Obama ordered a "relentless" war against the Islamic State, including air strikes in Syria and expanded operations in Iraq to "destroy" the marauding jihadist army, came as international diplomats met in Paris to pledge support in the fight against IS.
"US military forces continued to attack ISIL (IS) terrorists in Iraq, employing attack and fighter aircraft to conduct two air strikes Sunday and Monday in support of Iraqi security forces near Sinjar and southwest of Baghdad," US Central Command said in a statement. "The air strike southwest of Baghdad was the first strike taken as part of our expanded efforts beyond protecting our own people and humanitarian missions to hit ISIL targets as Iraqi forces go on offence, as outlined in the president's speech last Wednesday."
Meanwhile, Mr Abbott, amid reports special forces personnel yesterday departed Sydney's Richmond air base for the United Arab Emirates, confirmed "some personnel have left for the Middle East" and more would follow over the next five days. The Prime Minister, who is spending a week visiting Aboriginal communities in Arnhem Land, conceded he may need to abandon his schedule to deal with the unfolding conflict. "It's possible that I may have to leave a little earlier but, certainly, I intend to have a very deep and full engagement up here as I committed," he said. "It is very important that I keep faith with the people of East Arnhem Land and I certainly am determined to ensure no-one feels short-changed. I'm not going to speculate on the program."
Mr Abbott earlier hailed a pledge by Arab governments to take "any means necessary" to safeguard Iraq against the Islamic State jihadists. The Prime Minister's comments came as Bill Shorten maintained Labor was "united", despite former minister Melissa Parke raising alarm about "what appears to be open-ended war that will only increase the security threat to Australians".
Representatives from around 30 countries and international organisations — including the United States, Russia and China — in Paris vowed to support Baghdad "by any means necessary, including appropriate military assistance, in line with the needs expressed by the Iraqi authorities, in accordance with international law and without jeopardising civilian security." The assembled countries stressed that IS extremists were "a threat not only to Iraq but also to the entire international community" and underscored the "urgent need" to remove them from Iraq, where they control some 40 per cent of the territory.
However, the statement made no mention of Syria, where extremists hold a quarter of the country and where Bashar al-Assad's regime still had friends around the Paris conference table, including Russia. Iran, also an ally of Syria, was not invited to the conference although the US State Department said it was open to discussions with Tehran.
The Prime Minister this morning said he was "certain" the statement — signed by regional powers such as Egypt, Saudi Arabia, Jordan, Kuwait, Bahrain, Oman, Qatar and the United Arab Emirates — indicated Arab states would contribute militarily to the offensive against the jihadists. "I certainly believe that it does and I think that there are a number of Middle East countries that are prepared to take military action against ISIL in support of the Iraqi government because as (French) president (Francois) Hollande has said, this is a global threat, it requires a global response," Mr Abbott told ABC Radio. "It's obviously a very serious regional threat and that's why it requires a regional response."
Fremantle MP Melissa Parke, a former United Nations lawyer and Rudd government minister for international development, told ABC Radio: "I am very concerned that the government has so quickly escalated Australia's involvement in Iraq from strictly humanitarian protection to now committing Australia to what appears to be an open-ended war that will only increase the security threat to Australians."
Mr Shorten stressed Labor was "united in promoting national security" and had "set clear parameters in terms of what we think Australia needs to be doing".
"I sympathise with the anxiety which Melissa Parke has expressed, that matters are moving very quickly," the Opposition Leader told ABC Radio. "Briefings, which I can't go into detail about, have convinced me that what happens in northern Iraq and Syria has repercussions for our safety in Australia."
Mr Abbott said the commitment to Iraq was projected to cost about $250 million every six months and should not jeopardise the drive to budget surplus. Mr Abbott said the armed SAS advisers would "typically" be based in the headquarters of Iraqi and Peshmerga battalions. Asked if they would go into the field with local forces, he said: "No, that's not the normal understanding of military advisers' work. There would be headquarters of the relevant unit to which they're attached."

Extract: US airstrikes hit ISIS inside Syria for first time
Jim Sciutto, Mariano Castillo and Holly Yan, CNN
Tuesday, September 23, 2014
(CNN) — American jets began bombing ISIS targets in Syria early Tuesday, raising US involvement in the war-torn country and sending a forceful message to the terror group. The airstrikes focused on the ISIS stronghold of Raqqa, a US official told CNN, though other locations were hit as well. At least 20 targets in an around Raqqa were hit, the opposition group Syrian Observatory for Human Rights said.
They're the first strikes against the terror group inside the country since President Barack Obama's announcement this month that he was prepared to expand the American efforts beyond targets in Iraq. All foreign partners participating in the strikes with the United States are Arab countries, a senior US military official told CNN. Those nations are Bahrain, Saudi Arabia, the United Arab Emirates and Jordan. Diplomatic sources told CNN that Qatar was also involved, though it was not clear whether Qatar actually conducted airstrikes itself.
The US and "partner nation forces" began striking ISIS targets using fighters, bombers and Tomahawk missiles, Pentagon spokesman Rear Adm. John Kirby said, though he didn't specify a geographic location. Citing the ongoing operations, Kirby said the Pentagon would not provide additional details immediately. But a US military official said the strikes are meant to target the ability of ISIS to command and control, resupply and train.
Tomahawk missiles launched from the sea initiated the strike, followed by bombers and fighters, a senior US military official told CNN. The goal with this first move is to have an initial, definitive blow, the official said, describing the pace of the operation as intense. Most of the spots hit were hard targets such as buildings, a senior US official told CNN.
A post office, a recruitment center and a building in the governor's compound were among the structures in Raqqa hit by US airstrikes, Syrian opposition activists said. There was no immediate word about casualties, the activists said.
Power went out in the city shortly after the airstrikes but was restored later Tuesday morning.
Until now, ISIS has been able to take over cities and operate in Syria with near impunity. Now, it's coming under attack. "This is the punch in the nose to the bully that we talked about on the playground," former Delta Force officer James Reese said. "ISIS is the bully, and we just punched him in the nose."
Extract: Rival Factions Set Accord on Gaza's Future
Joshua Mitnick and Mohammed Najib
Wall Street Journal
Thursday, September 25, 2014
The two main Palestinian factions on Thursday agreed to give the moderate Palestinian Authority a measure of power in the Hamas-ruled Gaza Strip.
Hamas and Fatah formed a joint cabinet in early June that was supposed to oversee the integration of governments in Gaza and the West Bank, but there has been scant progress and they have been bickering over unity efforts since fighting ended, with Fatah officials and Palestinian Prime Minister Rami Hamdallah accusing Hamas of resisting relinquishing power and blocking efforts at unity.
Among other stipulations, the agreement reached during talks in Cairo calls for Palestinian Authority officials to administer the border crossings with Egypt and Israel, a key demand of Cairo for relaxing restrictions on movement. The agreement calls on the Palestinian Authority to take responsibility for reconstruction in Gaza and for the government to pay the salaries of the tens of thousands of public servants hired by Hamas, which has run out of money and hasn't issued paychecks for months — the source of friction with Fatah.
However, the agreement left unanswered key details on how much governing responsibility the Palestinian Authority will get from Hamas which has ruled Gaza since 2007, how the two sides will integrate twin bureaucracies into a joint government, and the balance of power.
The agreement also doesn't specify when the Palestinian Authority will resume control over the border, who will be deployed there and the size of the contingent. Another unknown is how much security control, if any, Hamas will cede to the Palestinian Authority in the rest of Gaza. The accord says implementation will be left to a joint committee. In the past, the work of those panels has bogged down.

Netanyahu Goes All Out In UN Speech
Edith M. Lederer & Mohammed Daraghmeh, Associated Press, Huffington Post
Monday, September 29, 2014
UNITED NATIONS (AP) — In a blistering speech to the United Nations, Israeli Prime Minister Benjamin Netanyahu warned on Monday that Hamas and the Islamic State group are "branches of the same poisonous tree," both bent on world domination through terror, just as the Nazis were. Netanyahu also lashed back at Palestinian President Mahmoud Abbas, who accused Israel last week of carrying out war crimes and waging a "war of genocide" during the fighting in Gaza. Netanyahu said Hamas committed "the real war crimes" in Gaza by using Palestinian civilians as human shields.
Addressing the UN General Assembly's annual ministerial meeting, the Israeli leader argued that Israel's fight against Hamas and the US military campaign against the Islamic State are part of the same cause — the defeat of Islamic extremism. Netanyahu railed against world leaders for simultaneously condemning the Jewish state for its war with Hamas and praising President Barack Obama for attacking Islamic State militants and other extremists in Syria and Iraq.
"They evidently don't understand that ISIS and Hamas are branches of the same poisonous tree," the prime minister said, referring to the Islamic State group by one of its acronyms. He added: "When it comes to its ultimate goals, Hamas is ISIS, and ISIS is Hamas."
Netanyahu said ISIS and Hamas, as well as other Muslim extremist movements, from al-Qaida and Nigeria's Boko Haram to Somalia's al-Shabab and Lebanon's Hezbollah, share the goal of imposing militant Islam on the world. He likened them to "another fanatic ideology that swept into power eight decades ago" — Nazism. To protect global peace and security, he said, "we must remove this cancer before it's too late."
Turning to another regional enemy, Netanyahu warned that the gravest threat to the world today is the danger of Iran obtaining nuclear weapons. "It's one thing to confront militant Islamists on pickup trucks, armed with Kalashnikov rifles. It's another thing to confront militant Islamists armed with weapons of mass destruction," he said. Netanyahu said Iranian President Hassan Rouhani's condemnation of the spread of terrorism last week amounted to "one of history's greatest displays of doubletalk."
He accused Iran itself of mounting terrorist attacks all around the world, and lumped the country in with Islamic extremist movements. "To say that Iran doesn't practice terrorism is like saying Derek Jeter never played shortstop for the New York Yankees," he said. Netanyahu criticized the efforts of six world powers to reach a nuclear deal with Iran, saying: "To defeat ISIS and leave Iran as a threshold nuclear power is to win the battle and lose the war."
He also launched a scathing attack on the UN Human Rights Council, accusing it of continually singling out Israel for criticism when other parts of the world are awash in atrocities. He called the Human Rights Council's name "an oxymoron" and charged that the body has become "a terrorist rights council." Netanyahu said the council's treatment of Israel reflects "the return of one of the world's oldest prejudices." "It's called anti-Semitism. It is now spreading in polite society, where it masquerades as legitimate criticism of Israel," he said.
Hanan Ashrawi, a member of the Palestine Liberation Organization's executive committee, said Netanyahu's speech was "a blatant manipulation of facts" aimed at misleading world leaders "through a combination of hate language, slander and argument of obfuscation." In Washington, State Department spokeswoman Jen Psaki took issue with Netanyahu over the similarities between Hamas and Islamic State. She said that while the US considers both terrorist organizations, "we obviously believe that (Islamic State) poses a different threat to the United States."
Saeb Erekat, chief Palestinian negotiator, said Netanyahu, in his remarks, "buried" the possibility of a two-state solution to the Arab-Israeli conflict based on the pre-war borders of 1967. Erekat also complained that Netanyahu branded those who dare to stand up to Israel as anti-Semites.
In his address, Netanyahu questioned how Israel can be accused of genocide, saying no country has gone to greater lengths to avoid civilian casualties by warning Gazans before attacks on neighborhoods. "In what world is genocide warning the enemy's civilians in advance ?" he asked. To make his point about the Palestinians putting weapons in civilian areas, Netanyahu held up a photo he said was taken by a French TV network showing two rocket launchers near an apartment building where three children were playing. "Israel was using its missiles to protect its children. Hamas was using its children to protect its missiles," he declared.
During the 50-day Gaza war, which ended Aug. 26, Israel launched thousands of airstrikes against what it said were Hamas-linked targets in the densely populated coastal territory, while Gaza militants fired several thousand rockets at Israel. More than 2,100 Palestinians were killed — the vast majority civilians, according to the United Nations — along with more than 70 Israelis. Hamas official Izzat al-Rishiq told the AP: "We are not terrorists, we are victims of the Israeli occupation who took our land and expelled our people. We are fighting for freedom and independence. Israel is the one that targets civilians."
Barack Obama and Benjamin Netanyahu, best buds (for now)
Hilary Krieger, Politico
Thursday, October 2, 2014 at 7:57am (AEST), Wednesday 5:57PM (Local time)
Finally, a meeting between President Barack Obama and Israeli Prime Minister Benjamin Netanyahu that was short and sweet — or at least not long and bitter. After past Oval Office encounters filled with harangues, photo blackouts or, in the case of the leaders' last meeting in March, fallout from a harsh interview Obama had just given, Wednesday's tete-a-tete seemed to pass without incident, or even much note.
Coinciding with a lull in Israeli-Palestinian violence and peace-making efforts, and amid beheadings, Ebola and other international crises, the meeting didn't get its usual top billing on cable news channels and news websites.
And preceding November's midterm elections and Iran nuclear talks deadline, both sides have an incentive to play nice. The thaw in years of tense encounters could help the two countries tackle shared agenda items, but it also could be short-lived as Middle East hotspots provoke responses from the two allies.
Obama and Netanyahu "are both looking out for themselves and their countries, so no public display or disagreement is useful," said Elliot Abrams, a Middle East aide in the George W. Bush White House. "There are a lot of candidates running in states where Israel's a popular issue," noted Abrams, who said that Obama wouldn't want "to go out of his way to be in a big fight with the Israelis right now."
Netanyahu also doesn't have a lot to gain by picking a fight: He wants American help in thwarting Iran's nuclear drive as the deadline for negotiations between Tehran and world powers looms and assistance in blocking Palestinian efforts to obtain unilateral statehood at the United Nations.
Just as important in easing tensions as what Netanyahu wants is what Obama doesn't: concessions to advance a peace process. With talks indefinitely frozen, the US isn't twisting any Israeli arms or asking for clear deliverables.
With a less-freighted-than-usual US-Israeli agenda, some even suggested the meeting wouldn't have happened except that it would have looked bad if it didn't. When the White House stalled in inviting Netanyahu to meet with Obama while the prime minister was in New York to attend the United Nations General Assembly in 2012, it led to an embarrassing flap.
The meeting also comes at a time when the sides have moved toward each other on certain issues, defusing some tensions for the time being.
The United States made two important statements last week that resonated with Israelis. In Obama's speech at the United Nations General Assembly, he sought to put Israel's role in the region in proportion. "The situation in Iraq and Syria and Libya should cure anybody of the illusion that the Arab-Israeli conflict is the main source of problems in the region," he said. Days later, when Palestinian Authority President Mahmoud Abbas gave his own speech at the UN, accusing Israel of genocide, the State Department strongly criticized his words. The US response was likely "the harshest reaction" to such statements in two decades, according to former Israeli ambassador to the US Zalman Shoval.
Israel has also been pleased by Obama's decision to confront the Islamic State of Iraq and the Levant. "After the president has said that this is a cancer, Netanyahu's not going to disagree with it," Shoval said.
On the other hand, Obama has emphasized the importance of rebuilding Gaza, and ahead of the meeting Wednesday, said it would be a major discussion point with Netanyahu. Israel has recently acceded to plans to allow for Gaza reconstruction after initially slowing the process. Netanyahu has also sketched out an opening for progress towards regional peace by working with neighboring Arab states, a position he reiterated Wednesday.
Still, plenty of differences between the parties remain.
Obama has repeatedly stressed the importance of the Palestinian issue, leading off his comments Wednesday by noting his concern over the situation in Gaza this summer and emphasizing the need to improve conditions on the ground. "We have to find ways to change the status quo so that both Israeli citizens are safe in their homes — but also that we won't have the tragedy of Palestinian children being killed as well," Obama said. And after Netanyahu had departed, White House spokesman Josh Earnest warned that new housing construction announced for East Jerusalem would distance Israel from her "closest allies."
The State Department was also quick on Monday to reject Netanyahu's equating of ISIL and Hamas. While the White House put Gaza on the top of the list of agenda items in previewing Wednesday's meeting, Netanyahu has been more focused on Iran and came into the meeting trying to draw greater attention to his No. 1 priority. After welcoming Obama's attacks on ISIL, the prime minister continued, "even more critical is our shared goal of preventing Iran from becoming a military nuclear power."
Yet these differences are by now well-established and well-hashed-out, like the arguments that a married couple has gone over so often each knows the other's lines. And this time, at least, both leaders seemed more interested in reassuring one another than in emphasizing their dividing lines.
Obama said that Iran's nuclear program "obviously has been a high priority for not only Israel but also the United States and the world community." Netanyahu, for his part, finished his comments Wednesday by reciting a line that's a favorite of the Americans but that he couldn't even bring himself to utter in his first White House meeting with Obama in 2009: "I remain committed to a vision of peace of two states for two peoples."

Extract: Turkish MPs back military action in Syria and Iraq
Weekend Australian
AP, AFP
Saturday, October 4, 2014
TURKEY'S parliament approved a motion yesterday that gives the government new powers to launch military incursions into Syria and Iraq and to allow foreign forces to use its territory for operations against Islamic State. Parliament voted 298-98 in favour of the motion that sets the legal framework for any Turkish military involvement and the use of bases by foreign troops.
The vote came as Islamic State militants pressed their offensive against the Kurdish town of Korbane along the Syria-Turkey border. The assault, which has forced about 160,000 people to flee across the frontier in recent days, left Kurdish militiamen scrambling to repel Islamic State extremists pushing into the outskirts of the northern Syrian town.
Turkey had been reluctant to join its NATO allies in a coalition against Islamic State, citing worries about the safety of Turkish hostages held by the group. It reversed its decision after the hostages' release earlier this month.
President Recep Tayyip Erdogan has called for the creation of a buffer zone inside Syria as well as a no-fly zone to secure Turkey's borders and stem the flow of refugees. He has also called for military training and equipment for the Syrian opposition fighting Syrian President Bashar al-Assad.
US State Department spokeswoman Jen Psaki said there had been high-level discussions with Turkish officials, and that Washington looked "forward to strengthening that co-operation".
Iran Foreign Minister Mohammad Javad Zarif told his Turkish counterpart that "countries in the region must act with responsibility and avoid aggravating" matters.

Palestinian Authorities Call for Jerusalem "Day of Rage" After Terror Attack Inflames Tensions
Omri Ceren
The Tower (The Israel Project), Washington DC
Saturday, November 1, 2014
The Fatah faction of Palestinian Authority (PA) President Mahmoud Abbas called on Palestinians to stage a "day of rage" in Jerusalem on Friday. Though the day largely passed without incident, observers feared that Abbas' statement would inflame mass unrest in the Jewish state's capital, after a Wednesday shooting (and serious wounding) of prominent Jewish activist Yehuda Glick caused a spike in tensions. The Times of Israel conveyed statements from an official PA news agency, originally translated by the Israel-based Palestinian Media Watch, calling on the Palestinians to act:
"Fatah calls to its fighters and to the masses of the Palestinian people to aid the Al-Aqsa Mosque and occupied Jerusalem. In an announcement that was published by the Fatah Mobilization and Organization Commission today, the movement called to set tomorrow as a day of rage throughout the homeland and in countries which are home to refugees, to express the Palestinian people's opposition to any attack on the holy places and foremost among them the Al-Aqsa Mosque …; And to consider desecration of Al-Aqsa as a declaration of a religious war against the Palestinian people and the Arab Islamic nations."
Recent months had seen Israeli-Arab friction steadily increasing in Jerusalem, as top Palestinian leaders — up to and including PA President Mahmoud Abbas and Prime Minister Rami Hamdallah — claimed Israel was seeking to desecrate and destroy Muslim holy sites on the city's Temple Mount. The area is considered holy by both Jews and Muslims, though the former are forbidden to pray on the site. There is nonetheless a record, stretching back decades, of Arab and Muslim leaders claiming that Jews are seeking to desecrate and destroy what they refer to as the Noble Sanctuary.Two weeks ago Abbas gave a speech exhorting Palestinians — per a translation published by the Ma'an News Agency — to prevent Jews from entering the area:
Abbas said during a conference in defense of the mosque and Jerusalem in the Red Crescent headquarters in al-Bireh that "without it there will be no state," official Wafa news agency reported. He called on people to defend al-Aqsa saying, "it's not enough to say that the setters have come; we must stop them from entering the compound by any means necessary."
The American-born Glick had long been at the forefront of movements aimed at expanding Jewish rights on the Temple Mount, and eyewitness testimony indicates that he was targeted over his activities. The suspected shooter — Islamic Jihad-affiliated terrorist Muataz Hijazi — had two years ago told a news outlet that he "wish[ed] to be a thorn in the throat of the Zionist plan to Judaize Jerusalem." Israeli counter-terror forces tracked Hijazi down after the shooting, surrounding the house in which he was holed up and killing him after he opened fire on them.
Authorities in Jerusalem had moved to dampen tensions Thursday morning by among other things temporarily closing the Temple Mount to any worshipers. Palestinian officials blasted the effort. A spokesman for Abbas declared the closure — which applied to all religions, was explicitly temporary, and was aimed at dampening violence in the immediate aftermath of the terrorist attack — to be a "declaration of war" not just against Palestinians but against "the Arab and Islamic nation."
Israeli officials had reopened the site by Thursday evening. The expectation of mass unrest Friday nonetheless triggered heavy security measures, with more than 1,000 Israeli police being deployed in and around Jerusalem's Old City.

Mahmoud Abbas Accuses Israel Of Religious War
Mohammed Daraghmeh and Josef Federman
Huffington Post
Tuesday, November 11, 2014
RAMALLAH, West Bank (AP): Palestinian President Mahmoud Abbas accused Israel on Tuesday of leading the region toward a "religious war," saying frequent visits by Jewish worshippers to a site sacred to both Islam and Judaism are fueling clashes that have raised fears of a widespread outbreak of fighting. The accusation drew a sharp response from Israeli Prime Minister Benjamin Netanyahu, who said Abbas was making matters worse.
"Instead of calming tempers, he is inflaming them. Instead of educating his people for peace, Abu Mazen is educating them for terror attacks," Netanyahu said in a nationally televised address, referring to Abbas. After meeting his Security Cabinet for several hours, Netanyahu also said security forces had been bolstered, and that he would begin imposing tough measures against violent demonstrators.
Much of the recent unrest has stemmed from tensions surrounding the holy site in Jerusalem's Old City known to Jews as the Temple Mount and to Muslims as the Noble Sanctuary. Visits by Jewish worshippers have raised concerns among Muslims that Israel is secretly trying to take over the site, fanning strife in a region already on edge following the collapse of US-led peace talks, Israel's bloody war last summer in the Gaza Strip, and new Israeli settlement construction plans in east Jerusalem. The tensions at the shrines have frequently boiled over into violent demonstrations and have provided the backdrop to a series of bloody attacks on Israelis by Palestinians.
In a fiery speech to thousands of supporters at his West Bank headquarters, Abbas said Israel was trying to divide the Jerusalem site, which includes the Al-Aqsa Mosque, much as it split a shared holy site in the West Bank city of Hebron after a Jewish settler gunned down 29 Muslim worshippers 29 years ago.
"Leaders of Israel are mistaken if they think they can divide the Al-Aqsa Mosque as they have done in Ibrahimi Mosque, and they will retreat from this one, too," Abbas said. "By dividing the mosques, they are leading us to a religious war, and no one — Muslim or Christian — will accept that Jerusalem be theirs," Abbas said, urging Palestinians to defend the site. "Jerusalem is our capital, and there will be no concessions."
Abbas' speech marked the 10th anniversary of the death of Yasser Arafat, the longtime Palestinian leader and founder of the dominant Fatah faction. He also used the occasion to attack the rival Hamas movement, accusing the Islamic militant group of undermining reconciliation efforts after a seven-year rift. The rivals agreed in June on the formation of a unity government, but Hamas, which overran Gaza in 2007, continues to control the territory.
Abbas accused Hamas of carrying out a series of bombings on the homes of Fatah leaders last week that led to the cancellation of what would have been the first Arafat memorial in Gaza since 2007. He also said the group was blocking postwar reconstruction efforts, leaving an estimated 100,000 people homeless. "For whose interest are they blocking the reconstruction ?" Abbas said. "The only losers are our people while you sit in your houses and hide out."
For Jews, the Temple Mount is revered as the site of the ancient Hebrew Temples and is the most sacred place in Judaism. The Noble Sanctuary, home to the Al-Aqsa Mosque and the gold-topped Dome of the Rock, is the third-holiest site in Islam after Mecca and Medina in Saudi Arabia. While Jews are allowed to visit the hilltop compound, they are not supposed to pray there under a longstanding arrangement. A growing number of visits by Jewish worshippers who seek the right to pray and an expanded Jewish presence at the site have unnerved Palestinians. Last month, a Palestinian gunman shot and seriously wounded a Jewish activist who has campaigned for greater access to the site.
Netanyahu has said repeatedly he has no intention of upsetting the fragile arrangement that has governed the site for decades. But his promises have done little to soothe Palestinian fears.
The fatal shooting by police over the weekend of an Israeli Arab protester as he appeared to be walking away from the officer has heightened tensions. On Tuesday, Israeli troops shot and killed a Palestinian demonstrator during clashes near Hebron. The Mezan Hospital identified the victim as Mohammed Jwabreh, a 21-year-old resident of the nearby al-Aroub refugee camp.
A series of Palestinian attacks, including two fatal stabbings Monday in Tel Aviv and in the West Bank, have raised fears of a new Palestinian "intifada," or uprising. "These are the first signs of an intifada," said Shaul Mofaz, an Israeli lawmaker who served as the military chief of staff during the last Palestinian uprising a decade ago. "For it to break out fully, it could take a day, or heaven forfend, five or six terrorist attacks. After that, you have it occurring everywhere," he told Israel Radio.
In his address, Netanyahu said Israel is "in the midst of a campaign of incitement and terror," and he vowed to use a "heavy hand" to halt the violence. He said Israel would destroy the homes of attackers, impose increased punishments against demonstrators who throw stones and firebombs at security forces, and impose fines on the parents of young stone-throwers. He also vowed to outlaw groups believed to be behind the demonstrations.
Netanyahu said Abbas' comments earlier in the day were "irresponsible." "Instead of telling the truth, he is disseminating lies. As if we intend on acting in any way to change the status of the holy places. That is a lie and falsehood," he said.
Yaakov Amidror, Netanyahu's former national security adviser, said Israel is facing three separate threats that are coming together simultaneously: attacks by lone Palestinian assailants; Palestinian protests in Jerusalem; and unrest among Israel's Arab citizens.
He said the freelance nature of the attacks makes it extremely difficult to stop them. "This is a huge problem. There is no intelligence," he said. But he said the level of violence is not close to the levels of past uprisings. "I don't think it deserves to be called an intifada. I don't think it is equivalent to what we had in the past," he said.

Kerry to meet Abbas as new Israeli settlements fan tensions
www.channelnewsasia.com
AFP
Thursday, November 13, 2014
JERUSALEM: US Secretary of State John Kerry is set for talks on Thursday (Nov 13) with the Palestinian leader on easing regional tensions, after Israel approved new settler homes in east Jerusalem despite mounting unrest.
The new settlement construction was announced on Wednesday just hours after suspected Jewish extremists torched a West Bank mosque, in another development likely to inflame tempers in an already heated atmosphere. Months of unrest have escalated in recent days, spreading from annexed east Jerusalem to the West Bank and Arab communities across Israel, raising fears of a new Palestinian uprising.
Kerry was due to hold talks with Palestinian president Mahmoud Abbas in Amman on Thursday, after arriving in Jordan late Wednesday to discuss the situation in annexed east Jerusalem and other regional issues at a private dinner with King Abdullah II. So far no meeting between Kerry and Israeli Prime Minister Benjamin Netanyahu has been scheduled, the US State Department said.
Kerry's arrival in the region comes as Israel struggles to contain the wave of unrest. Much of the tension has been focused on Jerusalem's flashpoint Al-Aqsa mosque compound, a site holy to both Muslims and Jews, which has seen numerous clashes sparked by Palestinian fears that Israel is preparing to legislate changes to allow Jewish prayer there.
"The Palestinian position will be made crystal clear: the Israeli violations are a red line and cannot be tolerated — especially with the tension and Israeli escalation in Al-Aqsa and Jerusalem," Abbas spokesman Abu Rudeina said.
Clashes at the mosque compound have drawn sharp criticism from both the Palestinians and Jordan, which has custodial rights at the shrine. Israel has repeatedly pledged it has no plans to alter the decades-old status quo. Abbas will also tell Kerry that the Palestinians will not be deterred from plans to present a draft resolution to the UN Security Council this month seeking an end date for Israeli occupation, Rudeina said. Kerry had also been scheduled to go to the United Arab Emirates, but that visit has been cancelled, State Department spokeswoman Jen Psaki said without elaborating.
Ahead of Kerry's arrival, King Abdullah took Israel to task by expressing his "total rejection" of its "repeated aggressions and provocations in Jerusalem," a palace statement said. Meanwhile an Israeli committee approved plans to build 200 homes in Ramot, a neighbourhood of annexed east Jerusalem, despite recent settlement announcements sparking outrage among the Palestinians.
The US State Department sharply condemned the plans. "We are deeply concerned by this decision, particularly given the tense situation in Jerusalem," said Psaki. Middle East Quartet envoy Tony Blair urged Israeli and Palestinian leaders to call for restraint and "an end to hostile and provocative acts", including settlement construction. UN chief Ban Ki-moon demanded both sides do everything possible "to avoid further exacerbating an already tense environment".
Tit-for-tat violence showed no signs of easing, with a pre-dawn arson attack on a mosque in a village between Ramallah and Nablus in the West Bank, which Palestinian security officials blamed on extremist Jewish settlers. "By the time the civil defence (firefighters) got there, the ground floor was completely burnt out," village council head Faraj Nassan told AFP.
It was the second time in two years that a mosque in the village had been set alight. The attack came two days after Palestinian knife attacks killed a settler in the southern West Bank and an Israeli soldier in Tel Aviv. Elsewhere a Molotov cocktail was thrown at an ancient synagogue in the Arab Israeli town of Shfaram, causing minor damage, police said. The structure is not currently used for worship.
Palestinian anger is also running high after Israeli troops shot dead a 22-year-old protester in the southern West Bank on Tuesday. Since the current round of violence began five months ago with the kidnapping and murder of three Israeli teenagers by militants, at least 17 Palestinians have been killed in the West Bank, according to an AFP count.
Israeli Finance Minister Yair Lapid said the situation was "a real test of leadership" for both Abbas and Netanyahu. "We must throw a bucket of cold water over the explosive situation of the last few weeks, and not add fuel to the furnace," he said. Defence Minister Moshe Yaalon said it was too early to describe the wave of violence as a new Palestinian uprising, but warned the public to be alert for a possible further escalation.
Meanwhile, Israel said it will not cooperate with a UN inquiry into its 50-day war with rocket-firing militants in Gaza this summer, because of the enquiry commission's "obsessive hostility against Israel." In August, Canadian lawyer William Schabas was named as the head of the UN commission, angering Israel, where he is widely regarded as hostile to the Jewish state over reported calls to bring Netanyahu before the International Criminal Court.

As American death toll rises in Jerusalem, Jewish community condemns Abbas
The Jerusalem Post online
Thursday, November 20, 2014
WASHINGTON: Leaders across the Jewish community in the US responded forcefully and in unison to the murder and maiming of worshipers in Jerusalem on Tuesday, reflecting on the religious nature of the terrorist attack. No one superlative was sufficient to describe the horror these groups expressed, as images of bloodied meat cleavers and knives filtered through the Internet throughout the morning hours. Three Israeli American rabbis were killed in the attack, as well as one Israeli Briton, and others were injured. The two perpetrators, identified as Arabs from the east Jerusalem neighborhood of Jebl Mukaber, were also killed.
The number of American casualties in the latest wave of terrorist attacks throughout the city, which Prime Minister Benjamin Netanyahu called a "concentrated" effort on Tuesday, appears to have swelled anger in the Jewish community in the United States. Of 10 Israelis killed in the past month in terrorist attacks, half have been identified as American.
The Orthodox Union and Rabbinical Council of America called on Jews to engage in mass vigils across houses of worship throughout the country on Tuesday evening "in spiritual solidarity with our brothers and sisters in Israel." The Jewish Federations of North America called the attack "incomprehensible," condemning the "recent wave of Palestinian terror attacks."
But from large, established organizations engaged in the US-Israel relationship, criticism of the Palestinian leadership was pointed. Outgoing Anti-Defamation League national director Abe Foxman, an icon in the American Jewish community, expressed "horror and outrage" at the attack, and disappointment in the response from Palestinian Authority President Mahmoud Abbas. "Abbas condemned this brutal attack after weeks of silence and failure to address the hateful incitement running rampant through Palestinian society," Foxman said. "His half-hearted statement is woefully inadequate."
US President Barack Obama credited Abbas for his words of condemnation earlier on Tuesday. The American Jewish Congress highlighted comments made by US Secretary of State John Kerry earlier in the day, who said that the attack was a "pure result of incitement." Some Palestinian leaders "have called the murders a 'normal reaction,'" said AJ Congress president Jack Rosen.
The synagogue attack was the deadliest attack in the city since 2008. Hamas, recognized as a terrorist organization by the US, European Union and Israel, praised the attack but did not take credit for its execution.
"Palestinians, encouraged by an increasingly fiery rhetoric from Hamas and Fatah leaders, including religious incitement, are seeking to murder with abandon," said American Jewish Committee executive director David Harris."Palestinian Authority President Mahmoud Abbas's unconvincing statements do not calm the situation, but instead, tragically, are inciting more violence against Jews."
Several congressmen also condemned the attack, including leadership from the House of Representatives' Israel Allies Caucus. "We support the people of Jerusalem and the entire nation of Israel in their right to defend themselves and bring those responsible to justice," said Rabbi Steve Gutow, president of the Jewish Council for Public Affairs, calling the attack "pure evil."
Amnesty International, too, which has been roundly critical of Israeli government policies in Gaza and the West Bank, strongly condemned the attack as unjustifiable. "Nothing can ever justify such an abhorrent attack on worshipers in a synagogue," said Philip Luther, Middle East and North Africa program director at Amnesty International. "The deliberate killing of civilians must be utterly condemned."

Israeli cabinet approves Netanyahu's bill giving national rights only to Jews
Middle East Monitor
Monday, November 24, 2014
The Israeli cabinet approved on Sunday the controversial "National Law" bill based on the versions submitted by Ze'ev Elkin of Likud and a nearly identical version proposed by Ayelet Shaked of Jewish Home, Yariv Levin of Likud and Robert Ilatov of Yisrael Beytenu, Israel's Channel 7 news reported on Monday.
The National Law aims to recognise the State of Israel as "the national home of the Jewish people," where "the right to realisation of national self-determination in Israel is exclusive to the Jewish people." The non-Jewish Arab population in Israel is about 20 per cent. 15 ministers voted in favour of the law and six opposed it, including Justice Minister Tzipi Livni and ministers of the Yesh Atid Party.
According to Israeli media, Netanyahu told the cabinet before the vote that Israel is the national home of the Jewish people and there are equal rights for every citizen. "But there are national rights only for the Jewish people; a flag, anthem, the right of every Jew to immigrate to Israel and other national symbols."
He continued: "There are those who want democracy to take precedence over Judaism, and those who want Judaism to take precedence over democracy. In the law that I am bringing, both principles are equal and must be given equal consideration and are the same principles that appear in the Independence Scroll. I also don't understand those who call for two states for two peoples, but at the same time oppose anchoring that in law."
"The Palestinians refuse to recognise this, and there is also opposition from within — there are those who want to establish autonomy in the Galilee and the Negev, and who deny our national rights," he said, adding that: "I also don't understand those who call for two states for two peoples, but at the same time oppose anchoring that in law. They are quick to recognise a Palestinian national home, but adamantly oppose a Jewish national home."
Before the vote, the cabinet meeting witnessed heated arguments between Netanyahu on the one hand, and the leader of the Yesh Atid Party, Yair Lapid, and the leader of Hatnua Party, Tzipi Livni, on the other hand. Lapid attacked the proposed law in its current form and said it would leave 300,000 non-Jewish immigrants from the former Soviet Union as second-class citizens, describing the law as part of a campaign within the Likud Party.
Jerusalem Post reported that Livni called the bill undemocratic and suggested that Netanyahu was trying to find an excuse to break up the government. To which Netanyahu banged his hand on the table and said: "It cannot be that Arabs can live in Jewish towns, but Jews can't live in Arab towns. A country within a country is developing."
Attorney General Yehuda Weinstein, the Israeli government's legal adviser, also attacked the bill as racist and anti-democratic. Nevertheless, the cabinet still approved the bill, which will be slightly amended by Netanyahu before being voted on in the Knesset. In related news, the Guardian reported that cabinet ministers, including Netanyahu, "separately proposed stripping Palestinian attackers of their residency rights in occupied East Jerusalem in response to a wave of deadly violence".

Netanyahu calls for new elections, accuses Livni and Lapid of plotting 'putsch'
Jonathan Lis
Haaretz, Jerusalem
Tuesday, December 2, 2014
Prime Minister Benjamin Netanyahu delivered a televised statement to the Israeli public on Tuesday following his moves toward new elections, saying that the current government had been forced on him — and that it was impossible to run a state this way. Hours before his address, Netanyahu fired Justice Minister Tzipi Livni and Finance Minister Yair Lapid from the cabinet, moving another step closer to government elections. Meanwhile, the Knesset is set to vote Wednesday at noon on dissolving itself.
"I turn to you, the citizens of Israel, this evening because under the current situation, from within the current government, it is impossible to lead a state. My responsibility as prime minister is to do that. To preserve security, to develop the economy, to lower the cost of living — to take care of you, the citizens of Israel. These are things that I did over the course of four straight years in the previous government. I believe that was one of the best and most stable governments in the history of Israel. It did not overlook any part of this nation," he added.
"I must tell you that in the current government, it has been much harder to do things for the good of the public. Although during Operation Protective Edge, I led the operation with the defense minister and the chief of staff — we acted with determination and consideration, and I was not put off by criticism or background noise. But this government has been much harder. It is hard to do other things related to the welfare and security of the citizens of Israel," Netanyahu added. "Unlike its predecessor, the current government, from the day of its inception, was a contrarian government," he said. "It was forced on me because the results of the election — a simple reason — meant that a ruling government under my leadership did not receive enough seats. Maybe because of other reasons, this government had friction and directional differences. It behaved under threats and ultimatums."
"Livni is the last to talk about responsibility," Netanyahu added, responding to the former justice minister's criticism of her dismissal. "In May of this year she met with Abu Mazen (Palestinian President Mahmoud Abbas) against the cabinet's decision… later she added and said, while serving as justice minister: Netanyahu's boycott on Abu Mazen is foolish. Today, a little while ago, she attacked the government again. Livni and Lapid have one thing in common — they talk about new politics, but in practice they practice old politics."
"In recent weeks they have joined forces to lure the religious factions to oust the prime minister while sitting in the government. By the way, these are the same ultra-Orthodox parties that Lapid frequently claims he won't sit [in a coalition] with … the finance minister, who failed managing the economy, secretly joined forces with the justice minister against an incumbent prime minister — in one word, it's called a putsch. It is impossible to run a government in this state."
"This is not an easy thing to do, what I'm doing tonight," Netanyahu continued. "Frequent elections are not a good thing, but a government with no governability that includes ministers who are working against it from the inside, is much worse. Swift elections must be held, and a new, united and strong government must be formed. For that you need a large ruling party. Those of you who hear me now and want a prime minister from the left — can elect [their own] candidate; those who want a strong prime minister from the national camp — those from the center and from the right — I am asking you to elect the ruling party under my leadership in order to give me a real mandate to lead the people and the country."
Netanyahu earlier Tuesday instructed Cabinet Secretary Avichai Mandelblit to issue letters of dismissals to Livni and Lapid and released a statement accusing the two ministers of harshly criticizing his government, adding that he "will not tolerate an opposition from within the government."
At a meeting late Monday, Lapid ejected the conditions set by Netanyahu for keeping the present government in power, which included supporting the so-called Jewish nation-state bill, and freezing the zero VAT plan involving provision of inexpensive, new apartments for first-time home buyers. Lapid's rejection of Netanyahu's demands paves the way for Lapid and his Yesh Atid party to leave the ruling coalition — which in practice means early elections. "Netanyahu is leading Israel into unnecessary elections. The prime minister has chosen to act irresponsibly with respect to the nation, and to put the needs of the Israeli public at the bottom of his agenda," said a Yesh Atid statement, issued after the unsuccessful meeting. "Netanyahu prefers a deal he made with the Haredim on moving up the elections over the interests of all Israeli citizens."
Livni slammed Netanyahu's dismissal of her as a move aimed at removing the "gatekeeper of Israeli democracy."

Syria: Israeli jets bomb army facilities near Damascus airport
Barak Ravid and Jack Khoury
Haaretz, Jerusalem
Monday, December 8, 2014
Israel has remained tight-lipped about Syrian reports that Israeli planes attacked Syrian military targets in the Damascus area on Sunday. Official Syrian media reported that Israeli jets had bombed targets near Damascus International Airport and in the town of Dimas, north of Damascus and near the border with Lebanon. There were no reports of casualties in the reports, but the general command of the Syrian army said in a statement that several facilities had been hit.
According to the reports, the Israeli air force flew at least 10 sorties over the Dimas area and attacked several military targets. Residents of Damascus reported hearing loud explosions on the outskirts of the city. Al-Mayadeen, a pan-Arab television channel that is regarded as being close to both Hezbollah and the Syrian regime, reported that Syrian anti-aircraft batteries stationed at the airport had fired two missiles at the planes during the attack.
Salim Idris, a former commander of the Free Syrian Army, speculated that the targets of the attack may have been Hezbollah arms dumps. Western intelligence agencies are making a similar assumption, according to Arab websites. Israeli officials have neither confirmed nor denied the reports and it is unclear how reliable they are.
"This aggression proves Israel's direct involvement in supporting terror in Syria, along with other Arab and regional countries," the Syrian military command said. "The Israeli attack was designed to lift the morale of the terror groups, primarily Jabhat al-Nusra and the Islamic State, after the blows they have received from the Syrian army."
Lebanese sources said that the Israeli air force had been flying over southern Lebanon since Sunday morning. It was not specified whether the planes entered Syrian air space or fired from within Lebanese air space.
Prime Minister Benjamin Netanyahu cancelled a planned live video broadcast on Sunday evening due to "events in Jerusalem." The premier made do with a short, pre-recorded speech to the Brookings Institution's Saban Forum, being held in Washington. Earlier, during the weekly cabinet meeting, Netanyahu said that Israel "is following the Middle East and what is happening very closely, with wide open eyes and ears — and a lot is happening. "We will continue to keep our fingers on the pulse and we will deal with these threats and these challenges, which never take time off. We will deal with them with the same responsibility that we have demonstrated until now."

IDF aircraft strike Gaza following earlier rocket fire
The Jerusalem Post, Jerusalem
Ben Hartman contributed to this report
Saturday, December 20, 2014
The IDF struck a site belonging to Hamas in southern Gaza near Khan Yunis early Saturday morning, following an earlier rocket attack from Gaza into Israel on Friday afternoon, which exploded in open territory near the Eshkol Regional Council. The reports are of at least two strikes by the Israel Air Force, which was reportedly assisted by the Israel Navy. The Palestinian Interior Ministry tweeted that a medical source confirmed there were no injures resulting from the strike.
The IDF Spokesperson's unit said in a statement, "The IDF struck terror infrastructure belonging to the terrorist organization Hamas in the southern Gaza Strip. A direct hit was identified." The IDF says the strike was in response to earlier rocket fire into Israel on Friday afternoon. "The IDF will not allow any attempts to hurt the safety of Israel's civilians. The Hamas terrorist organization is the address, and they bear responsibility," said the IDF Spokesperson's Unit statement.
This is the first time the IDF has struck Gaza since the end of Operation Protective Edge this summer.
Friday afternoon's rocket attack against Israel marks the third such attack since the end of the summer conflict with Hamas.
The latest Gaza rocket landing in Israel came days after a European Union court ruled to remove Hamas from the EU's terror list.
While there were no claims of responsibility yet for Friday's projectile fire, former deputy defense minister Danny Danon said the incident served as subsequent proof to Europe that Gaza's ruling Islamist group is a terrorist organization. "If anyone doubted this [Hamas' status as a terror group] then they received the answer now with the [rocket] fire," he said. Danon also stressed that the Israeli government should respond to any violation of its sovereignty, and "not abandon the people of the South."

Palestinian statehood resolution fails at U.N council, US votes against
Reuters
Louis Charbonneau
Editing by Chris Reese, Dan Grebler, Toni Reinhold and Ken Wills
Tuesday, December 30, 2014 11:15pm EST (Wed Dec 31, 2014 3:15pm AEDT)
UNITED NATIONS: The UN Security Council on Tuesday rejected a Palestinian resolution calling for an Israeli withdrawal from the occupied West Bank and East Jerusalem and the establishment of a Palestinian state by late 2017. The resolution called for negotiations to be based on territorial lines that existed before Israel captured the West Bank, East Jerusalem and the Gaza Strip in the 1967 Middle East war. It also called for a peace deal within 12 months.
Even if the draft had received the minimum nine votes in favor, it would have been defeated by Washington's vote against it. The United States is one of the five veto-wielding permanent members. There were eight votes in favor, including France, Russia and China, two against and five abstentions, among them Britain. Australia joined the United States in voting against the measure.
US Ambassador to the United Nations Samantha Power defended Washington's position against the draft in a speech to the 15-nation council by saying it was not a vote against peace between Israel and the Palestinians. "The United States every day searches for new ways to take constructive steps to support the parties in making progress toward achieving a negotiated settlement," she said. "The Security Council resolution put before us today is not one of those constructive steps."
She said the text was "deeply imbalanced" and contained "unconstructive deadlines that take no account of Israel's legitimate security concerns." To make matters worse, Power said, it "was put to a vote without a discussion or due consideration among council members." She did not spare Israel either. "Today's vote should not be interpreted as a victory for an unsustainable status quo," Power said, adding that Washington would oppose actions by either side that undermined peace efforts, whether "in the form of settlement activity or imbalanced draft resolutions."
Jordanian Ambassador Dina Kawar, the sole Arab representative on the council, expressed regret that the resolution was voted down, while noting that she thought council members should have had more time to discuss the proposal. The defeat of the resolution was not surprising. Washington, council diplomats said, had made clear it did not want such a resolution put to a vote before Israel's election in March. The Palestinians, the diplomats said, insisted on putting the resolution to a vote despite the fact that it was clear Washington would not let it pass. Their sudden announcement last weekend that Ramallah wanted a vote before the new year surprised Western delegations on the council.
In order to pass, a resolution needs nine votes in favor and no vetoes from the council's five permanent members.
The European and African camps were split in the vote. France and Luxembourg voted in favor of the resolution while Britain and Lithuania abstained. Among the Africans, Chad voted yes while Rwanda and Nigeria abstained.
The Palestinians, frustrated by the lack of progress in peace talks, have sought to internationalize the issue by seeking UN membership and recognition of statehood via membership in international organizations. Palestinian observer Riyad Mansour thanked delegations that voted for the resolution, noting that lawmakers in a number of European countries have called for recognition of Palestine. He said it was time to end the "abhorrent Israeli occupation and impunity that has brought our people so much suffering. It is thus most regrettable that the Security Council remains paralyzed," he said.
Mansour added that the Palestinian leadership "must now consider its next steps." The Palestinians have threatened to join the International Criminal Court, which they could then use as a forum to push for war crimes proceedings against Israel.
In a brief statement, Israeli delegate Israel Nitzan said the Palestinians have found every possible opportunity to avoid direct negotiations and brought the council "a preposterous unilateral proposal. I have news for the Palestinians — you cannot agitate and provoke your way to a state," he said.
French Ambassador Francois Delattre said Paris would continue its efforts to get a resolution through the council that would help move peace efforts forward. "France regrets that it isn't possible to reach a consensus today," he said, noting that he voted for the resolution despite having reservations about its contents. "Our efforts must not stop here. It is our responsibility to try again."
An earlier Palestinian draft called for Jerusalem to be the shared capital of Israel and a Palestinian state. The draft that was voted on reverted to a harder line, saying only that East Jerusalem would be Palestine's capital and calling for an end to Israeli settlement building.
The Israeli government had said that a Security Council vote, following the collapse in April of US-brokered talks on Palestinian statehood, would only deepen the conflict. Israel, which pulled troops and settlers out of the Gaza Strip in 2005, has said its eastern border would be indefensible if it withdrew completely from the West Bank.

Israel eyes tougher moves after Palestinian tax freeze
Yahoo News
Monday, January 5, 2015
Jerusalem (AFP) — Israel was weighing its options Sunday for further punishing the Palestinians after freezing millions in tax revenues as a first response to their bid to join the International Criminal Court. The Palestinian move to join the Hague-based court sets the scene for potential legal action against Israel for war crimes, in a bid to put pressure on it to pull out of the territories. But the request to join the court, formally presented on Friday, infuriated Israel which quickly moved to freeze the transfer of half a billion shekels ($127 million/106 million euros) in tax revenues to the Palestinian Authority.
"The Palestinian Authority has chosen to take a path of confrontation with Israel, and we will not sit idly by," Prime Minister Benjamin Netanyahu told cabinet ministers on Sunday, vowing to put up a vigorous defence of Israel's soldiers. Palestinian chief negotiator Saeb Erakat denounced the freezing of the transfer as "piracy", and Hamas said it amounted to "the theft of Palestinian money", urging the leadership to cut all security cooperation with Israel. But Israeli officials warned it was only the first in a series of punitive measures.
"If the Palestinian Authority doesn't take a step back, I think we have to take much more severe steps," said Strategic Affairs Minister Yuval Steinitz, a close associate of Netanyahu, referring to a "gradual dissolution" of the PA. "We should not aid the existence of this authority." Israel may also file countersuits against top Palestinian officials, a source close to the government said on Friday.
But, in an unusual development, Israel was not planning to announce any new settlement construction, a senior foreign ministry official said on Sunday. Speaking to Israeli diplomats serving in Europe, foreign ministry director general Nissim Ben Sheetrit said Israel's response would be "harsher and more comprehensive" than just freezing the taxes, but would not include settlement announcements, ministry spokesman Emmanuel Nahshon told AFP. "Israel is about to switch from defence to attack mode," Nahshon quoted him as saying, confirming comments first published by the Haaretz website.
After the Palestinians won the upgraded UN rank of observer state in November 2012, Israel froze the tax monies and also announced plans for 3,000 homes in a highly sensitive area of the West Bank, as well as in annexed east Jerusalem, triggering a furious response from the international community. A senior official quoted by Haaretz said the government had learned a lesson from that incident and would not be taking any steps making Israel the focus of criticism rather than the Palestinians.
"We will not let Israel Defence Forces soldiers and officers be dragged to the International Criminal Court in The Hague," Netanyahu told ministers, vowing to defend them with "determination". The ICC can prosecute individuals accused of genocide, crimes against humanity and war crimes committed since July 1, 2002, when the court's founding treaty, the Rome Statute, came into force.
Speaking to AFP, a Palestinian legal expert said the first case that would be referred to the ICC would be the "crimes" committed by Israel during summer 2014, including the Gaza war. Shawan Jabarin, director of the Ramallah-based rights group Al-Haq, said the Palestinians had decided to file suit over Israel's actions in the West Bank and Gaza Strip starting from June 13, 2014. That was the date when Israel began a massive West Bank crackdown after the kidnapping and subsequent murder of three Israeli teenagers, triggering a series of events which led to the seven-week Gaza war.
A high-ranking legal official quoted by the top-selling Yediot Aharonot said Israel was ready to counter with its own lawsuits against senior Palestinian officials. "These lawsuits, which are backed up with evidence, documents and affidavits, can be filed as early as tomorrow morning," he told the paper. The basis of the complaints would be that Palestinian president Mahmud Abbas's partnership in a consensus government with Hamas makes him complicit in the militant group's rocket attacks from Gaza on civilians in Israel.
Under an economic agreement between the sides signed in 1994, Israel transfers to the PA tens of millions of dollars each month in customs duties levied on goods destined for Palestinian markets that transit through Israeli ports. The tax revenues make up around two-thirds of the PA's annual budget, excluding foreign aid.

Paris terror attacks: Netanyahu invites French Jews to immigrate
The Australian online
AFP
Sunday, January 11, 2015 at 9:40 am
ISRAELI Prime Minister Binyamin Netanyahu has invited Jews in France to immigrate to Israel, in the wake of the terror attacks that have left 17 people dead. In a statement, Mr Netanyahu told French Jews that Israel is their home and his government wants them to move to his country. "To all the Jews of France, all the Jews of Europe, I would like to say that Israel is not just the place in whose direction you pray, the state of Israel is your home," he said in a statement, referring to the Jewish practice of facing Jerusalem during prayer.
Four of the fatalities in France's three-day wave of violence were Jews killed in an attack on a kosher supermarket hours before the start of the Jewish Sabbath on Friday. Amedy Coulibaly, 32, of west African descent, held several hostages in the Jewish grocery store before he was killed by police.
"This week, a special team of ministers will convene to advance steps to increase immigration from France and other countries in Europe that are suffering from terrible anti-Semitism. "All Jews who want to immigrate to Israel will be welcomed here warmly and with open arms. We will help you in your absorption here in our state that is also your state," Mr Netanyahu said in the statement. He added that radical Islam was a threat to western civilisation, including the Jewish people. "Unless the world comes to its senses, terror will continue to strike in other places," he said.
Mr Netanyahu, accompanied by Foreign Minister Avigdor Lieberman, will join world leaders in Paris tonight (Australian time) for a rally in tribute to the victims which is expected to draw more than a million people. The Israeli Prime Minister named the four victims in Friday's hostage drama as Yoav Hattab, Philippe Braham, Yohan Cohen and Francois-Michel Saada. "We express our deep sorrow for our Jewish brothers who were murdered simply because they were Jews," he said. "(To) our brothers and sisters in the Jewish community of France we share your pain at the awful loss," he added.
French Prime Minister Manuel Valls meanwhile sought to reassure his country's half-million strong Jewish community, saying during a visit to the Paris area where the supermarket siege took place that "France without the Jews of France is not France." While Mr Valls acknowledged worrying anti-Semitic trends, he said France was home to "the largest Jewish community in Europe and the oldest, which has contributed so much to the republic." Mr Lieberman met Saturday evening with foreign ministry and security officials to discuss repercussions of the attacks in France. "The meeting discussed strengthening ties with the heads of the Jewish community in France and the security of the various institutions of the Jewish community there," ministry spokesman Emmanuel Nahshon said in a statement.

Report: Six Iranians killed in Israeli strike in Syria, including Revolutionary Guards general
Jerusalem Post online
AFP
Tuesday, January 20, 2015
The air strike attributed in foreign media reports to Israel which killed six Hezbollah agents in Syria on Sunday also killed six Iranian soldiers, including commanders, AFP quoted a source close to Hezbollah as saying on Monday. "The Israeli strike killed six Iranian soldiers, including commanders, as well as the six members of Hezbollah. They were all in a convoy of three cars," the source said.
An Iranian semi-official news site reported that an Iranian Revolutionary Guards general was among those killed in the strike. "Following the Zionist aggressions against the resistance in Syria, General Mohammad Allahdadi, a former commander of the Sarollah Brigade of the Revolutionary Guard, was martyred along with Jihad Mughniyeh and three others in the same car," the Dana news website said, referring to the son of Hezbollah's late military leader Imad Mughniyeh.
According to reports in Hezbollah-affiliated media, two Israel Air Force helicopters fired missiles at a target in the Syrian Golan, killing a number of Hezbollah operatives, including Mughniyeh. Western intelligence sources said Jihad Mughniyeh headed a large-scale terrorist cell that enjoyed direct Iranian sponsorship and a direct link to Hezbollah. The cell had already targeted Israel in the past, launching attacks on the Golan Heights.
Iranian Foreign Minister Mohammad Javad Zarif, told state media that Israel's reported attack in the Golan Heights was "an act of terror. We condemn all actions of the Zionist regime as well as all acts of terror," Zarif told Press TV on Monday. "Israeli attacks on Hezbollah has been a practice followed for a very long time. The policy of state terrorism is a known policy of the Zionist regime."
Iran is Hezbollah's primary financial and military supporter. Both countries are aiding Syrian President Bashar Assad in his struggle to keep power against a coalition of Sunni opposition militias and Islamist radicals.
Same Day
Masses chant 'Death to Israel' at funeral for Hezbollah commander slain in alleged Israeli strike
Reuters
BEIRUT: Hezbollah supporters turned out in force on Monday to bury the son of the group's late commander, one of six fighters who died in an alleged Israeli air strike in neighboring Syria that also killed an Iranian general. The killings raised the possibility of a retaliatory attack, with a senior Iranian official suggesting that Israel would be hit at "the right time and right place". An Israeli defense official said escalation was possible.
Jihad Mughniyeh was buried in Beirut alongside his father Imad Mughniyeh, who was assassinated in Damascus in 2008. Though it was unclear what role Mughniyeh, who was in his mid-20s, played in Hezbollah, his death represented a symbolic blow to the Shi'ite Islamist group that his father helped to found with Iranian backing in the early 1980s.
It was the biggest Hezbollah funeral since Imad Mughniyeh's own burial, underscoring Jihad's significance to the movement. Thousands of mourners chanted "Death to Israel" and "Death to America" as Mughniyeh's coffin, draped in Hezbollah's yellow flag, was carried through the streets of Beirut's southern suburbs, an area controlled by the group.
A senior Hezbollah commander, Mohamad Issa, was also killed in Sunday's helicopter strike in the Syrian province of Quneitra near the boundary with the Israeli-occupied Golan Heights. The dead Iranian Revolutionary Guard officer was named as General Mohammad Allahdadi by Iranian media.
Israel has not officially commented on the hit, but an Israeli security source confirmed to Reuters that Israeli had carried it out. An Israeli defense official said escalation was "definitely possible … We're bracing for that possibility." However, full-on war was unlikely. "Scenarios could be a smaller-scale attack from the Golan, or from Lebanon, or on Israeli or Jewish targets abroad," said the official, speaking to Reuters in Jerusalem on condition of anonymity because Israel is not acknowledging the strike.
Security sources say Israel has struck Syria several times since the start of the civil war in 2011, destroying weaponry it believed was destined for Hezbollah. However, Sunday's hit was thought to be the first such strike directly targeting fighters.
Israel and Hezbollah have avoided large scale confrontation since a month-long war in 2006. Hezbollah's leader, Sayyid Hassan Nasrallah, has made repeated threats against Israel since then, part of what is seen as a calibrated policy of deterrence. Nasrallah last week said Syria's allies, Hezbollah included, had the right to retaliate for Israeli air strikes in Syria, where Hezbollah fighters have deployed to support the Syrian government in the civil war.
Iran has also dispatched forces to aid Syrian President Bashar Assad as he faces an insurgency now dominated by Sunni Islamist groups. "Iran strongly condemns the Zionist regime's (Israel) acts of terrorism against the people of Lebanon and the resistance movement," Iranian Foreign Minister Mohammad Javad Zarif was quoted as saying by Students News Agency ISNA on Monday.
Lebanese sources close to Hezbollah said the slain Iranian general was an important figure in Iran's operations in Syria. Admiral Ali Shamakhani, a senior security aide to supreme leader Ayatollah Ali Khamenei, said: "Past experience shows that resistance forces will respond to terrorists acts by the Zionist regime with revolutionary resolve and ferocity in the right time and right place."
Hezbollah will pay 'full price' for deadly attack, Netanyahu warns
The Australian
AFP
Friday, January 30, 2015
MAJIDIYAH, LEBANON: Israeli Prime Minister Benjamin Netanyahu has warned Lebanon's Hezbollah that it will pay the "full price" after missiles killed two Israeli soldiers in an attack that raised fears of another war. A Spanish UN peacekeeper was killed as Israel and Hezbollah exchanged artillery fire — the most serious clashes between the enemies in years — following the attack by the Shia militant group.
"Those behind today's attack will pay the full price," Mr Netanyahu's office quoted him as saying yesterday at a late-night meeting with Israeli's top security brass.
The soldiers were killed when Hezbollah fired an anti-tank missile at a military convoy in an Israeli-occupied border area, the army said. Seven more were wounded, but none were reported to have life-threatening injuries. The UN Security Council called an emergency meeting to discuss ways to defuse tensions between the two sides, which fought a month-long war in 2006. Israel responded to the Hezbollah shelling with "combined aerial and ground strikes" on southern Lebanon.
The US stood by Israel and condemned Hezbollah's shelling of an Israeli military convoy, which apparently came in retaliation for a recent Israeli strike on the Golan Heights that killed senior Hezbollah members. "We support Israel's legitimate right to self-defence and continue to urge all parties to respect the blue line between Israel and Lebanon," State Department spokeswoman Jen Psaki said. EU foreign affairs chief Federica Mogherini appealed for an "immediate cessation of hostilities".
Lebanese security sources said Israeli forces had hit several villages along the border. Clouds of smoke could be seen rising from Majidiya village, one of the hardest-hit. A 36-year-old Spanish corporal from the UN peacekeeping force in southern Lebanon was killed in the exchange of fire, officials and Spain said. "It is clear that this was because of the escalation of the violence and it came from the Israeli side," Spanish ambassador to the UN Roman Oyarzun said.
Hezbollah said it had targeted an Israeli military convoy "transporting several Zionist soldiers and officers". "There were several casualties in the enemy's ranks," Hezbollah said. Israel said that mortar fire was also aimed across the border at military facilities.
Foreign Minister Avigdor Lieberman said Israel should respond­ to the attack "in a very harsh and disproportionate manner, as China or the US would respond to similar incidents". Army spokesman Brigadier General Moti Almoz warned that Israel was considering further action. "This is not necessarily the last response," he wrote on Twitter.
Hezbollah's attack was hailed by the Palestinian Islamist groups Hamas and Islamic Jihad. "We affirm Hezbollah's right to respond to the Israeli occupation," Hamas spokesman Sami Abu Zuhri said, while Jihad's Quds Brigade praised the attack as "heroic".
Israeli security sources said at least one house had been hit in the divided village of Ghajar, straddling the border between Israel and Lebanon. "Three houses were hit by rockets," said Hussein, 31, relaying what he had heard by telephone from relatives in the village of 2000 inhabitants. He said a number of villagers had been wounded. Other frantic family members argued with police to be allowed in to collect their children, who had been locked inside the village school for their own safety.
Tension in the area had been building, especially after an Israeli airstrike on the Syrian sector of the Golan Heights killed six Hezbollah fighters and an Iranian general on January 18. The day before the raid, Hezbollah leader Hassan Nasrallah threatened to retaliate against Israel for its repeated strikes on targets in Syria and boasted that the Shia militant movement was stronger than ever.
Israeli warplanes also struck Syrian army targets in the Golan Heights, hours after rockets hit the Israeli-held sector. During the meeting with military and intelligence officials, Mr Netanyahu sent a warning to the government of Lebanon and to Syrian President Bashar al-Assad. The government of Lebanon and the Assad regime share responsibility for the consequences of attacks originating in their territory against the state of Israel," he said.
Israeli army spokesman Lieutenant Colonel Peter Lerner said the attack was the "most severe" Israel had faced since 2006, when its war with Hezbollah killed more than 1200 people in Lebanon, mostly civilians, and 160 Israelis, mostly soldiers.
Same Day
Iran calls for assassination of Netanyahu's children
Fox News, Washington Free Beacon
Iran is encouraging its terror allies to pursue the assassination of Israeli Prime Minister Benjamin Netanyahu's children by publishing personal information about them, including photographs of the kids lined up in crosshairs, and declaring, "We must await the hunt of Hezbollah."
The publication of the personal information and biographies of Netanyahu's children follows an Israeli airstrike last week that killed several key Hezbollah leaders and an Iranian commander affiliated with the country's hardline Revolutionary Guard Corps (IRGC).
Iranian military leaders affiliated with the IRGC threatened in recent days harsh retaliation for the strike and promised to amp up support for Hezbollah as well as Palestinian terrorist organizations. The information was originally published in Farsi by an Iranian website affiliated with the IRGC and quickly republished by Iran's state-controlled Fars News Agency. In addition to biographical details and pictures of Netanyahu's children, the Iranians provided details about the families of former Prime Ministers Ehud Olmert and Ariel Sharon.

Netanyahu turns down Democrat meeting, adds insult to Obama injury
The Australian online
AP
Thursday, February 26, 2015
ISRAELI Prime Minister Benjamin Netanyahu yesterday turned down an invitation to meet privately with Senate Democrats next week during his visit to Washington, saying the session "could compound the misperception of partisanship" surrounding his trip. Angering the White House and Democrats, Mr Netanyahu accepted an invitation from Republican Speaker John Boehner and Senate majority leader Mitch McConnell to address a joint meeting of congress on March 3 about Iran. The Republicans did not consult with the Obama administration, which the White House called a breach of protocol.
Democratic senators Dick Durbin and Dianne Feinstein on Tuesday invited Mr Netanyahu to meet in a closed-door session during his visit. He declined the invitation yesterday and expressed regret about the politically fraught tone of his trip. "I regret that the invitation to address the special joint session of congress has been perceived by some to be political or partisan," Mr Netanyahu said. "I can assure you that my sole intention in accepting it was to voice Israel's grave concerns about a potential nuclear agreement with Iran that could threaten the survival of my country." He said to meet with Democrats "at this time could compound the misperception of partisanship regarding my upcoming visit".
More than a half dozen house and Senate Democrats will skip the speech, calling it an affront to President Barack Obama and the administration as they engage in negotiations with Iran over its nuclear program. Vice President Joe Biden is travelling and has no plans to attend the joint session. Mr Obama has no plans to meet with Mr Netanyahu, with the administration saying such a session would break with past practices of engaging with world leaders close to elections.
Israel's elections are set for March 17. Senator Durbin regretted that Mr Netanyahu could not meet with the Democrats. "His refusal to meet is disappointing to those of us who have stood by Israel for decades."
Obama over Iran speech to Congress
Reuters
Dan Williams and Matt Spetalnick
Wednesday, March 4, 2015
Israeli Prime Minister Benjamin Netanyahu warned the United States on Tuesday that it was negotiating a bad deal with Iran that could spark a "nuclear nightmare," drawing a rebuke from President Barack Obama and exposing a deepening US-Israeli rift. They delivered dueling messages within hours of each other.
Netanyahu made his case against Obama's Iran diplomacy in a speech to Congress that aligned himself with the president's Republican foes. Obama responded in the Oval Office, declaring in a frustrated tone that Netanyahu offered "nothing new." In its response, the Iranian government denounced Netanyahu's 39-minute speech as "boring and repetitive," the state news agency IRNA said.
In an appearance boycotted by dozens of Obama's fellow Democrats, Netanyahu said Iran's leadership was "as radical as ever" and could not be trusted and the deal being worked out by the United States and other world powers would not block Iran's way to a bomb "but paves its way to a bomb." "It will all but guarantee that Iran will get those nuclear weapons, lots of them," the Israeli leader said. "We'll face a much more dangerous Iran, a Middle East littered with nuclear bombs and a countdown to a potential nuclear nightmare." His speech, a point-by-point critique of Obama's strategy, drew 26 standing ovations in the Republican-controlled chamber.
Netanyahu both inveighed against the emerging deal and suggested broadening the scope of negotiations to require a change to what he described as Iran's "aggressive" regional posture — an idea swiftly rejected by the Obama administration as de facto "regime change" in Tehran. But Netanyahu, who said a nuclear-armed Iran would threaten Israel's existence, also avoided any call for new sanctions now or for a total rollback of Iranian nuclear technologies — a signal that Israel might be able to resign itself to less.
Obama said the prime minister offered no "viable alternatives" to the current course of negotiations.
Netanyahu's speech culminated a diplomatic storm triggered by his acceptance in January of a Republican invitation that bypassed the White House. Many Democrats considered it an affront to the president. Obama refused to meet Netanyahu, saying that doing so just ahead of Israel's March 17 general election would be seen as interference. The president, who has a history of testy encounters with Netanyahu, said he did not watch the televised speech but read the transcript.
Underscoring the partisan divide, House Democratic leader Nancy Pelosi called the speech "an insult to the intelligence of the United States" and said she was so "saddened by the condescension toward our knowledge of the threat posed by Iran" that she was near tears.
As many as 60 of the 232 Democratic members of Congress sat out the address. Their absence was especially striking given Congress typically unites around the issue of Israeli security. The boycott by so many lawmakers could raise political heat on Netanyahu at home. Many Israelis are wary of estrangement from a US ally that provides their country with wide-ranging military and diplomatic support.
Netanyahu entered the chamber to a cacophony of cheers, shaking hands with lawmakers, including House Speaker John Boehner. At the start of the speech, he sought to defuse the intense politicization of his appearance, saying he was grateful to Obama for his public and private support of Israel, including contributions to Israel's Iron Dome anti-missile system. Netanyahu then launched into a scathing attack on the Iran diplomatic efforts, which face an end-of-March deadline for a framework accord. But Netanyahu did not specifically call for new US sanctions, something Obama has said would undermine ongoing talks and would prompt a veto if passed by Congress.
Iran denies it is seeking a nuclear bomb. Israel is widely assumed to possess the region's only nuclear arsenal.
"If the world powers are not prepared to insist that Iran change its behavior before a deal is signed, they should at the very least be prepared to insist that Iran changes its behavior before the deal expires," Netanyahu said. He added that while Israel and similarly minded Arab states might not like such a deal, they could live with it, "literally," he said.
Republican House Majority Whip Steve Scalise called it a "privilege" for Netanyahu to address Congress and said he shared his concerns that "these current negotiations with Iran will not adequately prevent them from obtaining nuclear weapons capability." But former US Ambassador to Israel Martin Indyk, who has had years of dealings with Netanyahu, said: "The prime minister should say not only what is wrong with the deal, but how to get from where we are today to a deal that he could accept. And we didn't hear that in the speech. But you can't beat something with nothing."
Iran must commit to a verifiable freeze of at least 10 years on sensitive nuclear activity, but the odds are still against sealing a final agreement, Obama told Reuters on Monday. Obama said a final deal must create a one-year "breakout period" for Iran, which means it would take at least a year for Tehran to get a nuclear weapon if it decides to develop one, thereby giving time for military action to prevent it. Aides hope it can be a signature foreign policy achievement for Obama in his final two years in office.
Netanyahu has said such a deal would allow Iran to become a "threshold" nuclear weapons state. He has hinted at the prospect for Israeli military strikes on Iranian nuclear facilities as a last resort, but made no such threat in his speech.
Bibi's win took seats off Right partners
The Australian
Nicholas Casey, Wall Street Journal

Friday, March 20, 2015
JAFFA, Israel: Prime Minister Benjamin Netanyahu secured his re-election by tacking hard to the right and winning seats from his own coalition partners, a strategy that signals a sharper political polarization is taking root in Israel.
Mr Netanyahu is expected to lead a coalition government tilted toward hard-line nationalists and religious parties. His cabinet is expected to include Naftali Bennett, whose party wants Israel to annex the West Bank, and Foreign Minister Avigdor Lieberman, whose inflammatory statements about Arabs made headlines during the campaign.
Mr Netanyahu's shift to hard-line rhetoric in the final days of his campaign — including a surprise reversal of his official support for the goal of Palestinian statehood — propelled him to victory from a four-seat deficit in pre-election polls. His Likud party won 29 or 30 seats in the 120-seat parliament, according to various analyses by Israeli media and an independent think tank based on near-complete voting results.
The prime minister beat expectations not by gaining votes from the center, but by culling them from nationalist parties such as Mr Bennett's Jewish Home party, which supports Jewish settlements in the West Bank. That party lost four seats in Tuesday's vote, as Likud swept up right-wing voters.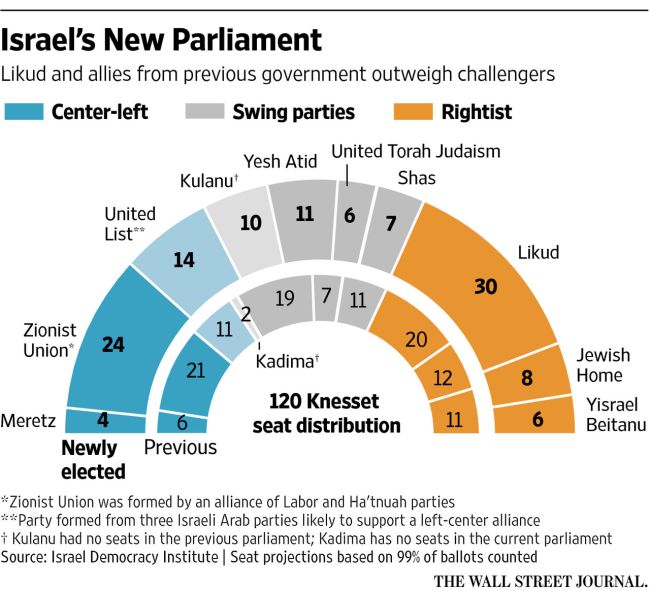 One religious party, Yachad, didn't receive the minimum number of votes required to sit in parliament.
A turning point came when Mr Netanyahu appeared before 20,000 people at a pro-settler rally with Mr Bennett on Sunday. The prime minister pledged "no withdrawal" from the West Bank and warned that leftists willing to cede land to the Palestinians and uproot settlers would defeat him unless nationalists united behind Likud. "It was sort of expected, this kind of cannibalization," Avi Degani, an Israeli pollster at firm Geocartography Knowledge Group, said. Mr Degani said indecisive conservative voters "got scared that the left may win, and came back home" to Likud.
Another factor for Mr Netanyahu was a change in the country's electoral rules that strengthened larger political parties at the expense of smaller ones on both sides of the political spectrum, according to the Council on Foreign Relations, a US think tank. They are voting more for the two main parties in each ideological bloc," said Elliott Abrams, a senior fellow at the Council. "This is an electoral change, not an ideological change."
While elections are known to highlight the country's divisions, the fear-mongering that has become commonplace this year "deepened the schism," said Yehudit Auerbach, a political scientist at Bar Ilan University near Tel Aviv. Mr Netanyahu's appeal to nationalist voters worried the country's Arab citizens. "We are surrounded by Jewish neighbors and we try always to coexist," said Hanan Yusef, a 60-year-old Arab resident of this port city on the edge of Tel Aviv, who voted against Mr Netanyahu. "But now the new government from the right will be harder and worse than the one from before."
The opposition was energized by a large turnout of Israeli-Arab voters who gave a boost to a new coalition of Arab parties. Israel's Arab vote had been fractured between three competing parties. Arab turnout reached 70%, said party leaders, the first time it was nearly on par with Jewish turnout.
The tensions between the left and right, building throughout the election, were laid bare on television Wednesday. In a heated exchange on an Israeli round table show, Jamal Zahalka, an Arab politician from United List, accused Mr Netanyahu of inciting Jews against Arabs to "bring him more voters." Sharon Gal, a freshman Knesset member of Mr Lieberman's nationalist Yisrael Beteitnu accused Mr Zahalka of being a traitor. "I despise the politics of hatred!" yelled Mr Zahalka.
Mr Netanyahu has since tried to walk back his statements that foreign money was being used to encourage Arab Israeli voters to topple him. During his victory speech, he said he wished to lead both Arabs and Jews. His cabinet, however, is likely to contain figures with a less conciliatory record. During a televised debate, Mr Lieberman told Ayman Odeh, the leader of United List, that he didn't belong in the studio and should be in Gaza or Ramallah — cities in the Palestinian territories.
At a rally in Herzliya in March, Mr Lieberman, answering a question about what actions Israel should take toward disloyal Arabs, suggested beheading them. "Those who are against us, there's nothing to be done — we need to pick up an axe and cut off his head," he said. An official close to Mr Lieberman said on Wednesday the comments were meant more broadly toward terrorists who threatened Israel. Mr Lieberman, who the official said was seeking the post of defense minister under Mr Netanyahu, will work with Arabs in the next government including two in his own party.
Juma Azbarga, an Arab politician of the United List, said Mr Netanyahu's rhetoric had encouraged Arab voters to turn out on Election Day. After the video was published online, volunteers used his words to drive voters to the polls. But voting fell short of expectations, Mr Azbarga said, and United List's goal of aiding Isaac Herzog's Zionist Union to form a government ended Wednesday when he conceded defeat to Mr Netanyahu United List's campaign and new clout in the parliament have set the basis for a relationship with the Jewish left as Mr Netanyahu's opposition. "We can talk to Herzog and his party members and cooperate with them in the future," he said.
Write to Nicholas Casey at nicholas.casey@wsj.com
6 COMMENTS below as at 2pm Friday afternoon
Alan Towson
6 hours ago
Journalism major Nicholas Casey is not happy about this victory for Netanyahu. Nobody who was asked by the wsj for his opinion is happy. Apparently the only happy people are the majority of people who voted in Israel. Congratulations! Journalism major Nicholas needs a towel and a good cry.
Jack Winslow
8 hours ago
Elections have consequences...and in this case thank God.
MICHAEL CLAES
14 hours ago
How polite of the Wall Street Journal. "...culled support from the right..."
Netanyahu's election-eve hate-baiting warning Tweet was "Arab voters are streaming in huge quantities to the polling stations.
One supposes that is better than creating complex barriers to suppress the Arab-Israeli voters.
Douglas Levene
14 hours ago
Huh. I would have thought that leftists everywhere would be happy to see the extreme right parties losing ground. Go figure.
Bruce Reynolds
22 hours ago
Here's an interesting report:
"Likud Forged Recording of Kahlon Support
Prime Minister Benjamin Netanyahu's Likud party admitted to forging a recording of Kulanu leader Moshe Kahlon promising to support Netanyahu, according to a Kulanu spokesman.
The party distributed the recording to potential voters on Monday evening, but Central Elections Committee Judge Salim Joubran ordered the group to halt using the recording at Kulanu's request.
Kahlon called the recording "criminal" and asked Joubran to open a criminal investigation into it.
"We are pleased that Judge Joubran stopped the Likud from continuing to distribute this untruthful recording," the party said."It is sad that the Likud party, in a moment of desperation, chooses to deceive the public."
Joubran fined the Likud NIS 20,000 over the forged recording."
I bet that Mr Kahlon can't wait to go to work for Bibi again.
Things are getting very interesting.
Bruce Reynolds
23 hours ago
"The prime minister beat expectations not by gaining votes from the center, but by culling them from nationalist parties such as Mr Bennett's Jewish Home party, which supports Jewish settlements in the West Bank. That party lost four seats in Tuesday's vote, as Likud swept up right-wing voters."
Kudos to the WSJ for providing such vital information about the Israeli election.
Islam's Improbable Reformer
The Wall Street Journal
Bret Stephens
Friday, March 20, 2015 6:17 p.m. ET
'We are keen on a strategic relationship with the US above everything else,' says Egypt's new president. 'And we will never turn our backs on you — even if you turn your backs on us.'
Cairo: When then-Egyptian President Mohammed Morsi appointed a little-known general named Abdel Fattah Al Sisi to be his new defense minister in August 2012, rumors swirled that the officer was chosen for his sympathy with the teachings of Mr Morsi's Muslim Brotherhood. One telltale sign, people said, was the zabiba on the general's forehead — the darkened patch of skin that is the result of frequent and fervent prayer.
A pious Muslim must surely also be a political Islamist — or so Mr Morsi apparently assumed. But the general would soon give the world a lesson in the difference between religious devotion and radicalism.
"There are misconceptions and misperceptions about the real Islam," now-President Sisi tells me during a two-hour interview in his ornate, century-old presidential palace in Heliopolis. "Religion is guarded by its spirit, by its core, not by human beings. Human beings only take the core and deviate it to the right or left."
Does he mean to say, I ask, that members of the Muslim Brotherhood are bad Muslims ? "It's the ideology, the ideas," he replies.
"The real Islamic religion grants absolute freedom for the whole people to believe or not believe. Never does Islam dictate to kill others because they do not believe in Islam. Never does it dictate that [Muslims] have the right to dictate [their beliefs] to the whole world. Never does Islam say that only Muslims will go to paradise and others go to hell."
Jabbing his right finger in the air for emphasis, he adds: "We are not gods on earth, and we do not have this right to act in the name of Allah."
***
When Mr Sisi took power in July 2013, following street protests against Mr Morsi by an estimated 30 million Egyptians, it wasn't obvious that he would emerge as perhaps the world's most significant advocate for Islamic moderation and reform. His personal piety aside, Mr Sisi seemed to be a typical Egyptian military figure. Unflattering comparisons were made to Hosni Mubarak, a former air force general and Egypt's president-for-life until his downfall in 2011.
The similarities are misleading. Mr Mubarak came of age in the ideological anti-colonialist days of Egyptian President Gamal Abdel Nasser, trained in the Soviet Union, and led the air campaign against Israel in the 1973 Yom Kippur War. Anwar Sadat elevated him to the vice presidency in 1975 as a colorless second-fiddle, his very lack of imagination being an asset to Sadat. He became president only due to Sadat's assassination six years later.
Mr Sisi, now 60, came of age in a very different era. When he graduated from the Military Academy, in 1977, Egypt was a close American ally on the cusp of making peace with Israel. Rather than being packed off to Russia, he headed for military training in Texas and later the infantry course at Fort Benning, Ga. He returned for another extended stay in the US in 2005 at the Army War College in Carlisle, Pa.
Recalling the two visits, he notes the difference. "The US had been a community that had been living in peace and security. Before 9/11, even the military bases were open. There was almost no difference between civilian life and life on a military base. By 2005, I could feel the tightening."
The remark is intended to underscore to a visiting American journalist his deep sympathy with and admiration for the US He also goes out of his way to stress that he has no intention of altering the pro-American tilt of Egyptian foreign policy, despite suggestions that he is flirting with Russia's Vladimir Putin for potential arms purchases and the construction of Egypt's first nuclear power plant.
"A country like Egypt will never be mischievous with bilateral relations" with America, he insists. "We will never act foolishly." When I ask about the delivery of F-16 fighters to Egypt — suspended by the US after Mr Morsi's overthrow, and now pending a decision by President Obama — he all-but dismisses the matter.
"You can never reduce our relations with the US to matters of weapons systems. We are keen on a strategic relationship with the US above everything else. And we will never turn our backs on you — even if you turn your backs on us."
There is also a deeper purpose to Mr Sisi's pro-American entreaties and his comments on 9/11: He wants to remind his critics of the trade-off every country strikes between security and civil liberties.
It's a point he returns to when I note the anger and disappointment that so many Egyptian liberals — many of whom had backed him in 2013 — now feel. New laws that tightly restrict street protests recall the Mubarak era. Last June several Al Jazeera journalists, including Australian reporter Peter Greste, were sentenced to lengthy prison terms on dubious charges of reporting that was "damaging to national security," though they have since been released. The Muslim Brotherhood has been banned, Mr Morsi is in prison and on trial, and Egyptian courts have passed death sentences on hundreds of alleged Islamists, albeit mostly in absentia.
"My message to liberals is that I am very keen to meet their expectations," Mr Sisi rejoins. "But the situation in Egypt is overwhelmed." He laments the Al Jazeera arrests, noting that the incident damaged Egypt's reputation even as thousands of international correspondents "are working very freely in this country."
Later, while addressing a question about the Egyptian economy, he offers a franker assessment. "In the last four years our internal debt doubled to $300 billion. Do not separate my answer to the question regarding disappointed liberals. Their country needs to survive. We don't have the luxury to fight and feud and take all our time discussing issues like that. A country needs security and order for its mere existence. If the world can provide support I will let people demonstrate in the streets day and night."
Sensing my skepticism, he adds: "You can't imagine that as an American. You are speaking the language of a country that is at the top of progress: cultural, financial, political, civilizational — it's all there in the US" But if American standards were imposed on Egypt, he adds, it would do his country no favors.
"I talk about US values of democracy and freedom. They should be honored. But they need the atmosphere where those values can be nurtured. If we can bring prosperity we can safeguard those values not just in words."
All of this seems in keeping with Mr Sisi's military upbringing and reminds me of Pervez Musharraf, the former Pakistani general turned president. But the comparison is fundamentally inapt. Under Mr Musharraf, Pakistan continued to make opportunistic deals with terrorists while giving safe harbor to leaders of the Afghan Taliban.
By contrast, it's impossible to doubt the seriousness of Mr Sisi's opposition to Islamic extremism, or his aversion to exporting instability. In late February he ordered the bombing of Islamic State targets in neighboring Libya after ISIS decapitated 21 Egyptian Coptic Christians. Egypt's security cooperation with Israel has never been closer, and Mr Sisi has moved aggressively to close the tunnels beneath Egypt's border with Gaza, through which Hamas has obtained its weapons.
Later this month, Mr Sisi will host an Arab League summit, the centerpiece of which will be a joint Arab antiterrorism task force. He says he won't put Egyptian boots on the ground to fight ISIS in Iraq, which he says is a job for Iraqis with US help. And he takes care to avoid mentioning Iran's regional ambitions or saying anything critical of its nuclear negotiations, which he says he supports while adding that "I understand the concern of the Israelis."
But he does say the new force is needed "to preserve what is left" of the stable Arab world. In particular, he stresses that "there shouldn't be any arrangements at the expense of the Gulf states. The security of the Gulf states is indispensable for the security of Egypt."
He also decries the Western habit of intervening militarily and then failing to take account of the consequences. "Look, NATO had a mission in Libya and its mission was not accomplished," he says. The UN continues to impose an arms embargo on Libya that adversely affects the legitimate, non-Islamist government based in Tobruk while "armed militias obtain an unstoppable flow of arms and munitions."
"I wasn't with the Gaddafi regime," he says, "but there is a difference between taking an action and being aware of what that action will bring about. The risks of extremism and terrorism weren't clear in the minds of the US and Europe. It is really dangerous if countries lose control because extremists will cause them problems beyond their imagination." The same lesson, he emphasizes, applies to the US invasion of Iraq.
But Mr Sisi is not a dogmatic critic of muscular US involvement in the Middle East. Pondering the prospect of a broad US retreat from the region, Mr Sisi sounds like the most enthusiastic proponent of Pax Americana.
"The United States has the strength, and with might comes responsibility," he says. "That is why it is committed and has responsibilities toward the whole world. It is not reasonable or acceptable that with all that might the United States will not be committed and have responsibilities toward the Middle East. The Middle East is passing through the most difficult and critical time and this will only entail more involvement, not less."
Meantime, Mr Sisi sees it as his personal mission to save Egypt, even as he insists he has no intention of becoming another president-for-life. When I ask him to name Mr Mubarak's biggest mistake, he says simply: "He stayed in power for a long time."
A day before our interview, I watched him close an investment conference in the resort town of Sharm el-Sheikh, where he celebrated General Electric's decision to invest to ease Egypt's chronic power outages. He describes his economic philosophy as "the need to encourage the business community to come here and invest." He constantly stresses the imperative of acting swiftly: "The magnitude of the effort needed to secure the needs of 90 million people is huge and beyond any one man's effort."
He's also aware that the most important work will take time. In January Mr Sisi went before the religious clerics of Cairo's Al-Azhar university to demand a "revolution" in Islam. The follow-through won't be easy. "The most difficult thing to do is change a religious rhetoric and bring a shift in how people are used to their religion," he says. "Don't imagine the results will be seen in a few months or years. Radical misconceptions [about Islam] were instilled 100 years ago. Now we can see the results."
That's not to say he doesn't think it's doable. "Popular sympathy with the idea of religion was dominating the whole scene in Egypt for years in the past. This does not exist anymore. This is a change I consider strategic. Because what brought the Muslim Brotherhood to power was Egyptian sympathy with the concept of religion. Egyptians believed that the Muslim Brothers were advocates of the real Islam. The past three years have been a critical test to those people who were promoting religious ideas. Egyptians experienced it totally and said these people do not deserve sympathy and we will not allow it."
Throughout our interview, Mr Sisi has been speaking in Arabic through an interpreter. But after delivering this point, he said in colloquial American English, "You got that ?"
** End of Interview
Comments
Herb Kay
This may be a moment when things look dark but when the Law of Unintended Consequences works in our and the civilized world's favor. Here is what I saw between the lines of this article:
1. Al Sisi knows that Obama is incompetent and unreliable but since he lived and studied here he understands that presidents are transitory figures so he only has to wait him out.
2. He understands better than anyone that that the real enemies of civilization are radical Sunni Islam and Shiite fanatics.
3. He is working closely with the Israelis and understands that the two countries have common cause.
4. Not one mention of Palestinians.
So, here is what I think is going on that we may all someday backhandedly thank President Obama for. The enemy of my enemy is my friend in the Middle East and we have inadvertently created a secret alliance between Israel and civilized Sunni nations to crush the bad guys. It is mostly covert since the Arab street is uneducated and needs to be respected. Good.
John Recktenwald
@Herb Kay Exactly. Also, as reported by Reuters, The UAE and other reasonable Arab nations are OK with Netanyahu's win. It seems a nuclear Iran is a bigger concern than Palestine. Things may work themselves out despite our best efforts to screw them up.
Paul Grunwald
@Herb Kay
If there is way out of the madness that is the middle east today, it is the leadership if Al Sisi. Maybe Boehner should invite him to speak to congress!
Netanyahu Says Final Nuclear Deal Must Include Iran's Recognition of Israel
By Jodi Rudoren, The New York Times
Rick Gladstone contributed reporting from New York
Friday, April 3, 2015
JERUSALEM: Prime Minister Benjamin Netanyahu of Israel introduced a new demand Friday for the final phase of negotiations over Iran's nuclear program, saying the completed deal must include an "unambiguous Iranian recognition of Israel's right to exist."
Mr Netanyahu, the world's most vocal critic of the emerging agreement between six world powers and Iran, convened a special session of his security cabinet on Friday, hours before the onset of the Passover holiday, to review the framework agreement announced the night before.
He emerged saying the group "is united in strongly opposing the proposed deal," contending it "would pose a grave danger to the region and to the world, and would threaten the very survival of the state of Israel." "Well, I want to make clear to all: the survival of Israel is nonnegotiable," the prime minister declared on Friday. "Israel will not accept an agreement which allows a country that vows to annihilate us to develop nuclear weapons, period."
Israel is not a party to the talks, which aim to reach a final accord by June 30, and at times he has complained of being left out of the loop. But President Obama, in a telephone call to Mr Netanyahu shortly after the framework was announced, promised to renew security consultations and deepen coordination.
One question going forward is how fiercely Mr Netanyahu will fight the deal in Congress, where he spoke against it last month at the invitation of the House speaker, John A. Boehner, a Republican, infuriating the White House and some Democratic members. He gave no hint of his next steps in the Friday statement, beyond the demand for recognition.
While Mr Netanyahu had not previously mentioned recognition in regard to Iran, he has made a similar call in recent negotiations with the Palestinians. Asked on Friday about Mr Netanyahu's new demand, a State Department spokeswoman, Marie Harf, told reporters in Washington that the negotiations with Iran on the agreement were "only about the nuclear issue."
In the Palestinian arena, Mr Netanyahu has demanded not only the recognition of Israel's right to exist — something the leadership has already done — but recognition that Israel is the nation-state of the Jewish people. Without that recognition, the prime minister argues, any peace deal would not necessarily portend the end of the long-running conflict.
Mr Netanyahu's statement on the Iran deal was his lengthiest and most detailed of the past week. It criticized the framework agreement, saying it leaves "Iran with a vast nuclear infrastructure," since it does not call for shutting facilities, destroying centrifuges or halting research and development. The prime minister also criticized the promise to "lift sanctions immediately," saying it "would greatly bolster Iran's economy" and "give Iran thereby tremendous means to propel its aggression and terrorism throughout the Middle East."
"Such a deal does not block Iran's path to the bomb," he said, reprising language he used in his speech to Congress. "Such a deal paves Iran's path to the bomb." The alternative, he said, is not war, but "standing firm, increasing the pressure on Iran until a good deal is achieved."
Following day:
US rejects Netanyahu's demand for Iranian recognition of Israel
State Department says agreement with Tehran is 'only about nuclear issue'. White House bids to prevent congressional interference
By Itamar Sharon and AP
The Times of Israel
Times of Israel staff contributed to this report.
The US State Department rejected over the weekend Israel's demand that any final deal with Iran on its nuclear program include recognition of Israel's right to exist, saying that was not the issue at hand. "This is an agreement that is only about the nuclear issue," State Department spokeswoman Marie Harf told reporters on Friday night, according to Fox News. "This is an agreement that doesn't deal with any other issues, nor should it."
Meanwhile the New York Times reported that the White House was already making intense efforts to sell the emerging deal to a reluctant Congress, in order to prevent legislators from blocking the accord. Since the deal was announced on Thursday senior members of President Barack Obama's staff, including Vice President Joe Biden, Chief of Staff Denis McDonough and National Security Adviser Susan Rice, have been phoning their colleagues in the House and the Senate as well as Jewish lobbying groups to convince them of the agreement's merits, the Times reported.
A bipartisan bill being advanced in the Senate, the Iran Nuclear Agreement Review Act of 2015, would require any final agreement with Iran to be submitted to Congress for a 60-day review period before congressionally mandated sanctions on Iran could be waived or suspended by the president. Chiefly supported by Republicans, the bill has also gained some key backing from some Democratic lawmakers.
Obama has promised to veto the bill, saying it could wreck the nuclear accord and isolate the US in an intransigent position. The bill's success or failure rests, therefore, on Republicans' ability to sway Democrats to their camp in order to secure a veto-proof majority. "The president has a big job here, and it's going to be tough," Senator Jeff Flake (R., Arizona), a member of the Foreign Relations Committee, told the Times. "Obviously, Congress knows that it has an important role to play, and the administration is reluctant to concede that."
But the White House is hopeful that the agreement will be an easier sell now that its details are available. "People were understandably skeptical because we did not have a deal to point to, but now that we do, it has strengthened our hand in dealing with Congress," White House press secretary Josh Earnest said. "As they take a look at the agreement and the level of detail there is, it strengthens our case that not only are we achieving the aims we set out to achieve, but that we have a way of verifying it."
Following the announcement by Iran and six world powers that they had reached a framework for a final nuclear deal, to be finalized by June 30, Prime Minister Benjamin Netanyahu said he and his government were united in "strongly opposing" the agreement. Netanyahu said after a cabinet session Friday that "Israel will not accept an agreement which allows a country that vows to annihilate us to develop nuclear weapons, period." However, he also acknowledged the possibility of a final agreement being reached, and said that such a deal must "include a clear and unambiguous Iranian recognition of Israel's right to exist."
The White House expressed confidence on Friday night that a final nuclear agreement would be attained in the coming months. "We feel good," White House spokesman Eric Schultz said, according to Reuters. "There's a lot of work to be done, but we are confident we can get those details in place."
Netanyahu has harshly criticized the negotiations, demanding instead that the Iranian program be dismantled. He claims Iran cannot be trusted, and that leaving certain facilities intact would allow the Iranians to eventually build a bomb.
However, it appears unlikely Israel will be able to prevent the final deal amid broad international support for such an agreement.
China said Saturday that the framework agreement struck with Iran would also bolster Beijing's relations with Washington. According to a statement by the Chinese government quoted by Reuters, Foreign Minister Wang Yi spoke with US Secretary of State John Kerry about the deal and its effects in a phone call. "China and the United States, both taking on major responsibilities in safeguarding the international nuclear non-proliferation system, maintained good contact with each other during the negotiations, while instilling positive energy into bilateral relations," Wang told Kerry. "In a bid to finalize a comprehensive deal as scheduled, China will maintain close coordination with all parties concerned, including the United States, and continue to play a constructive role during the process."
German Foreign Minister Frank Walter Steinmeier on Friday sought to assure Israeli leaders concerned about the deal that it would improve Israel's security. "We ask the Israeli government to look more closely at the agreement," Steinmeier said, according to Reuters. "Its main points are intended to guarantee that security in the Middle East…will improve, and not get worse." The German diplomat warned however that it was too early in the process to celebrate. "We can be satisfied, but I hope equally that we can expect that Iran will stick to the main agreements," he said.
The commitments announced Thursday, if implemented, would substantially pare back some Iranian nuclear assets for a decade and restrict others for an additional five years. According to a US document listing those commitments, Tehran is ready to reduce its number of centrifuges, the machines that can spin uranium gas to levels used in nuclear warheads.
Of the nearly 20,000 centrifuges Iran now has installed or running at its main enrichment site, the country would be allowed to operate just over 5,000. Much of its enriched stockpiles would be neutralized. A planned reactor would be reconstructed so it can't produce weapons-grade plutonium. Monitoring and inspections by the UN nuclear agency would be enhanced.
Netanyahu has voiced concerns that the emerging deal would leave much of Iran's nuclear infrastructure intact. "They would not shut down a single nuclear facility in Iran, would not destroy a single centrifuge in Iran and will not stop research and development on Iran's advanced centrifuges," he said. "On the contrary. The deal would legitimize Iran's illegal nuclear program. It would leave Iran with a vast nuclear infrastructure. A vast nuclear infrastructure remains in place."
He called on the world powers to stand firm and increase pressure in Iran until what he termed a good deal is achieved.
Obama phoned Netanyahu hours after the framework was struck on Thursday, and the two men had what was reported as a difficult conversation.
"A deal based on this framework would threaten the survival of Israel. Just two days ago, Iran said that "the destruction of Israel is nonnegotiable," and in these fateful days Iran is accelerating the arming of its terror proxies to attack Israel. This deal would legitimize Iran's nuclear program, bolster Iran's economy, and increase Iran's aggression and terror throughout the Middle East and beyond," Netanyahu told Obama during the call. "Such a deal would not block Iran's path to the bomb. It would pave it. It would increase the risks of nuclear proliferation in the region and the risks of a horrific war. The alternative is standing firm and increasing the pressure on Iran until a better deal is achieved," he added.
Obama, calling from aboard Air Force One, countered that the deal "represents significant progress towards a lasting, comprehensive solution that cuts off all of Iran's pathways to a bomb and verifiably ensures the peaceful nature of Iran's nuclear program going forward," according to a read-out released by the White House.
Obama said the deal "in no way diminishes our concerns with respect to Iran's sponsorship of terrorism and threats towards Israel and emphasized that the United States remains steadfast in our commitment to the security of Israel," the White House said. The US president told Netanyahu that he instructed his security team to "increase consultations with the new Israeli government about how we can further strengthen our long-term security cooperation with Israel and remain vigilant in countering Iran's threats."

US, Israel concerned after Russia lifts ban on sale of missiles to Iran
Jethro Mullen, CNN
Wednesday, Apr 15, 2015
Russia has lifted a ban on the sale of a sophisticated air-defense system to Iran, drawing criticism from the United States and Israel. "The big concern in the West … and especially in Israel is that these Russian missiles will be able to help shield Iran's nuclear facilities from any future airstrikes," said CNN senior international correspondent Matthew Chance.
Russian Foreign Minister Sergey Lavrov said the move Monday to end the ban on shipping the S-300 anti-aircraft missile system to Iran was prompted by the recent progress in talks over Tehran's nuclear program. The ban had been in place since 2010. "We are convinced that at this stage, there's no more need of such an embargo, Russia's separate voluntary embargo," Lavrov said, according to the Russian news agency Tass.
The decision was also applauded by Iranian Foreign Minister Javad Zarif, who called the move "a step in the right direction." "We are looking to ever expanding our relationship with our neighbors, as well as with the rest of the world," Zarif said in Madrid, alongside his Spanish counterpart. "But Russia is an important neighbor for us, an important partner." Another Iranian official, Secretary of the Supreme National Security Council Ali Shamkhani, said his country will receive delivery of the air-defense system by the end of the year, Iranian state media reported.
US officials were unimpressed. "We don't believe it's constructive at this time for Russia to move forward with this," State Department spokeswoman Marie Harf said at a news conference. Secretary of State John Kerry raised the US government's concerns over the sale in a phone call with Lavrov on Monday, Harf said.
But shipment of the weapons system could begin at any moment after Russian President Vladimir Putin signed a decree Monday lifting the ban, presidential spokesman Dmitry Peskov said, according to Tass. "The decree stipulates … no delays," Peskov said, adding that it states that "it comes into force on the day it was signed."
The Israeli government, which opposes the preliminary agreement that was reached on Iran's nuclear program earlier this month, said the Russian move was a troubling sign. "Even as Iran disavows article after article in the framework agreement that was announced last week, the international community is beginning to ease restrictions on it," Intelligence Minister Yuval Steinitz said in a statement. "This is the direct result of the legitimacy that Iran is receiving from the nuclear deal being made with it."
Lavrov insisted that the S-300 missile system "is of a purely defensive nature." "It is not designed for attacks and will not put at risk the security of any regional state, including Israel, of course," he said, according to Tass.
But Steinitz offered a different interpretation. "Instead of demanding that Iran desist from the terrorist activity that it is carrying out in the Middle East and throughout the world, it is being allowed to arm itself with advanced weapons that will only increase its aggression," he said.
The framework agreement on Iran's nuclear program announced earlier this month after lengthy negotiations between Tehran and world powers was considered a breakthrough by many observers. But it faces stiff opposition from some quarters, including Israel and members of the US Congress. Negotiators also have to reach a comprehensive deal by the end of June, with uncertainty still clouding several key issues such as the pace at which sanctions on Iran would be lifted.
US officials have said that military force remains an option to prevent Iran from developing nuclear weapons but that the aim is to achieve the goal through negotiations. "We have the capability to shut down, set back and destroy the Iranian nuclear program and I believe the Iranians know that and understand that," Defense Secretary Ashton Carter told CNN last week.
It's unclear to what extent the sale of the S-300 missile system to Iran would affect the US capability — or that of other nations like Israel — to strike Tehran's nuclear facilities. Harf said Russia's lifting of the ban on the sale shouldn't create divisions in world powers' efforts to reach a final deal with Iran. "We don't think this will have an impact on unity in terms of inside the negotiating room," she said.
The countries negotiating with Iran are the five permanent members of the UN Security Council — China, France, Russia, the United Kingdom and the United States — plus Germany. Harf also said the United States doesn't believe the shipment of the Russian missile system to Iran would violate any UN Security Council sanctions.
Iran, meanwhile, welcomed Moscow's announcement. "The expansion of cooperation [with Russia] and improving cooperation with other neighboring countries in various fields can be very effective in establishing sustainable stability and security in the region," Defense Minister Brig. Gen. Hossein Dehqan said, according to Iran's Islamic Republic News Agency.

Editorial: Israel's problematic coalition
The Australian
Wednesday, May 20, 2015
When Israeli Prime Minister Benjamin Netanyahu's Likud party won 30 of 120 seats in the Knesset in March, it expected to have no difficulty forming a strong new coalition, which was the aim in calling the early election. That has not eventuated. After protracted negotiations, the best Mr Netanyahu could cobble together is a coalition of mainly militantly nationalist and hardline religious minor parties including the Jewish Home party and two ultra-Orthodox parties.
As Jewish commentator Isi Leibler says, Mr Netanyahu has had to take on board parties with policies "that Likud and the vast majority of Israelis strongly oppose". The Jewish Home party, for instance, draws its strength from the settler movement. It wants further expansion of settlements in the West Bank and East Jerusalem. It has been so difficult for Mr Netanyahu to meet the demands of his fractious coalition partners that he has abandoned an election promise to cut the size of the cabinet from 22 to 18.
Given the coalition's hardline nature, the standoff with Palestinian leader Mahmoud Abbas seems unlikely to change. The prospects of resuming peace talks towards an eventual two-state solution are dim. Israelis also are concerned that much needed economic reforms, especially of the housing market, which were a key election issue, may not be achieved by a coalition formed on such a narrow base.
Backed by just 61 members, the coalition's fragile majority makes it vulnerable to being brought down. At a time when Israel's relations with the US and Europe are fraught and a nuclear deal between the US and Iran is imminent, the Israeli Foreign Ministry recently called for action to repair the "severe crisis" in Israel's relationship with the Obama administration.
Hard-headed Netanyahu supporters believe he must broaden the coalition's base if it is to survive. Mr Netanyahu would do well to do so. Or he could consider the idea of a unity government with the opposition Zionist Union led by Isaac Herzog, even though Mr Herzog has said he will not help in "saving Netanyahu from the hole he has dug for himself".
Click here for news since May 26th, 2015
** End of article