Ukraine and Russia
On the western borders of Ukraine are Poland, Slovakia, and Hungary, and in the south Romania, and Moldova.
On 24th February 2022, Russia invaded Ukraine.
Go to recent news August 18th 2023
Go to Map status July 4th 2023
Go to Wagner status 28th June 2023 in The Australian
Go to Map status January 17 2023, Bakhmut's plea for tanks, Bakhmut falls in May 2023, Freedom Fighters storm Russian villages on northern border
Click here for the latest update in Wikipedia

Map Status March September 2022

Leadup to War February 2022
Macron visits Putin with a peace plan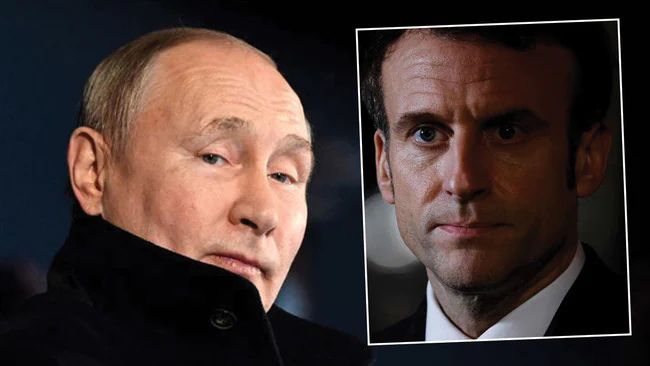 Vladimir Putin, left, and Emmanuel Macron. Pictures: AFP
By Charles Bremner, Alistair Dawber and Bruno Waterfield
The Times
Monday February 7-8th, 2022
President Macron offered President Putin a peace plan including western gestures towards Moscow when he visited the Kremlin for nearly 6 hours Monday evening on a mission to ease tension over Ukraine. The French leader outlined his ideas for a "new security order in Europe" as the United States stepped up its warnings of an imminent invasion, saying that as many as 50,000 civilians could be killed and that the Kyiv government would collapse within 48 hours.
Macron's attempts to broker a diplomatic solution are worrying Washington, London and other more hawkish NATO capitals but they are in tune with the thinking of Germany, whose chancellor, Olaf Scholz, is in Washington Monday to face American unhappiness over his country's failure to take a tougher stand against Russia's military build-up.
Setting out his hopes of "de-escalating" the dispute, Macron, whose country currently heads the EU, distanced himself from the US view that the troop build-up was a prelude to invasion. "The geopolitical goal of Russia today is clearly not Ukraine but to clarify the rules of cohabitation with NATO and the European Union," he told Le Journal du Dimanche. It is "urgent to advance towards a new order which our Europe needs profoundly and which rests on the cardinal principle of sovereign equality among states," he said. ...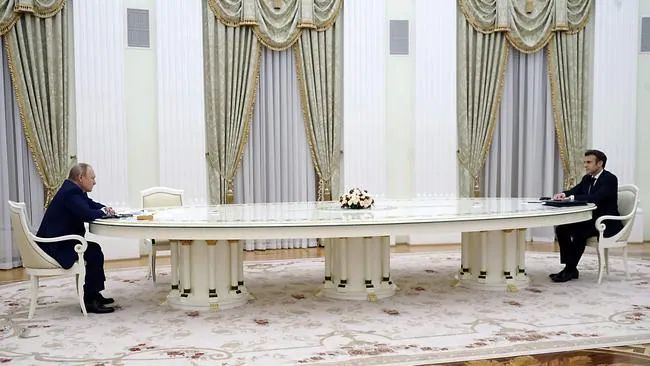 French President Emmanuel Macron, right, met Russian President Vladimir Putin at the Kremlin for talks to defuse the situation along the Ukraine-Russia border. Picture: AFP

The striking table, which is 6m long, has become a feature of Mr Putin's meetings with foreign leaders after the months that he has spent in virtual isolation because of the pandemic. He typically requires anyone meeting him to quarantine for two weeks ­beforehand, a fact that has kept him insulated even from many of his own advisers as the crisis over Ukraine has unfolded.

Macron said Europe and NATO could guarantee the sovereignty of their former Soviet bloc members while giving Moscow assurances that its security worries had been taken into account. "We must protect our European brothers by offering a new balance that can preserve their sovereignty and peace. At the same time this has to be done while respecting Russia and understanding its modern traumas," he said. It was now Europe's responsibility to "build an historic solution", he added. "I believe President Putin is available for this."

Russia was within its rights to seek to negotiate security guarantees, he said. "The security and sovereignty of Ukraine or any other European state cannot be a subject for compromise, while it is also legitimate for Russia to pose the question of its own security." He was referring to Russian demands that NATO commit itself never to make Ukraine a member and also to recognise that Russian interests must be a factor in the security arrangements of former Warsaw Pact countries now in western alliances. NATO has rejected the demands as non-starters.

Macron, who is pursuing an independent French policy initiated by President de Gaulle in the 1960s, wants to build on a concept called "indivisible security" that was enshrined in the 1975 Helsinki accords that opened the way to détente with the Soviet Union. The expression meant that all states in the region recognised that the security of each one was inextricably linked with the security of all the others. Western governments note that Macron's talk about a new security order is close to the language used by the Kremlin in its demands for a complete reset of the European security system.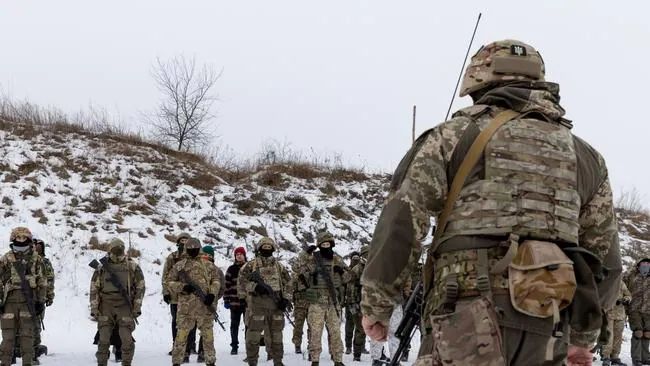 Civilians participate in a Territorial Defence unit training session on February 5 in Obukhiv, Ukraine. Picture: Chris McGrath/Getty Images

Macron's enthusiasm is not shared by the United States, the eastern Europeans or conservatives in Germany, who on Sunday accused the Social Democrat chancellor of feebleness in the face of Russian aggression. "I'm amazed at how badly this government is doing," Friedrich Merz, 66, the leader of the Christian Democrat opposition, told the Bild am Sonntag newspaper.

The US forecast of casualties in the event of a Russian invasion was its most chilling assessment yet. Jake Sullivan, the national security adviser, said yesterday (Sunday) Russia could invade "any day" and that "if war breaks out it will come at an enormous human cost to Ukraine, but we believe that based on our preparations and our response, it will come at a strategic cost to Russia as well."

The US has also been at loggerheads with the Ukrainian government, with Kyiv dismissing claims by US officials that the 100,000 Russian troops stationed on Ukraine's border could invade at any moment. Mykhailo Podolyak, an adviser to President Zelensky of Ukraine, said "the chance of finding a diplomatic solution for de-escalation is still substantially higher than the threat of further escalation".

However, Europe has become highly dependent on Russian oil and gas, after turning off its nuclear and coal, and gas-fired power plants.



Russia Ukraine War Status April 2022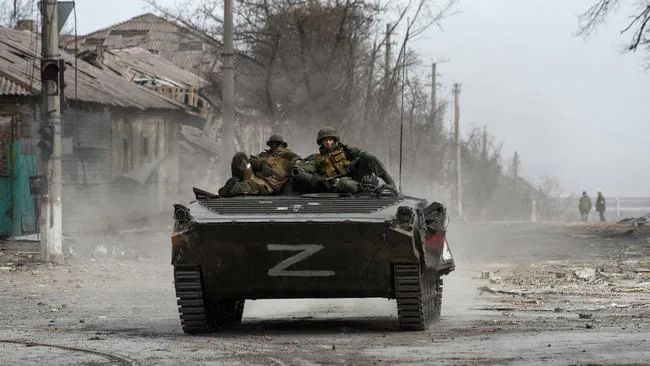 Russian troops sit atop an armoured vehicle in the southern port city of Mariupol.
Click image for full screen

Biden told the truth: Putin has to go
GARRY KASPAROV, 
THE WALL STREET JOURNAL
Tuesday 5th April 2022
Garry Kasparov, a Russian chess Grandmaster and current chairman of the Human Rights Foundation currently lives in New York City

Click here to view Kasparov's account as a separate web page.

Russia's all-out war on Ukraine is entering its sixth week, and the past few days have seen a rhetorical shift in Vladimir Putin's goals. Since the Kremlin lies about everything, real evidence of a Russian retreat or any change in posture is always necessary. Still, it feels like confirmation of battlefield observations that the Russian army has been thwarted in its primary objectives and will now attempt to salvage a disastrous military effort with a successful negotiation.

As my former world championship challenger Nigel Short once said about peace offerings, "If your opponent offers you a draw, try to work out why he thinks he's worse off."

...

It would also fit Mr. Putin's usual tactic of taking territory by force and then pivoting to diplomacy to secure his gains. Whether it's feint or fiction, the pressure by Ukraine and its allies on Russia must only increase. Kharkiv and Mariupol now resemble the gutted ruins Mr. Putin created in Aleppo and Grozny. Yet the weapons Ukraine needs to stop long-range artillery, missile attacks and aerial bombing are still being held back by the U.S. and other North Atlantic Treaty Organization nations.

That should be the real story, not any controversy about President Biden saying Mr. Putin "cannot remain in power." No free-world leader should hesitate to state plainly that the world would be a far better place if Mr. Putin were no longer in charge in Russia, and one way to help make that come about is to say it. Making it clear that Russia will be a pariah until Mr. Putin is gone is the best way to shake his support among elites, military commanders and ordinary Russians.

The problem came when the White House attempted to walk back the remark, calling it an ad lib that did not reflect a U.S. policy about "regime change" in Russia. This retreat added fuel to my concerns about an internal split in the White House between those who sense the opportunity to toss Mr. Putin into the dust bin of history and those who are afraid of any change in the status quo and who would rather deal with the devil they know.

The latter would be an echo of August 1 1991, when President George H.W. Bush gave his infamous "Chicken Kiev" speech, reportedly penned by Condoleezza Rice, cautioning Ukraine against rushing to independence from the Soviet Union. Three weeks later Ukraine ignored that advice and declared independence. The Soviet Union collapsed within months.

The updated 2022 recipe calls for keeping Mr. Putin at the negotiating table for the Iran nuclear deal and not giving Ukraine the jets and other offensive weapons it needs to win the war. Everything I hear from other NATO members is that the U.S. has become the obstacle, and an explanation is required. Allowing Mr. Putin to keep an inch of Ukrainian soil after bombing civilians should be unimaginable. Conceding large areas of eastern Ukraine to the invader in exchange for a cease-fire would only give Mr. Putin time to consolidate and rearm for next time—and there will always be a next time. No peace deal should weaken the strong sanctions that have finally arrived, eight years late.

The only drawback to the end of the Cold War was the loss of the moral clarity provided by a clear and present evil. Aside from a handful of fellow travelers and useful idiots, even Ronald Reagan's critics couldn't doubt the accuracy of his calling the Soviet Union "an evil empire" in a 1983 speech, as startling as it was to hear a politician speak so plainly in moral terms. It was also a tonic for those of us inside the Soviet Union to hear what we knew to be true said aloud by the leader of the free world.

Mr. Biden's age may be a negative for some, but he remembers the Cold War. Gaffe or not, his remark reflected accurate instincts: Mr. Putin must go. But the war in Ukraine is also a distraction from his flailing domestic agenda. It's hard to talk about economic and social issues in the U.S. when a real war is leading the news every night.

So who in Washington is calling the shots on Ukraine? If the Biden administration wants Ukraine to win, someone in the White House should say it and do what is necessary to make it possible. If the U.S. is offering deals to Mr. Putin or pressuring Ukraine to accept anything less than sovereignty over 100% of its territory, we should know. Tactical ambiguity can be useful, but a lack of strategic and moral unity and consistency leads to catastrophe.

Mr. Putin's Russia is a bankrupt gas station run by a mafia that prefers to spend its time and money in London and New York. Offering any carrots to these war criminals would set the stage for a return to the appeasement and corruption that brought us to this deadly phase. It would also shake the foundation of collective defense in the region. As Latvian Defense Minister Artis Pabriks told me last week, "We are afraid not of Russian tanks, but of Western weakness."

The outcome in Ukraine will define a new world order, for good or ill. Taiwan and China are watching closely. Xi Jinping's natural alliance with his fellow dictator is looking less attractive after the free world's outpouring of support for Ukraine. The U.S. can restore its leadership of the free world, or it can lead from behind while democracy continues to lose ground.

The West fell asleep when the Cold War ended. Ukrainians are sacrificing everything to shake President Biden, the White House and the world awake.

UK vows more support amid 'massive attack' on Ukraine energy facilities
The Australian
Jacquelin Magnay, London
Tuesday November 1, 2022
Britain's Foreign Secretary James Cleverly has promised further urgent support for Ukraine after giving a withering take down of Russian president Vladimir Putin, saying his only aim "is to spread terror and deprive Ukrainian families of shelter, light and heat as winter approaches". A wave of Russian missiles hit hydro electric and energy plants on Monday rendering 80 per cent of the capital Kyiv without water and hundreds of thousands of homes without electricity.
Mr Cleverly also rejected the Kremlin's "irresponsible" and absurd assertions that Ukraine plans to detonate a radiological "dirty bomb" on its own territory. He told the House of Commons: "No other country is talking about nuclear use. No country is threatening Russia or President Putin. He should be clear that for the UK and our allies, any use at all of nuclear weapons would change the nature of the conflict. There would be severe consequences for Russia." ...

On Monday the Norwegian Prime Minister Jonas Gahr Stoere raised the military's alert level, saying: "This is the most severe security situation in several decades." He said while there were no indications that Russia was expanding its warfare to other countries, the "increased tensions make us more exposed to threats, intelligence operations and influence campaigns".

Within hours of the latest Russian attacks, the mayor of Kyiv, Vitaly Klitschko said that workers had repaired some of the damage and water had been restored to around 60 per cent of homes. Electricity was expected to return late in the evening, he said.

Mr Cleverly promised the delivery of more than 800 generators and British support to repair the energy infrastructure. Britain has already provided £2.3 billion of British military assistance – more than any other country apart from the United States and £220 million of humanitarian aid.

"We will continue to work with Ukrainians to help them keep the lights on and the water going, not just here and now, but to help energy resilience in the future," Mr Cleverly said. He said the G7 meeting in Germany on Thursday would discuss ways to encourage Russia to rejoin the Black Sea Grain initiative which allows for grain exports where more than 60 per cent goes to low and middle income countries, including Ethiopia, Yemen and Afghanistan.

"It would be unconscionable for those lands to be made to suffer because of Putin's setbacks in Ukraine," Mr Cleverly said. "I urge Russia to stop impeding this vital initiative that is feeding the hungry across the world and agree to its extension."

The Kremlin spokesperson Dmitry Peskov, said Russia cannot guarantee the safety of shipping of the grain ships, saying such a deal is "hardly feasible" following the drone attack on the Russian Black Sea fleet on Saturday. Meanwhile the Russian defence minister Sergei Shoigu announced on Monday that the conscription of 300,000 military personnel – which had been in place since September 21 has finished and military recruitment would now be taken up by volunteers.

As well as Kyiv, other major Ukraine towns in the regions of Zaporizhzhia, Kharkiv, Mikolaiv, Lviv, Zhytomyr, Kirovohrad and Chernivtsi were attacked by cruise missiles fired from Russian Tu-90 and T-60 aircraft flying north of the Caspian Sea and the Rostov region. Ukraine energy minister Herman Halushchenko said the "barbaric attacks" hit electric substations, hydropower and heat generation facilities.

Fragments from one Russian rocket, shot down by Ukrainian air defence, landed in neighbouring Naslavcea in Moldova in the first "spillover" of the conflict which is now approaching its ninth month.

Russia unleashed more than 50 cruise missiles across Ukraine during Monday's morning peak hour, causing water supply problems and power cuts. "From 7am (4pm, AEDT) on October 31, Russian occupiers carried out several waves of missile attacks against critical infrastructure in Ukraine," the Ukrainian army said on Telegram, adding "more than 50 X-101/X-555 cruise missiles were launched" from Russia.

Russia's army said it had struck military and energy infrastructure targets. "The Russian armed forces continued strikes with high-precision long-range air and sea-based weapons against the military command and energy systems of Ukraine," the defence ministry said in a statement. "The strike targets were achieved. All assigned objects have been hit," it said.

Damage was reported at energy facilities in different parts of the country, including several along the Dnipro river which provides hydro-electric power. Cherkasy and Kremenchuk, both situated along the Dnipro, came under fire. Cherkasy regional officials said a critical infrastructure site in the region was attacked and the area was without power. In the north of the country, Kharkiv Mayor Ihor Terekhov said "Russia has hit a critical infrastructure facility in the city."

It appears that Monday's strikes are similar to Russian President Vladimir Putin's strikes on October 10, which were in response to the crippling of the Crimea bridge over the Kerch strait, where missiles were launched from the Caspian Sea and the Black Sea



UKRAINE'S JOY AS PUTIN RUNS
Sunday Mail Brisbane
13 November 2022
KYIV: Ukrainians were celebrating victory against the odds yesterday after their troops entered Kherson just north of Crimea, having forced Vladimir Putin's war machine into a chaotic exit from the city. President Volodymyr Zelensky hailed it as a "historic day", adding: "The people of Kherson were waiting, they never gave up on Ukraine. Our people. Our Kherson."
Families who fled the Russian onslaught in the dark, early days of the invasion joined relatives in the city centre who had stayed behind, many without power and heating, in rejoicing over their army's most decisive strategic victory to date – in a war they were repeatedly told they could not win. Troops were greeted as heroes by cheering civilians as they entered the city centre. People waving Ukrainian flags and singing the national anthem welcomed the liberating soldiers after eight months of a brutal occupation. ...

Smiles, flowers from local people and mines planted by the Russians greeted Ukrainian soldiers. "We see attractive, smiling faces, flowers, embroidered towels which we display on our vehicles," said Andriy Zholob, the commander of a medical unit. "We see children running to meet us and greeting us," said the man from the western city of Lviv, who worked as an orthopaedist before the Russian invasion in February.

One Ukrainian soldier who had just entered Kherson city showed videos of the approach to the town. In one, a young woman shouts: "Glory to Ukraine!" as she blows kisses towards troops. In another clip, dozens of civilians near a bus stop adorned with the blue and yellow national colours greeted the troops with applause, flowers and cries of: "Our rescuers!" "It's like that everywhere," said the soldier, who cannot be identified for security reasons.

Kherson, a strategically important city in southern Ukraine, with a pre-war population of 280,000 was the only provincial capital the Russian army was able to capture. Its surrender is seen as a personal humiliation for Putin. "Ukraine is gaining another important victory right now," Dmytro Kuleba, the Ukrainian foreign minister, wrote on Twitter. "Whatever Russia says or does, Ukraine will win."

Moscow said it had withdrawn all its soldiers and military hardware from Kherson, pulling back to heavily fortified positions on the east side of the Dnipro river that divides Ukraine. It had admitted two days earlier that missile strikes had destroyed its army's supply lines to the city and left its soldiers isolated. The retreat signals the end of Russia's hopes of controlling the southern coastline of the Black Sea and seizing the cities of Odessa and Mykolaiv.

In Kherson, locals pulled down a propaganda billboard emblazoned with the words: "Russia is here forever." It went up less than six weeks ago, after Putin signed a decree annexing the wider Kherson region, along with three others, in the east and south.

Russian soldiers could be seen running across a pontoon next to the Antonivskyi bridge, which the Kremlin said had been partially destroyed to avoid a Ukrainian pursuit. Russian state media later published a video that showed a huge explosion on the bridge.

Sporadic Russian artillery fire continued throughout the withdrawal. In Lymany, a village 40km from Kherson, Ukrainian soldiers hurried to take cover in a bunker as a rocket whizzed over their headquarters. "Their infantry is retreating and they are trying to provide cover for them," said a commander who goes by the call sign Vesily (Jolly). "But there have been fewer rocket attacks recently. That's a good sign." His troops were weary but exuberant, Vesily said, after liberating a number of villages over the past few days. "There's not much left of the settlements. One is nothing but ruins. That's what Russia leaves behind: ruins, death and rubbish."

Officials in Kyiv had urged caution, amid fears that the Kremlin could be setting a trap by faking a withdrawal. Mykhailo Podolyak, an advisor to President Zelensky, had said earlier that Russia was seeking to turn Kherson into a booby-trapped "city of death". Yesterday that caution appeared to have been replaced with exuberance: soldiers near the front hugged each other and laughed as they prepared to enter the city.
Ukraine war: Bakhmut defenders plea for Western tanks
By Andrew Harding
BBC News, Donbas region, eastern Ukraine
17 January 2023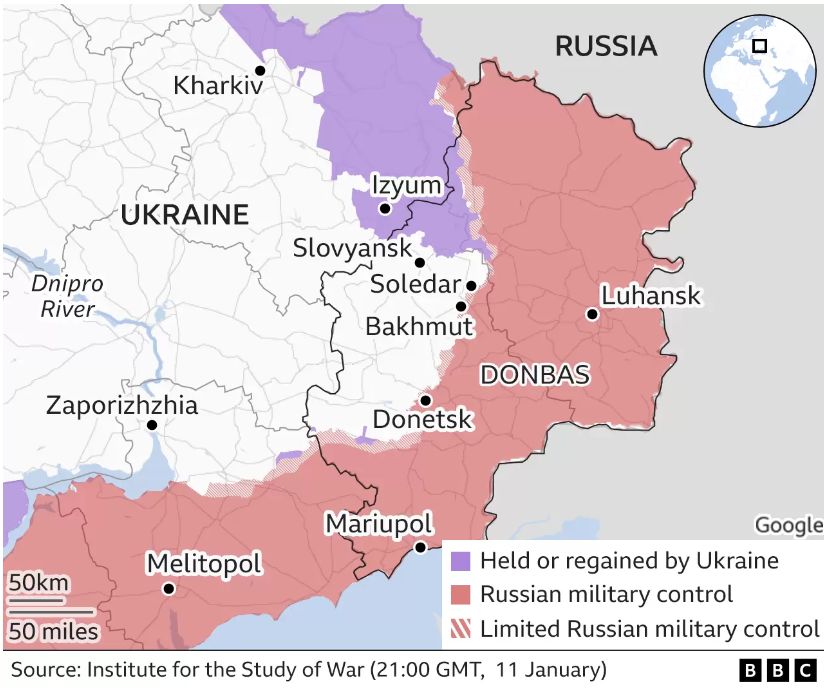 As the UK and other European nations prepare to send tanks to Ukraine to help it liberate more territory from Russia, our correspondent Andrew Harding has been to visit members of a front-line Ukrainian tank unit already engaging Russian forces near the fiercely contested towns of Bakhmut and Soledar. The explosions come every few seconds, sometimes in rapid clusters of six or more short blasts, sometimes deep and long and rib-cage-rattling, thundering across the snow-speckled hills that stretch along the front lines close to Bakhmut and Soledar. ...

Then come the distant booms, the shorter punch of a mortar round blasting off on the roadside, and, occasionally, the bone-chilling, fizzing whoosh of an incoming artillery shell that sends us diving for cover on the frozen fields. This is the daily, constant, percussive chorus of war in the Donbas, where Ukrainian and Russian artillery, rocket and tank crews are slugging it out, trading blows in a fierce, but largely inconclusive struggle to break a months-long deadlock.

"We have a target," said Roman, a Ukrainian tank unit commander, suddenly pulling off his gloves, clambering up onto the slippery, snow-covered turret of a dark green T-72 tank, and swinging open a heavy steel hatch. Another crew member, Vlad, scrambled out of a nearby fox hole, where he had been warming his grimy hands over a fresh fire, to help out. Seconds later, a skull-shaking explosion echoed across the valley and towards Bakhmut, as a US-supplied tank shell tore out of the gun barrel with a flash of orange, heading towards Russian positions on the opposite hillside.

"T-72s are old tanks - this one's the same age as me," said Bogdan, a 55-year-old Ukrainian volunteer, turning to pat the huge, squat, Soviet-era machine behind him. "I used to drive one of these nearly 40 years ago - I can't believe I'm doing it again. But it works. It does the job."

"But a Leopard would be better," said Volodymr, another member of their three-man crew, with a low chuckle.

Plans to send German-made Leopard tanks and UK Challengers to the front lines here in the Donbas have been greeted with visible excitement by Ukrainian forces, who have been taking heavy casualties in recent weeks, around Bakhmut, and, more particularly, during the ferocious struggle for the nearby town of Soledar.

"There were very heavy losses. It's very pitiful. It's hard," said Danylo, an officer in charge of repairing tanks for the 24th Mechanised Brigade. He said the current deadlock would not be broken unless foreign tanks arrived in significant numbers. "Yes, we'll be stuck here. We need these [Western tanks] to stop Russia's aggression. With infantry, covered by tanks, we'll win for sure," he said.

"Leopards, Challengers, Abrams - any foreign tank is good for us! I think we need at least 300. And we need them now!" said Bogdan.

The Ukrainians all acknowledged that Russia had more modern tanks but were scathing about their tactics.

"The Russian tanks are a bit better than ours. They're fully modernised. But mostly the Russians are strong because they push forwards en masse, advancing over the bodies of their own soldiers. Our commanders care more about the lives of their crews, so we try to destroy [the enemy] while losing as few of our own men as possible," said Bogdan.

A more senior company commander in the 24th Brigade, with the code name Khan, took us to a rear position, past fresh trenches being dug in the fields by specialised machines, where several tanks were hidden under camouflage nets in a wooded area.

"These T-72s have proved effective in winter conditions. But they're old, and not really suited for modern warfare. These days it's all about drones and the latest technology." Khan said he believed it would take very little time for his crews to adapt to more modern European equipment. "If you're a tank driver you're already someone of above-average intelligence. They'll be able to learn and adapt quickly," he said.

Suddenly, an incoming Russian artillery shell landed several hundred metres away. Seconds later, another landed closer, and then closer still, sending soldiers and journalists diving for cover.

The war in Ukraine has, in many ways, been a distinctly old-fashioned conflict, based on attrition, on devastating artillery strikes, and on dug-in positions reminiscent of the trenches of World War One. But the war has also revealed the limitation of tanks - most clearly in the first weeks of the conflict when nimble Ukrainian infantry destroyed many huge Russian armoured columns with shoulder-launched rockets.

"In the old days, it was all about tanks. Now it's about these new rocket systems," said Volodymr. But the coming months could yet see Western tanks - if deployed quickly, and in large numbers - play a decisive role.



Brutal Battle for Bakhmut Leaves Russia With an Uncertain Victory

Nine months of attrition warfare cost both sides dearly
By Yaroslav Trofimov and Matthew Luxmoore
Wall Street Journal
May 21, 2023

The nine-month battle for the small Ukrainian city of Bakhmut effectively came to an end on Sunday, as Russian forces finally captured the last significant Ukrainian strongholds on its western edge. While Kyiv disputes Russia's claim of controlling all of Bakhmut, Ukraine's top commander in the region, Col. Gen. Oleksandr Syrskiy, has acknowledged that his forces retain a presence only in an "insignificant" part of the city, even as they push ahead on its flanks.

Who has won and who has lost isn't measured, however, in current control over the uninhabitable ruins that are left from Bakhmut, a once prosperous city of 70,000 people. The answer will depend on the outcome of Ukraine's planned offensive—which hinges, in part, on whether Ukrainian or Russian military capacity has been degraded more severely by the war's bloodiest, and longest, battle.
...
A Ukrainian success would help justify Kyiv's controversial determination to cling on to Bakhmut, despite horrendous losses and, at one point in late February and early March, almost having thousands of troops in the city encircled. Inversely, a failed offensive would validate Russia's strategy of using the city to maul Ukraine's best fighting units. "It's too early to judge the impact of the battle of Bakhmut on the war," said Michael Kofman, director of Russia studies at the Center for Naval Analyses who visited Ukrainian troops in Bakhmut in February. "This will be clearer in hindsight."

While neither side has disclosed its casualties, many thousands of soldiers on both sides have died on the Bakhmut front, according to Western estimates. Many more have been injured. "It's really hell. I have never seen anything like it before in this war," one Ukrainian lieutenant-colonel in Bakhmut said. The decision to cling to Bakhmut, fighting street to street and house to house, had tied up Russian forces and prevented a Russian offensive in another direction, he added.

Even as Ukraine lost its last foothold of destroyed high-rises on Bakhmut's westernmost edge this weekend, it pulled off several successful counteroffensives northwest and southwest of the city in previous weeks. By gaining valuable high ground, Ukraine has made it much more difficult for Russia to use its new control of Bakhmut as a springboard for further advances into Ukrainian-controlled parts of the Donetsk region.

On the Russian side, most of the fighting in the Bakhmut area was conducted by the Wagner paramilitary group owned by President Vladimir Putin's former chef Yevgeny Prigozhin, who sent tens of thousands of inmates recruited in Russian prisons to storm Ukrainian positions in near-suicidal missions.

Fierce fighting, he acknowledged, has battered Wagner's combat potential to such a point that it had to transfer positions on its flanks to regular Russian troops. These positions have since been retaken by Ukrainian forces. Wagner plans to withdraw its forces from Bakhmut on Thursday, to rest and rebuild, as regular Russian troops take over, Prigozhin said.

Ukraine has repeatedly said that it plans a major offensive, aiming to regain Russian-occupied land in the south and east of the country. Moscow currently controls some 18% of Ukraine, including the Crimean Peninsula and parts of the Donetsk and Luhansk region that it seized in 2014.

Earlier this year, Ukrainian President Volodymyr Zelensky and his top generals came under criticism from some Ukrainian and Western commanders for throwing resources, including little-trained Territorial Defense troops, into Bakhmut, as they elevated the city to the symbol of Ukrainian resistance. In his speech to the U.S. Congress in December, Zelensky compared the battle for "Fortress Bakhmut" to the battle of Saratoga, the pivotal moment in the American war of independence. The then-speaker of the House, Nancy Pelosi, held up a Ukrainian flag inscribed by Bakhmut's defenders.

This weekend Zelensky was attending the Group of Seven summit in Hiroshima, Japan, to lobby for more military assistance, including F-16 jet fighters, when Ukraine's last defenses in Bakhmut collapsed. "They destroyed everything; there are no buildings," Zelensky said at his meeting with President Biden. "It's a tragedy. For today Bakhmut is only in our hearts. There is nothing in this place, just the ground and a lot of dead Russians."

Prigozhin explained last fall that Russia's true aim wasn't Bakhmut as such but creating a "meatgrinder" that would chew up Ukraine's armed forces, creating conditions for a subsequent Russian breakthrough deep into Ukraine. At the time, Gen. Syrskiy dismissed the city as not having strategic military significance.

While Ukraine did incur high losses in Bakhmut, it didn't tap in to the new brigades trained and equipped for the planned offensive. Meanwhile, Wagner, the most combat-capable Russian force in Ukraine, has been mauled by the fighting Bakhmut, especially after losing its access to the fast-dwindling pool of prison recruits because of political conflict between Prigozhin and the leadership of the Russian ministry of defense.

Prigozhin has repeatedly posed in front of rows of dead Wagner soldiers, complaining that the deaths had been caused by the ministry's failure to provide him with enough ammunition. Other Russian commanders have said that Wagner actually received a higher ammunition quota than other Russian units and that ammunition now is generally in short supply.

The Russian winter offensive that the Bakhmut "meatgrinder" was meant to enable, meanwhile, has failed, with catastrophic Russian losses in personnel and equipment and minimal advances in Moscow's attempted assaults on the areas of Avdiivka and Vuhledar south of Bakhmut. Pointing out the staggering amount of Russian troops and ammunition used up in Bakhmut, and the lack of potential for further Russian offensives after seizing the city, Igor Girkin, a former Russian intelligence colonel who played a key role in fomenting unrest in Eastern Ukraine in 2014, described Wagner's success as a pointless and Pyrrhic victory. "It wasn't worth the expended forces and means," he said.

Ukraine has used that time to rearm and to bulk up its military. Following Zelensky's visits to Washington and European capitals, the U.S. and North Atlantic Treaty Organization allies made a strategic decision to supply Ukraine with Western-made tanks and infantry-fighting vehicles such as Bradleys and Marders for the first time, training and equipping nine new Ukrainian army brigades as part of Kyiv's strike force for the planned offensive.

These brigades, alongside several others independently trained and equipped by Ukraine, are nearly ready, Ukrainian officials say. When and where the expected offensive will start, of course, is one of Kyiv's most tightly guarded secrets. Russians will know when the offensive kicks off, Zelensky said Sunday.

"The most important thing accomplished by Ukraine [in Bakhmut] is that we managed to exhaust the Russians," said Mykola Bielieskov, a research fellow at the Kyiv-based National Institute for Strategic Studies, a government-backed think tank. "We have managed to inflict as much damage as possible, created this window of opportunity we're going to exploit, and managed to get weapons and training."

Russia's effort in Bakhmut centered on trying to encircle the city from the north and the south, cutting off the remaining supply routes leading to Ukrainian-controlled territory west of the city. In late February and early March, Wagner seemed on the verge of being able to achieve that objective, which would have forced Ukrainian defenders to withdraw or risk being surrounded and running out of ammunition and food.

That is when many Ukrainian commanders and US officials urged a pullback from Bakhmut, fearing that the city's garrison would meet the fate of the defenders of Mariupol, thousands of whom had surrendered last May, after months of trying to hold out in the ruins of the besieged Azov Sea port. But Ukrainian counterattacks in March ensured that a lifeline to Bakhmut remained. This meant that Russian forces in the past three months have been forced to fight street to street, assaulting one high-rise after another, in grinding urban warfare that disproportionately favored the defenders.

"The Russians have kept advancing by simply leveling the city, building by building.," said a Ukrainian company commander in Bakhmut who initially advocated for an early pullout but said that he changed his mind in April. The casualty ratio then tilted once again in Ukraine's favor, to perhaps as high as five-to-one, he said. "They kept pushing, and we kept destroying them."

Ukraine invasion: Partisans storm Russian villages
Maxim Tucker, The Times
Tuesday May 23 2023
Fighters backed by tanks and claiming to represent an anti-Putin militia have stormed checkpoints on the Russian border before pushing 8km deeper and overrunning three villages. The GUR, Ukraine's military ­intelligence, said a group of Russian partisans backed by Kyiv, were conducting an operation in the ­Belgorod region aimed at bringing down President Vladimir Putin. It was being carried out exclusively by Russian citizens, GUR spokesman Andriy Yusov said.
"Today in the Russian Federation, Russian citizens took up arms," he said. "It is the next stage of fighting against Putin's regime. "This is the biggest unrest in Russia to date. They have ambitious political objectives: regime change and bringing the criminal Putin and his regime to justice." He said the struggle would also unfold on "other territories of today's Russian Federation". ...

The men who carried out the raid were Russian, but they were wearing Ukrainian camouflage, holding NATO-standard rifles and driving American-made Humvees into battle, under the watchful eye of Ukrainian reconnaissance teams. Another showed a Russian helicopter flying at low altitude over the area, trailing flares to combat anti-aircraft missiles. Ukrainian forces later reported shooting down an Mi-8 helicopter north of Belgorod city. Fighting was also reported in Dronovka, 40km to the north.

The Freedom of Russia Legion said on Telegram that it had "liberated" the village of Kozinka and entered Graivoron with the Russian Volunteer Corps. "We are Russians just like you. We are distinguished only by the fact that we no longer want to justify the actions of criminals in power and took up arms to defend our land and your freedom," the group said. "Today is the time for everyone to take responsibility for their ­future. It's time for the Kremlin's dictatorship to end."

One video showed a bearded soldier smiling to the sound of outgoing artillery fire and repeating altered lyrics to a Russian punk rock song called Everything is Going ­According to Plan.

Belgorod Governor Vyacheslav Gladkov blamed "a sabotage and reconnaissance group of the Ukrainian armed forces" for the attack. He said an "anti-terror ­regime" would take effect in Belgorod, giving increased powers to security services and placing ­restrictions on the public. At least six people were injured by shrapnel in the attack, he said, urging people to evacuate the area.

Although Russian partisan units have made two previous forays across the border, this was the first time they had tried to seize settlements with heavy artillery and hold them. The assault prompted civilians to flee en masse from the border area, with videos on social media showing chaotic traffic jams and columns of buses on the move.

The GUR spokesman insisted Ukrainian forces were not ­involved in the attack, but that they shared with the partisans a "unified vision of Putin's criminal war against Ukraine" and the need for a "democratisation of Russia". "What is happening highlights the need to create a demilitarised zone outside the territory of Ukraine on the border territories of Russia, where no military will threaten Ukraine nor the population of the territories of the Russian Federation," he said. He claimed that the Russians had evacuated a site for the storage of nuclear weapons in the area.

Intelligence documents leaked online in April by US Airman Jack Teixeira suggest Ukraine had been planning a similar operation for some time. "Ukraine provides comprehensive support to Russian volunteers ready to liberate Russian territories from President Putin's tyranny by armed means," one document reads. "Such detachments are equipped with various qualitative types of NATO weapons; the personnel has passed respective training for usage of such weapons and has successful combat experience from various parts of the frontline in Ukraine. The reporting speaks of volunteer infiltration operations into Bryansk, Kursk and Belgorod oblasts being planned for March-April 2023 in order to seize control over territories and ­declare newly created states."

Comments

Rod: So I suppose Putin will be announcing another Special Military Operation to defend Russian-speaking Russians from Russians invading Russia from Russia? Like 18

RobX: Well Putin said he wanted a buffer between Russia and NATO states. Maybe he just got his wish. Like 63


Victoria: Brilliant!  Just so.
Update in The Australian
Wednesday 28 June 2023
after heavily armed Wagner fighters led by maverick tycoon Yevgeny Prigozhin (62) marched within 190km of Moscow on Saturday 24 June.
PUTIN VOWS TO HUNT REBELS who 'Betrayed Motherland'
Commentary on Coup Attempt Gerard Baker
Brief update Monday 10th July
Following an announcement from Belarus leader Alexander Lukashenko on 6th July that "as far as Prigozhin is concerned, he is in Saint Petersburg … He is not in Belarus", the Kremlin issued a brief announcement. It had "allowed Prigozhin to return to Russia after a brief exile in neighbouring Belarus, and let him sit down for a lengthy, three-hour talk with Putin on June 29, in which he and Wagner leaders explained the rationale for their revolt". Kremlin spokesman Dmitry Peskov said the men discussed Wagner's aborted June mutiny as well as fighting in Ukraine. Peskov said Wagner unit commanders pledged fealty, saying "they are staunch supporters" of Putin and "are ready to continue fighting for the motherland." However when asked about the paramilitary leader's whereabouts, he said he didn't know where he was.
A report in the Australian on 14th July looking at his private home medical records in 2021, showed years of intensive treatment for stomach cancer in St Petersburg. Currently in remission. But his mutiny may have been the action of a man with little to lose, one of his former Wagner employees said. "This is a man with a cut out stomach and intestines".
On Wednesday 23rd August he was reportedly killed when the plane he was reported to be travelling in exploded in flight.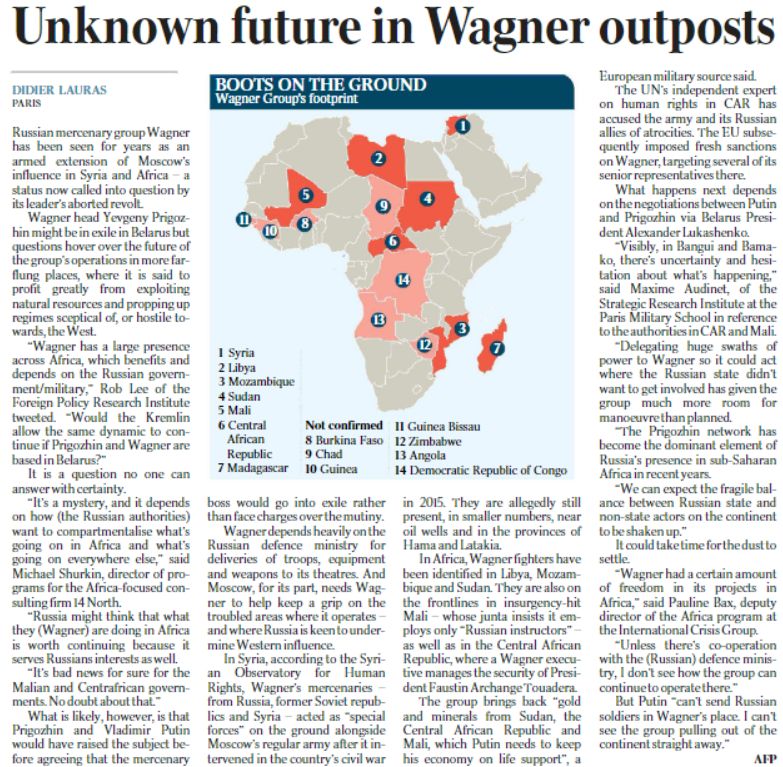 Russian troops advance in east, Ukrainians move forward in south
AFP, The Australian
Tuesday July 4 2023
Ukraine on Sunday said Russian troops were advancing in four areas in the east of the country amid "fierce fighting" but reported its forces moving forward in the south. Deputy Defence Minister Hanna Maliar said Russian troops were advancing near Avdiivka, Marinka, Lyman and Svatove. "Fierce fighting is going on everywhere," Ms Maliar wrote on social media. "The situation is quite complicated".
Ukrainian forces have made gradual progress in their counter­offensive launched in June but have failed to produce a breakthrough and have urged Western allies to escalate military support. Ms Maliar also said Ukrainian troops were advancing with "partial success" on the southern flank of Bakhmut in the east and near Berdiansk and Melitopol in the south. In the south, she said, Ukrainian forces faced "intense enemy resistance, remote mining and deploying of reserves" and were advancing only "gradually".
"They are persistently and unceasingly creating conditions for as fast an advance as possible," she added.
The latest developments on the battlefield came after Ukrainian officials said Russia launched its first overnight drone attack on the capital, Kyiv, in 12 days. Ukraine said all the drones were downed.
Russia's envoy to the UN in Geneva said there were currently no grounds to maintain the "status quo" of a deal that granted safe passage for Ukrainian grain to be exported via the Black Sea. Western capitals were blocking progress on reconnecting the Russian Agricultural Bank to the SWIFT banking system, Gennadiy Gatilov told the state-backed Izvestia newspaper.
"What we are seeing now does not give us grounds to agree to maintaining the status quo" on the deal, he said in the interview, published on Monday. The deal, allowing grain from war-torn Ukraine to reach the global market, was renewed in May but only for two months, until July 17.
US President Joe Biden will head to Europe for a three-­nation trip this week, including a NATO summit in Lithuania, to focus on reinforcing the international coalition backing Ukraine as it pursues its counteroffensive. Ukraine military commander-in-chief Valery Zaluzhny expressed frustration in an interview on Friday at the slow deliveries of weaponry promised by the West. It "pisses me off" that some in the West complain about the slow start and progress to the long-awaited push against Russian occupying forces, he told the Washington Post.
He also complained he had a fraction of the artillery shells that Russia was firing. "A lot of people die every day – a lot – just because no decision has been made yet," General Zaluzhny said.
Peace discussions inch forward with China on board
Laurence Norman and Stephen Kalin, WSJ, The Australian
Monday August 7 2023
Efforts to forge an international consensus around a durable and fair peace settlement to the war in Ukraine inched forward at the weekend after discussions in Saudi Arabia among senior officials from 42 countries, including the US, China, India and Ukraine. Ukraine and its Western backers have pitched the talks as an effort to rally global support behind conditions for ending the war that would favour Ukraine. Many big developing countries have been largely neutral on the conflict.
After the talks in Jeddah concluded late on Saturday, diplomats said there was broad acceptance that central principles of international law, such as respect for Ukraine's sovereignty and territorial integrity, should be at the heart of future peace talks between Ukraine and Russia. There was agreement on pursuing more detailed work on the global impact of the war, and most countries attending, including China, appeared willing to meet again in the coming weeks in the current format, with Russia excluded, according to sources.
The Jeddah talks came after initial discussions in Copenhagen in June. US and European officials have stressed that the discussions aren't negotiations to end the conflict and won't seek to prescribe specific terms for a settlement. The meeting's location on Saturday carried important symbolism, as Ukraine, the US and Europe have pushed to bolster support for Kyiv in the global south. Western diplomats have said the kingdom was picked to host partly in hopes of persuading China to participate, as Riyadh and Beijing maintain close ties.
Many Western capitals are deeply sceptical that Russian President Vladimir Putin is interested in pursuing peace talks this year. Russia has shown no signs of backing away from maximalist demands such as the recognition of its annexations of Ukrainian territory, including areas of Ukraine its military doesn't control. Moscow has sent mixed signals about the talks. The Kremlin has suggested it would be watching closely, but a Foreign Ministry spokeswoman called the discussions a "hoax". Ukraine President Volodymr Zelensky pushed his ambassadors last week to intensify efforts to win global support for Kyiv's position. While diplomats talked in Jeddah, Russia launched fresh missile attacks on Ukraine.
The biggest difference between the Copenhagen and Jeddah meetings was attendance – more than twice as many countries attended or dialled into Saturday's talks. That included European countries, Japan, South Korea, Indonesia, Turkey and South Africa. Most significantly China, which was invited to Copenhagen but stayed away, sent a delegation to Jeddah. Western diplomats said Beijing played a generally constructive role in the talks.
As Russia's most important foreign ally, China is seen as crucial to building traction behind the talks and potentially offers a way to feed into the discussions about some of Moscow's red lines and concerns. Saudi Arabia's top leadership and Ukraine had pushed hard for Beijing to attend. During the talks, China presented a 12-point plan for a ceasefire and peace talks to end the war, which it first announced in February. European diplomats pushed back to warn an unconditional ceasefire could simply create a frozen conflict and allow Russia to consolidate its control of Ukrainian territory. "They got live feedback, which was a good exchange," said a person familiar with the discussion.
A senior US official said National Security Adviser Jake Sullivan and Undersecretary of State Victoria Nuland met with the head of the Chinese delegation, Beijing peace envoy Li Hui, on the sidelines. Diplomats also said some of the differences that emerged in Copenhagen appeared to have narrowed. In those talks, Ukraine pushed for major developing countries to accept Mr Zelensky's peace plan, at the heart of which is a demand that peace begin only when Russian forces fully withdraw, and several developing countries said they wouldn't do so.
In Jeddah, Ukraine and the developing nations appeared keener to seek out a consensus. A senior European official said Ukraine didn't push again for its peace plan to be accepted and other countries weren't insisting that Kyiv drop it. Nor was there any crossfire over Ukraine's demand for withdrawal of Russian troops. Ukraine didn't press the point nor was it challenged by developing countries. "The consensus is that this isn't a European war, but has impact on food, energy and economic stability globally and that it will take everyone on board to get to the final outcome of a settlement," said a non-Western diplomat.
Kyiv to get F-16 fighter jets after Washington clears the runway
Hugh Tomlinson and Charles Bremner, The Times, The Australian
Friday August 18 2023
The US has approved sending F-16 fighter jets to Ukraine to combat Russian forces as soon as a European pilot training program is complete, American officials have said. US Secretary of State Antony Blinken sent letters to his counterparts in Denmark and The Netherlands, two countries leading the training of Ukrainian pilots, to assure them Washington would expedite the approval for transfers of F-16s to Ukraine once the pilots are ready.
Ukraine for months has urged its Western allies to supply the US-made jets to counter Russian air superiority and support the counteroffensive under way against Vladimir Putin's invasion. President Joe Biden's administration was reluctant, wary of triggering a direct confrontation between the NATO alliance and Moscow. In a diplomatic breakthrough, however, a coalition of Britain, The Netherlands, Denmark, Belgium and Poland secured US approval at the G7 summit in May for deployment of the aircraft.
Denmark and The Netherlands had recently sought further US assurances third-party transfers of the jets would be approved once the Ukrainian training program was complete. The countries have F-16s ready for deployment because both are upgrading their air forces to F-35 fighters.
Responding to that request, Mr Blinken wrote: "I am writing to express the United States' full support for both the transfer of F-16 fighter aircraft to Ukraine and for the training of Ukrainian pilots by qualified F-16 instructors." The letter was first reported by Reuters. "It remains critical that Ukraine is able to defend itself against ongoing Russian aggression and violation of its sovereignty," Mr Blinken added. He said the approval would allow Ukraine to take "full advantage of its new capabilities as soon as the first set of pilots complete their training".
The Dutch and Danish F-16s are said to be sufficient to create up to three squadrons – between 24 and 36 fighters, and the number of fighters transferred to Kyiv could rise to 70. Even with the training program under way, however, no time frame for supplying the jets to Ukraine has been set and officials in Kyiv remain frustrated by the delay as the counteroffensive struggles to make headway against entrenched Russian defences.
President Volodymyr Zelensky has said the supply of F-16s would be a powerful symbol of unwavering Western support, but air force spokesman Yuriy Ihnat told Ukrainian television Ukraine will probably not be able to use the fighters in combat this year. "It's already obvious we won't be able to defend Ukraine with F-16 fighter jets during this autumn and winter," he said on Wednesday. "We had big hopes for this plane, that it will become part of air defence, able to protect us from Russia's missiles and drones terrorism."
The breakthrough for Kyiv came after former French president Nicolas Sarkozy caused anger with a vigorous defence of President Vladimir Putin and a call for Ukraine to accept the Russian occupation of Crimea and other conquered territories. The 68-year-old conservative, who remains a powerful figure in France despite recent jail sentences, blamed Western leaders for precipitating Russia's full-scale invasion last year. In an interview to promote his latest volume of memoirs, Mr Sarkozy, who left office in 2012, said the West had failed to understand Russia's historic fear of being surrounded by enemies and had goaded Mr Putin by backing Ukraine's push for closer relations.
President Emmanuel Macron had been wrong to break off dialogue with Mr Putin last year "under pressure from the east European countries", he told Le Figaro newspaper. "They say Putin is not the man I knew. I'm not convinced. I had dozens of conversations with him. He is not irrational". Ukraine must remain neutral and concede territory for peace, Mr Sarkozy said. "The Ukrainians will want to reconquer what has been unjustly taken from them. But if they can't manage it completely, the choice will be between a frozen conflict or taking the high road out with referendums strictly overseen by the international community."
** End of article
Click here for earlier news on Russia and Iran reported 21st July 2022.