Thomas Cook Collapse
Thomas Cook, one of the world's largest tour operators, was placed in compulsory liquidation in the early hours of Monday Sep 23 2019 after failing to raise £200 million needed to keep it viable, grounding its fleet of 40 British-based aircraft. All Thomas Cook flight and holiday bookings were cancelled with immediate effect, affecting one million people.
The British government has said it will run a "shadow airline" using 45 aircraft leased from other airlines for two weeks to repatriate the 155,000 UK tourists affected by the firm's collapse. It is expected to cost £100 million. Current planned flights: Europe 34 North Africa 4 Turkey 4 US 5 Caribbean/CentralAmerica 6.
Financial background
Gross revenue in 2018 £9,584 million
Operating Income (after expenses) £250 million
Net Income after interest and taxes £(-163) million
It employs 22,000 staff, 9,000 of those in the UK. All are now out of work.
The group has operated in two separate segments: a tour operator (package holidays and hotels) and an airline.
In June 2018, shares in Thomas Cook were trading at just below 150p. But after a series of profit warnings, the price had fallen this year to just a fraction of that. Earlier this year, analysts at Citigroup bank described the travel firm's shares as "worthless". In May, Thomas Cook reported a £1.5bn loss for the first half of its financial year, with £1.1bn of the loss caused by the decision to write down the value of My Travel, the business it merged with in 2007.
However, it warned of "further headwinds" for the rest of the year and said there was "now little doubt" that Brexit had caused customers to delay their summer holiday plans. The company then put its airline up for sale in an attempt to raise badly-needed funds. Thomas Cook announced it was in advanced talks with its banks and had secured a rescue deal of £900m from its largest shareholder, Chinese company Fosun.
The British government was then asked by the lending banks for a further contingency funding bailout guarantee of £200m, which was denied. Transport Secretary Grant Shapps defended the move on the Today programme. "I fear it would have kept them afloat for a very short period of time and then we would have been back in the position of needing to repatriate people in any case," he said. The company's large debts and High Street-focused business made it a poor candidate for survival, he said.
UK launches largest peacetime repatriation
The Times
Monday Sep 23, 2019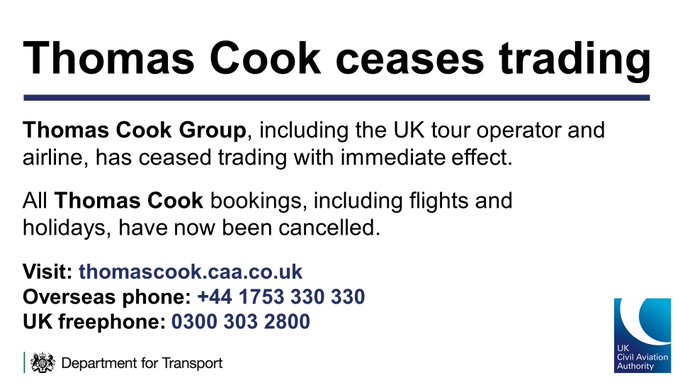 Hundreds of thousands of tourists face being stranded abroad for up to a fortnight as the British government prepares to launch the country's biggest peacetime repatriation mission after the collapse of Thomas Cook.

The company declared bankruptcy on Monday after failing to reach a last-ditch rescue deal. The firm runs hotels, resorts, airlines and cruises for 19 million people a year in 16 countries. It currently has 600,000 people abroad, forcing governments and insurance companies to co-ordinate a huge rescue operation.

Whitehall sources admitted that a rescue operation was likely to be complex and drawn out, with around 150,000 Britons on Thomas Cook holidays at about 60 destinations overseas. It could cost the taxpayer £600 million. This figure was subsequently downgraded to £100 million.

According to CNBC.com, Thomas Cook's German airline subsidiary, Condor, said there were 240,000 people booked on its flights awaiting a return home. Its flights are still operating for now, and it has asked the German government for a bridging loan. In Germany, insurance companies coordinate any repatriation.

According to abc.net.au, the company has not operated in Australia for almost two decades.

On Sunday tourists at one hotel in Tunisia claimed to have been "held hostage" as staff ordered them to hand over up to £3,500 each to cover unpaid bills from the tour operator. British tourist Ryan Farmer told the BBC: "We're being held hostage." He said guests due to leave were being told to go to reception to pay "additional fees, obviously because of the situation with Thomas Cook. We've been up to the gates. They had four security guards on the gates, holding the gates closed, and were not allowing anybody to leave," he said.

The hotel gates have since been reopened, but customers fear they'll be closed again once the next crop of tourist are due to leave, the BBC reported. Company insiders said that similar scenes were likely to be repeated around the world, with tourist hotspots effectively turned into "refugee camps" as hotels evict holidaymakers.

Chaos is also expected at British airports as passengers arrive for flights that may fail to take off. Seventy-seven Thomas Cook Airlines flights were due to depart on Monday from ten airports including Manchester, Gatwick, Birmingham and Glasgow. The government, led by the Civil Aviation Authority, has spent about six months drawing up its repatriation plan, known as Operation Matterhorn.

BBC transport correspondent Tom Burridge said 16,000 holidaymakers were booked to come back on Monday. Authorities hope to get at least 14,000 of them home on chartered flights. The government has chartered 45 jets to bring customers home and they will fly 64 routes on Monday. The size of the fleet will make it temporarily the UK's fifth-largest airline.

Operators including easyJet and Virgin have supplied some aircraft, with jets coming from as far afield as Malaysia.

However, the government's approach was criticised amid claims that it failed to safeguard passengers properly after other airline bankruptcies, including that of Monarch two years ago.

A review published in May called for a reform of company law to allow airlines to continue flying for a short time to repatriate their passengers but the government has yet to formally respond. A similar system exists overseas, including in Germany where Thomas Cook's sister airline, Condor, is expected to take part in the operation to repatriate German citizens who have booked flights with it.

Peter Fankhauser, group chief executive, who has earned more than £8 million in the past five years, refused to comment as he left talks with lenders and creditors at the City law firm Latham & Watkins to thrash out a deal to keep the company afloat.

On Sunday, before news of the collapse broke, Skyscanner, the booking site, pulled all Thomas Cook Airlines flights from its website. Under company law, insolvency would result in all planes being immediately barred from flying, forcing the CAA to charter aircraft from other carriers. British Airways, Virgin Atlantic, Easyjet, Tui, Jet2 and the charter company Titan Airways are among those understood to have been approached.

Officials told The Times that preparations have been hampered by the grounding of the entire Boeing 737 Max fleet over safety concerns and a number of Boeing 787s over failures of their Rolls-Royce Trent 1000 engine.

It means that the repatriation mission will focus mainly on Thomas Cook-only destinations rather than airports served by other carriers where alternative flights may be available.

Thomas Cook Airlines flies British passengers to 60 destinations as far away as Los Angeles, Florida, Mexico, Cuba and Barbados. The rescue plan has been discussed at a meeting of the emergency Cobra committee.

Brian Strutton, general secretary of the British Airline Pilots' Association, criticised the failure of the government to act after the bankruptcy of Monarch. He said: "Nothing has been done post-Monarch to stop this shabby collapse of an airline into administration . . . This is a mess that could have been avoided."

A Department for Transport spokeswoman said that recommendations made in the review "require significant policy and legislative changes", adding: "The review acknowledged that there is no one-size-fits-all solution."

End of Report
Brief History on Wikipedia


Thomas Cook & Son, originally simply Thomas Cook, was a company founded by Thomas Cook, a cabinet-maker, in 1841 to carry temperance supporters by railway between the cities of Leicester, Nottingham, Derby and Birmingham. In 1851, Cook arranged transport to the Great Exhibition of 1851. He organised his first tours to Europe in 1855.

In 1865, the founder's son John Mason Cook began working for the company full-time. In 1866, the agency organised the first escorted tours of the United States for British travellers, picking up passengers from several departure points. John Mason Cook led the excursion which included tours of several Civil War battlefields. In 1871, he became a partner, and the name of the company was changed to Thomas Cook & Son. A brief but bitter partnership called Cook, Son and Jenkins was formed in the United States with an American businessman.

The first escorted round-the-world tour departed from London in September 1872. It included a steamship across the Atlantic, a stage coach across America, a paddle steamer to Japan, and an overland journey across China and India.

In 1884, the British Government attempted to relieve General Gordon from Khartoum. The British army was transported up the Nile by Thomas Cook & Son.

By 1888, the company had established offices around the world, including three in Australia and one in Auckland, New Zealand, and in 1890, the company sold over 3.25 million tickets. A husband and wife might, for example, pay £85 for a Thomas Cook tour of Germany, Switzerland, and France over six weeks. While expensive enough that the trip would likely be the only one in their lifetime, the company would arrange for a variety of activities new to the middle-class including museum visits, the opera, and mountain climbing. John Mason Cook promoted, and even led, excursions to, for example, the Middle East where he was described as "the second-greatest man in Egypt".

In 1942, Thomas Cook & Son was sold to the proprietors of Hay's Wharf, the four major British railway companies at this time, with the aim of preventing its bankruptcy. The company was nationalised along with the railways in 1948, becoming part of the British Transport Commission. After de-nationalisation in 1972, it was acquired by a consortium of Trust House Forte, Midland Bank and the Automobile Association.

During the 1980s, Thomas Cook had its most visible business presence in the US, including robust traveller's cheque sales to regional US banks. The company had enough business critical mass to set up a computer centre near Princeton, New Jersey. Robert Gaffney, Charles Beach, Robin Dennis and Anthony Horne were some of the notable decision-makers in that era. Robert Maxwell bought substantial holdings in the company in 1988 and still held that interest when Crimson/Heritage purchased the US division of Thomas Cook for US$1.3 billion in 1989.

In June 1992, following the acquisition of Midland Bank by HSBC, Thomas Cook was sold to the German bank Westdeutsche Landesbank (WestLB) and the charter airline LTU Group for £200 million. Due to contractual difficulties LTU Group sold its 10% shares to WestLB in May 1995. 

In 2000, the company announced its intention to sell its financial services division, to concentrate on tours and holidays. In March 2001 the financial services division was sold to Travelex, who retained the right to use the Thomas Cook brand on traveller's cheques for five years. It sold off its worldwide foreign exchange business to Travelex in November 2000.

In 2001 it was acquired by the German company C&N Touristic AG, which changed its name to Thomas Cook AG. Since 2007, when Thomas Cook AG merged with MyTravel Group, the business has been known as Thomas Cook Group plc.

Following years of unsustainable debt, the company collapsed on 22 September 2019 after final attempts to save the firm failed.

** End of page