US Federal Debt
Click here for a background to Money at the time of Christ and since
Click here for a more detailed history of Inflation since the time of Christ
Click here for recent news regarding the Euro currency and the Greek crisis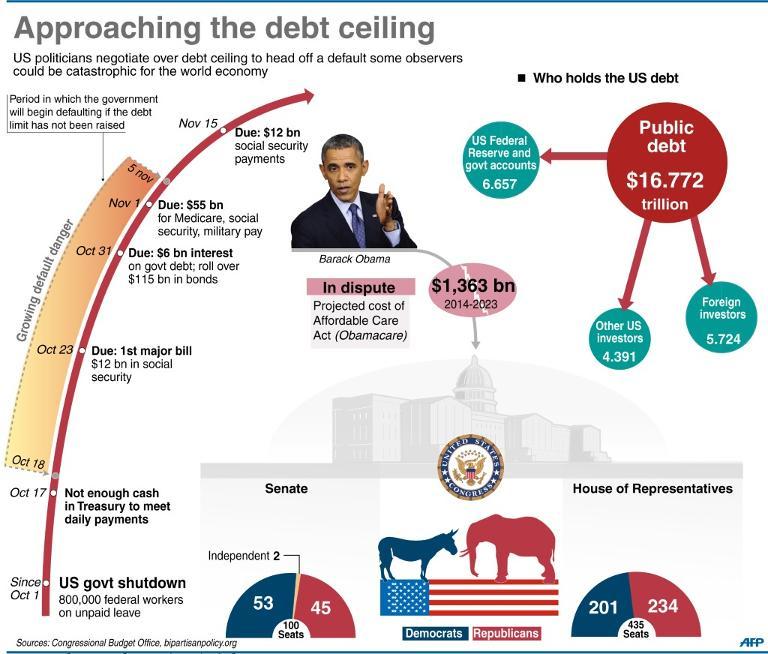 US Debt when last 3 Presidents took office
| | | |
| --- | --- | --- |
| Bill Clinton | Jan 20, 1993: | $4.2 trillion |
| George Bush | Jan 20, 2001: | $5.7 trillion |
| Stock crash | Oct 1, 2008: | $10.1 trillion |
| Barack Obama | Jan 20, 2009: | $10.6 trillion |
| Currently | Oct 1, 2013: | $16.7 trillion |
So, during 7 years and 9 months of George Bush, what with the September 11, 2001 attacks, the 2003 Iraq invasion and the 2007 US troops surge, culminating with the US stock market crash on October 1st, 2008 we saw the US debt rise by $4.4 trillion. Simply by printing the paper.
And during the past 5 years, the debt has risen by 50% more, by $6.6 trillion. Republicans are somewhat justifiably saying, "No More". But no one is prepared for an alternative.

US federal government shuts down for first time in 17 years
Yahoo News (AFP)
Tuesday, October 1, 2013
WASHINGTON: The United States federal government shut down for the first time in 17 years on Tuesday, as Congress failed to end a bitter budget row after hours of dizzying brinkmanship. Ten minutes before midnight, the White House budget office issued an order for many government departments to start closing down, triggering 800,000 furloughs (i.e. leave without pay) for federal workers, and shutting tourists out of monuments like the Statue of Liberty, national parks and museums.
Prospects for a swift resolution were unclear and economists warned that the struggling US economic recovery could suffer if the shutdown drags on for more than just a few days. Only workers deemed essential will be at their desks from Tuesday onwards, leaving government departments like the White House with skeleton staff. Vital functions like mail delivery and air traffic control will continue as normal, however.
On a day of dysfunction and ugly rhetoric in the divided US political system, Republicans had repeatedly tied new government funding to attempts to defund, delay or dismantle President Barack Obama's signature health care law. But each time their effort was killed by Obama's allies in the Democratic-led Senate, leaving the government in limbo when its money ran out at the end of the fiscal year at midnight Monday.
"This is an unnecessary blow to America," a somber Senate Majority Leader Harry Reid said on the Senate floor two minutes after the witching hour.
A few hours into the shutdown, Republicans in the House appointed delegates, or conferees, to try to negotiate with the Senate later Tuesday on a spending plan to get the government up and running again. But if they still want to tinker with Obamacare, the Senate will not negotiate, an aide to Reid said. "If the House follows through with their current plan, the Senate will vote to table the House's conference gambit shortly after convening. And we will be back at square one," the aide said.
Obama, heralding the first government shutdown since 1996, told US troops in a video that they deserved better from Congress, and promised to work to get the government reopened soon. Sylvia Mathews Burwell, Obama's budget director, said agencies should execute plans for an "orderly shutdown", and urged Congress to swiftly pass bridge financing that would allow the government to open again.
Obama earlier accused Republicans of holding America to ransom with their "extreme" political demands, while his opponents struck back at his party's supposed arrogance. House Speaker John Boehner rebuked Obama in a fiery floor speech after an unproductive call with the president. "I didn't come here to shut down the government," Boehner said. "The American people don't want a shutdown, and neither do I."
Republicans accuse Obama of refusing to negotiate in good faith, but the White House says Obamacare is settled law and says there is no way to stop it from going into force, with a goal of providing affordable health care to all Americans.
The crisis is rooted in the long running campaign by "Tea Party" Republicans in the House to overturn or disable Obamacare — the president's principal domestic political achievement — key portions of which also come into force on Tuesday. More broadly, the shutdown is the most serious crisis yet in a series of rolling ideological skirmishes between Democrat Obama and House Republicans over the size of the US government and its role in national life.
"One faction of one party in one house of Congress in one branch of government doesn't get to shut down the entire government just to re-fight the results of an election," Obama said, referring to his own re-election. He spoke in a televised statement from the White House. Obama warned that a government shutdown could badly damage an economy which has endured a sluggish recovery from the worst recession in decades. "A shutdown will have a very real economic impact on real people, right away. Past shutdowns have disrupted the economy significantly," Obama said.
Consultants Macroeconomic Advisors said it would slow growth, recorded at a 2.5 percent annual pace in the second quarter. A two-week shutdown would cut 0.3 percentage point off of gross domestic production. It would also have a painful personal impact on workers affected — leaving them to dip into savings or delay mortgage payments, monthly car loan bills and other spending.
Stocks on Monday retreated as traders braced for the shutdown. The Dow Jones Industrial Average was down 128.57 points (0.84 percent) to 15,129.67. Markets are likely to be even more traumatized if there is no quick solution to the next fast approaching crisis.
Republicans are also demanding Obama make concessions in the health care law to secure a lifting of the current $16.7 trillion debt ceiling, without which the United States would begin to default on its debts for the first time in history by the middle of October.

US Treasury warns of 'catastrophic' default if debt ceiling is not raised
The Australian Online
AFP
Friday, October 4th, 2013 8:28AM
BARACK Obama has demanded an end to the government shutdown he decried as a reckless "farce", as the US Treasury warned of "catastrophic" consequences if the US debt ceiling could not be raised. The IMF also weighed into the debt ceiling issue, with its chief Christine Lagarde saying finding a way out of the crisis was "mission critical", and warning of potential serious damage to the world economy.
Mr Obama piled pressure on Republicans to climb down first on the US budget impasse, as he lambasted Republican House Speaker John Boehner."Take a vote, stop this farce and end this shutdown right now," Mr Obama said during a fiery speech in the Maryland suburb of Rockville, which is home to many federal workers laid off in the shutdown. Branding the crisis a "reckless Republican shutdown," Mr Obama said that Mr Boehner could reopen the government and get hundreds of thousands of people back to work "in just five minutes" by passing a temporary operating budget with no partisan strings attached. "Speaker John Boehner won't even let the bill get a yes or no vote, because he doesn't want to anger the extremists in his party," Mr Obama said. Mr Boehner had earlier emerged from a White House meeting complaining that Mr Obama would not negotiate with him.
The US government ran out of money on Monday, after Congress failed to pass a budget, forcing authorities to send all non-essential workers home and to close museums, monuments and national parks that are all popular with tourists. The Democratic-led Senate had turned back repeated Republican efforts to pass a budget while defunding or delaying Obama's health care law, which is a centerpiece of his political legacy and reviled by Tea Party conservatives. The talks at the White House between Mr Obama and congressional leaders made no progress, and there is no sign that the dispute will be solved before dragging into a second week.
Attention is increasingly turning to the next fight — over Congress's responsibility to raise the $US16.7 trillion US statutory borrowing limit. If there is no resolution before October 17, the government could begin running out of money to pay its bills and an unprecedented US debt default could result. But Republicans are again demanding concessions on Obamacare before voting to raise the debt ceiling, raising fears of unpredictable consequences, which the Treasury said in a report today could plunge the United States into deep recession and rock global markets.
"In the event that a debt limit impasse were to lead to a default, it could have a catastrophic effect on not just financial markets but also on job creation, consumer spending and economic growth," the report said. "Credit markets could freeze, the value of the dollar could plummet, US interest rates could skyrocket, the negative spillovers could reverberate around the world, and there might be a financial crisis and recession that could echo the events of 2008 or worse."
The IMF's Ms Lagarde warned that failure to raise the debt ceiling, which could lead to default, could wreak havoc on the global economy." The government shutdown is bad enough, but failure to raise the debt ceiling would be far worse, and could very seriously damage not only the US economy, but the entire global economy," she said, according to her prepared remarks. "So it is 'mission-critical' that this be resolved as soon as possible."
The New York Times reported that Mr Boehner had privately told House Republicans that he understood the dangers of a default and was ready to pass a debt limit increase with the help of minority Democrats if necessary. Mr Obama has refused to negotiate with Republicans over raising the debt ceiling, saying Congress is simply authorising borrowing to pay bills it has already run up and that offering concessions would set a poor precedent for future presidents.
In the minds of key players on Capitol Hill, the government shutdown and the debt ceiling fight have now merged into one massive political crisis. There was some talk among Republicans that Boehner may try to craft a face-saving way out by reviving a stalled drive for a "grand bargain" on debt and spending with Mr Obama. But there is scepticism on the Democratic side that there is time to pull together a pact — following repeated failed attempts in Mr Obama's first term — before the debt limit needs to be raised by October 17.
The President was meanwhile wrestling with whether to cancel the rest of an already truncated Asia trip that would see him leave at the weekend for the APEC summit in Bali, Indonesia and the East Asia summit in Brunei. Going ahead would open him to charges of deserting Washington at a time of national crisis. But Mr Obama is also keen to demonstrate that political problems at home should not be taken as a sign of weakness abroad, and wants to bolster his signature rebalancing of US military and diplomatic power to the dynamic Asian region.

Extract: Obama grounded by debt crisis
Weekend Australian
AFP, AGENCIES
Saturday, October 5th, 2013
PRESIDENT Barack Obama has been forced to cancel plans to attend the APEC summit in Indonesia and an East Asia summit in Brunei, to deal with the federal government shutdown.
Congress was just considering whether to legislate back-pay for hundreds of thousands of furloughed workers when the issue was brought into sharp relief by a car chase through the capital that ended in the death of a female driver. The Capitol Police who chased the woman after she tried to drive through a White House perimeter fence were working without pay.
Meanwhile, some house Democrats also sought to pressure their leaders to take additional steps to reopen the government. A group publicly endorsed repealing the healthcare law's tax on medical devices — a long-held Republican priority — as a way out of the budget battle. The idea was quickly rejected by Democratic leaders, but signalled legislators' growing frustration with the stalemate.
Some Republicans have openly pleaded for their party to get past the government-shutdown standoff and look to broader budget issues. "Let's put this behind us and move on as a nation," said Tennessee senator Bob Corker on the Senate floor.

Extract: House Votes to Give Back Pay to Federal Workers
Siobhan Hughes, The Wall Street Journal
Sunday, October 6th, 2013
WASHINGTON: The House voted Saturday to provide back pay to furloughed federal workers once the partial government shutdown ends, the latest in a rapid-fire series of spending measures designed to minimize the effects of the closure. The vote was 407-0. The White House has come out in support of guaranteeing retroactive pay, one of the few moments of agreement between the parties in the crisis. The Senate doesn't yet have the agreement needed to approve the measure this weekend, and the timing of any final passage remained unclear.
Despite the unanimous House move, there was little signal of any broader agreement on ways to end the shutdown, which reached its fifth day Saturday. House Speaker John Boehner walked back to his office immediately after the vote, leaving House Majority Leader Eric Cantor to explain at a news conference that Republicans were holding firm to their position. Republicans have sought to delay or defund President Barack Obama's health-care law as a condition for reopening the government, something that Democrats have rejected. Republicans question whether Mr. Obama or Democrats are prepared to negotiate.
"This shutdown has been brought about by the president's unwillingness to sit down and talk with members of Congress," Mr. Cantor said. "This administration has been almost absent when it comes to discussions and working out our differences, and we're going to stay focused on trying to ease the pain of this shutdown."
Democrats criticized House Republicans for bringing piecemeal bills rather than a single measure to return all of the federal government to work. They said the Saturday measure meant that hundreds of thousands of federal workers would ultimately be paid despite being idle. "We are going to pay all the federal employees, as we should, but we're going to pay them to stay at home," said Rep. Chris Van Hollen, summarizing what he said was the Republican policy. "It's an absolutely absurd position."
House lawmakers on both sides said the decision to make sure government workers get paid while being furloughed was the right one. "Finally, a moment of decency," said Rep. Gerald Connolly (Democrat, Virginia), whose district has many federal workers. With the vote, "we alleviate the angst on whether there will be that paycheck whenever we get around to reopening the government." Federal workers "shouldn't be the innocent pawns in the middle of a debate caused by us unable to work with the Senate," said Rep. Blake Farenthold (Republican, Texas), whose district is home to a naval air station. "We're ready, willing and able to talk but we need to ratchet down the rhetoric a little bit (and) make sure our employees get paid."

Congress 'playing with fire' on debt, US Treasury Secretary Jack Lew warns
The Australian Online
AFP
Monday, October 7th, 2013 7:55AM
US Treasury Secretary Jack Lew has warned that Congress was "playing with fire" as Republicans raised the threat of a US default if President Barack Obama refuses to negotiate on spending. Speaker John Boehner said the Republican-controlled House would not raise the US debt ceiling without concessions from the White House, staking his position as the government shutdown dragged into day six. "We're not going to pass a clean debt limit increase," Mr Boehner said in an interview on ABC's This Week. "I told the president, there's no way we're going to pass one. The votes are not in the House to pass a clean debt limit. And the president is risking default by not having a conversation with us," he said.
Mr Lew said the United States will run out of its ability to borrow money on October 17, and with only $30 billion cash in hand to meet obligations that can run to $60 billion a day, it will quickly face default. "I'm telling you that on the 17th, we run out of our ability to borrow, and Congress is playing with fire," he said on CNN's State of the Union. "If they don't extend the debt limit, we have a very, very short window of time before those scenarios start to be played out."
The $16.7 trillion US statutory debt ceiling has come increasingly into focus with the two sides deadlocked in a legislative fight originally centered on Republican efforts to defund the Affordable Care Act, Mr Obama's signature health care law. The US government was forced to shut down last week for the first time in 17 years after Congress failed to pass a stopgap spending measure to fund government operations. The House refused to pass a spending bill that did not include the measure to defund Obamacare, and the Democratic-controlled Senate would vote only on a bill stripped of the measure.
In a sign the impasse was expected to continue, the Pentagon yesterday announced it would recall most of its 400,000 furloughed civilian employees. Defence contractor Sikorsky, maker of the UH-60 Black Hawk helicopter, said the Pentagon action means it can defer plans to furlough without pay 2000 of its employees starting today. The absence of Pentagon overseers had been expected to disrupt operations at US defence contractors such as Sikorsky. The House, meanwhile, unanimously passed a bill to retroactively pay the hundreds of thousands of furloughed government workers, in a bid to ease some of the pressure from an unhappy public.
Mr Obama has insisted he would not negotiate with Republicans until they passed a temporary spending bill reopening the government and agree to raise the debt ceiling. "For as reckless as a government shutdown is, an economic shutdown that comes with default would be dramatically worse," Mr Obama said in a radio message. Mr Obama said there were enough Republican and Democratic votes in the House to "end this shutdown immediately."
But Mr Boehner blamed the crisis on Mr Obama's refusal to negotiate, and insisted he would not budge without what he described as a "conversation" on spending. "My goal here is not to have the United States default on their debt. My goal here is to have a serious conversation about those things that are driving the deficit and driving the debt up. And the president's refusal to sit down and have a conversation about this is putting our nation at risk of default. That's the path we're on," he said, adding that he had hoped the president had cancelled a trip to Asia to initiate a dialogue. "I decided to stay here in Washington this weekend. He knows what my phone number is. All he has to do is call," he said.
US allies were warily watching the unfolding political crisis in Washington. At the APEC summit in Bali, which Mr Obama was supposed to have attended, Singapore Prime Minister Lee Hsien Loong said the US president's absence was "a very big disappointment to us." "Obviously we prefer a US government that is working to one that is not. And we prefer a US president who is able to travel and fulfill his international duties to one who is preoccupied with national domestic preoccupations," he said.
US Secretary of State John Kerry, who Mr Obama sent to Bali in his stead, warned of the damage to America's diplomatic standing if the shutdown did not end soon. "The shutdown is not good for business. It's not good for the economy," US Commerce Secretary Penny Pritzker told reporters at the Asia-Pacific Economic Cooperation (APEC) forum.

World leaders 'wary' over US economy, Obama warns Republicans
The Australian Online
AFP
Wednesday, October 9th, 2013 9:46AM
US President Barack Obama has warned world leaders were nervous Republicans would "blow up" the US economy, and vowed not to budge on his demand for the debt ceiling to be lifted without conditions. But House Speaker John Boehner insisted there would be no "unconditional surrender" from Republicans and said Congress would only allow more US borrowing if Mr Obama agrees to cut spending.
There was one glimmer of hope for progress in the bitter showdown that has closed the US government and sparked fears that Washington could default on its debts if the debt ceiling is not raised by October 17. Mr Obama said that if necessary he would accept a short-term deal to raise borrowing and reopen the government — a move that would effectively postpone the crisis for a number of weeks.
But the president was adamant that he would not compromise on his refusal to cede ideological concessions to Republicans in return for receiving more authority to borrow money to finance US obligations. "What you haven't seen before, I think, from the vantage point of a lot of world leaders, is the notion that one party in Congress might blow the whole thing up if they don't get their way," Mr Obama said, in a White House press conference designed to hike pressure on Republicans. "They've never seen that before. And that does make them nervous." Mr Obama spoke a day after China, which is sitting on a vast pile of US Treasury bonds, warned that the time was running out for the United States to prove its creditworthiness and the credibility of the world's reserve currency.
Stocks dipped for another day today, with investors increasingly concerned that the government will not get its act together in time. The Dow Jones Industrial Average fell 159.71 points (1.07 per cent) to 14,776.53 and the tech-rich Nasdaq Composite Index plummeted 75.54 (2.00 per cent) to 3,694.83. Investors also sold off short-term bonds, sending the yield on the one-month Treasury note to 0.31 percent, its highest level since the crisis year of 2008, up from 0.15 per cent Monday.
Mr Obama said Congress had two basic jobs — passing a budget and "making sure that America's paying its bills." He warned that politicians did not get to demand a ransom, and reiterated his position that he would only negotiate with Republicans once the debt ceiling was raised and the government, now shuttered for a week, is opened. "We can't make extortion routine as part of our democracy. Democracy doesn't function this way," he said.
Mr Boehner appeared on television soon after Mr Obama's press conference to dig further into his own position. "The long and short of it is there is going to be a negotiation here," Mr Boehner said. "We can't raise the debt ceiling without doing something about what's driving us to borrow more money and to live beyond our means." "What the president said today was if there's unconditional surrender by Republicans, he will sit down and talk to us," he said. "That's not the way our government works."
Mr Obama, who spoke to Mr Boehner earlier by phone, argues that raising the debt ceiling is vital to America's most valuable asset, its creditworthiness, which should not be prey to political uncertainty. Mr Boehner counters that presidents have always bargained with lawmakers over raising the debt ceiling, and is unwilling to give up an area of prime political leverage.
If the $16.7 trillion debt ceiling is not raised by October 17, the United States will be unable to borrow more money and will begin defaulting on its obligations, in a scenario that could tip the economy back into recession and trigger global chaos. The president said that a default would be, in the words of economists he quoted, "insane, catastrophic, chaos." But he also sought to assure investors, US bond holders and others that the US remained good for its debts, even as he acknowledged "a cloud" over America's economic credibility because of the shutdown.
"Obviously my message to the world is the United States always has paid its bills and it will do so again," Mr Obama said. Asked what the government would do if the debt ceiling were not increased on time and the government would have to decide which bills not to pay, Mr Obama said the issue was still being reviewed. "No option is good in that scenario," he said. "We are exploring all contingencies."
Mr Obama did signal some flexibility, saying he was open to negotiating with Republicans on budget issues — even if politicians extended borrowing and reopened the government only on a short-term basis. "If they can't do it for a long time, do it for the period of time in which these negotiations are taking place," he said.
Republicans proposed a bipartisan committee to discuss how to get out of the budget impasse and the debt ceiling row. But Mr Obama dismissed the move as a ruse to discuss spending cuts that only Republicans want, and vowed to veto such a solution in the unlikely event it reaches his desk. Mr Obama noted that the shutdown already made him cancel his trip to the APEC meeting in Bali this week. He argued the shutdown is hurting US credibility around the world and — quote — "makes it look like we don't have our act together."
Mr Obama says he doesn't know for sure if he would have been able to secure a trade deal with a dozen countries called the Trans-Pacific Partnership. But he told reporters at the White House, quote, "It doesn't help that I wasn't there."

Extract: Obama, GOP Open Talks Over Temporary Debt Fix
Republicans, President Still Disagree Over Details
The Wall Street Journal Online
Peter Nicholas, Carol E Lee, Kristina Peterson
and Siobhan Hughes contributed to this article
Thursday, October 10th, 2013 8:43PM
WASHINGTON: — President Barack Obama and House Republicans began discussions Thursday on a GOP proposal to extend the nation's borrowing authority for six weeks, marking a new opening in the budget stalemate that risks a US debt crisis. The proposal, from House Speaker John Boehner, would extend US borrowing authority until Nov 22 with none of the major policy strings Republicans had previously demanded, and which the White House had rejected.
After a meeting at the White House between Mr Obama and a group of senior House Republicans, lawmakers said the president didn't embrace the debt-limit proposal, but also didn't reject it. "He didn't say yes, he didn't say no," said House Budget Committee Chairman Paul Ryan. "We're continuing to negotiate this evening." After the meeting, which lasted more than an hour, the White House said in a statement that Mr Obama "looks forward to making continued progress" in breaking the stalemate. "After a discussion about potential paths forward, no specific determination was made" about next steps, the White House said.
Just the glimpse of a path to avoiding an unprecedented US default sent stocks soaring. The Dow Jones Industrial Average climbed 323.09 points, or 2.2%, to 15126.07. The advance was the biggest on a percentage basis since Jan 2, when the blue chips gained 2.3%.
A new poll shows that Republicans are bearing the brunt of public outrage over the budget impasse. The Wall Street Journal/NBC News poll found 53% of Americans blamed the GOP for the shutdown, compared with 31% who blamed Mr Obama. The Republican Party's image has slumped to its lowest level in Journal/NBC polling, which dates to 1989, with more than twice as many people holding negative image of the GOP as a positive one.
Although the Republican proposal addressed only the debt limit, and left unclear how the two sides would reach agreement on a budget bill to reopen the government, House Appropriations Chairman Hal Rogers said after the meeting that negotiators now were in talks to see if they could resolve both issues. "We're trying to find out if there is a way to quickly settle the [government funding] questions so that we can … stop a shutdown," said Mr Rogers.
Many Democrats were wary of the proposal for a short-term debt limit increase, fearing a replay of the crisis in six weeks and a deal that leaves the government partly closed. But the fact that the White House and Republicans were even talking was a significant breakthrough that signalled a new openness on both sides. "The president is happy that cooler heads at least seem to be prevailing in the House, that there at least seems to be a recognizing that default is not an option," said White House spokesman Jay Carney, speaking before the meeting. He said Mr Obama's preference, however, was for a debt-ceiling increase that allowed the Treasury to borrow beyond six weeks.
Mr Boehner, after a morning meeting with House Republicans to unveil his new strategy, said, "I would hope that the president would look at this as an opportunity and a good-faith effort on our part to move halfway — halfway — to what he's demanded in order to have these conversations begin."
Some Senate Republicans have been working with Democrats on a compromise that would resolve both the debt-ceiling and government-funding stalemates. The talks are aimed at reopening the government with a one-year extension of current spending levels and extending the nation's borrowing authority. The move would also include two changes to the 2010 health law designed to win GOP support: a repeal of a tax on medical devices, and tighter procedures for checking individuals' eligibility for subsidies to help pay health insurance premiums.

Deals struck to reopen Grand Canyon and other US national parks
Yahoo News
Reporting by Tim Gaynor David Bailey and Dan Whitcomb, Editing by Cynthia Johnston and David Brunnstrom
Saturday, October 12th, 2013 11:30AM
PHOENIX (Reuters): Three of the most renowned US National Parks, the Grand Canyon, Mount Rushmore and the Statue of Liberty, are to reopen in coming days after state governors reached deals despite an ongoing government shutdown. Arizona Governor Jan Brewer, New York Governor Andrew M. Cuomo and South Dakota's Governor Dennis Daugaard, said in separate statements on Friday that they had reached agreements with the federal government to reopen their respective parks between Saturday and Monday.
The emblematic parks are among 401 National Park Service attractions across the United States that shut their gates to fee-paying visitors on October 1 after the US Congress and the White House failed to reach agreement on raising the nation's debt limit. Brewer said the Grand Canyon, which draws nearly 5 million visitors a year, would reopen on Saturday after she reached a deal with the federal government to pay the National Park Service $651,000 to resume operations for seven days, using state and other monies.
"With a long weekend in front of us, I am thrilled Grand Canyon will be open and fully operational," Brewer said in a statement, referring to the upcoming Columbus Day weekend. "While this deal will buy us some time and bring back lost revenue to the state, I would hope our elected officials in Washington move urgently to negotiate an immediate end to this government standstill," she added.
The national parks attract some 280 million visitors a year, generating millions of dollars in income for local businesses ranging from hotels and restaurants to tours and souvenir shops.
In New York, Cuomo said that state agreed to fully fund the National Park Service cost at $61,600 per day to reopen Liberty Island National Park this weekend and keep it open during the federal government shutdown. "The Statue of Liberty is one of this country's most recognizable landmarks, attracting millions of visitors to the state every year, and its closure these last 11 days has had a terrible impact on the local economy and tourism industry," Cuomo said in a statement.
South Dakota Governor Dennis Daugaard said he had reached an agreement with the National Park Service to re-open the Mount Rushmore monument on Monday morning using private donations. The park service is going to charge South Dakota $15,200 per day to operate the monument, he said in a statement.
Later same day
Senate in talks to end US fiscal impasse, deal elusive
Michael Mathes, AFP
With House Republicans blaming President Barack Obama for the collapse of talks on extending US borrowing authority, the Senate scrambled Saturday to piece together a bipartisan exit strategy.
The eyes of the world are glued on Washington as politicians grapple with how to reopen the shuttered government and avoid a potentially calamitous failure to pay the country's obligations for the first time ever, which experts warn would send shockwaves through international markets. With just three working days next week before the US Treasury's October 17 deadline for raising the debt ceiling, the Senate's Republican and Democratic leaders showed an intensifying desire to end the two-week government shutdown and ease the threat of default.
Democratic Senate Majority Leader Harry Reid, Obama's top wingman in Congress, said he held "extremely cordial but very preliminary" talks with top Republican Senator Mitch McConnell. "Nothing conclusive" emerged from the pair's first face-to-face discussion about the twin crises, Reid told reporters. And Reid downplayed hopes of a quick fix, as the prospects of a weekend deal appeared to slip away.
McConnell suggested a bipartisan offer spearheaded by moderate Republican Senator Susan Collins as a workable template for a possible deal, but Reid rejected it. The measure would extend borrowing authority into 2014 and fund the government for six months, but it would also repeal a medical device tax introduced under Obama's health care law, as an incentive to get conservatives on board. Democratic leaders were most concerned, however, with the proposal to keep the existing automatic spending cuts, a move that would put agency spending at $70 billion below what Democrats have proposed for fiscal 2014.
The Senate will hold a rare Sunday session, but the House of Representatives is off until Monday, when markets around the world might start seriously digesting Washington's impasse.
World Bank chief Jim Yong Kim urged policymakers to avert the crisis, warning that "we are now five days away from a very dangerous moment." "If this comes to pass, it could be a disastrous event for the developing world, and that in turn will greatly hurt the developed economies as well," Kim said at the close of the annual World Bank-International Monetary Fund meetings in Washington.
With the House negotiations in tatters, Obama called a snap meeting at the White House with the Senate's Democratic leadership to regroup. "Their conclusion was that while Democrats remain united, Republicans have yet to coalesce behind a clear negotiating position," a Senate Democratic leadership aide said after the talks. "Democrats are willing to negotiate on anything Republicans want to discuss as soon as we reopen the government and pay our bills."
Earlier this week, it was House Speaker John Boehner and his team who met with Obama and suggested a six-week extension to US borrowing authority. Despite previous comments that the White House would be open to such a plan, Obama said he wanted a long-term deal. "It wouldn't be wise, as some suggest, to just kick the debt ceiling can down the road for a couple of months, and flirt with a first-ever intentional default right in the middle of the holiday shopping season," Obama said in his weekly address. The remarks prompted frustration from House Republicans. "They felt they were duped," Congressman John Fleming said of the House leadership as he exited from a Republican caucus meeting. "They were led to believe that the president did want to negotiate in good faith and now they find out that that was never in the cards."
House Republicans have argued for any budget deal to include concessions on funding Obama's health care reforms, while Senate Republicans are more willing to reopen government without such conditions. Some lawmakers were adamant the House remains the linchpin for any agreement. "At the end of the day, whatever they do (in the Senate) still has to come through here," said Republican Representative Tom Cole.

Extract: Crucial US default talks between Republicans, Democrats stall
The Australian Online
AP
Monday, October 14th, 2013 8:29AM
SENATE Republicans and Democrats hit an impasse on Sunday over spending in their last-ditch struggle to avoid an economy-jarring default in just four days and end a partial government shutdown that enters its third week. After inconclusive talks between President Barack Obama and House Republicans, Senate Majority Leader Harry Reid and Minority Leader Mitch McConnell took charge in trying to end the crises, although a conversation Sunday afternoon failed to break the stalemate.
"Americans want Congress to compromise," Reid said at the start of a rare Sunday session in the Senate, during which he pressed for a long-term budget deal. The two cagey negotiators are at loggerheads over Democratic demands to undo the automatic, across-the-board spending cuts to domestic and defense programs that Republicans see as crucial to reducing the nation's deficit.
McConnell insisted that a solution was readily available in the proposal from a bipartisan group of 12 senators, led by Republican Sen. Susan Collins and Democratic Sen. Joe Manchin, that would re-open the government and fund it at current levels for six months while raising the debt limit through Jan 31. "It's time for Democrat leaders to take 'yes' for an answer," McConnell said in a statement.
The US government has been partially shut since October 1 because of Congress' failure to pass a normally routine temporary spending bill. Separately, Obama wants Congress to extend the government's borrowing authority — another matter that usually had been routine. The latest snag comes as 350,000 federal workers remain idle, hundreds of thousands more work without pay and an array of government services, from home loan applications to environmental inspections, remain on hold on the 13th day of the shutdown.
McConnell and Republicans want to continue current spending at $986.7 billion and leave untouched the new round of cuts in January, commonly known as the sequester, that would reduce the amount to $967bn. Democrats want to figure out a way to undo the reductions, plus a long-term extension of the debt limit increase and a short-term spending bill to reopen the government. Sen. Dick Durbin of Illinois, the No. 2 Democrat in the Senate, told reporters that the two sides are roughly $70bn apart, the difference between the $1.058 trillion Senate budget amount and the $988bn envisioned by House Budget Committee Chairman Paul Ryan. "We haven't picked a number, but clearly we need to negotiate between those two," Durbin said.
Republicans dismiss the latest request as Reid moving the goalposts in negotiations as they were getting closer to resolving the stalemate that has paralyzed Washington. They also argue that it is disingenuous for Democrats to resist any changes in the 3-year-old health care law while trying to undo the 2011 budget law that put the cuts on track. Republican Sens. Lindsey Graham and Rand Paul said they would not support any deal that upends the spending limits imposed by the 2011 law, and predicted that their Senate Republican colleagues would oppose it as well.
Out of play, for now, was the House, where Speaker John Boehner told fellow Republican lawmakers early Saturday that his talks with the president had ground to a halt. Obama telephoned House Democratic leader Nancy Pelosi on Sunday, focusing on the need for any increase in the debt limit to be passed without concessions. Also sidelined, at least for now, was the plan forged by Collins and a bipartisan coalition to briefly fund the government and extend the $16.7 trillion debt limit, in exchange for steps like temporarily delaying the medical device tax that helps fund the health care law.
Democrats said Collins' plan curbed spending too tightly, and Reid announced Saturday it was going nowhere. Collins said Sunday that both Democrats and Republicans continue to offer ideas and say they want to be part of the group working to reopen the government and address the debt ceiling before Thursday's deadline. "We're going to keep working, offering our suggestions to the leadership on both sides of the aisle in an attempt to be constructive and bring this impasse to an end. Surely we owe that to the American people," Collins said on CNN's "State of the Union."

Warring parties upbeat about deal to head off US government default
The Australian Online
AFP
Tuesday, October 15th, 2013
HOPES have grown for a deal to head off a US government default and end a partial government shutdown after encouraging comments from the often antagonistic congressional leaders at the center of the talks. The stock market turned positive on the optimistic predictions of Senate Majority Leader Harry Reid for the Democrats and Senate Republican leader Mitch McConnell. "We've made tremendous progress," Reid declared after an intense day of negotiations with McConnell and other lawmakers. "Perhaps tomorrow will be a bright day," he said, suggesting agreement could be announced soon after weeks of stubborn gridlock.
Amid an intense day of negotiations, the White House announced that President Barack Obama was calling them and the party leaders in the House to discuss the economy-threatening crises. The meeting was postponed indefinitely to give the two lawmakers more time to work.
Congress has failed to pass a bill temporarily funding the government, leading to a partial government shutdown that has furloughed 350,000 federal workers. Separately, if Congress doesn't approve a measure increasing the amount of money the government is allowed to borrow, the Obama administration says it will not be able to pay its bills, risking a default that experts say could prove catastrophic for the economy. The two normally routine pieces of legislation have become entangled in disputes over Obama's health care overhaul and overall government spending.
Visiting a charity not far from the White House, Obama blended optimism that a deal could be made with a slap at Republicans. "My hope is that a spirit of cooperation will move us forward over the next few hours," he said. And yet, he added, "If we don't start making some real progress both in the House and the Senate, and if Republicans aren't willing to set aside some of their partisan concerns in order to do what's right for the country, we stand a good chance of defaulting."
Any legislation would require passage in the Senate and also in the House, where a large faction of conservative, tea party-aligned lawmakers precipitated the shutdown two weeks ago despite the efforts of both McConnell and Republican Speaker John Boehner. In the days since, polls show a marked deterioration in public support for the party. McConnell also met with Boehner during the afternoon. Officials said Reid and McConnell were discussing legislation to raise the government's $16.7 trillion debt limit until spring, staving off the possible default. It was not clear if that would permit Treasury Secretary Jacob Lew to employ a series of steps that could add additional months to the extension, as administrations in both parties have done in recent years.
Besides approving legislation to fund the government until late this year, Reid and McConnell considered appointment of House and Senate negotiators to seek a deficit-reduction agreement that could ease or eliminate a new round of automatic federal spending cuts scheduled to begin in January. While the current round of these cuts fell on both domestic programs and the military, the upcoming reductions would hit primarily the Pentagon.
Officials cautioned that those details could change, and there was even more uncertainty about other elements of a possible deal. Also under discussion, officials said, was a possible tightening in income verification requirements for individuals who qualify for subsidies under Obama's health care reform law. Separately, Democrats were resisting a Republican-backed proposal to suspend a medical device tax that was enacted as part of the health care law. The tax is widely unpopular among lawmakers in both parties, and the outcome of that disagreement remained unclear.
The officials spoke on condition of anonymity, saying they were not authorised to comment on the private discussions. Treasury Secretary Jack Lew has told Congress the deadline for raising the debt limit is Oct. 17. He, the president and a wide array of economists, bankers and politicians in both parties — at home and backed by world leaders — have all warned that default could have catastrophic consequences for both the domestic and global economies. The doubters alternatively say no default will occur or that if it does, it won't be the calamity that others claim.
But the fear of economic harm produced warnings from around the globe that the United States must not permit a default. Christine Lagarde, the International Monetary Fund's managing director, spoke with concern about the disruption and uncertainty over the weekend, warning of "a risk of tipping, yet again, into recession" after the fitful recovery from 2008.

White House rejects House Republicans plan
The Australian Online
AAP
Wednesday, October 16th, 2013 5:40AM
THE latest effort by House Republicans to offer a compromise to resolve an impasse over the federal budget and debt limit has been rejected by the White House before any vote in the opposition-led lower chamber of Congress.
Leaders of the conservative Republican majority were discussing a proposal, including a short-term budget and debt-limit increase along with smaller proposals to chip away at President Barack Obama's 2010 health insurance reforms.House Speaker John Boehner said the chamber was trying "to find a way to move forward today".
White House spokeswoman Amy Brundage says Obama will not allow Congress "to demand ransom for fulfilling their basic responsibilities to pass a budget and pay the nation's bills". "Unfortunately, the latest proposal from House Republicans does just that in a partisan attempt to appease a small group of Tea Party Republicans who forced the government shutdown in the first place," he said. She praised parallel negotiations in the Senate as "a bipartisan, good-faith effort to end the manufactured crises that have already harmed American families and business owners". "With only a couple days remaining until the United States exhausts its borrowing authority, it's time for the House to do the same," Brundage said.
Later Same Day
Extract: Political chaos pushes US up against debt deadline
Yahoo News
Michael Mathes, Stephen Collinson
Washington (AFP): A day of political disarray Tuesday thrust the United States to within hours of a debt default deadline, sparking fears of deep damage to a fragile US recovery and the global economy. Just 29 hours before the US government begins to run short of money to pay its bills, there was no clear way out of a stalemate that has called the dollar's status as the world's reserve currency into question.
If Congress fails to raise US borrowing authority before midnight Wednesday (3PM Thursday Sydney time) the US Treasury would begin to run out of money to meet all US obligations and slip towards a historic debt default.
In the face of the deadline, the US political system, divided between President Barack Obama's Democrats and Republicans who run the House of Representatives, has effectively ground to a halt. Republican leaders repeatedly tried and failed Tuesday to appease the party's conservative Tea Party faction with bills that would raise the debt ceiling and reopen the government but which had no chance of becoming law because they targeted Obama's signature health care law.
Major world powers meanwhile looked on in dismay at the brinkmanship and political recriminations in Washington, fearing reverberations that could wreak havoc in their own sometimes weakened economies. "We're far from a deal at this point," White House spokesman Jay Carney admitted on Tuesday. Amid rising anxiety on the markets, the financial rating agency Fitch put the United States on warning for a downgrade from its top grade AAA spot.
Despite the deepening impasse, Obama said he still expected the issue would be resolved in the end. "My expectation is that this gets solved, but we don't have a lot of time," he told an ABC television affiliate in New York. "What I'm suggesting to the congressional caucus is to avoid any posturing … do what's right, open the government and make sure we pay our bills."
Overnight hopes for an agreement between Senate Republicans and Democrats on raising US borrowing faded when conservative Republicans in the House seized back the initiative after daybreak. The party made several new attempts to constrain Obamacare — defying White House demands for a bill lifting the debt ceiling without conditions.
Republican Senator John McCain, who has been critical of his own party's conduct in seeking to use the debt limit as leverage, turned fire on the White House and Democrats, calling on them to negotiate an exit strategy with Boehner. "It's piling on and it's not right," McCain said.
China and Japan, which between them hold $2.4 trillion in US Treasuries, are already alarmed at the implications of the crisis. Japan's Finance Minister Taro Aso said many US politicians "don't seem to understand well the magnitude of the international impact this problem could have". And China's Vice Finance Minister Zhu Guangyao, in Beijing, said: "We demand that the US side, as the issuing country of the major reserve currency … should undertake its due responsibility."
Investors endured a roller coaster day. US stock markets closed down after a day of wild fluctuations, with the Dow Jones Industrial Average shedding 133.25 points (0.87 percent) to 15,168.01. The broader S&P 500 fell 12.08 (0.71 percent) to 1,698.06, and the Nasdaq Composite lost 21.26 (0.56 percent) at 3,794.01. The State Department, meanwhile, warned that dysfunction in Washington undermined America's image abroad.

Extract: Senate Leaders Reach Bipartisan Deal
The Wall Street Journal Online
Kristina Peterson and Janet Hook
Siobhan Hughes and Carol E. Lee contributed to this article
Wednesday, October 16th, 2013 4:02PM US Time
WASHINGTON: Senate leaders on Wednesday struck an 11th-hour agreement to avoid a US debt crisis and fully reopen the federal government, putting lawmakers on track toward ending a stalemate that worried investors world-wide and provided striking evidence of congressional dysfunction.
House Speaker John Boehner (R., Ohio), in a statement released Wednesday afternoon, said House Republicans will allow the Senate deal to come up for a vote. "Blocking the bipartisan agreement reached today by the members of the Senate will not be a tactic for us," Mr. Boehner said. He signalled the party hasn't given up on its campaign against the 2010 health-care law, which led to the partial government shutdown on Oct 1, and added his party will continue to fight for additional spending cuts and against tax increases.
House Rules Chairman Pete Sessions (R., Texas) said passage of the bill was a "foregone conclusion." "I do expect it to pass," Mr. Sessions said.
House Republicans on Tuesday had tried and failed in their own last-minute effort to unify behind a proposal to end the impasse. The Senate deal gives GOP lawmakers almost none of the policy gains they had sought, but enough House Republicans are expected to join with Democrats in order to pass the measure.
The timing for Senate and House votes was still being worked out by congressional leaders. A Democratic aide said the Senate is likely to vote on the deal first, sometime Wednesday afternoon or early evening, before the measure is taken up by the House.
The Senate plan, announced by leaders as the Senate opened its session, would fund federal agencies at current spending levels through Jan. 15 and extend the nation's borrowing authority through Feb. 7. A negotiating committee would separately be charged with devising plans for longer-term fiscal solutions.
"The compromise we reached will provide our economy with the stability it desperately needs," Senate Majority Leader Harry Reid (D., Nev.) said on the Senate floor. Senate Republican Leader Mitch McConnell (R., Ky.) also spoke, saying he was confident the deal would end the budget stalemate on Wednesday.
President Barack Obama will accept the deal, White House spokesman Jay Carney said. Mr. Obama believes the agreement "will reopen the government and remove the threat of economic brinksmanship," Mr. Carney said. "The president hopes that both houses will act swiftly on this agreement."
Later Same Day
Extract: Senate Passes Deal to Break Impasse
Agreement Now Goes to the House of Representatives
The Wall Street Journal Online 8:38 PM US Time
WASHINGTON: The US Senate on Wednesday put in motion the final steps of a bipartisan solution to the weeks-long budget drama, voting 81-18 to raise the nation's borrowing limit and fully reopen the federal government. The plan was approved with the help of 27 Republican, who joined all 54 members of the Democratic caucus to support the bill. The House was expected to take up the Senate bill later Wednesday or early Thursday.
Mr Boehner told House Republicans he would support the Senate bill in a brief closed-doors meeting Wednesday afternoon. Mr Boehner also suggested a change in tactics in his party's fight against the health care law. "We will rely on aggressive oversight that highlights the law's massive flaws and smart, targeted strikes that split the legislative coalition the president has relied upon to force his health care law on the American people," he said in a written statement.
And later
Extract: Congress Passes Debt, Budget Deal
Bill to Reopen Government Through Jan 15, Lift Debt Ceiling Until Feb 7
The Wall Street Journal Online 12:43 AM US Time
A potentially crippling US debt default was averted late Wednesday, as Congress passed legislation to end a political showdown that had rattled financial markets, splintered the Republican Party and showcased Washington dysfunction.
The House voted 285-144 to reopen the government through Jan 15, suspend the debt ceiling through Feb 7 and lay the groundwork for talks over broader budget issues. The Senate earlier approved the bill 81-18. President Barack Obama signed the bill early Thursday morning.
Many Republicans in the House were dismayed by the outcome. (Yesterday Rep. Steve Southerland, R-Fla., had led these lawmakers in several verses of "Amazing Grace.") As the Senate prepared to vote, Mr Boehner now met with his caucus in a short, closed-door meeting that participants described as grim. He said he would vote for the bill and urged them to do so, arguing that with this fight settled, public attention could shift to the administration's problems in implementing the health law.
Mr Boehner praised Republicans for waging a good fight before receiving a standing ovation, according to lawmakers in the meeting.
Some of the most conservative lawmakers said the fight had been worthwhile. "Americans now understand Republicans are willing to fight. They understand we're willing to take on Obamacare," a cheerful Rep. Tim Huelskamp (R., Kan.) told reporters after the meeting.
Although the outcome of the fight was widely acknowledged to be a big victory for Mr. Obama, it may have come at a great cost: He has burned bridges among Republicans needed to advance other parts of his second-term agenda.

Extract: Deep Divide Lingers After Impasse Ends
Pessimism Greets Lawmakers as They Start Negotiations on Broad Budget Deal
The Wall Street Journal Online
Damian Paletta
Janet Hook and Kristina Peterson contributed to this article
Thursday, October 17th, 2013 8:01PM US Time
WASHINGTON: Eight hours after President Barack Obama signed a bill to reopen the federal government, top congressional budget leaders from both parties gathered over breakfast to try to find common ground in coming weeks.
But differences between the two sides remain stark, and a number of congressional aides said the chances of devising a budget that both parties can live with are low. The conference committee the lawmakers head faces a Dec. 13 deadline under the package Congress approved late Wednesday.
Republicans are pushing for deep changes and cost reductions to Medicare and Medicaid, and a rollback of Pentagon cuts that are part of the so-called sequester. Democrats have demanded that tax increases and a reduction in other sequester cuts be part of any package.
The breakfast session of four senior lawmakers, including House Budget Committee Chairman Paul Ryan (R., Wis.) and Senate Budget Committee Chairman Patty Murray (D., Wash.), came as hundreds of thousands of workers returned to the job at federal agencies, restarting government data analysis on unemployment and crop prices, reopening national parks and resuming scientific research.
The lawmakers who met Thursday are part of a 29-person budget conference committee that will work to reconcile differing tax and spending goals approved by the House and Senate earlier this year. Mr Ryan and Ms Murray said they would try to move past the acrimony surrounding the 16-day government shutdown and find areas of agreement in coming weeks, but made no assurances of success and avoided setting goals.
"We are going to try to figure out if we can get an agreement," Mr Ryan said. Ms Murray said "all issues are on the table. We'll be talking about all of them." "The big issue we're going to have to deal with is concerns about the defense cuts in sequestration," said Rep Charles Boustany (R., La.), who isn't on the budget conference committee, in an interview. "That's going to require offsets with mandatory spending and that'll be a tough fight." Ms Murray's budget calls for $1.058 trillion in defense and nondefense discretionary spending for the year that began Oct 1, while Mr Ryan's budget puts the discretionary spending at $967 billion.
Click here for the latest news on the Greek crisis.
End of Report