Hi all
Some thoughts on Genesis 2 and 3
Adam and his wife were smoothly exposed, and were not ashamed, witheringly disgraced, in any way late or delayed when it came to God's appointments, through oldness, through dryness, through any lack of outward protection.
Hebrew: smoothness meaning nakedness ("arowm"). Click here for corresponding verses.
Hebrew: shame ("bosh"). Meaning delay and confusion. Click here for corresponding verses.
Another Hebrew word for shame and disappointment is "yabesh". While not formally related, though similar in spelling, it is often translated as dried and withered ("yabesh").
Click here for corresponding verses.
So, unashamedness corresponds to the freedom, the grace that surrounds little children when they are born.
Moving right along.
Now the snake was the smoothest of the (wild) life in the field when it came to sliding (in and out) with his body and his words. And he tricks the woman with a half-truth, yes, Eve knew right from wrong, but "with knowledge of good and evil you shall be like God, like a judge you would know what was ideal, know what was not ideal", and a bare-faced lie "you shall not die".
Hebrew: smoothness ("aruwm") is a word that means cunning, similar to that word "arowm". Used in Solomon's proverbs to reflect prudence and caution.
Click here for corresponding verses.
So this cunning knowledge can be used for our own protection, for our good, yes, for what is ideal.
But in Genesis this cunning knowledge is used to create sin, to destroy God's grace, God's freedom. Corresponds to Satan, the liar, and father of lies, who sins from the beginning.
And they ate, and their eyes were opened, and they knew how smoothly exposed they were, the weakness there before God, in fear they covered themselves, and hid.
"Where are you Adam?"
"I was afraid, because of my nakedness. I hid myself."
"Who told you that you were naked?" To the woman, "What have you done?"
And God made coats of skins, yes, there was a cost, and clothed Adam and his wife.
Now Adam, knowing good and evil, and progressively puffed up through his offspring, through their competitive flesh, cannot be allowed to eat from the tree of life, and live forever. Not at this point. There is a price. And God will pay it.
Moving right along.
Becoming disciples of Christ. :-)
Revelation 16:15 Behold, I come as a thief. Blessed he that watches, and guards his clothing (bought from Christ), lest he walks naked, and they see his shame.
yep, very personal, and very corporate ;-)
http://sidroth.org/articles/yeshua-already-did-hard-part
Blessings all

Steve
Postscript: Email following day
So , run , that you may obtain the prize 1 Cor 9:24
Hi all
I didn't see the match, but boy I enjoyed reading about it.
Extract below from Courtney Walsh's account in The Australian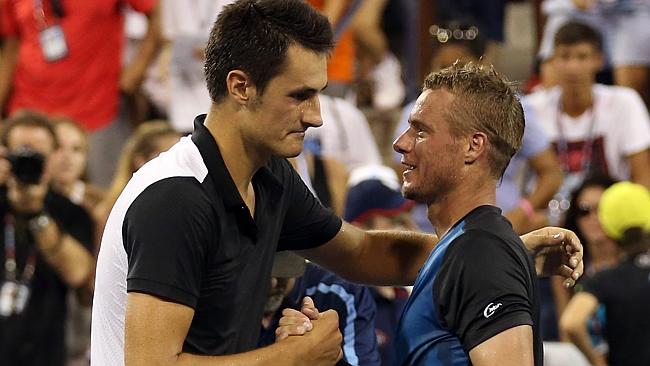 Bernard Tomic (22) embraces Lleyton Hewitt (34) after their five-set thriller in the second round of the US Open. Tomic needed 3hr 27min to end Hewitt's grand US Open singles career 6-3 6-2 3-6 5-7 7-5.
Putting friendship ahead of their rivalry, Hewitt and Tomic practised together on Wednesday in preparation for the match and the victor was full of praise for his mentor. "It is so difficult playing him. I was very, very nervous (and) it could have gone both ways," Tomic said. "He is a huge legend to me. I always looked up to him. It was very emotional and it was tough to prepare before the match, this one. I am sure a lot of people think he is a great legend, not just myself, so for me it was a privilege."
Hewitt was the most loved man in the Big Apple yesterday, where 14 years ago he thumped another superstar Pete Sampras in straight sets to claim the US Open, his first grand slam title. Although an Australian to the core, Hewitt is also an adopted New Yorker. And how they were hollering for the old bloke, praying for one last miracle in Queens, despite his old joints and bones rattling as much as the Seven train that carried them to the courts. It was a hope that fell just one point short, as the proudest of them all in the sporting cauldron that is the Grandstand Court at Flushing Meadows later told his dad Hewitt.
"He said I nearly won," a smiling Hewitt recalled later. That assessment came from Hewitt's little 6 yr old blond son Cruz, who rode every twist and turn of a remarkable match courtside and seemed to shed a tear as his dad trudged away from the New York ringside one last time to a crowd chanting, "There's only OOONNNNEEEEE Lley-ton Hew-ITT. There's only OOOONNNNNEEEE Lley-ton Hew-ITT". Of that there is no doubt.
As his old man later dissected a remarkable match and a grand career for those who will not be in Melbourne next January to see the final farewell, Cruz sat patiently. On the floor of the Bud Collins Press Room, his knees were crossed and his cap was on. When Cruz realised his dad was talking about him, that the former world No 1 was "very proud that he could sit through five sets" and that "now he knows what Bec (his wife) and my parents have had to sit through", not to mention the rest of Australia, the little boy's mouth curved into a smile.
Courtside for his last appearance were the young turks Nick Kyrgios and Thanasi Kokkinakis. Hewitt's wife and folks were there, his long-serving manager David Drysdale sat front row, as was lifelong mate and hitting partner Jaymon Crabb. But they would have known better than any other just how pugnacious a fighter Hewitt, who ended up playing his 45th five-set match, is. So, too, Roger Federer (also 34), who managed to catch the last couple of games after easing through his own second-round match on Arthur Ashe Stadium.
Federer credits his old foe, now mate and occasional doubles partner, for driving him to new levels.
"Obviously I wish he could have won today," Federer said. "But then again he goes out, like at Wimbledon on his terms. Five-set thriller again. Full stadium, I'm sure. Just the best atmosphere. He deserves it. He was smiling at the end from what I saw, so I'm happy for him. (I'd) hoped he could have gone further in the draw. But, you know, for me he was a big challenge in my career, to understand how in the world can you be so tough physically and mentally at such a young age. It was for me the impossible thing to understand.
I thought he changed the game to some extent. I think he can be very proud of that because he was the player which just wouldn't miss, best counter-puncher we've ever seen almost at that point. I think he really was. He would just grind you down. You would attack him and he would pass you. He would do it time and time and time and time again. It was just fascinating to see. He did things that no other player's ever achieved."
"So I think he really changed things around and showed me how it's done. He made me, I guess, work harder in practice, get my act together on the court, play tough but fair. We even played doubles together. I look back at that and I can't believe we didn't do it more often. We had a blast doing it at Wimbledon. We still talk about it when we see each other."
For the latter three sets, bar one poor game when serving for the match, it was vintage Hewitt, the bloke who cleaned lines and moved quicker than any other. "I left it all out there again," he said. "Obviously you go through the pain barrier out there on the court. Everything happens so quickly. It was the same as Wimbledon. "But (it) was a great atmosphere out there on that court. The crowd was really involved. "You know, it was nice to be able to turn it into a decent match."
Tomic started brilliantly against Hewitt and was in a dominant position, leading by two sets and with a break in the third set. Later he served for the match at 5-3 in the fourth set. For all his trouble off the court this year, the Queenslander is enjoying his most consistent year on it. Throughout a tense fifth set, he fought off several break points, only to succumb at 3-all. But he managed to save two match points, then break Hewitt's serve on route to a gritty win.
Tomic, who has reached the third round of the US Open for the first time, received treatment on his left thigh at 6-5 and could be heard moaning as the trainer massaged the muscle. "It felt like something like (cramp) in the leg," he said. "It was tough. He was feeling it as well. It was a very emotional match for both of us."
The 24th seed at this event, Tomic is now on the cusp of breaking into the top 20 for the first time. He appears in a good frame of mind in New York, being praised by his fellow Australians for his attitude and swapping banter with journalists who have covered the highs and lows of his career.
Hewitt, who has been mentoring Tomic and Nick Kyrgios in recent times, certainly believes he is on the right track. "As I said before, I get along ­really well with Bernie. He's a good guy," Hewitt said. "He's moving in the right direction. You know, the last couple years I've gone out of my way to try to help him out a lot."
After he defeated Hewitt, Tomic threw his racquet sideways in disbelief and looked stunned to have outlasted his idol. "The moment when I hit that forehand, everything was amazing for me. I was happy to win," he said. "I'll always look up to him. I've learned a lot from him."
Post Postscript
Father's Day September 6, 2015
Bernard Tomic has crashed out of the US Open but not before featuring in the sporting moment of the tournament with 12th seed Richard Gasquet. It came in the second game of the third set when Tomic hit a impossibly angled drop shot, but Gasquet somehow arrived in time to wrap it around the post for a winner. His momentum carried him to Tomic's side of the court, where the two exchanged a fist bump as the crowd showed their appreciation with a standing ovation. "Bernard is a great friend of mine," Gasquet said of the exchange. "I think I can do it with him. You don't do it with guys you don't like."