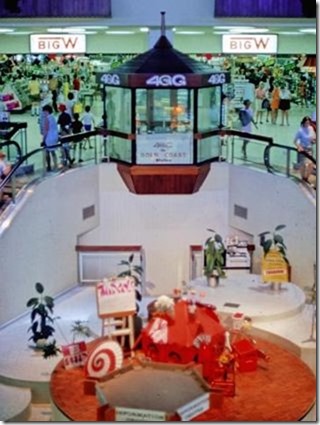 Doing a Guinness World Record at old Sundale Shopping Centre in Southport, looking back.
The whole shopping centre on Brighton Parade was closed in 1990, and in 2003 sold to become high-rise apartments.
For some reason I thought Sundale had become Australia Fair, but no no no, it's right next to the main bridge that goes over the Nerang that takes you into Surfers Paradise see the two articles and map below. But you do have to drive through a bit of a loop, via Queen Street, to get in, I think that's what tricked my memory :-)
And it looks like it's being rebuilt with the same name, what do they say about, what goes around, comes around :-)
This article is about the new shopping centre.
This article, a tribute to the old shopping centre, is by dear old Gold Coast Bulletin. They promoted those efforts in December '73 a bit :-) - I had met one of their senior editors, I had been living with his daughter, umm , let me rephrase, there had been 4 of us in the house back in 1972, me and another guy, Helen and her boyfriend Michael. Helen and I were just good friends. :-)
I was pretty involved in the Methodist Youth Department of Christian Education (DCE) in Ann Street Brisbane, through both my local youth group in Indooroopilly and some close, good friends, we ran boat trip dances once a year for all the youth groups in Brisbane, about 250 would come, sailing on a Friday night along the Brisbane River, a rock band playing in harmony dance hits by Creedence Clearwater Revival, and Neil Young, and Bread, and other great songs from the late 60s, early 70s. We'd also run and promote coffee shop evenings and square dances. Me and another guy would do comedy news bulletin gigs on the stage, British comedy style, like Peter Cook and Dudley Moore, David Frost, John Cleese, etc.
But when I read about somebody breaking a singles records world record, about 200 hours, I looked at the LPs records world record, just on 500 hours, and this thought crossed my brain, you really love playing records Steve, my Dad said I was "obsessed" :-) , why not do this as a promotional thing at Sundale Shopping Centre for "Quo Vadis", 12 coffee shops, drop in centre things that were being set up for a few weeks by the DCE that Christmas.
Stacks of young people, Jesus People from Ipswich, House of Freedom in Brisbane, God Squad from Melbourne, House of New World, people came up to be involved from everywhere. So I spoke to the DCE co-ordinator, we went down to see the Sundale manager that August, I thought we'd ask for a spot, if it was ok, in front of the Record Shop. Instead, he started off by saying "well, look, we can't offer you the main stage cause we've got performances, Kamahl, and others performing, but what we'll do is set you up on a dais in front of 4GG's radio booth, between the booth and Big W". duhh, wow. :-)
Then he organized appointments with 4GG and EMI Queensland, EMI was having its 75th anniversary, and had just asked him about a promotional gig of some kind, and he hadn't had an answer for them at the time. But when I met with them, this was great, I asked for three quality record players, no worries, so I thus had one playing, one ready to play, and one spare. 4GG then gave me a bunch of all the latest singles hits.
In retrospect, I can look back and say, yeah, the thing just took off. There were major downers at times, and major highs counterbalancing all through the thing. But doubtless, God worked all through. An amazing time.
So I went 555 hours with "minding/monitoring" help from about 50 people at Quo Vadis who rostered themselves. Became a point of contact for kids who would be on the street inviting kids in for coffee / chatting – "Quo Vadis?" ohh, that's that guy in Sundale, uhh, no, leading into a conversation.
Developed quite a crowd around the booth, street kids, others who would gather to watch, ask questions, request songs.
So, I remember thinking, as far as I was concerned, always it was like a "nine-day-wonder" thing, then back to normal. But there were some nice touches afterwards, Some good friendships developing. EMI gifting me Paul McCartney's latest gold record Band on the Run, having less "obsession" about playing records, thank you Lord. He has a sense of humour, no doubt. :-)
And seeing my name in the next Guinness book nine months later, yes, kind of cute.
Photos on Guinness World Record
Photo taken for an article in the Sunday Mail on the Saturday, I'd been playing 3 weeks, 0 days and 4 hours i.e. 508 hours and I think I had just broken the record. I'm holding congratulatory telegrams, I think they were from EMI and a local business, I think it might have been a local records shop that had helped me out with a stylus early on the first weekend, a week after I'd started. Normally diamond styluses (needles) would last about 1,000 hours, mine were heating up so fast, 80 hours was all they typically could manage.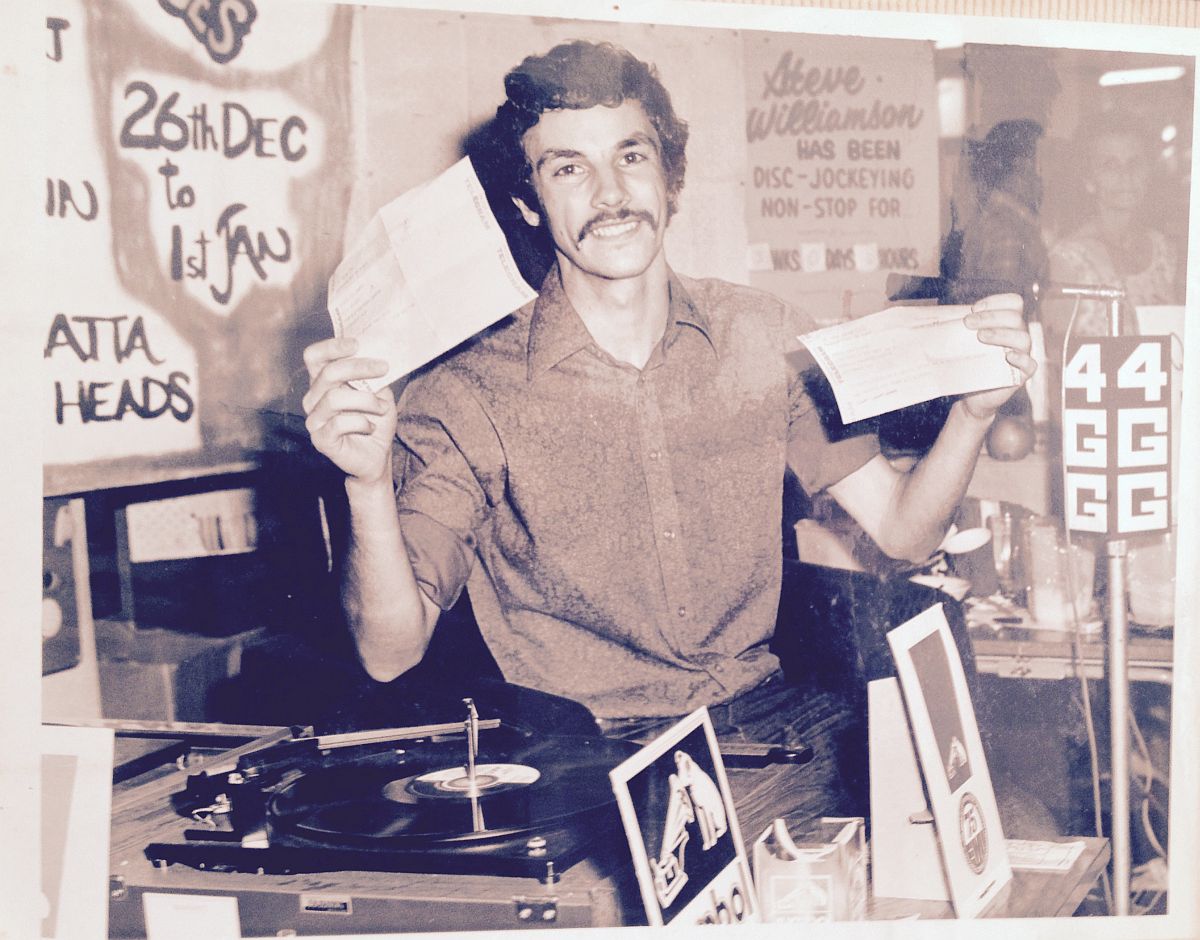 Letters to and from Guinness Records in London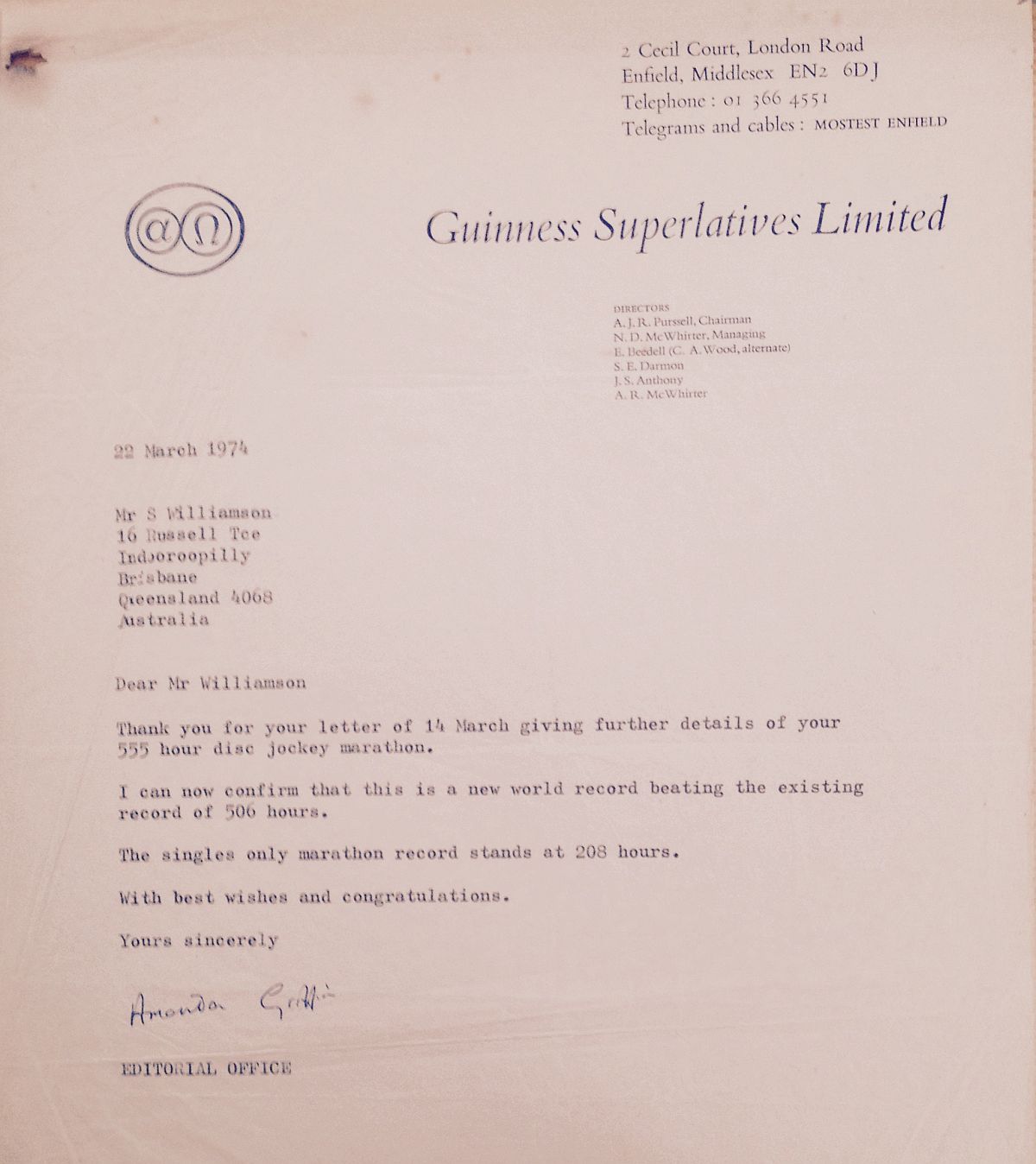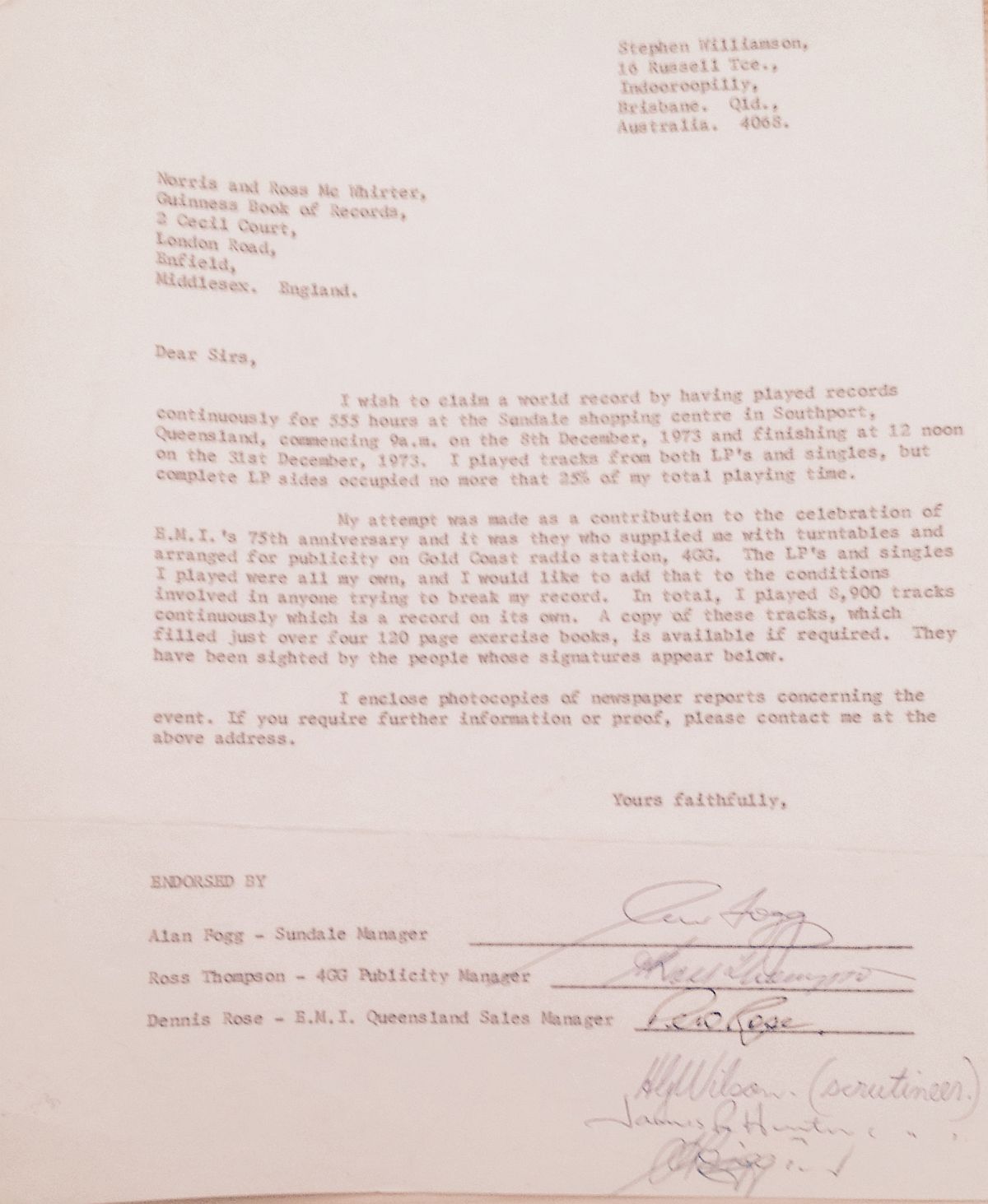 A photo and the names of the Quo Vadis team members