Israel — Latest News since May 11th 2021
Click here for prior news from President Trump's Middle East peace plan January 28, 2020
Major Cities
In 2019, Jerusalem remains Israel's largest city at 901,300 people. The next two largest cities are Tel Aviv-Jaffa (443,900) on the coast, and Haifa (281,100) in the north. Since 1948, Tel Aviv ("Hill of Spring") has been the de facto capital for many nations who have embassies in Israel. Click here for some of its recent history.
Click here to look at earlier maps (and events) over 4000 years of history for "Israel — Deep inside the plucky country"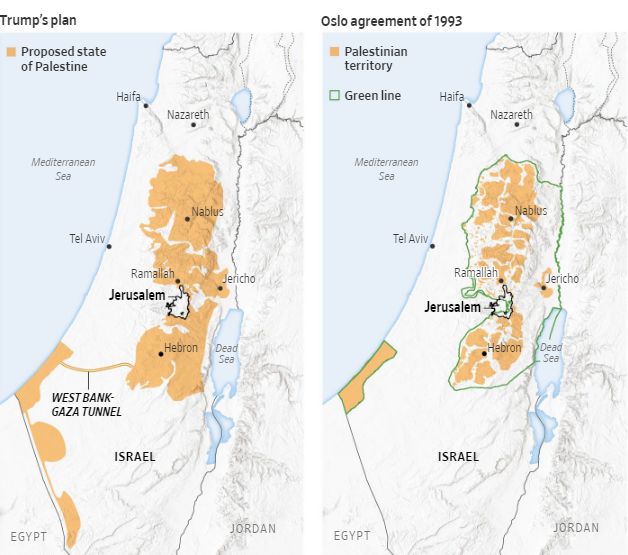 Click image for a larger map showing surrounding countries
Distances:
Tel Aviv to Jerusalem 63 kms
Tel Aviv to Haifa 95 kms
Jerusalem clashes worst in 4 years
The Australian
AFP
Tuesday May 11 2021
Jerusalem Hundreds were wounded in new clashes on Monday as Palestinians hurled rocks at Israeli officers in riot gear who fired rubber bullets, stun grenades and teargas. It followed a night of sporadic clashes in annexed East Jerusalem. Loud booms and angry screams echoed from the ancient stone walls of the compound, revered by both Jews and Muslims, where Palestinians had built makeshift barricades and the ground was littered with rocks, stun grenade fragments and other debris.
Israeli police restricted access to Al-Aqsa to Palestinians aged over 40, checking identification of anyone who wanted to access the plaza. Following a call from Al-Aqsa's director, Sheik Omar Kiswani, worshippers later cleared the plaza of debris so prayers during the holy month of Ramadan could resume.
The violence since Friday has been Jerusalem's worst since 2017, fuelled by a long-running bid by Jewish settlers to evict several Palestinian families from their nearby East Jerusalem Sheik Jarrah neighbourhood. A Supreme Court hearing on a Palestinian appeal in the case originally set for Monday was pushed back by the justice ministry due to the tensions.
Despite mounting inter­national condemnation, Prime Minister Benjamin Netanyahu voiced support for the Israeli police's "just struggle", praising the "steadfastness that the Israeli police and our security forces are currently displaying". Police said Jewish "prayers continue as usual" at the Western Wall, which adjoins the esplanade, adding that "we will not let extremists threaten the safety of the public".
The UN Security Council was to hold an informal meeting at Tunisia's request later on Monday.
The Palestinian Red Crescent put the toll from Monday's clashes at 305 injured, including more than 200 hospitalised, five in critical condition. Israeli police reported nine injuries in their ranks. Adnan Farhoud, general director at Makassed hospital, said it appeared Israeli police had targeted rubber-encased bullets directly at people's heads.
Israel, Palestine prepare for wider conflict as rocket attacks resume
The Wall Street Journal
Felicia Shwartz, Dow Jones
Wednesday May 12 2021
Hamas has continued its barrage of rockets into Israel, firing hundreds more rockets after its earlier attack on two coastal Israeli cities. As tensions from days of clashes in the contested city of Jerusalem dramatically escalated overnight, both sides prepared for a wider conflict.
Red alert sirens have been activated in Tel Aviv, with residents warned to take shelter as the number of missiles fired from Gaza surpassed 200. The armed branch of Hamas said in a statement that it was "in the process of firing 110 rockets towards the city of Tel Aviv", and 100 rockets towards the town of Beersheba, "as reprisal for the restarting of strikes against civilian homes"
The Iron Dome was activated in the city of Dimona, where there is reportedly a secret nuclear reactor, diverting a rocket sent to the city, the Jerusalem Post reports.
The sharp escalation, triggered by violence in Jerusalem, has killed at least 32 Palestinians in the blockaded Gaza Strip and three Israelis, and wounded hundreds more.
"This is just the beginning" of Israel's strikes, Defence Minister Benny Gantz warned. Hamas leader Ismail Haniyeh vowed that "if Israel wants to escalate, we are ready for it." The UN envoy for Middle East Peace, Tor Wennesland, warned that Israel and Hamas were "escalating towards a full-scale war".
The latest salvo comes after Israel's military struck scores of Hamas targets in Gaza in response to rocketfire beginning Monday evening. The military wing of Hamas said it fired 137 rockets toward Israel in five minutes and said "we still have a lot to show." Hamas fired more than 40 rockets in a short period toward Ashdod and Ashkelon, directly hitting two residential buildings, according to Hebrew media reports. United Hatzalah medical services said three people suffered minor injuries after a rocket hit a house in Ashdod directly. Others were also injured in Ashkelon in the latest barrage, with some evacuated to the hospital.
Defence Minister Benny Gantz ordered the mobilisation of 5,000 Israeli reserve troops in order to expand operations and enhance Israel's defence efforts, according to a defence ministry spokeswoman. Israel's military said it has so far struck 130 targets belonging to Gaza-ruler Hamas, including weapons manufacturing sites, military facilities and tunnels on the border that Israel says Hamas uses to launch attacks. Israel said it targeted a Hamas battalion commander and 15 Hamas military operatives. Islamic Jihad said two of its leaders were killed in Israeli raids in Gaza.
The Palestinian Ministry of Health said 28 people have died, mostly from Israeli strikes, including nine children. Israel's military said it is investigating reports that children were killed and that some casualties may be the result of rockets that exploded in Gaza before reaching Israel.
The Israeli strikes are in response to more than 500 rockets launched from Gaza since Monday evening. That began when Hamas launched six rockets toward Jerusalem, which Prime Minister Benjamin Netanyahu said was "a red line." Most of the rockets have targeted communities in southern Israel near the border with Gaza. Six people were injured Tuesday morning when a missile hit a residential building in Ashkelon.
"We see Hamas's attack against Israel as a very severe attack, an attack that clearly will not go unanswered, we're answering it now," said Lt. Col. Jonathan Conricus, an Israeli military spokesman. Israel has enhanced iron dome batteries in the south and bolstered its troop presence near Gaza, with orders to prepare troops for various scenarios, Col. Conricus said.
Israel and Hamas have fought three wars since the militant group seized control of the Gaza Strip in 2007. The two sides have seen several escalations since spring 2018 that have almost developed into full-blown conflict.
The latest escalation is the biggest since November 2019, when Israel targeted an Islamic Jihad leader. The current clashes are the result of simmering tensions in Jerusalem around the Islamic holy month of Ramadan.
Hamas officials have seized on the hostilities in Jerusalem to press their influence and stature among Palestinians, particularly after Palestinian Authority President Mahmoud Abbas cancelled Palestinian elections in which Hamas was predicted to make significant gains.
Hamas leader Ismail Haniyeh said the group will continue its assault "unless the occupation stops all manifestations of aggression and terror in Jerusalem and the blessed Al Aqsa Mosque." Palestinians and Israeli police have recently clashed in connection with demonstrations that began as a response to a looming Israeli court decision on whether to evict Palestinians in the East Jerusalem neighbourhood of Sheikh Jarrah from their homes.
---
Over the weekend, the Al Aqsa Mosque became a focal point for Palestinian discontent over what they see as years of effort to push them out of Jerusalem and limit their access to lands they claim. Hundreds of Palestinians have been injured in clashes with the Israeli police since last week.
Monday was especially tense because it was Jerusalem Day, an annual Israeli holiday marking Israel's capture of East Jerusalem that is always contentious. It took on greater significance against the backdrop of the days of clashes.
Prime Minister Benjamin Netanyahu moved to postpone the court hearing (appealing the planned evictions of several Palestinian families from the Sheikh Jarrah neighbourhood in East Jerusalem) and reroute Jerusalem Day marchers to avoid Muslim areas of the Old City to try to de-escalate the situation. But the opposite occurred after Hamas issued an ultimatum to Israel to remove its forces from Sheikh Jarrah and Al Aqsa by 6pm local time on Monday. That was a condition Hamas knew Israel wouldn't meet, and the barrage of rockets into Jerusalem came as the deadline passed.
On Tuesday morning, sirens blared around communities in southern Israel as Hamas continued its campaign. Israel's military imposed limits on public gatherings and closed schools across the country, including in southern Israel, as it anticipated a potentially wide-ranging assault from Hamas in the coming hours and days.
Clashes continued overnight in Jerusalem near the Al Aqsa Mosque and in Sheikh Jarrah and spread to a number of other Palestinian towns in the West Bank, with Palestinian medical services reporting dozens of injuries. Arab Israelis also launched protests in several Israeli cities including Haifa and Ramle against Israel's actions at the Al Aqsa mosque, leading to clashes with police and dozens of arrests.
Israeli military begins ground offensive on Gaza
The Australian
AFP, Dow Jones
Friday May 14 2021
The Israeli military has begun a ground offensive on Gaza, with air and ground troops launching attacks early this morning. The attacks come after the Israeli Defence Force presented invasion plans to Prime Minister Benjamin Netanyahu.
Lt. Col. Jonathan Conricus, an Israeli military spokesman, said ground and air forces were striking targets in Gaza from the Israeli side of the border, including tanks and artillery. He initially said (at 12:22am Israel time) that "IDF air and ground troops are currently attacking in the Gaza Strip" but later (at 2:28am) retracted that statement. There are "no boots on the ground". "There are ground forces currently deployed along the border area and they are engaging and attacking the Gaza Strip from there," said Col. Conricus.
Residents in northern Gaza, near the Israeli frontier, said they had seen no sign of Israeli ground forces inside the enclave but reported heavy artillery fire and dozens of air strikes. Some residents had claimed to say troops moving into Gaza from the north, bombing first and entering with tanks but it wasn't clear if they had seen Israeli tanks move beyond the buffer zone separating Israel and Gaza.
"I said we'd exact a steep price from Hamas, and that's what we're doing...The last word has not been said and this operation will continue for as long as it's necessary," Prime Minister Benjamin Netanyahu tweeted in the early morning as troops advanced. "We will continue to do what we're doing with great intensity." In response, Hamas launched a renewed rocket offensive against Israel and Israeli residents near the border were ordered into shelters.
The moves come amid another heavy barrage of rockets from Gaza into southern Israel and as Israel continued its onslaught on the Gaza Strip. Since Monday, the IDF has struck more than 700 Hamas targets and killed more than 103 residents including 60 militants and 14 top commanders. The dead include 83 civilians, including 27 children and 11 women, according to the health ministry in Gaza. Seven Israelis have been killed since Monday. The IDF said some 160 rockets and mortar shells had been fired towards Israel since 7am on Thursday. Hamas and Palestinian Islamic Jihad have fired at least 1,600 rockets toward Israel since Monday.
Among the recent targets were several Hamas buildings, including what Israel's military said was an intelligence office in the up-market Rimal neighbourhood, the home of a battalion commander and two branches of Hamas's main bank. Israel also struck a squad operating antitank missiles, the military said. Later on Thursday, Israel said it attacked what it described as a military compound where dozens of Hamas operatives were present, as well as what it said was an apartment belonging to the head of Hamas's drone program. The IDF also attacked Hamas' cyber units in Gaza City, the IDF Spokesperson's Unit said Thursday night.
US Secretary of State Antony Blinken this morning voiced support for a Security Council session next week on the crisis after diplomats said Washington blocked a meeting due Friday.
Mr Blinken also voiced alarm at the rise of Arab-Jewish violence inside Israel, which was highlighted on Wednesday when footage of a far-right Israeli mob attacking a man near Tel Aviv they believed to be an Arab was aired live on television.
Mr Netanyahu threatened to deploy the military onto the streets amid fears the violence could descend to civil war. "What is happening in Israel's cities over the past few days is unacceptable," Mr Netanyahu said on Twitter. "We have seen Arab rioters set fire to synagogues and vehicles and attack police officers. They are attacking peaceful and innocent citizens."
In another twist, the IDF reported at 4:49am this morning Brisbane time (9:49pm Israel time) that three rockets had been fired toward Israel from Lebanon. It was not immediately clear who had fired them, but two sources close to Israel's arch-enemy Hezbollah said the Lebanese Shiite group had no link to the incident.
"A short while ago, three rockets were fired from Lebanon into the Mediterranean Sea off the coast of the Galilee," Israel's army said in a statement. "According to protocol no sirens were sounded". The rockets from Lebanon echoed incidents during the 2014 Gaza war when Palestinian organisations in the country fired rockets toward Israel in a show of solidarity with the residents of Gaza.
The fighting is the worst since the two sides fought a war in 2014. Israel and Hamas have fought three wars since the militant group seized control of the Gaza Strip in 2007. They also have seen several escalations since spring 2018 that have almost developed into full-blown conflict.
Mr Blinken said Wednesday that he was dispatching Hady Amr, the senior State Department official with the Israeli-Palestinian portfolio, to Israel to try to encourage mediation efforts. The United Nations and Egypt also are pressing efforts to mediate the conflict, though Israel so far has said it isn't ready for a ceasefire.
"We are in the middle of our offensive, it is growing more powerful and increasing, because there are a lot of things that we wish to achieve in this operation," Tzachi Hanegbi, settlement affairs minister and an observer on the security cabinet, said on Israel's Army Radio.
As the rocket fire escalated, incoming flights were diverted although Ben Gurion airport remained open for outgoing flights.
Extract from Australian news report Sunday May 16
About 3pm Saturday afternoon - Israel time -, Israel's military destroyed a high-rise building in Gaza that housed the offices of several international media outlets, including the Associated Press and Al Jazeera. Israel's military said the high-rise building was used by Hamas's military intelligence services, and its jet fighters targeted it after giving a one hour warning to residents to evacuate. Representatives for Israel's military and Hamas didn't immediately respond to requests for comment.
Wael Al-Dahdouh, a correspondent for Al Jazeera who worked in the building, said he had just a half-hour to gather his things before scrambling to get out. "The stairs were like an ant farm," he said. "We carried only the essentials of our equipment. Then two reconnaissance missiles followed by three explosive missiles made the building a thing of the past."
White House press secretary Jen Psaki said Washington had told the Israeli government that the safety of journalists was "a paramount responsibility." Israeli Prime Minister Benjamin Netanyahu told President Biden in a phone call Saturday that Israel was doing all it can to prevent civilian casualties when striking high-rises in Gaza, according to a statement from his office. This was the second time Messrs Biden and Netanyahu have spoken in the past three days.
Mr Biden also spoke over the phone Saturday with Palestinian Authority President Mahmoud Abbas. Mr Biden told Mr Abbas that he was working to end the violence, according to a readout of the conversation published by the Palestinian Authority's official news outlet Wafa. This was the first time the two shave spoken since Mr Biden took office in January.
The strike on the high-rise comes as Israel's military presses its air and artillery campaign against Hamas, which rules Gaza, by hitting what it said were dozens of its military sites. They included rocket-launching sites, intelligence infrastructure, underground tunnels and apartments used by senior militants, the military said.
The violence comes amid efforts by the US, European Union and other regional powers, including Egypt and Qatar, to mediate a ceasefire between Israel and the Palestinians. A US official, Hady Amr, arrived in Israel on a military plane Friday to try to de-escalate the crisis. The United Nations Security Council is scheduled to meet on Sunday to discuss the situation.
Gaza deaths mount as Israel says Hamas leaders are its target
The Australian
Rory Jones, Wall Street Journal
Contributions from Ameera Harouda in Gaza City, William Mauldin in Reykjavik and James Marson in Brussels
Wednesday May 19 2021
Israel said Tuesday it was focusing on targeted killings of Hamas leaders in the Gaza Strip as it tries to quell the militant group's operations there, defying growing calls for a ceasefire amid a rising civilian toll. The Israeli military has launched hundreds of airstrikes in Gaza aiming at what it says are Hamas's military infrastructure and personnel. It said it has killed senior members of the group's intelligence arm and on Sunday struck the home of Yahya Sinwar, the Hamas leader in Gaza. "We will hit anyone who belongs to Hamas. From the first to the last," Israeli military spokesman Hidai Zilberman told Kan public radio in Israel.
Hamas, which rules Gaza, said Israel had killed a limited number of its operatives. It released an image on social media Tuesday of a fighter manning a rocket launcher and a message that the group was only now beginning to seriously hunt down Israeli soldiers on the edge of Gaza.
Scores of civilians have been killed and displaced from their homes since the current fighting began on May 10. At least 213 people, including 61 children, have been killed in Gaza, according to the territory's health ministry. More than 1400 Palestinians have been injured and tens of thousands have been displaced from their homes, according to the ministry and the United Nations Relief and Works Agency.
Palestinian media reported that the Israeli strikes on Tuesday were less intensive but spread out and focused on individual homes rather than larger buildings. The Gaza health ministry also said Tuesday at least 12 medical staff were injured the previous day when an Israeli airstrike hit a tower near a medical clinic. It called on the international community to ensure Israel didn't fire on medical facilities.
In Israel, emergency services said two Thai nationals died Tuesday after rocket attacks from Gaza on communities in southern Israel. Thousands of Thai labourers work in Israel's agricultural sector. In total, 12 people, including one child, have been killed in Israel since Hamas began launching rockets and antitank missiles on May 10, according to emergency services and the Israeli military. Hamas has fired more than 3,000 rockets at Israeli towns and cities but most have been intercepted by the country's missile-defence system, according to the Israeli military.
President Biden voiced support late Monday for a ceasefire in a call with Israeli Prime Minister Benjamin Netanyahu. Mr Biden "expressed his support for a ceasefire and discussed US engagement with Egypt and other partners toward that end," according to a White House statement. The statement stopped short of a demand to end the fighting.
European Union foreign ministers held an emergency video conference Tuesday to discuss the crisis. Afterwards, EU foreign policy chief Josep Borrell presented what he said was a summary of the discussion supported by 26 of the bloc's 27 members. Mr Borrell called for an immediate cessation of violence and implementation of a ceasefire in order to protect civilians and allow humanitarian access to Gaza. He condemned rocket attacks by Hamas and expressed support for Israel's right to defend itself, but said the response should be proportionate and respect international law.
On a visit to Iceland, US Secretary of State Antony Blinken said he had spoken Tuesday with officials from Morocco and Bahrain and was in touch with Hady Amr, the US envoy to the Israelis and Palestinians. Mr Blinken in recent days phoned counterparts in Egypt, Pakistan, Saudi Arabia and Qatar to discuss how to ease tensions. Egypt said Tuesday it will allocate $US500m for reconstruction efforts in the Gaza Strip. "Our goal remains to bring the current cycle of violence to an end as quickly as possible and then bring the parties back to the work of building lasting stability," Mr Blinken said.
The Israeli army said it would continue its campaign against Hamas for at least the next 24 hours to destroy much of the group's military arm in Gaza.
In 2014, when the two sides fought the most recent of their three wars, Israel attempted to kill the head of Hamas's military wing, Mohammed Deif. His wife and two children died in the attempt. Mr Deif has been the target of several other failed assassination attempts, leaving him disabled. Israel has since struggled to locate him in Gaza.
On Monday, an Israeli airstrike killed Husam Abu Harbeed, a commander of Islamic Jihad, another militant group in the strip. The group confirmed the killing. Hamas understands that targeted killings are "one of the main goals for the next few days," Yaakov Amidror, a former national security adviser to Mr Netanyahu, said of the Israeli military aims. "They are hiding. And know how to hide."
Israel has said that since Hamas began launching rockets at Israel on May 10 it has destroyed all of the group's and Palestinian Islamic Jihad's rocket manufacturing sites. There were 31 such sites and Israel said the groups won't be able to produce more rockets in the short term. The Israeli military said Monday it had blown up the homes of 12 Hamas commanders over the past 24 hours. In total, Israel said it has killed at least 130 Hamas fighters in Gaza.
The Palestinian ministry of information on Tuesday said the Israeli strikes had levelled more than 1000 homes and damaged a further 7000 residential units, as well as 57 schools and medical clinics and millions of dollars worth of factories and industry. The Israeli campaign might weaken Hamas for a while but it won't address the root causes of the multiple cycles of violence between the two sides, said Omar Shaban, founder of the Gaza-based PalThink for Strategic Studies, a think tank. The international community would have to help broker a long-term solution, he said. "There will be a ceasefire...but this will not solve the problem," he added.

Israel, Palestinian groups, agree to ceasefire
The Australian
AFP
Friday May 21, 2021 at 6:00am AEST
Israel and the two main Palestinian armed groups in Gaza, Hamas and Islamic Jihad, agreed to a ceasefire to end 11 days of conflict.
A statement from Israeli Prime Minister Benjamin Netanyahu's office said the security cabinet had "unanimously accepted the recommendations to accept an Egyptian initiative for an unconditional... ceasefire."
Hamas and Islamic Jihad then confirmed the ceasefire in a statement, saying it would come into force at 2:00 am Friday Israel time (2300 Thursday GMT, and 9am Friday AEST).
Israel and Egypt work on 'permanent' ceasefire for Gaza
The Australian
Mohamed Abouelenen, AFP
Tuesday June 1 2021
Israeli and Egyptian officials held talks in both countries on Sunday aimed at bolstering the Cairo-brokered ceasefire that ended the latest deadly flare-up of violence between the Jewish state and Gaza's Hamas rulers.
Benjamin Netanyahu met Egyptian intelligence chief Abbas Kamel in Jerusalem to discuss "strengthening co-operation" between their countries, the Israeli Prime Minister's office said. Egypt's President Abdel Fattah el-Sisi tasked Mr Kamel and his delegation, who also visited the Palestinian territories, with hammering out a permanent ceasefire deal, senior Egyptian security officials said on Monday.
On the same day, Israel's Foreign Minister, Gabi Ashkenazi, made the first official visit by a top Israeli diplomat to neighbouring Egypt in 13 years, for talks with his counterpart Sameh Shoukry.
Mr Ashkenazi tweeted that they would "discuss establishing a permanent ceasefire with Hamas, a mechanism for providing humanitarian aid and the reconstruction of Gaza with a pivotal role played by the international community". He later called for efforts "to prevent strengthening extremist elements that threaten regional stability, and to ensure the return home of the missing persons and prisoners held by Hamas".
The Egyptian Foreign Ministry tweeted that the ministers' talks were "part of Egypt's relentless and continued efforts to revive the peace track and to build on the ceasefire in the Gaza Strip". Hamas leader Ismail Haniyeh was also expected in Cairo for talks, senior Egyptian security officials said.
Egypt played a pivotal role in negotiating the May 21 ceasefire between Israel and Hamas that brought an end to 11 days of deadly fighting. Israeli strikes on Gaza killed 254 Palestinians, including 66 children. Rockets and other fire from Gaza claimed 12 lives in Israel, including one child and an Arab-Israeli teenager.
Mr Sisi also tasked Mr Kamel with working to help iron out political divisions between Hamas in Gaza and Fatah in the West Bank, the Egyptian officials said. Mr Kamel met on Sunday with Palestinian president Mahmoud Abbas in Ramallah. They discussed the latest developments linked to the truce, as well as the reconstruction of the Gaza Strip, and Palestinian national dialogue. A bitter divide between Hamas and Fatah has long plagued Palestinian politics, but analysts say the latest escalation has served to unite the geographically fragmented Palestinian community in a way not seen in years.
Mr Netanyahu reiterated Israel's demand "for the prompt return" of Israelis being held in the Gaza Strip. Mr Ashkenazi also said Israel was "fully committed" to repatriating Israeli prisoners held by Hamas. Since Israel's 2014 invasion of the Gaza Strip, the Islamist group has held the bodies of Israeli soldiers Oron Shaul and Hadar Goldin, although Hamas has never confirmed their deaths. Hamas is also believed to be holding two Israeli citizens who entered Gaza alone and whose families say they have mental health issues.
Mr Sisi has pledged $US500 million to help reconstruction efforts in the densely populated Gaza enclave, which was pummelled by Israeli airstrikes. Hamas has pledged not to touch "a single cent" of international aid to rebuild Gaza. Israel, which has enforced a blockade on the enclave since 2007, accuses the group of diverting international aid to military ends.
Mr Netanyahu's office said he and Mr Kamel also discussed "mechanisms and processes to prevent the strengthening of Hamas and its use of the resources that will be directed to the civilian population in the future".
The latest violent flare-up was sparked by increased tensions in Jerusalem, including over Israeli security forces cracking down on Palestinians inside the Al-Aqsa Mosque compound, Islam's third-holiest site, which is also revered by Jews as the Temple Mount. Egyptian foreign minister Mr Shoukry emphasised the "need to consider the particular sensitivity (of) east Jerusalem, the Al-Aqsa Mosque and all Christian and Muslim holy sites".
Netanyahu rivals agree to form new Government, to oust Israeli leader
The Australian
Felicia Schwartz, Wall Street Journal
Thursday June 3 2021 at 6:53am AEST 11:53pm Wed night Israel time
Israeli Prime Minister Benjamin Netanyahu's rivals agreed to form a coalition government that would dislodge the country's longest-serving leader, a major political shake-up as the nation seeks to protect a fragile truce with the Palestinian militant group Hamas. If the government is sworn in within the next two weeks, Mr Netanyahu would cede power to a coalition made up of politicians from across the ideological spectrum. Yair Lapid, who leads the centrist Yesh Atid party, and Naftali Bennett, who heads the right-wing Yamina party, will team up with six other parties, including one of Israel's Arab parties, Raam, according to a statement from Mr Lapid.
Mr Lapid has informed Israel's president of his government formation plan, the statement said. The deal comes days after Mr Bennett made public his plans to join Mr Lapid in a coalition. The parliament by law has about 12 days to swear in the government after Mr Lapid notifies the president.
Both leaders will take turns at leading the government, with Mr Bennett serving first as prime minister for two years followed by Mr Lapid, who will first serve as the foreign minister.
Blue and White's Benny Gantz will be the defence minister, New Hope's Gideon Saar will be the justice minister, Yisrael Beiteinu's Avigdor Lieberman will be the finance minister and Yamina's Ayelet Shaked will be the interior minister, officials involved in the talks said.
The parties will have to set aside their ideological differences on key issues as the coalition tries to resurrect an economy hurting from Covid-19 lockdowns while also keeping Israelis secure amid heightened tensions with Hamas.
Mr Lapid received the mandate after Mr Netanyahu failed to form a government following an inconclusive March election, the country's fourth since 2019. Mr Bennett controls seven seats in the Knesset, Israel's parliament, compared with Mr Lapid's 17. But right-wing Jewish Israelis who previously supported Mr Netanyahu's governments might find him a more politically palatable candidate as prime minister.
Messrs Bennett and Lapid faced a difficult task in stitching together a coalition from a group of rivals, some of whom are united only in their desire to replace Mr Netanyahu, who is on trial for corruption. He denies any wrongdoing. Mr Netanyahu has been in continuous power since 2009 and served three years as prime minister in the 1990s.
He has described the new coalition as a dangerous and left-wing government that won't be unable to confront Iran or meet other security challenges. "Do not form a left-wing government. Such a government is a danger for the security of Israel and a danger for the future of our country," Mr Netanyahu said.
He is expected to become the leader of the opposition, but may face leadership challenges from other members of his Likud party who have been frustrated by his repeated failures to form a government. He defeated such a challenge from a former protégé, Gideon Saar, in late 2019. But as more lawmakers soured on the idea of working with a prime minister under indictment, Mr Netanyahu ran out of options.
"He's really managed to create an atmosphere in the Likud of deterrence against criticism, and so until they not only smell the blood but see it, nobody will break in Likud," said Emmanuel Navon, a professor of political science at Tel Aviv University and a former member of Likud. Liberal daily Haaretz on Tuesday featured an editorial with the headline, "Stop the Insanity."
"There is a desperate need to replace a dangerous leader who is doing great damage to the country," it said.
Messrs Bennett and Lapid now face the challenge of keeping their fractious government together for more than a few months—or return to yet another election.
Mr Bennett, 49 years old, is a former Israeli military commando who later co-founded an antifraud software firm and made millions of dollars when it was sold. He is also a former defence and education minister as well as a former aide to Mr Netanyahu. While serving as defence minister, he presided over Israel's first coronavirus lockdown, an effort that was initially viewed as a success. Israel's caseload later skyrocketed after Mr Netanyahu moved to reopen the economy but Mr Bennett by then was no longer part of the government.
The parties in the emerging coalition agree on little: Some want to engage with the Palestinians, while others want to pursue annexation of the West Bank. They also disagree on Israel's judicial system, with some opposing a more liberal role for the courts and others taking a broader view of what the court's powers should be. A new government will have to take steps to boost economic growth while keeping the pandemic in check.
Meanwhile, a cease-fire between Israel and Gaza ruler Hamas after 11 days of intense fighting remains fragile, as both sides try to consolidate their gains. Egypt is mediating indirect discussions between Israel and Hamas over longer term cease-fire arrangements. The conflict was the worst since the last of three wars in 2014 and appeared to save Mr Netanyahu's position for a time. But after it ended in an unconditional truce, talks between his political rivals resumed.
Mr Netanyahu's Likud party won the most seats in the last election—30—but failed to unite Israel's right-wing and religious parties around him or get some of them to work with an Islamist party so he could remain in control.
Update
Rivals stitch up deal to roll Bibi
The Australian
Daniella Cheslow, AFP
Friday June 4 2021
Jerusalem: Mr Lapid's announcement came in the final hour before a 11.59pm Wednesday deadline (7am, Thursday AEST) after marathon negotiations with a group of diverse parties spanning the political spectrum, united only in their desire to oust Mr Netanyahu. "I succeeded," Mr Lapid, a former TV news anchor, wrote on Facebook. "I promise this government will work in the service of all of the citizens of Israel, those who voted for it and those who did not."
Right-wing nationalist tech millionaire Naftali Bennett, 49, would serve first as prime minister in a rotation agreement, before Mr Lapid is meant to take over in two years. "With the help of God we will do together what is good for Israel and we'll get Israel back on track," Mr Bennett told Israel's President Reuven Rivlin after Mr Lapid had informed Mr Rivlin of their coalition.
The opposition leader and his partners now have at least a week before members of the Knesset must vote to confirm their government — a period during which Mr Netanyahu and his Likud party are expected to try to do what they can to prevent it. Should last-minute defections scupper the "change" alliance, Israel would likely have to hold yet another election, the fifth in just over two years.
Mr Lapid, who heads secular centrist party Yesh Atid, last Sunday won the crucial support of Mr Bennett, head of the Yamina "Rightward" party. To build the anti-Netanyahu bloc, Mr Lapid had to sign individual agreements with seven parties.
They include the hawkish New Hope party of Mr Netanyahu's former ally, Gideon Saar, and right-wing secular nationalist Avigdor Lieberman's Yisrael Beitenu party. Also part of the alliance are the Labor party, the dovish Meretz party, and the centrist Blue and White party of Defence Minister Benny Gantz, who unsuccessfully challenged Mr Netanyahu in three previous votes. Mr Gantz tweeted "this is a night of great hope".
The change alliance also includes Arab Israeli Islamic conservative party Raam, whose head, Mansour Abbas, late on Wednesday night announced that he had joined in order to secure funding and policies to benefit Israel's 20 per cent minority of Palestinian descent. "I just signed an agreement with Yair Lapid so that he can declare that he can form a government after reaching … agreements on various issues that serve the interest of Arab society," Mr Abbas said.
Although other Arab MPs supported the late prime minister Yitzhak Rabin from outside his coalition in the 1990s, Mr Abbas was the first Arab politician in Israel to openly bargain for a role in the coalition, said political analyst Afif Abu Much. Mr Abu Much noted that MPs with other parties representing Arab citizens of Israel announced they would oppose the government headed by Mr Bennett, a strong supporter of Jewish settlements in the West Bank.
Mr Lapid was tasked with forming a government after Mr Netanyahu failed to put together his own coalition following March elections, the fourth inconclusive vote in less than two years. In an editorial, The Jerusalem Post warned "the hard part is just beginning" for the disparate coalition, but said it "has a chance to really change Israel for the better" after years of political turmoil.
In a separate development, the Knesset voted on Mr Rivlin's successor and elected Isaac Herzog, a former Labour leader, as the country's 11th president, due to take office next month. Mr Netanyahu wished Mr Herzog "good luck" and the Prime Minister's one-time opponent, replied: "I'll be happy to work with every government, no matter the leader."
"Let's not get into it now," Mr Netanyahu replied. Mr Netanyahu condemned the alliance against him last Sunday as "the fraud of the century", warning that it would result in "a left-wing government dangerous to the state of Israel".
Change bloc chiefs meet to iron out wrinkles as Likud steps up hunt for (new coalition) rebels
The Times of Israel
Wednesday June 9 2021
Knesset vote on new coalition set for Sunday at 4 p.m.
The leaders of the "change bloc's" Yamina, New Hope and Yesh Atid parties met Tuesday night to sort out remaining differences, five days before the new government is set to be approved and sworn in.
Naftali Bennett, Gideon Sa'ar and Yair Lapid agreed that New Hope's Ze'ev Elkin will be appointed minister in charge of liaison between the Knesset and government. The news came after reports that Elkin had set new conditions for supporting the government — specifically the formation of a new body to oversee enforcement of alleged illegal construction by Palestinians in the West Bank's Area C. In a joint statement, the parties called the reports "ridiculous spin."
The eight-party "change government" alliance, headed by Bennett and Lapid, anticipates winning a 61-59 majority in the confidence vote Sunday, after wavering Yamina member Nir Orbach said earlier Tuesday that he would back the new coalition. The vote on the new government is expected to begin at 4 p.m.
Yamina's Orbach explained that his decision was difficult but necessary to break the years-long political stalemate and prevent Israel from "falling apart. I chose what's good for the country," he said.
On Tuesday Prime Minister Benjamin Netanyahu's Likud party approved a motion to reserve three open spots on the party's electoral slate, in a last-ditch bid to entice members of right-wing parties in the change bloc to oppose the proposed government in exchange for a guaranteed spot on the Likud roster in the next election. Netanyahu has been desperately trying to push right-wing members in the new coalition to defect, with intense protests being held outside the homes of several lawmakers who have also seen threats directed against them and their families. Currently, at least four of the seven Yamina lawmakers in the Knesset are under additional protection amid threats directed at them over the party joining up with Lapid and left-wing parties. On Tuesday night, it was reported by Channel 12 news that security is also being increased for New Hope chairman Sa'ar.
The emerging government will first be headed by Bennett, who will be replaced by Lapid as prime minister in August 2023. Should the change government be confirmed by the Knesset, it would end more than 12 consecutive years of rule under Netanyahu, Israel's longest-serving prime minister.
Amid the alarmist discourse in some right-wing circles, rising incitement on social media, angry protests outside politicians' homes and even allegations of treason against Bennett and his allies, the Yamina party chief and prime minister-designate said on Sunday that the new government "is not a catastrophe, it's not a disaster, [it's] a change of government: a normal and obvious event in any democratic country."
Bennett appealed to Netanyahu to "let go. Let the country move forward. People are allowed to vote for a government even if you do not lead it — a government that, by the way, is 10 degrees to the right of the current one."
Netanyahu out, Bennett in as Israel marks end of an era
Jeffrey Heller, Maayan Lubell reuters.com
plus extracts from Times of Israel, The Australian, NYTimes
Monday June 14 2021
Benjamin Netanyahu's record 12-year run as Israel's prime minister ended on Sunday afternoon (Israel time) with parliament approving a new "government of change" led by nationalist Naftali Bennett of the Yamina party, an improbable scenario few Israelis could have imagined.
But the razor-thin 60-59 vote of confidence in a coalition of left-wing, centrist, right-wing and Arab parties with little in common except for a desire to unseat Netanyahu, only underscored its likely fragility.
One Yamina member, Amichai Chikli, had already ruled out supporting the incoming government.
One Ra'am (United Arab List) member, Said al-Harumi, knowing his vote was not essential, abstained from voting due to his opposition to planned demolitions of Bedouin homes in the Negev.
Labor member Emilie Moatti came directly from the hospital to the Knesset on Sunday to vote for the incoming government, while lying down. Moatti is suffering from a spinal ailment — a rare infection after a routine medical check she underwent last week — and was unable to stand. She was taken back out of the chamber as soon as she had cast her vote. With the coalition winning the Knesset's approval by the narrowest possible simple majority, 60-59, every vote was crucial.
Addressing parliament before Bennett was sworn in, a combative Netanyahu said: "If we are destined to go into the opposition, we will do so with our heads held high until we can topple it."
That will happen, 71-year-old Netanyahu added, "sooner than people think".
The new government, formed after an inconclusive March 23 election, largely plans to avoid sweeping moves on hot-button international issues such as policy toward the Palestinians, and to focus instead on domestic reforms.
Palestinians were unmoved by the change of administration, predicting that Bennett, a former defence chief who advocates annexing parts of the occupied West Bank, would pursue the same right-wing agenda as Likud party leader Netanyahu.
Israel's longest-serving leader, Netanyahu was prime minister since 2009, after a first term from 1996 to 1999. But he was weakened by his repeated failure to clinch victory in four elections over the past two years, including a vote in March, and by an ongoing corruption trial, in which he has denied any wrongdoing.
Under the coalition deal, Bennett, a 49-year-old Orthodox Jew and high-tech millionaire, will be replaced as prime minister by centrist Yair Lapid, 57, a popular former television host, in 2023. With his far-right Yamina party winning only six of parliament's 120 seats in the last election, Bennett's ascension to the premiership as the head of a kaleidoscope of parties was a political jaw-dropper.
Interrupted by non-stop shouts of "liar" and "shame" from Netanyahu loyalists in parliament, Bennett thanked the former prime minister for his "lengthy and achievement-filled service on behalf of the State of Israel". But little love has been lost between the two men: Bennett once served as Netanyahu's chief of staff and had a rocky relationship with him as defence minister. In the run-up to the new government, Bennett spurned Netanyahu's call to join with him, rather than with Lapid.
On the international stage, with his polished English and booming baritone voice, Netanyahu had become the face of Israel. He resisted international calls for Palestinian statehood he described as a danger to Israel's security, while forging formal relations with the United Arab Emirates, Bahrain, Morocco and Sudan and decrying Iran's nuclear programme.
US President Joe Biden congratulated Bennett, Lapid and the rest of the new cabinet and said he looked forward to working with Bennett to strengthen the "close and enduring" relationship between their two countries. "My administration is fully committed to working with the new Israeli government to advance security, stability, and peace for Israelis, Palestinians, and people throughout the broader region," Biden said in a statement.
German Chancellor Angela Merkel also congratulated Mr Bennett. "Germany and Israel are connected by a unique friendship that we want to strengthen further. With this in mind, I look forward to working closely with you," Mrs Merkel said in a message posted on Twitter.
Delighted revellers packed a square near the Knesset in Jerusalem and poured into Tel Aviv's city centre to celebrate Mr Netanyahu's fall. Throngs of people gathered in the coastal city, clapping, cheering and waving flags.
In Tel Aviv's Rabin Square, Mr Netanyahu's opponents launched into celebrations, waving "Bye bye Bibi" placards. One of the demonstrators, Tal Surkis, 19, confessed to "mixed feelings" about the incoming change coalition, but said "it's something Israel needs".
Both abroad and at home, Netanyahu has been a polarising figure. Often referred to by his nickname Bibi, Netanyahu is loved by his supporters and loathed by critics. His opponents have long reviled what they see as Netanyahu's divisive rhetoric, underhand political tactics and subjection of state interests to his own political survival. Some have dubbed him "Crime Minister" and have accused him of mishandling the coronavirus crisis and its economic fallout.
Addressing parliament, Bennett echoed Netanyahu's call for the United States not to return to the 2015 nuclear pact between Iran and world powers, a deal abrogated by Biden's predecessor Donald Trump. "Renewal of the nuclear agreement with Iran is a mistake, an error that would again grant legitimisation to one of the darkest and violent regimes in the world," Bennett said. "Israel will not allow Iran to equip itself with nuclear weapons."
Thanking Biden for his "years of commitment to Israel's security", and for "standing by Israel" during fighting with Hamas militants in Gaza last month, Bennett said his government would pursue good relations with US Democrats and Republicans. "The government will make an effort to deepen and enhance our relations with both parties - bipartisan," Bennett said.
Bennett has drawn anger from within the right-wing camp for breaking a campaign pledge by joining forces with Lapid - and an allegation from Netanyahu that he defrauded the electorate. Bennett has said another election - a likely outcome if no government were formed - would have been a disaster for Israel. Both Bennett and Lapid have said they want to bridge political divides and unite Israelis under a government that will work hard for all its citizens.
Their cabinet, which met for the first time late on Sunday, faces huge foreign, security and financial challenges: Iran, a fragile ceasefire with Palestinian militants in Gaza, a war crimes probe by the International Criminal Court, and economic recovery following the coronavirus pandemic. Bennett listed as priorities reforms in education, health, cutting red tape to grow businesses and lower housing costs. Coalition leaders have said it would pass a two-year budget to help stabilise the country's finances and maintain a "status quo" on issues of religion and state.
Israel opens first Gulf embassy
The Australian, AFP
Thursday July 1 2021
Abu Dhabi: Israel's top diplomat Yair Lapid opened the Jewish state's first embassy in the Gulf during a trip to the United Arab Emirates on Tuesday, nine months after they signed a normalisation deal. He met with his Emirati counterpart, Abdullah bin Zayed bin Al-Nahyan, in the UAE capital Abu Dhabi, tweeting a picture of the two of them shaking hands shortly after the opening of the embassy.
Mr Lapid also tweeted a photo of himself and UAE minister Noura al-Kaabi cutting a ribbon in the blue and white of the ­Israeli flag.
US Secretary of State Antony Blinken welcomed the opening as "historic". Mr Lapid's visit and the opening of the first Israeli embassy in a Gulf state were "significant for Israel, the UAE, and the broader region", he said.
Israeli ministers have previously visited the UAE, but newly appointed Mr Lapid became the most senior Israeli to make the trip, and the first on an official mission. "Israel wants peace with its neighbours. With all its neighbours. We aren't going anywhere. The Middle East is our home. We're here to stay. We call on all the countries of the region to recognise that. And to come talk to us," Mr Lapid said during the opening ceremony.
Mr Lapid and his UAE counterpart also signed an agreement on economic and trade co-operation, the Israeli foreign ministry said later. The agreement, subject to the approval of both governments and renewable every five years, also concerned co-operation in fairs and the exchange of delegations, it added. Since their US-brokered normalisation agreement was signed last September, Israel and the UAE have signed a raft of deals ranging from tourism to aviation and financial services.
During his two-day visit, Mr Lapid was due to meet "five (Emirati) ministers in less than 30 hours", Israeli foreign ministry spokesman Lior Haiat said. Mr Lapid, who is set to become Israeli prime minister in two years as part of a coalition government deal, was also due to inaugurate a consulate in Dubai.
His trip comes nearly a year after the nations moved to normalise ties, and it follows a string of visits by Israeli officials that were planned then scrapped over issues including the Covid-19 pandemic and diplomatic scuffles.
In March, a planned official visit by Israel's then prime minister Benjamin Netanyahu was cancelled due to a "dispute" with Jordan over the use of its airspace, according to Israeli officials. Mr Netanyahu, replaced as prime minister by Jewish nationalist Naftali Bennett in a coalition government cobbled together by Mr Lapid weeks ago, had already postponed a February visit to the UAE and Bahrain over corona­virus travel restrictions. According to the Jerusalem Post, Mr Netanyahu sought to prevent his foreign minister Gabi Ashkenazi from making an official visit to the UAE, to keep him from stealing the spotlight ahead of March elections.
In August 2020, former White House senior adviser Jared Kushner and Israeli national security adviser Meir Ben-Shabbat made history by flying to Abu Dhabi on an El Al plane from Israel. That was feted by both sides as a breakthrough in efforts for peace in the Middle East, marked by the El Al jet touching down adorned with the word "peace" in English, Arabic and Hebrew.
The normalisation accords Israel struck last year with the UAE and then also with Bahrain, Morocco and Sudan have been condemned by the Palestinians. The deals break with years of Arab League policy of no relations with Israel until it makes peace with the Palestinians. Hazem Qassem, a spokesman for the Palestinian Islamist movement Hamas which rules Gaza, said the embassy opening showed the UAE was "insisting" on the "sin" of implementing the normalisation accord.
Also on Tuesday, Bahrain appointed its first ambassador to Israel.
Click here for news since February 9, 2022
Click here for news on Iran as at 22nd June 2021.
** End of article