Israel — Latest News since January 29th 2020
Go to June 13th 2021 and the results of the 2021 Israel election
Click here for prior news from April 7, 2019
Major Cities
In 2019, Jerusalem remains Israel's largest city at 901,300 people. The next two largest cities are Tel Aviv-Jaffa (443,900) on the coast, and Haifa (281,100) in the north. Since 1948, Tel Aviv ("Hill of Spring") has been the de facto capital for many nations who have embassies in Israel. Click here for some of its recent history.
Click here to look at earlier maps (and events) over 4000 years of history for "Israel — Deep inside the plucky country"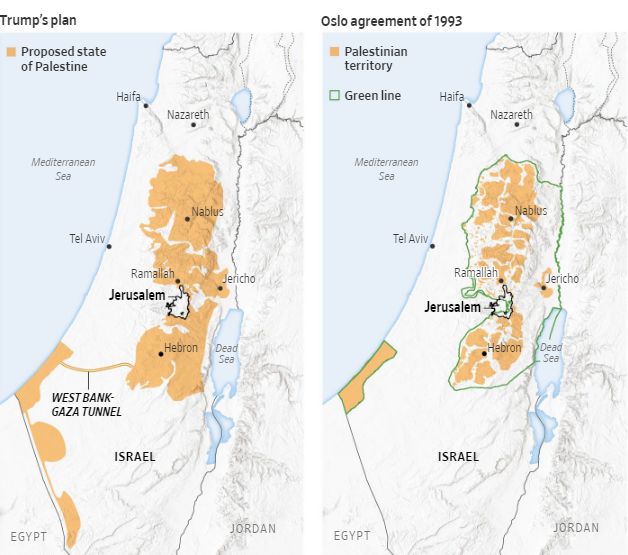 Click image for a larger map showing surrounding countries
Distances:
Tel Aviv to Jerusalem 63 kms
Tel Aviv to Haifa 95 kms
President Trump's Middle East peace plan
The Wall Street Journal
Felicia Schwartz and Michael R. Gordon
January 28, 2020 7:54 pm ET
January 29 4:54 am AEST
Dov Lieber in Tel Aviv contributed to this article
WASHINGTON — The Trump administration unveiled its long-delayed Middle East peace plan, giving Israelis much of what they have long sought, including allowing for immediate expansion of territory, while providing Palestinians a path to nationhood but under conditions they instantly rejected.
"Today Israel is taking a giant step toward peace," President Trump said Tuesday at the White House with Prime Minister Benjamin Netanyahu of Israel at his side. Some Israeli goals, such as annexing the Jordan River Valley and permanently setting its eastern border, may advance as soon as this weekend, when Mr Netanyahu plans to ask his cabinet for approval to move ahead.
The White House released its peace plan for the Middle East, including a map of the proposed Palestinian state. Palestinian Authority President Mahmoud Abbas rejected the plan. "We say a thousand times, no, no, no to the deal of the century," Mr Abbas said, referring to the plan. "We rejected this deal from the start and our stance was correct."
The Trump proposal requires many more concessions from the Palestinians than from the Israelis. Israel has agreed to a four-year freeze on expanding settlements in areas that might make up the core of a Palestinian state, while the Palestinians consider whether to accept terms set by the plan, including demilitarization and Israeli control of all security arrangements from the Jordan River to the Mediterranean.
Trump administration officials cast the design as the best the Palestinians could expect given Israel security requirements. US officials are calculating that Arab pressure could eventually prompt the Palestinians to go along. Ambassadors from the United Arab Emirates, Oman and Bahrain attended the rollout, and Egypt and the U.A.E. issued statements in support. "Egypt calls on the two relevant parties to undertake a careful and thorough consideration of the US vision to achieve peace and open channels of dialogue, under US auspices," the Egyptian Ministry of Foreign Affairs said.
In a cautious statement on Twitter, the Saudi Foreign Ministry said the kingdom "encourages the start of direct peace negotiation between the Palestinian and Israeli sides, under the auspices of the United States…" Jordan, however, took aim at one of the principle elements of the Trump plan by warning against "unilateral Israeli measures such as the annexation of Palestinian lands." The Trump administration unveiled a plan Tuesday for a two-state solution for Israel and Palestine. The plan included 'conceptual' maps that set aside more land for a Palestinian state, but allows Israel to immediately begin annexing Israeli settlements and the Jordan Valley.
Qatar hadn't issued any statement as of Tuesday evening. Secretary of State Mike Pompeo called Qatar's Emir Sheikh Tamin bin Hamad al-Thani on Tuesday. Important elements of the plan have now been set in motion in a way that ensures substantial Israeli territorial gains regardless of what the Palestinians say or whether the plan is approved by other world powers or the United Nations.
The Palestinian Authority cut ties with the Trump administration after the US in 2017 recognized Jerusalem as Israel's capital, but Mr Trump called on it to engage now that the blueprint has been unveiled. "There's nothing tougher than this one," Mr Trump said, referring to brokering peace between Israel and the Palestinians.
Mr Trump has said he wants to help Palestinians economically, and the plan vows to help marshal $50 billion in economic investment over 10 years if the Palestinians agree to its terms. The incentives, part of an economic portion of the Mideast plan released last year, aim to double the Palestinian gross domestic product, slash Palestinian unemployment rates now at almost 18% in the West Bank and 52% in Gaza, and cut the Palestinian poverty rate in half, US officials assert.
The plan was criticized by some Middle East experts as a ploy to boost Messrs Netanyahu and Trump domestically while failing to narrow the deep-seated differences between Palestinians and the Israelis. Mr Trump faces an impeachment trial while Mr Netanyahu has been charged with bribery.
The blueprint outlines an Israeli-US consensus on the most sensitive issues of the conflict — Jerusalem, borders, security, and refugees — that had until now been left for so-called final-status negotiations. The plan grants Israeli sovereignty over all Jerusalem — which includes the Old City in East Jerusalem — a move the Palestinians have long rejected.
It allows the Palestinians to establish a capital in the outskirts of the city east and north of the separation barrier that Israel constructed in East Jerusalem in 2005-06 following the second intifada (uprising) in 2000.
Arab residents of Jerusalem could choose to become citizens of Israel or of the new Palestinian state. Alternatively, they could remain permanent residents of Israel without becoming citizens of either state. Regarding borders, the Palestinian footprint would more than double, to include about 80% of the West Bank, US officials said. Land swaps between Israel and Palestinians would be used to enlarge Gaza, which also would be connected to the West Bank by high-speed rail. The "Triangle Communities" — Arab towns inside of Israel southeast of Haifa — could become part of the future Palestinian state under the plan.
Israel would get about 30% of the West Bank, US Ambassador to Israel David Friedman said, including the Jordan Valley and the Jewish settlements there.
Mr Netanyahu pledged to act immediately to expand Israel's borders, telling reporters Tuesday that he seek a cabinet vote on annexation Sunday.
On refugees, the plan rejects the right of return to land for Palestinians who left their homes after Israel's creation in 1948. It says refugees can be absorbed into the Palestinian state, integrate into host countries or be resettled in regional countries who agree to take them. The plan also supports the creation of a fund to compensate some refugees.
The Palestinians must meet strict political and security conditions set by the plan to satisfy requirements for forming a state. Most of those requirements have been rejected by Palestinians in the past. For instance, during the four-year negotiation period, the plan requires that they refrain from taking action against Israel in the International Criminal Court and dismiss their current claims.
They also must halt payments to families of Palestinians imprisoned in Israeli jails and to families of Palestinians killed while attacking Israelis or resisting Israel's control of the Palestinian territories. Palestinian officials have argued that such funding is a social benefit that compensates for Israeli oppression and helps prevent families from radicalizing further.
The demands made of the Palestinians are all the more difficult given the divisions in their ranks. Hamas, considered by Israel and the US to be a terrorist organization, controls the Gaza Strip after multiple failed reconciliation efforts with the Palestinian Authority, which controls the Palestinian parts of the West Bank. To satisfy the terms of Mr Trump's blueprint, Hamas would need to yield control of Gaza, which then would be demilitarized.
In recent years, Hamas's leadership has said it would accept the state of Israel within its pre-1967 borders — even though individual Hamas members continue to call for Israel's destruction.
US Ambassador to Israel Mr Friedman described the arrangements as a huge advancement and a "realistic two-state solution" — one that "mitigates many of the risks that were never solved in past negotiations."
Palestinian leader Mahmoud Abbas key to peace, says ex-Israeli PM Ehud Olmert
The Australian
AFP
Wednesday, February 12, 2020
Former Israel prime minister Ehud Olmert says Palestinian Authority President Mahmoud Abbas is a partner for peace, defiantly rejecting efforts by Benjamin Netanyahu's government to sideline the veteran leader.
Mr Olmert, Mr Netanyahu's centrist predecessor who led Israel from 2006 to 2009, met Mr Abbas in New York hours after the Palestinian leader went before the UN Security Council to denounce US President Donald Trump's Middle East peace plan. The former prime minister did not criticise Mr Trump's plan, which paves the way for Israel to annex much of the West Bank, but said any future negotiations needed to involve Mr Abbas, 84, who is considered a moderate.
"He is a man of peace, he is opposed to terror, and therefore he is the only partner that we can deal with," Mr Olmert said with Mr Abbas at his side. "It will take some time but these negotiations will take place, and the partner of Israel to these negotiations will be Mahmoud Abbas, the President of the Palestinian Authority," he said. Hinting at Mr Netanyahu's political woes, Mr Olmert said: "Who will be the partner on the Israeli side? We will know later this year."
Mr Abbas, who succeeded Yasser Arafat in 2005, called Mr Olmert "my dear friend" and said he wanted to "extend my hand to the Israeli people". "We want to achieve peace through peaceful means and negotiations," he said. "We are against and do not want violence."
Israel's ambassador to the UN, Danny Danon, had warned Mr Olmert against meeting Mr Abbas, who Mr Netanyahu's government accuses of inciting unrest. Mr Danon told the Security Council that the Palestinians needed a new leader, saying Mr Abbas was unable to consider the "realistic" Trump proposals. Mr Olmert "is endorsing diplomatic terrorism against Israel. It is shameful," Mr Danon said.
Mr Olmert is close to Mr Netanyahu's centrist rival Benny Gantz, who went neck-and-neck with the Prime Minister in two inconclusive elections last year, with a third vote scheduled for March 2.
Mr Olmert, who spent 16 months in prison on corruption charges after leaving office, said that he was not speaking for Mr Gantz. But the former member of Mr Netanyahu's Likud party said he was convinced the Israeli right wing could not form government. "The majority of the Israelis are not on the right-hand side, refusing to negotiate and demanding the annexation of the territories," Mr Olmert said.
Brandishing a map of a future Palestine as laid out by Mr Trump, Mr Abbas denounced it as a "Swiss cheese" deal that would give the Palestinians only a "fragmented state" without control of their airspace, sea or East Jerusalem.
"Who among you would accept such a state?" he said as he warned that Israel would create an "apartheid" situation if it moved ahead with annexation. "I would like to say to Mr Donald Trump that his plan cannot achieve peace and security as it cancels international legitimacy. It cancels all the rights of the Palestinians. "This does not meet the aspirations of a two-state solution. If you impose peace, it will not last."
The Palestinians have sought to rally international support against the plan, which Mr Trump unveiled alongside Mr Netanyahu on January 28.
But, in a setback, the Palestinians dropped plans for a vote on a resolution on Tuesday that would have denounced the proposal. Diplomats said the US had put heavy pressure, including threats of financial repercussions, on Security Council members.
Reader Comments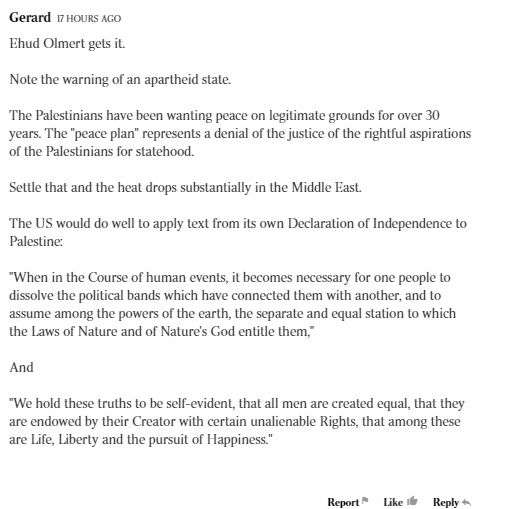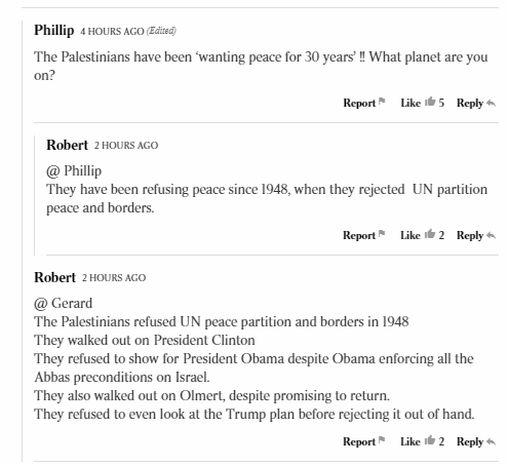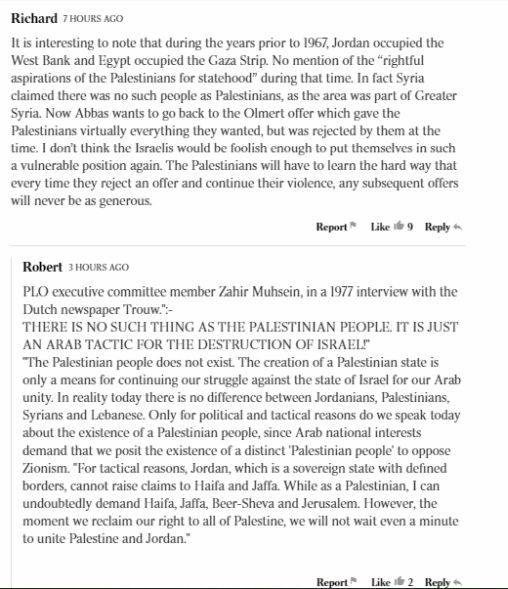 Benny Gantz and Benjamin Netanyahu strike 'unity deal' on Israeli power
The Australian
Felicia Schwartz and Dov Lieber, Wall Street Journal
Friday, March 27, 2020
Tel Aviv: Israel's opposition leader splintered his political party to pursue the formation of a unity government, a move that creates a path for Prime Minister Benjamin Netanyahu to extend his tenure after three elections in one year. Blue and White party leader Benny Gantz stepped forward to become parliamentary Speaker on Friday AEDT, pivoting towards Mr Netanyahu's right-wing bloc and shattering his own base of support from a broad political spectrum.
"These are not usual days and they require unusual decisions," Mr Gantz said shortly after being elected Speaker of the Knesset. "I intend to promote in every way possible the creation of an emergency unity government. I will not compromise the values voted for by more than one million citizens. Mr Netanyahu knows this very well."
Mr Gantz won 74 votes in favour of his candidacy, including from Mr Netanyahu's Likud party and the rest of his right-wing bloc. Many members of his Blue and White alliance didn't show up to vote and split away from the party.
Mr Gantz's move dissolves the 61-seat bloc that he had cobbled together to recommend him to form a government last week, which opposed Mr Netanyahu in the 120-seat Knesset. A disagreement over whether Mr Netanyahu could serve while facing indictment on corruption charges stood in the way of the embattled Prime Minister's efforts to extend his tenure through three inconclusive elections.
The move will likely extend Mr Netanyahu's time in power as he awaits trial. That trial is set to begin in May. Mr Netanyahu denies wrongdoing. As Israel's longest-serving prime minister, Mr Netanyahu has earned the nickname "The Magician" for his ability to outmanoeuvre political opponents. He appeared to do so again by striking an agreement with Mr Gantz to back away from a plan that would have seen Blue and White put forward a speaker candidate whom Likud said would be a deal breaker in ongoing coalition discussions.
"Gantz was faced with two problems — the first was the cohesion in his own party and the second was his inability to go back to the electorate having, in reality, failed to overcome Netanyahu three times," said Jason Pearlman, a former adviser to President Reuven Rivlin. "This isn't a long-term solution but it gives him the space to negotiate a broader unity government with a much better hand. For Netanyahu, this is a massive win."
As Israel's MPs left the voting floor, those in Mr Netanyahu's camp smiled, bumped elbows and wished Mr Gantz good luck. Others who voted against him didn't look at the new Speaker. Two of Blue and White's leaders, Yair Lapid and Moshe Yaalon, submitted a request to the Knesset ahead of the vote to bump Mr Gantz's 15-seat faction from Blue and White and keep the name for their own factions, which comprise 18 seats.
Mr Gantz, a former general, entered politics in late 2018 and formed the Blue and White alliance with the aim of ousting Mr Netanyahu from power. However, Blue and White struggled through the series of recent elections to form a government. Under pressure to avoid a fourth election and end political bickering amid an expanding corona-virus outbreak, Mr Gantz opted to co-operate with his rival.
Several members of Mr Gantz's party opposed any arrangement that would rely on the support of the Joint List, which largely represents Israel's Arab citizens and is the third-largest party in the Knesset, with 15 seats. As Speaker, Mr Gantz has control over what legislation advances, and parliamentary committees. That gives him some leverage as he negotiates a government with Mr Netanyahu. He said he would make sure the body worked for all of Israel's citizens, Jews and Arabs.
Blue and White had originally aimed to seize control of the parliament and begin passing legislation that would block Mr Netanyahu from serving a fourth term while under indictment, as well as control committees to oversee Mr Netanyahu's response to the new coronavirus.
Bibi defies odds to keep grip on power
The Australian
AP
Tuesday, April 21, 2020
Jerusalem: Israeli Prime Minister Benjamin Netanyahu and his chief rival have agreed to form a coalition government, ending months of political paralysis and averting what would have been a fourth consecutive election in just over a year. Mr Netanyahu and former military chief Benny Gantz signed the power-sharing agreement after weeks of negotiations for what they termed a "national emergency" government meant to steer the country through the coronavirus outbreak.
Although Mr Netanyahu repeatedly came up short in three elections over the past year, the coalition deal returns the long-serving leader to the prime ministership, defying critics who predicted his downfall and restoring his reputation as a political wizard. It means he will almost certainly remain in office for the duration of his upcoming trial on corruption charges. The deal calls for a three-year period, with Mr Netanyahu serving as prime minister for the first half, and Mr Gantz taking the job for the second half. Mt Gantz's Blue and White party will control several senior government ministries, including defence.
The agreement delivers Mr Netanyahu a significant boost as he fights to hold on to power while fending off corruption charges. His party will gain influence over judicial appointments. The deal also requires the approval of both parties on key appointments including the attorney-general and the state prosecutor – granting Mr Netanyahu veto power over the officials who hold sway over his legal fate. "I promised the state of Israel a national emergency government that will work to save the lives and livelihoods of the citizens of ­Israel," he tweeted.
After March 2 elections left both men short of a required parliamentary majority, they agreed to try to form a unity government because of the burgeoning coronavirus crisis. The talks stalled several times, reportedly over Mr Netanyahu's personal legal problems, sparking concern that they would plunge the country into new elections. The deal required major compromise by both men. During three bitter campaigns over the past year, Mr Gantz and Blue and White vowed never to serve in a government under Mr Netanyahu so long as he faced a slew of corruption charges. After 11 years as Prime Minister, Mr Netanyahu agreed to step aside and allow Mr Gantz to take the job, if the ­coalition manages to survive long enough.
"We prevented a fourth election," Mr Gantz tweeted. "We will protect democracy. We will battle corona and we will worry about all the citizens of Israel."
While the government was ­ostensibly formed to deal with the pandemic, which has killed more than 175 Israelis and ravaged the economy, negotiations revolved largely around Mr Netanyahu's corruption trial, set to start next month. Main sticking points included his demand to have more say on judicial appointments, which could play a role if his case eventually reaches the Supreme Court.
Mr Netanyahu wanted a guarantee he would not be forced to resign after Mr Gantz takes over as prime minister. Israeli law requires all public officials, with the exception of the prime minister, to step down if charged with a crime. For Blue and White, that meant assurances that Mr Netanyahu wouldn't topple the government before Mr Gantz becomes prime minister.
The deal could clear the way for Mr Netanyahu's campaign promise to annex large parts of the West Bank after July 1. Mr Gantz has raised concerns about the plan, which is bitterly opposed by Palestinians and much of the international community. Palestinian Prime Minister Mohammad Shtayyeh condemned the deal, saying it would wreck hopes of peace. "The formation of an Israeli annexation government means ending the two-state solution and the dismantling of the rights of the people of Palestine," he tweeted.
Palestinians end security deal with Israel as Netanyahu pushes for annexation
The Australian
Catherine Philp, The Times
Friday, May 22, 2020
London: The Palestinian Authority President has declared an end to security co-operation with Israel and the US in response to imminent threats of Israeli annexation of Arab territories in the West Bank. Mahmoud Abbas announced the end of commitments made under the Oslo peace accord, including the security co-operation that has helped to keep the Palestinian Authority in power while dramatically curtailing the extreme violence of the intifada years.
"The Palestine Liberation Organisation and the State of Palestine are today no longer bound by all agreements and understandings with the American and Israeli governments, and by all the commitments derived from those understandings and agreements, including those relating to security," he said in Ramallah. "From now on, the Israeli occupation authorities must bear all responsibilities and commitments towards the international community as an occupying power."
The PLO voted to end co-operation with Israel and the US in 2018 but had left it up to Mr Abbas to decide when to implement the move. His fiery speech followed the agreement of Israel's new coalition government that allows Israeli sovereignty to be extended over Palestinian territories as early as July. In January, the Trump administration gave its blessing to Israeli annexation of the Jordan Valley and Jewish settlements in its "vision for peace" blueprint.
Palestinian officials insisted that Mr Abbas's declaration was genuine, although there were mixed messages over whether any such order had been conveyed to the Palestinian forces who co-ordinate with Israel on security in the West Bank. Adnan Damiri, a spokesman for the Palestinian security services, said that representatives had attended the meeting and absorbed Mr Abbas's message to cease co-operation immediately but no formal instruction to that effect had been issued. Were such co-ordination to be annulled, Israeli forces would have to police any violence that erupts in the West Bank in reaction to annexation moves. It is also unclear how the PA could continue to operate without day-to-day co-ordination with Israel, including revenue transfers.
Annexation lay at the heart of the agreement struck between Benjamin Netanyahu and Benny Gantz, allowing them to create a coalition that will spare Israel a fourth election in a year. Mr Netanyahu, who will remain Prime Minister before the role rotates to Mr Gantz, secured a promise his coalition partner would not block any moves towards annexation. It is unclear, however, whether Mr Netanyahu actually wants or intends to go ahead with annexation or is simply seeking to create a crisis that will relieve political pressure from his right-wing allies. He campaigned for their support on a promise that he would move forward with annexation.
That pressure increased further after the Trump administration endorsed annexation of the West Bank, removing one longstanding obstacle. Extending the Jewish state from the Jordan Valley to the Mediterranean is a long-held goal of messianic Christian Zionists that make up a key part of Mr Trump's domestic base.
---
Readers Comments
Tony
Maintaining a barbaric strangle hold over a ghetto that is GAZA would drive anyone to fight back. Palastinians have occupied much of the disputed lands for centuries. Israelie fighters took most of it back by force. The Palastinians are doing no less. There has to be some truth and balance on reporting about this complicated issue.
Robert

@ Tony
The truth is, Israel accepted UN partition peace and borders on day one, the Palestinians rejected it then & continue to reject it all now.
The PA claims it all as "indivisible Arab land" while Hamas claims it as "sacred Islamic WAQF not to be negotiated".
The border between Gaza & Egypt is controlled by Hamas and Egypt
nothing to do with Israel.
They can come and go as Egypt and Hamas allow over that border.
" Barbarism " &" stranglehold " by Israel while thousands of tons of supplies go to Gaza via Israel not Egypt?
While thousands of Palestinians get world leading medical care in Israel instead of Egypt or Jordan ?

European leaders said to implore Netanyahu not to advance annexation
Raphael Ahren
The Times of Israel
Wednesday, May 27, 2020
Several European leaders reportedly sent personal letters to Prime Minister Benjamin Netanyahu in recent days asking him not to push ahead with plans to unilaterally annex parts of the West Bank. "I ask you, in a spirit of friendship, that your new government not take unilateral action [in the West Bank]. Such a move would destabilize the Middle East," French President Emmanuel Macron told Netanyahu, according to a report aired Tuesday on Channel 13. "Only dialogue with the Palestinians and a just and balanced solution will provide Israel with peace, security and stability." UK Prime Minister Boris Johnson, Spanish Prime Minister Pedro Sánchez and their Italian counterpart Giuseppe Conte reportedly sent Netanyahu letters expressing similar sentiments.
Several European nations are currently considering ways to deter Israel from moving forward with its declared intention to apply sovereignty to the entire Jordan Valley and all settlements across the West Bank – territory much of the international community wants to see become a Palestinian state – and how to punish it if it ignores their warnings and carries out the annexation, according to the report.
According to the coalition agreement on which Israel's new government was founded, Netanyahu can bring the annexation plan to a vote in the government and the Knesset as soon as July 1, as long as it's done in full coordination with the US. The administration of US President Donald Trump has vowed to recognize Israel's annexation as long as Jerusalem does it on the basis of the peace plan issued by Washington earlier this year.
According to the network, Palestinian leaders are concerned that leading Arab nations, including Saudi Arabia, Egypt and Gulf states, have reacted with seeming indifference about the prospect of annexation. While Jordan has threatened to review its ties with Israel over the annexation plans, most other Arab states have made little fuss.
Citing an unnamed Palestinian source, Channel 13 said that Palestinian Authority President Mahmoud Abbas, having severed security ties with Israel, may resort to still more dramatic measures if Israel presses ahead with unilateral annexation, including dismantling the PA. Last week, Abbas announced the end of security cooperation with Israel in reaction to the annexation plans, in what was seen as his most extreme move yet to attempt to thwart Israeli intentions to claim sovereignty over areas the Palestinians seek for their future state.
On Monday, Netanyahu reportedly told lawmakers from his Likud faction that he was sticking to plans to begin the annexation process on July 1, rebuffing domestic and international pressure against the move.
Among the most outspoken opponents of the annexation plans has been the European Union's foreign policy chief, Josep Borrell, who in recent weeks released several statements condemning the annexation plans, causing much chagrin in Jerusalem. Borrell spoke with Foreign Minister Gabi Ashkenazi Tuesday, but surprisingly did not highlight the bloc's vociferous opposition to Israel's plan to annex parts of the West Bank.
A readout of the conversation provided by Borrell's office quoted him reaffirming the EU's wish to "continue working with the new Israeli government in a constructive and comprehensive way, in the spirit of the longstanding friendship that binds the EU and Israel together." Ashkenazi and Borrell had "an honest and open exchange of views on a broad range of bilateral and regional issues," the readout continues, without elaborating.
The EU's foreign policy czar "underlined the EU's unequivocal commitment to the security of the State of Israel, which is not negotiable for the EU" and reaffirmed the union's intention to "address jointly issues of mutual interest and concern and to work with Israel to promote global peace and security and to contribute to building trust, in particular in the region and the immediate neighborhood."
The fact that the readout did not explicitly mention annexation is to be seen as an indication of the union's "willingness to engage" with the new Israeli government, an EU source told The Times of Israel. The source added, however, that the EU's position on annexation "is abundantly clear."
Last week, the Foreign Ministry in Jerusalem slammed Borrell's "megaphone diplomacy" after he repeatedly warned Israel against annexation. "Israel and the EU share history, values, interests, opportunities and both face threats. It is regrettable that once again, the security of Israel, a key partner of the EU, and the threats that Israel face, were not mentioned at all and were not given the centrality that they should be in such a message," Foreign Ministry spokesperson Lior Haiat said at the time. "This 'megaphone diplomacy' is not a substitute for intimate diplomatic dialogue and will not advance the role the EU is seeking to fulfill."
On May 18, Borrell had issued a brief statement that largely focused on the Israeli-Palestinian conflict, the need for a two-state solution, the importance of international and Brussel's "grave concerns" over Jerusalem's supposed plan to unilaterally annex the Jordan Valley and all settlements across the West Bank.
"The two-state solution, with Jerusalem as the future capital for both States, is the only way to ensure sustainable peace and stability in the region," Borrell declared. "In this vein, we note with grave concern the provision – to be submitted for approval by the Israeli cabinet – on the annexation of parts of occupied Palestinian territories. "We strongly urge Israel to refrain from any unilateral decision that would lead to the annexation of any occupied Palestinian territory and would be, as such, contrary to International Law," he said.
The statement was issued in Borrell's name because there was no consensus on it among the EU's 27 member states. According to several sources familiar with the matter, Hungary, Austria and other countries reasoned that now was not the time for such statements.
On the other hand, some member states, including Ireland and Luxembourg, sought to issue a statement that was even harsher, including mentioning steps the EU may consider if Israel were to advance its annexation plans. Given the near-certain veto of such a text by Budapest and Vienna, some countries considered issuing a separate joint statement listing possible sanctions against Israel as a deterrent against annexation, but this has not materialized so far.
Times of Israel staff contributed to this report.
Phone lines connected between UAE and Israel after historic diplomatic deal
Tom Williams
Metro UK, with excepts from Associated Press
Sunday 16 Aug 2020
Telephone calls between the United Arab Emirates (pop. 10 million) and Israel have taken place for the first time in the first concrete sign of a new diplomatic agreement between the two countries.
Authorities have removed a historic block on phone lines for people trying to call numbers with the +972 Israeli country code from the UAE and allowed citizens to view some Israeli websites. No one has been able to call Israel directly since the founding of the UAE in 1971.
Foreign Minister Sheikh Abdullah bin Zayed Al Nahyan called his Israeli counterpart, Gabi Ashkenazi, to mark the occasion. Mr Ashkenazi later tweeted that the two sides 'decided together on the establishment of a direct communication channel ahead of the signing of the normalisation agreement between the two countries and… to meet soon.'
Journalists working in the two countries had realised earlier that they could call each other from landline and mobile phones, although it is not exactly clear when the block was removed. Previously anyone trying to call out of the UAE to Israel would hear a recorded message in Arabic and English to say calls to the country could not be connected. Many had tried to get around the ban with the advent of internet calling, although these were often interrupted. Some in Israel used Palestinian mobile phone numbers, which the UAE could call.
People in the UAE also found they could access Israeli news websites for the first time today including the Times of Israel, the Jerusalem Post and YNet. Previously these could only be seen by using tools to hide your location.
The new developments represent the first practical steps in thawing relations between the Emiratis and Israelis after Thursday's historic deal (August 13th).
Benjamin Netanyahu in Jerusalem announced that Israel and the UAE were establishing full diplomatic relations in a US-brokered deal that required Israel to halt its plan to annex occupied West Bank land sought by the Palestinians. The agreement delivered a key foreign policy victory to President Donald Trump as he seeks re-election, and reflected a changing Middle East in which shared concerns about arch enemy Iran have largely overtaken traditional Arab support for the Palestinians.
But Netanyahu said the annexation plan was on "temporary hold," appearing to contradict statements from Emirati officials who said it was off the table.
Emirati officials described the deal in pragmatic terms. Anwar Gargash, a top Emirati official, said they had dealt a "death blow" to an aggressive Israeli move and hoped to help reshape the region. "Is it perfect? Nothing is perfect in a very difficult region," Gargash added. "But I think we used our political chips right."
Omar Ghobash, assistant minister for culture and public diplomacy, told The Associated Press: "I don't think anything was written in stone. We are opening a door. We are hoping the Israelis will see the benefits to this step. I would assume that this is political maneuvering within a very complex political society," he added.
It makes the UAE the third Arab country, after Egypt (in 1979) and Jordan (in 1994) to have full, active diplomatic ties with Israel. The joint statement said deals between Israel and the UAE were expected in the coming weeks in areas such as tourism, direct flights, and embassies.
The two sides are expected to sign the accord in Washington in three weeks' time. Israeli Communications Minister Yoaz Handel issued a statement "congratulating the United Arab Emirates on removing the blocks. Many economic opportunities will open now, and these trust-building steps are an important step toward advancing states' interests," Handel said.
For Dubai's small expatriate Jewish community, which has worshipped for years at an unmarked villa in this city-state, the calls represented so much more than just the convenience of being able to directly dial loved ones in Israel. 'There's a sense of a miracle upon a miracle upon a miracle, as all of these hurdles fall away and people at last can come together and start talking,' Ross Kriel, the president of the Jewish Council of the Emirates, said.

Sudanese pull back from ties with Israel
The Australian
AFP
Thursday 27 Aug 2020
KHARTOUM: Sudan (pop. 43 million) says it cannot establish diplomatic relations with Israel for now, dashing US hopes for a speedy breakthrough during a visit by Secretary of State Mike Pompeo. Prime Minister Abdalla Hamdok told Mr Pompeo on Wednesday AEST that Sudan's transitional government – which replaced ousted strongman Omar al-Bashir last year and is set to rule until 2022 elections – had no mandate to take such a weighty step.
The announcement was a setback to a charm offensive by the US and Israel to forge more ties between the Jewish state and the Arab world after a landmark US-brokered agreement this month between Israel and the United Arab Emirates.
Israel has for decades been technically at war with Sudan, an East African country that for years supported hardline Islamist forces under Mr Bashir, and which remains on a US blacklist of backers of terrorism.
Mr Hamdok urged the US not to link "the subject of lifting Sudan from the State Sponsors of Terrorism list and the subject of normalisation with Israel," his spokesman said. The Forces of Freedom and Change, the coalition behind the transition government, noted "the right of Palestinians to their land and to a free and dignified life" and argued that the government had no mandate to normalise ties with Israel. Mr Hamdok's office said he had made the same point to Mr Pompeo.
"The Prime Minister clarified that the transitional period in Sudan is being led by a wide alliance with a specific agenda: to complete the transition, achieve peace and stability in the country and hold free elections," a government spokesman said.
As Mr Pompeo left on a flight to the Gulf state of Bahrain, senior US State Department official later said that "no one should expect an overnight peace agreement" and that "we were very pleased with the conversations we had with Sudan's political leadership", with talks set to continue.
Mr Pompeo also met Sudan's Sovereign Council chief General Abdel Fattah al-Burhan for talks that the State Department had said would express US "support for deepening the Sudan-Israel relationship". Israeli Prime Minister Benjamin Netanyahu had met Mr Burhan in February in Uganda and later announced that they had agreed to co-operate towards normalising ties. But Sudan's cabinet later denied Mr Burhan had made such a promise.
Sudan's new government has vowed to break with the Bashir era and launched sweeping social and political reforms. Mr Bashir is on trial over the Islamist-backed coup that brought him to power over three decades ago. The cash-strapped country hopes Washington will soon take it off its terrorism blacklist as it seeks to fully re-integrate into the international community and attract more aid and investment.
Sudan has been on the list since 1993 because of its earlier support for jihadists, including Osama bin Laden, who lived in the country for years in the 1990s before heading to Afghanistan. Sudan has been in talks on compensating the victims of Bashir-era Al-Qa'ida attacks, including the 2000 USS Cole bombing in Yemen and the simultaneous 1998 bombings of the US embassies in Kenya and Tanzania.
Mr Hamdok tweeted that he and Mr Pompeo had a "direct & transparent conversation regarding delisting Sudan" from the terror list and on receiving US government support.

Normalization of Relations Between Israel and the Kingdom of Bahrain
Remarks by President Donald Trump
Washington DC
Friday 11 Sep 2020 at 1:02 PM EDT (3:02 A.M AEST Saturday Brisbane Time)
Just a few moments ago, I hosted a historic call between Prime Minister Benjamin Netanyahu of Israel and King Hamad Al Khalifa of Bahrain. Both leaders expressed their condolences as well to the American people on this very, very tragic, horrible event that took place on September 11th. And they very much meant it. I want to thank them for that.
There's no more powerful response to the hatred that spawned 9/11 than the agreement that we're about to tell you. You will hear something today that's, I think, very, very important for not only the Middle East but for the world.
In the spirit of peace and cooperation, both leaders also agreed that Bahrain will fully normalize its diplomatic relations with Israel. They will exchange embassies and ambassadors, begin direct flights between their countries, and launch cooperation initiatives across a broad range of sectors, including health, business, technology, education, security, and agriculture. This is a truly historic day.
Click here for the full announcement.
Israel to Enter Lockdown Again as Second Coronavirus Wave Hits
The Wall Street Journal
Felicia Schwartz and Dov Lieber
Monday, Sep 14, 2020
Tel Aviv: Israel on Friday is to become the first developed country to impose a second nationwide lockdown, as its government struggles to contain a fresh coronavirus outbreak that has hammered the economy and divided the nation.
The lockdown, which will last at least through early October, aims to prevent mass gatherings during the Jewish holidays that begin at sundown Friday. It will extend through Rosh Hashana, Yom Kippur and Sukkot—holidays that typically involve millions of Jewish worshipers attending synagogues and gathering for prayer services. If deemed effective, Israel will later move to localized lockdowns of coronavirus hot spots.
Israel has one of the worst rates of daily coronavirus infections per capita in the world, and officials warn hospitals risk being overwhelmed ahead of the coming flu season. Over the past 24 hours, Israel has had 2,715 new infections and has 38,008 active cases overall, according to the health ministry. There are 513 patients in serious condition, and 1,108 people have died.
"We want to curb the surge," Prime Minister Benjamin Netanyahu said after the cabinet voted to back the lockdown on Sunday. "We are not going to be able to be together with our extended families and some are going to see damage to their businesses."
Some other countries such as the UK have reimposed strict limits on gatherings as the threat from the virus persists or worsens. But Israel's total national shutdown is the strictest re-imposition of such measures.
The new shutdown has already drawn criticism from religious leaders who said the restrictions will prevent tens of thousands of people from attending services during the most important holidays of the year. The decision to impose a second lockdown is expected to be scrutinized by other countries dealing with a rise in cases of Covid-19, the illness caused by the new coronavirus.
Under the lockdown measures, people must stay within 500 metres of their homes unless shopping for essential goods or seeking essential services. Those businesses considered essential, such as pharmacies and supermarkets, will remain open. Private businesses that don't interact with the public will also be allowed to remain open, and so some people will continue commuting to work. Restaurants, hotels or gyms must close. Gatherings will be limited to as many as 10 people indoors and 20 people outdoors.
Mr. Netanyahu's government also released guidelines that will limit holiday prayer services to small groups.
Mr. Netanyahu said his government is looking to approve additional financial aid to help those affected. The coronavirus pandemic has spurred a steep recession in the country, with the Bank of Israel in late August estimating unemployment at 12%, after a peak at roughly 27% in May following two months of business closures because of the earlier outbreak. Israel's finance ministry predicts the measures will cost the economy $1.9 billion.
The number of new cases has been rising steadily across Europe for more than six weeks, with Spain, France, Italy, Germany and the UK all reporting increases. The UK recently moved to impose new limits on social gatherings to try to curb the spread, while France decided to avoid similar measures even as daily cases surged past 10,000 a day.
Facing new curbs, many companies in Israel said they would struggle to stay afloat. "The meaning of any further shutdown of the economy is a significant decline in the standard of living for Israeli citizens for the next decade and a passing on of great debt to future generations," the head of the Manufacturers Association of Israel, Ron Tomer, said in a written statement Sunday.
Hotels, which have been catering to Israelis largely barred from traveling overseas, say they have been hit particularly hard. "We managed to get reservations for the holidays, bought goods, food, equipment and are now facing a hopeless situation," said Amir Hayek, president of the Israeli Hotels Association, in an interview Sunday on 103FM radio. "We are in a catatonic state."
Israel was a world leader in confronting the first wave of the coronavirus after Mr. Netanyahu moved quickly to shut the country's borders and institute a quarantine for all returning travelers. But it then reopened schools and businesses in May and June, fueling a second outbreak that has worsened over the summer.
"This type of spreading and expanding of the infection obligates us to take steps," said Israel's coronavirus czar, Ronni Gamzu, who spoke to Israelis on television from home quarantine. "Believe me, this is the lesser of two evils. We must understand we're in a battle," he said.
Mr. Netanyahu's decision to close down the country again has divided his coalition and the nation. Itzik Shmuli, the minister of labor and welfare and a lawmaker with the Labor Party, a member of Mr. Netanyahu's coalition, said the closure wouldn't be effective and doubted whether the public would support it. "Taking aggressive steps in areas of high infection hasn't been given a real chance yet," Mr. Shmuli wrote in a tweet Sunday night.
Thousands of Israelis gathered in front of Mr. Netanyahu's residence on Saturday evening, continuing weeks of protests against the premier and his handling of the coronavirus crisis, as well as the corruption allegations he faces. He denies wrongdoing and said Sunday that Israel has a lower mortality rate from the virus than many other countries.
Mr. Netanyahu initially had backed a proposal to target coronavirus hot spots, but shifted to a full nationwide lockdown after facing pushback from ultra-Orthodox mayors, who said their offices would refuse to comply with authorities. The ultra-Orthodox are an important source of political support for Mr. Netanyahu, particularly as his corruption trial is under way with witness testimony set to begin early next year.
Before Mr. Netanyahu announced his decision on Sunday, the housing minister and head of the ultra-Orthodox United Torah Judaism party, Yaakov Litzman, resigned from his post. He said he opposed the lockdown during the Jewish holidays and said it would bar worshipers from attending prayer services. "This is a difficult decision that will significantly…reduce the number of people going to synagogues on Rosh Hashana and Yom Kippur, especially tens of thousands of Jews from a variety of different populations for which this is the only prayer service they attend in synagogue all year," wrote Mr. Litzman in his resignation letter.
After the announcement Sunday, Mr. Netanyahu flew to Washington for a ceremony to establish diplomatic relations with the United Arab Emirates and Bahrain.
Cops move to close synagogues
The Australian
Irris Makler
Wednesday, Oct 7, 2020
Jerusalem: Clashes between Israeli police and ultra-Orthodox Jews erupted on Monday night (Tuesday AEDT), as police moved to close down synagogues, in order to help curtail the spread of COVID-19. The synagogues were open in breach of the second nationwide lockdown imposed when Israel's infections soared to more than 9000 cases a day, currently the highest rate in the world.
The infection rates didn't appear to matter much in the ultra-Orthodox communities targeted by police, including in Jerusalem, Bnei Brak, Ashdod and Betar Illit, where people were furious at the heavy police presence during the Jewish festival of Sukkoth (Tabernacles). "During the first lockdown we closed our own synagogues but now to have the police arrive when we are at prayers and to defile this holy place, people are enraged. We haven't seen protests like this for years," said Ari from the ultra-Orthodox town of Bnei Brak, as police helicopters circled overhead and protesters threw rocks at officers.
The ultra-Orthodox make up about 10 per cent of the Israeli population but 40 per cent of the COVID-19 cases, according to the country's coronavirus commissioner Ronni Gamzu. Some ultra-Orthodox rabbis have instructed followers to close synagogues and pray outside.
But others purposely choose to disobey lockdown laws, and to avoid COVID-19 testing, said Shuki Friedman, director of the Centre for Religion and State at the Israel Democracy Institute.
"These leaders basically decided they preferred to pay a price in life and health than to give up any of the daily activities crucial for their spiritual life. They don't care much about the state of Israel and this crisis has starkly exposed that. They are only interested in what enables the survival of their communities. They are not prepared to give up something that's important to them, such as prayers, study or going to a ritual bath, for the benefit of the society as a whole. Their willingness to do that is almost zero."
Dr Friedman estimated that about half of the ultra-Orthodox communities, about 500,000 people, are not obeying the lockdown rules. This, combined with poverty and crowded living conditions, contributes to their high rates of infection. "One anecdote illustrates this," Dr Friedman said. "After the Jewish New Year last month, the Prime Minister, Benjamin Netanyahu called the Vishnitz Rebbe (the Yiddish word for Rabbi) and the spiritual leader of the Vishnitz ultra-Orthodox community currently Eliezer Zev Hager normally based in New York, to ask him to close the synagogues. The Rebbe said he was sorry, there was the matter of protecting our souls and our spiritual health and it was more important than protecting our physical health, or anyone else's physical health and he brushed off the Prime Minster."
During the current Jewish High Holy Days many ultra-­Orthodox synagogues were open – and crowded. Smartphone footage emerged of thousands of men jammed into the Vishnitz synagogue in Bnei Brak after Yom Kippur, the Jewish Day of Atonement on September 28. The followers of the Vishnitz ultra-Orthodox group, named for the town in Ukraine where the community originated, danced and sang in the presence of their rebbe.
"At first it made me angry, now it makes me sad," said Dror Mevorach who heads the coronavirus ward at Jerusalem's Hadassah hospital. "They will transfer the virus to their families, and I don't think they realise how dangerous it is."
Israeli media reports that some rabbis, including those from the Belz and Vishnitz communities, have told their followers the aim is for them all to become infected and to achieve herd immunity. But Professor Mevorach argued they couldn't achieve herd immunity just for themselves, as they still travelled on public transport, shopped in supermarkets, and would go to hospital when they're sick. "Herd immunity will be possible when 70 per cent of the population will be infected. However, this means in a place like Israel that's 35,000 people will die. More than that it means that there will be thousands of severely ill patients, and that Israel's health service will completely collapse," he said.
A funeral was held in the southern town of Ashdod Monday for an ultra-orthodox rabbi who died of COVID-19. Israeli police gave permission for 60 people to attend. More than five thousand turned up. While many wore masks, social distancing was impossible, leading to further clashes with law enforcement. "If the ultra-Orthodox had acted like other Israelis, we wouldn't be in a lockdown now," said Professor Friedman.
Extremist Orthodox groups frequently deny that the virus exists, or argue that they don't suffer from it as badly as other Israelis, as the COVID-19 death rate is lower in ultra-Orthodox communities. Professor Mevorach doesn't accept either argument. "I think this is terrible because it doesn't help and it's not true. You know all the ultra-Orthodox will kill me, but I think that we have to close all the synagogues. I don't want to leave anything to their judgment. I think that's the mistake of the Coronavirus Commissioner Dr Gamzu, or not him perhaps but the government, that has given them all kinds of concessions. I am not optimistic unfortunately," said Professor Mevorach.

Announcement by Donal Trump via Twitter
2PM Monday October 19th Washington Time (4AM October 20 AEST)
GREAT news! New government of Sudan, which is making great progress, agreed to pay $335 MILLION to US terror victims and families. Once deposited, I will lift Sudan from the State Sponsors of Terrorism list. At long last, JUSTICE for the American people and BIG step for Sudan!
Just minutes after Mr Trump's statement, Sudan's Prime Minister Abdalla Hamdok tweeted: "Thank you so much, President Trump! We very much look forward to your official notification to Congress rescinding the designation of Sudan as a state-sponsor of terrorism, which has cost Sudan too much."
Sudan-Israel relations agreed, Donald Trump announces
BBC
Friday October 23rd 2PM Washington Time (4AM October 24 AEST)
Shortly after Mr Trump formally moved to remove Sudan from the US list of state sponsors of terrorism, reporters in Washington were taken to the Oval Office where the president was on the phone to the Sudanese and Israeli leaders.
Israeli Prime Minister Benjamin Netanyahu said the agreement was a "dramatic breakthrough for peace" and the start of a "new era". Sudanese Prime Minister Abdalla Hamdok thanked Mr Trump for removing his country from the US terrorism list and said the Sudanese government was working "towards international relations that best serve our people". Sudanese state TV said the "state of aggression" would end.
While on the phone to the two world leaders, Mr Trump said: "Do you think 'Sleepy Joe' could have made this deal? Somehow I don't think so."
"Sleepy Joe" is his pejorative nickname for his opponent in the upcoming US presidential election, Democrat Joe Biden. In response, Mr Netanyahu said: "Well, Mr President, one thing I can tell you is, um, uh, we appreciate the help for peace from anyone in America."
The move is seen as a foreign policy victory for Mr Trump ahead of the 3 November eletion. BBC correspondents say the timing of the announcement is no coincidence. Mr Trump's pro-Israel policies are seen by his advisers as appealing to Christian evangelical voters, a key part of his voter base.
Mr Trump announced the deal while on a three-way call with the leaders of Sudan and Israel. The US president also said "at least five more" Arab states, including Saudi Arabia, are considering normalising relations with Israel. His aide, Judd Deere, said the Sudan deal was "another major step toward building peace in the Middle East with another nation joining the Abraham Accords", the term used for the deals signed with the UAE and Bahrain.
Meanwhile, Israel said it would not oppose US sales of high-grade military hardware to the UAE. The US had agreed to consider allowing the UAE to buy F-35 fighter jets after normalising ties with Israel. Israel had said it needed to maintain a military advantage over other states in the Middle East. However, earlier this week it said the US had agreed to upgrade Israeli military capabilities.
How did we get here?
Sudan had been a foe of Israel since the latter's founding in 1948.
Famously, it was the site of a declaration against normalisation with Israel in 1967, when the Arab League, meeting in the capital, Khartoum, swore "no peace with Israel, no recognition of Israel, no negotiations with it". It fought in wars against Israel in 1948 and 1967, provided a haven for Palestinian guerrilla groups and is suspected of sending Iranian arms to Palestinian militants in Gaza several years ago - prompting alleged Israeli air strikes against it.
The attacks in Kenya and Tanzania in 1998 were carried out by al-Qaeda while its leader, Osama bin Laden, was living in Sudan.
The political dynamics changed with the overthrow last year of Sudan's long-time ruler Omar al-Bashir and his replacement by a transitional civilian-military council.
Sudan's generals, who wield the real power, have supported establishing relations with Israel as a way to help get US sanctions on Sudan lifted and open the door to badly needed economic aid.
However, the reaction to the deal in Sudan has been mixed. Some feel Sudan's leaders gave in to Mr Trump's proposal under duress, and out of desperation to be removed from the US's State Sponsors of Terrorism list, BBC senior Africa correspondent Anne Soy reports.
This week, Donald Trump said Sudan would be removed from the US list of state sponsors of terrorism once the US received $335m (£259m) in compensation for attacks on US embassies in Africa. Sudan has since placed the money in a special escrow holding account for the victims of these attacks.

Israel promotes settlement plan for sensitive East Jerusalem area
By Jeffrey Heller
Sunday, Nov 15, 2020
JERUSALEM (Reuters) Israel moved ahead on Sunday with a settler housing plan in a sensitive area near East Jerusalem, a step critics said was aimed at shoring up the project before US President-elect Joe Biden takes office.
On its website, the Israel Land Authority (ILA) invited contractor bids for building 1,257 homes in Givat Hamatos, under a plan revived in February by Prime Minister Benjamin Netanyahu after it had been effectively frozen by international opposition. Bidding ends on January 18, the ILA said, two days before Biden is to be sworn in to replace President Donald Trump, whose administration has been supportive of Israeli settlement on occupied land Palestinians seek for a state.
Nabil Abu Rudeineh, a spokesman for Palestinian President Mahmoud Abbas, said in a statement that settlements were illegal under international law and the tender was part of Israeli efforts "to kill the internationally-backed two-state solution".
Opponents of the project say it would sever parts of East Jerusalem from the nearby Palestinian town of Bethlehem in the West Bank, an issue European Union foreign policy chief Josep Borrell raised, saying he was "deeply worried" by the tender. "This is a key location between Jerusalem and Bethlehem in the occupied West Bank. Any settlement construction will cause serious damage to the prospects for a viable and contiguous Palestinian State," Borrell said in a statement.
The ILA gave no date for the start of construction.
Peace Now, an Israeli anti-settlement group, accused Netanyahu's government of "taking advantage of the final weeks of the Trump administration in order to set facts on the ground" at Givat Hamatos.
Israel cites historical, political and biblical links to the West Bank and over 440,000 Israeli settlers live there, among three million Palestinians.
As vice president in Democrat Barack Obama's administration, Biden, on a visit to Israel and the West Bank in 2010, publicly scolded Israel over a plan it announced during his trip to build 1,600 homes in the Ramat Shlomo settlement. But Biden said during the recent presidential campaign that he will not reverse Trump's recognition of Jerusalem, whose future status is at the heart of the Israeli-Palestinian conflict, as Israel's capital.
US Secretary of State Mike Pompeo has said Washington no longer viewed Jewish settlements in areas captured in the 1967 Middle East war as "inconsistent with international law". He is to visit Israel as part of a foreign trip now under way.
Additional reporting by Ali Sawafta in Ramallah and Jan Strupczewski in Brussels
Israelis open arms to Morocco
The Australian
AFP
Friday, Dec 11, 2020
Morocco has become the fourth Arab nation this year to normalise relations with Israel as Donald Trump in turn fulfilled a decades-old goal of Morocco by backing its contested sovereignty in Western Sahara.
With barely a month left in his presidency, Mr Trump, a staunch backer of Israel, tweeted that Morocco and the Jewish state had agreed to ties in a "massive breakthrough for peace in the Middle East!" The White House said that Mr Trump also "recognized Moroccan sovereignty over the entire Western Sahara territory", infuriating the Algerian-backed Polisario Front, a rebel movement aiming to end Moroccan presence in the Western Sahara and controls about one-fifth of the vast, arid region.
Israeli Prime Minister Benjamin Netanyahu said Morocco and Israel would reopen liaison offices in Tel Aviv and Rabat, which Morocco closed in 2000 at the start of the second Palestinian uprising, and establish full diplomatic relations "as rapidly as possible".
Morocco, which has quietly let in Israeli travellers in recent years, will also permit direct flights with Israel, Mr Netanyahu said. "I've always believed that this historic day would come," Mr Netanyahu said in a televised address on the first day of the Hanukkah holiday. He said the people of Israel and Morocco have had a "warm relationship in the modern period".
Mr Netanyahu also alluded to a "tremendous friendship shown by the kings of Morocco and the people of Morocco to the Jewish community there." He said the hundreds of thousands Moroccan Jews who immigrated to Israel "formed a human bridge" between the countries.
Morocco confirmed a deal with Israel but, like previous Arab countries, was guarded in its language. The palace statement said that King Mohammed VI in a phone call with Mr Trump agreed to diplomatic relations with Israel "with minimal delay". A senior Moroccan foreign ministry official, in a briefing in Rabat, characterised the move not as recognition of Israel but as a "normalisation" that restores past relations.
Mr Trump – due to leave office on January 20 – has racked up historic advances since September in bringing Israel and Arab states together. Morocco follows the United Arab Emirates, Bahrain and Sudan in what the Trump administration calls the Abraham Accords.
The push has shattered once solid Arab solidarity behind the Palestinians' struggle for statehood, with Gulf Arabs seeing common cause with Mr Netanyahu and Mr Trump on confronting Iran. Previously, only neighbouring Egypt and Jordan had made peace with Israel and, until a few months ago, many doubted that other Arab nations would recognise Israel so long as Mr Netanyahu resists concessions to the Palestinians.
In Morocco, the palace said the king spoke by phone with Palestinian President Mahmoud Abbas and assured him that he "would never relinquish his role in defending the legitimate rights of the Palestinian people".
Hazem Qassem, spokesman for the Islamist group Hamas that controls the Gaza Strip, condemned Morocco's move. "It is a political sin that does not serve the Palestinian cause and encourages the occupation to continue to deny the rights of our people," Mr Qassem said, referring to Israel. He accused Israel of "exploiting" normalisation deals to justify "increasing its settlements".
Over the past decade – particularly under Mr Trump, whose policies have been highly favourable to Israel – there has been a significant expansion of settlements in the occupied West Bank and east Jerusalem.
But Morocco won a major prize through its recognition of Israel: Mr Trump declared US support for its sovereignty over Western Sahara, a former Spanish colony whose status has been disputed for more than four decades. Morocco shares Gulf Arabs' concerns about Iran, and in 2018 it severed diplomatic relations as it accused the clerical state of backing the Polisario, charges denied by Tehran.
The Polisario, which is made up of the local Sahrawi people and fought a war for independence from 1975 to 1991, in a statement condemned "in the strongest terms" Trump's attempt to give to Morocco "that which does not belong to him". The Polisario, which seeks a referendum on self-determination, enjoys support from neighbouring Algeria, which has also welcomed thousands of Sahrawi refugees.
Morocco controls 80 per cent of the disputed land, including phosphate deposits and the fishing waters.
"Frankly, there's just been no progress on a resolution," said Jared Kushner, Trump's son-in-law and Middle East pointman. The Trump administration is "recognising the inevitability of what is going to occur, but it also can break the logjam to help advance the issues in the Western Sahara," Mr Kushner said. "We want the Polisario people to have a better opportunity to live a better life and the President felt like this conflict was holding them back."
The UN, which has led years of slow-moving diplomacy as well as a peacekeeping mission in Western Sahara, and former colonial power Spain both said they had not changed their positions that the conflict needed to be resolved under Security Council resolutions, which called on all sides to reach a mutually acceptable solution.
The UN chief's message to the two parties "is to avoid any action that could further aggravate a tense situation", spokesman Stephane Dujarric said. The UN deploys a peacekeeping mission to the region to monitor a ceasefire and supposedly to organise a referendum on the territory's status. The vote was set for 1992 but was aborted when Morocco objected to the proposed electoral register, saying it was biased.
President-elect Joe Biden's transition team declined immediate comment. Mr Biden has backed Arab recognition of Israel but major diplomatic shifts are unusual for a lame-duck administration.
2021 Israeli legislative election
According to the coalition agreement signed between Likud and Blue and White in 2020, elections were to be held 36 months after the swearing-in of the 35th government, making 23 May 2023 the next election date. However, Israeli law stipulated that if the 2020 state budget had not passed by 23 December 2020, the Knesset would need to be dissolved and elections would need to be held by 23 March 2021.
On 2 December 2020, the Knesset passed the preliminary reading of a bill to dissolve the current government by a vote of 61–54. On 21 December 2020, the Knesset failed to pass a bill to avoid this dispersal by a vote of 47-49. Since the Knesset had failed to approve the 2020 state budget by the required deadline, at midnight IST on 23 December 2020, the government coalition collapsed and the 23rd Knesset was officially dissolved. In accordance with the law that the election had to be held within 90 days after the dissolution of the Knesset, the date for elections to the 24th Knesset was automatically set for 23 March 2021.
Click here for announcement of final results in Middle East News on Monday 14th June 2021
This Israeli legislative election
---
---
All 120 seats in the Knesset
61 seats needed for a majority
Click here for news since 11th May 2021.
Click here for news on Iran as at 28th November 2020.
** End of article