Israel — Latest News since January 29th 2020
Click here for prior news from April 7, 2019
Click here to look at earlier maps (and events) over 4000 years of history for Israel — Deep inside the plucky country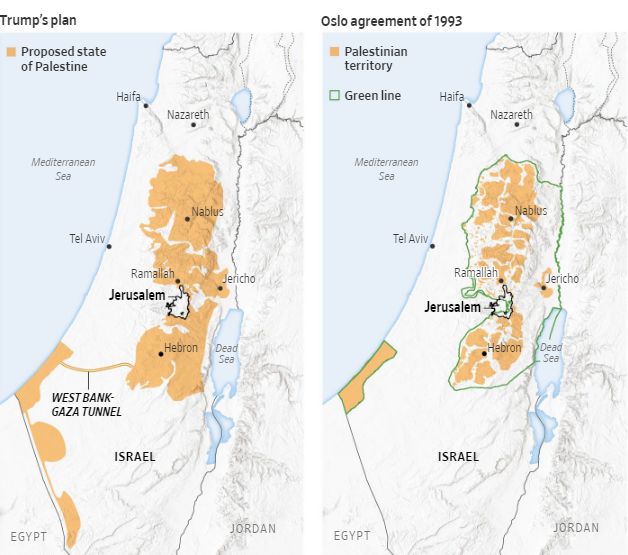 Click image for a larger map showing surrounding countries
Distances:
Tel Aviv to Jerusalem 63 kms
Tel Aviv to Haifa 95 kms
President Trump's Middle East peace plan
The Wall Street Journal
Felicia Schwartz and Michael R. Gordon
January 28, 2020 7:54 pm ET
January 29 4:54 am AEST
Dov Lieber in Tel Aviv contributed to this article
WASHINGTON — The Trump administration unveiled its long-delayed Middle East peace plan, giving Israelis much of what they have long sought, including allowing for immediate expansion of territory, while providing Palestinians a path to nationhood but under conditions they instantly rejected.
"Today Israel is taking a giant step toward peace," President Trump said Tuesday at the White House with Prime Minister Benjamin Netanyahu of Israel at his side. Some Israeli goals, such as annexing the Jordan River Valley and permanently setting its eastern border, may advance as soon as this weekend, when Mr Netanyahu plans to ask his cabinet for approval to move ahead.
The White House released its peace plan for the Middle East, including a map of the proposed Palestinian state. Palestinian Authority President Mahmoud Abbas rejected the plan. "We say a thousand times, no, no, no to the deal of the century," Mr Abbas said, referring to the plan. "We rejected this deal from the start and our stance was correct."
The Trump proposal requires many more concessions from the Palestinians than from the Israelis. Israel has agreed to a four-year freeze on expanding settlements in areas that might make up the core of a Palestinian state, while the Palestinians consider whether to accept terms set by the plan, including demilitarization and Israeli control of all security arrangements from the Jordan River to the Mediterranean.
Trump administration officials cast the design as the best the Palestinians could expect given Israel security requirements. US officials are calculating that Arab pressure could eventually prompt the Palestinians to go along. Ambassadors from the United Arab Emirates, Oman and Bahrain attended the rollout, and Egypt and the U.A.E. issued statements in support. "Egypt calls on the two relevant parties to undertake a careful and thorough consideration of the US vision to achieve peace and open channels of dialogue, under US auspices," the Egyptian Ministry of Foreign Affairs said.
In a cautious statement on Twitter, the Saudi Foreign Ministry said the kingdom "encourages the start of direct peace negotiation between the Palestinian and Israeli sides, under the auspices of the United States…" Jordan, however, took aim at one of the principle elements of the Trump plan by warning against "unilateral Israeli measures such as the annexation of Palestinian lands." The Trump administration unveiled a plan Tuesday for a two-state solution for Israel and Palestine. The plan included 'conceptual' maps that set aside more land for a Palestinian state, but allows Israel to immediately begin annexing Israeli settlements and the Jordan Valley.
Qatar hadn't issued any statement as of Tuesday evening. Secretary of State Mike Pompeo called Qatar's Emir Sheikh Tamin bin Hamad al-Thani on Tuesday. Important elements of the plan have now been set in motion in a way that ensures substantial Israeli territorial gains regardless of what the Palestinians say or whether the plan is approved by other world powers or the United Nations.
The Palestinian Authority cut ties with the Trump administration after the US in 2017 recognized Jerusalem as Israel's capital, but Mr Trump called on it to engage now that the blueprint has been unveiled. "There's nothing tougher than this one," Mr Trump said, referring to brokering peace between Israel and the Palestinians.
Mr Trump has said he wants to help Palestinians economically, and the plan vows to help marshal $50 billion in economic investment over 10 years if the Palestinians agree to its terms. The incentives, part of an economic portion of the Mideast plan released last year, aim to double the Palestinian gross domestic product, slash Palestinian unemployment rates now at almost 18% in the West Bank and 52% in Gaza, and cut the Palestinian poverty rate in half, US officials assert.
The plan was criticized by some Middle East experts as a ploy to boost Messrs Netanyahu and Trump domestically while failing to narrow the deep-seated differences between Palestinians and the Israelis. Mr Trump faces an impeachment trial while Mr Netanyahu has been charged with bribery.
The blueprint outlines an Israeli-US consensus on the most sensitive issues of the conflict — Jerusalem, borders, security, and refugees — that had until now been left for so-called final-status negotiations. The plan grants Israeli sovereignty over all Jerusalem — which includes the Old City in East Jerusalem — a move the Palestinians have long rejected.
It allows the Palestinians to establish a capital in the outskirts of the city east and north of the separation barrier that Israel constructed in East Jerusalem in 2005-06 following the second intifada (uprising) in 2000.
Arab residents of Jerusalem could choose to become citizens of Israel or of the new Palestinian state. Alternatively, they could remain permanent residents of Israel without becoming citizens of either state. Regarding borders, the Palestinian footprint would more than double, to include about 80% of the West Bank, US officials said. Land swaps between Israel and Palestinians would be used to enlarge Gaza, which also would be connected to the West Bank by high-speed rail. The "Triangle Communities" — Arab towns inside of Israel southeast of Haifa — could become part of the future Palestinian state under the plan.
Israel would get about 30% of the West Bank, US Ambassador to Israel David Friedman said, including the Jordan Valley and the Jewish settlements there.
Mr Netanyahu pledged to act immediately to expand Israel's borders, telling reporters Tuesday that he seek a cabinet vote on annexation Sunday.
On refugees, the plan rejects the right of return to land for Palestinians who left their homes after Israel's creation in 1948. It says refugees can be absorbed into the Palestinian state, integrate into host countries or be resettled in regional countries who agree to take them. The plan also supports the creation of a fund to compensate some refugees.
The Palestinians must meet strict political and security conditions set by the plan to satisfy requirements for forming a state. Most of those requirements have been rejected by Palestinians in the past. For instance, during the four-year negotiation period, the plan requires that they refrain from taking action against Israel in the International Criminal Court and dismiss their current claims.
They also must halt payments to families of Palestinians imprisoned in Israeli jails and to families of Palestinians killed while attacking Israelis or resisting Israel's control of the Palestinian territories. Palestinian officials have argued that such funding is a social benefit that compensates for Israeli oppression and helps prevent families from radicalizing further.
The demands made of the Palestinians are all the more difficult given the divisions in their ranks. Hamas, considered by Israel and the US to be a terrorist organization, controls the Gaza Strip after multiple failed reconciliation efforts with the Palestinian Authority, which controls the Palestinian parts of the West Bank. To satisfy the terms of Mr Trump's blueprint, Hamas would need to yield control of Gaza, which then would be demilitarized.
In recent years, Hamas's leadership has said it would accept the state of Israel within its pre-1967 borders — even though individual Hamas members continue to call for Israel's destruction.
US Ambassador to Israel Mr Friedman described the arrangements as a huge advancement and a "realistic two-state solution" — one that "mitigates many of the risks that were never solved in past negotiations."
Palestinian leader Mahmoud Abbas key to peace, says ex-Israeli PM Ehud Olmert
The Australian
AFP
Wednesday, February 12, 2020
Former Israel prime minister Ehud Olmert says Palestinian Authority President Mahmoud Abbas is a partner for peace, defiantly rejecting efforts by Benjamin Netanyahu's government to sideline the veteran leader.
Mr Olmert, Mr Netanyahu's centrist predecessor who led Israel from 2006 to 2009, met Mr Abbas in New York hours after the Palestinian leader went before the UN Security Council to denounce US President Donald Trump's Middle East peace plan. The former prime minister did not criticise Mr Trump's plan, which paves the way for Israel to annex much of the West Bank, but said any future negotiations needed to involve Mr Abbas, 84, who is considered a moderate.
"He is a man of peace, he is opposed to terror, and therefore he is the only partner that we can deal with," Mr Olmert said with Mr Abbas at his side. "It will take some time but these negotiations will take place, and the partner of Israel to these negotiations will be Mahmoud Abbas, the President of the Palestinian Authority," he said. Hinting at Mr Netanyahu's political woes, Mr Olmert said: "Who will be the partner on the Israeli side? We will know later this year."
Mr Abbas, who succeeded Yasser Arafat in 2005, called Mr Olmert "my dear friend" and said he wanted to "extend my hand to the Israeli people". "We want to achieve peace through peaceful means and negotiations," he said. "We are against and do not want violence."
Israel's ambassador to the UN, Danny Danon, had warned Mr Olmert against meeting Mr Abbas, who Mr Netanyahu's government accuses of inciting unrest. Mr Danon told the Security Council that the Palestinians needed a new leader, saying Mr Abbas was unable to consider the "realistic" Trump proposals. Mr Olmert "is endorsing diplomatic terrorism against Israel. It is shameful," Mr Danon said.
Mr Olmert is close to Mr Netanyahu's centrist rival Benny Gantz, who went neck-and-neck with the Prime Minister in two inconclusive elections last year, with a third vote scheduled for March 2.
Mr Olmert, who spent 16 months in prison on corruption charges after leaving office, said that he was not speaking for Mr Gantz. But the former member of Mr Netanyahu's Likud party said he was convinced the Israeli right wing could not form government. "The majority of the Israelis are not on the right-hand side, refusing to negotiate and demanding the annexation of the territories," Mr Olmert said.
Brandishing a map of a future Palestine as laid out by Mr Trump, Mr Abbas denounced it as a "Swiss cheese" deal that would give the Palestinians only a "fragmented state" without control of their airspace, sea or East Jerusalem.
"Who among you would accept such a state?" he said as he warned that Israel would create an "apartheid" situation if it moved ahead with annexation. "I would like to say to Mr Donald Trump that his plan cannot achieve peace and security as it cancels international legitimacy. It cancels all the rights of the Palestinians. "This does not meet the aspirations of a two-state solution. If you impose peace, it will not last."
The Palestinians have sought to rally international support against the plan, which Mr Trump unveiled alongside Mr Netanyahu on January 28.
But, in a setback, the Palestinians dropped plans for a vote on a resolution on Tuesday that would have denounced the proposal. Diplomats said the US had put heavy pressure, including threats of financial repercussions, on Security Council members.
Reader Comments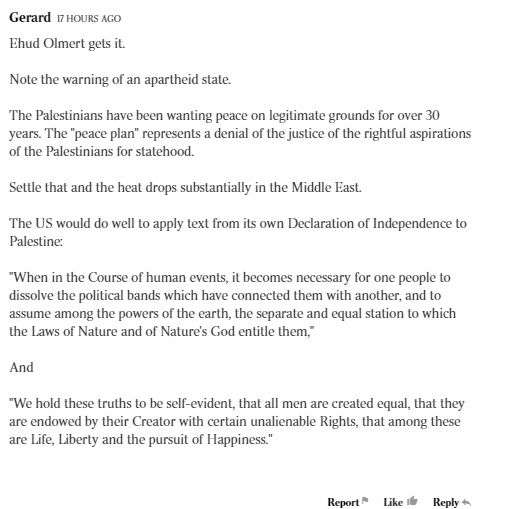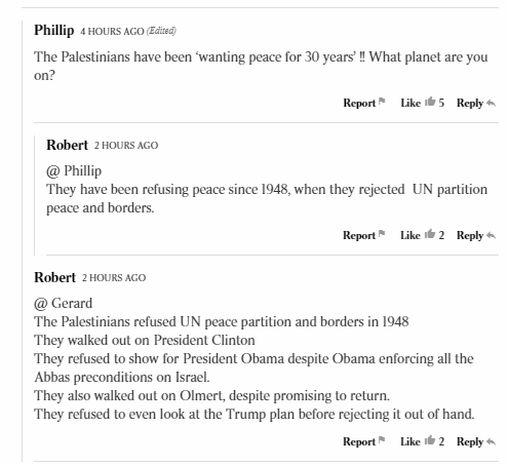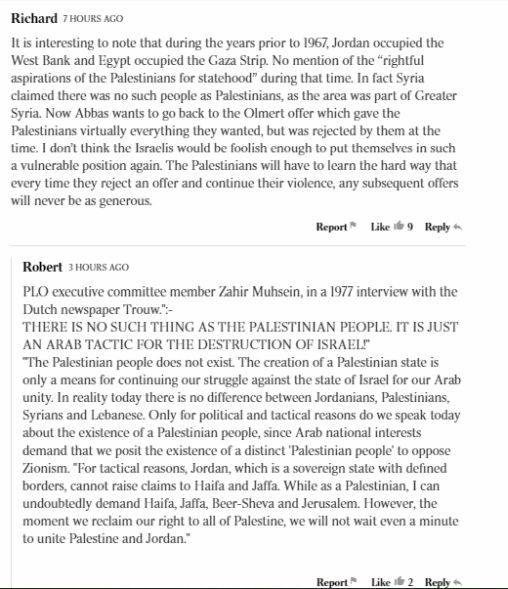 Benny Gantz and Benjamin Netanyahu strike 'unity deal' on Israeli power
The Australian
Felicia Schwartz and Dov Lieber, Wall Street Journal
Friday, March 27, 2020
Tel Aviv: Israel's opposition leader splintered his political party to pursue the formation of a unity government, a move that creates a path for Prime Minister Benjamin Netanyahu to extend his tenure after three elections in one year. Blue and White party leader Benny Gantz stepped forward to become parliamentary Speaker on Friday AEDT, pivoting towards Mr Netanyahu's right-wing bloc and shattering his own base of support from a broad political spectrum.
"These are not usual days and they require unusual decisions," Mr Gantz said shortly after being elected Speaker of the Knesset. "I intend to promote in every way possible the creation of an emergency unity government. I will not compromise the values voted for by more than one million citizens. Mr Netanyahu knows this very well."
Mr Gantz won 74 votes in favour of his candidacy, including from Mr Netanyahu's Likud party and the rest of his right-wing bloc. Many members of his Blue and White alliance didn't show up to vote and split away from the party.
Mr Gantz's move dissolves the 61-seat bloc that he had cobbled together to recommend him to form a government last week, which opposed Mr Netanyahu in the 120-seat Knesset. A disagreement over whether Mr Netanyahu could serve while facing indictment on corruption charges stood in the way of the embattled Prime Minister's efforts to extend his tenure through three inconclusive elections.
The move will likely extend Mr Netanyahu's time in power as he awaits trial. That trial is set to begin in May. Mr Netanyahu denies wrongdoing. As Israel's longest-serving prime minister, Mr Netanyahu has earned the nickname "The Magician" for his ability to outmanoeuvre political opponents. He appeared to do so again by striking an agreement with Mr Gantz to back away from a plan that would have seen Blue and White put forward a speaker candidate whom Likud said would be a deal breaker in ongoing coalition discussions.
"Gantz was faced with two problems — the first was the cohesion in his own party and the second was his inability to go back to the electorate having, in reality, failed to overcome Netanyahu three times," said Jason Pearlman, a former adviser to President Reuven Rivlin. "This isn't a long-term solution but it gives him the space to negotiate a broader unity government with a much better hand. For Netanyahu, this is a massive win."
As Israel's MPs left the voting floor, those in Mr Netanyahu's camp smiled, bumped elbows and wished Mr Gantz good luck. Others who voted against him didn't look at the new Speaker. Two of Blue and White's leaders, Yair Lapid and Moshe Yaalon, submitted a request to the Knesset ahead of the vote to bump Mr Gantz's 15-seat faction from Blue and White and keep the name for their own factions, which comprise 18 seats.
Mr Gantz, a former general, entered politics in late 2018 and formed the Blue and White alliance with the aim of ousting Mr Netanyahu from power. However, Blue and White struggled through the series of recent elections to form a government. Under pressure to avoid a fourth election and end political bickering amid an expanding corona-virus outbreak, Mr Gantz opted to co-operate with his rival.
Several members of Mr Gantz's party opposed any arrangement that would rely on the support of the Joint List, which largely represents Israel's Arab citizens and is the third-largest party in the Knesset, with 15 seats. As Speaker, Mr Gantz has control over what legislation advances, and parliamentary committees. That gives him some leverage as he negotiates a government with Mr Netanyahu. He said he would make sure the body worked for all of Israel's citizens, Jews and Arabs.
Blue and White had originally aimed to seize control of the parliament and begin passing legislation that would block Mr Netanyahu from serving a fourth term while under indictment, as well as control committees to oversee Mr Netanyahu's response to the new coronavirus.
Click here for latest news on Iran as at 4th January 2020.
** End of article