Israel — Latest News since April 7th 2019
Click here for prior news from April 10, 2018
Click here to look at earlier maps (and events) over 4000 years of history for Israel — Deep inside the plucky country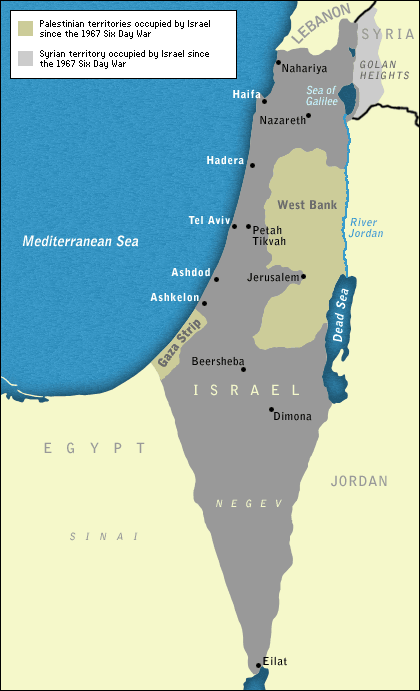 Click image for a larger map
Distances:
Tel Aviv to Jerusalem 63 kms
Tel Aviv to Haifa 95 kms
Source: Atlas of the Arab-Israeli Conflict, 7th edition — Sir Martin Gilbert;
Publisher: Routledge (Taylor & Francis), 2002;
ISBN: 0415281172 (paperback),
0415281164 (hardback); Map: NPR Online

Like diplomatic missions of nearly every other country, the US Embassy has been in Tel Aviv, a result of the ambiguous legal status surrounding Jerusalem for more than a century. British forces captured the city from the Ottoman Turks during World War I and maintained control under a League of Nations mandate for 30 years. In November 1947, a United Nations plan terminated the British mandate for implementation at midnight May 14 1948, and partitioned Palestine into a Jewish state and an Arab state with Jerusalem to become an international zone. While accepted by the Jews, the proposed plan never was implemented as civil war erupted. The British organized their withdrawal and intervened only on an occasional basis. When a cease-fire ended the fighting in 1949, Israeli forces held Jerusalem's western precincts while Jordan occupied the city's eastern districts, including the old city with its holy sites such as the Church of the Holy Sepulchre, the al Aqsa Mosque and the Western Wall.
Click here for more details and to see a map of the UN's original proposal. The State of Israel increased their area by almost 60% of the area that had been allocated to the proposed Arab state. This included the Jaffa, Lydda and Ramle area, Galilee, some parts of the Negev, a wide strip along the Tel-Aviv to Jerusalem road, and some territories in the West Bank, placing them under military rule. With Jordan occupying the West Bank and the Egyptian military occupying Gaza, no state was created for the Palestinian Arabs.
Israel and Jordan soon annexed the portions of Jerusalem they held, with Israel in 1950 declaring the city as its capital, but this accordingly went unrecognized by other nations. In the 1967 Six-Day War, Israel captured East Jerusalem, along with the West Bank. Israel later annexed East Jerusalem and reunified the city, again an act that has gone unrecognized by the international community while Palestinian claims remain unresolved.
Extract: Six days and 40 years since Israel asserted itself
Abraham Rabinovich
June 05, 2007
FORTY years after the Six Day War, the consequences of Israel's extraordinary victory are yet to be sorted out. Israel was a tiny Middle Eastern backwater in 1967, with a population of 2.6 million surrounded by a hostile Arab world of 80 million. This disparity seemed to defy the natural order of things and it was a virtual consensus in the Arab world that the Jewish state would fall, sooner rather than later. In Israel itself, the enthusiasm and energy that marked the founding of the state out of the ashes of the Holocaust had been dimmed by the petty problems of getting by in a country with a massive defence burden and a lame economy.
It was the Soviet Union, for reasons never adequately clarified, that lit the fuse that would transform the region. In mid-May 1967, it declared that Israel was massing troops in the north in preparation for an attack on Syria. Israeli prime minister Levi Eshkol offered to personally tour the north with the Soviet ambassador to show it wasn't true. The ambassador declined.
There had been small-scale skirmishing between Israel and Syria over the headwaters of the Jordan and Israeli leaders had issued warnings, but there was no massing of troops. Egyptian president Gamal Abdel Nasser, the leading figure in the Arab world, felt impelled to come to Syria's aid by moving his divisions through the Sinai desert towards Israel. With a hostile army deploying on its border, Israel mobilised its reserves.
Nothing happened for more than two weeks. But mobilisation had paralysed the Israeli economy and Jerusalem had to either stand down or strike. On the morning of June 5, Israeli planes, flying low to avoid radar, suddenly rose into the Egyptian skies. Within three hours, the Egyptian air force was destroyed. Soon after, the Jordanian, Syrian and part of the Iraqi air forces were gone, too.
On the third day of the war, the West Bank and Jordanian Jerusalem fell. Syria's Golan Heights followed. The Arab world was stunned, Israel euphoric. The war catapulted Israel into a new era. Brimful of self-confidence and renewed energy, it attracted Jewish immigrants from the West and more than a million from the Soviet Union. Since 1967, Israel's population has tripled to 7.1 million (of whom 1.4 million are Israeli Arabs), its gross national product has grown by 630 per cent and per capita income has almost tripled to $21,000.
A major result of the Six Day War was to persuade the Arab world that Israel was too strong to be defeated. Internalising that view, Nasser's successor, Anwar Sadat, became in 1970 the first Arab leader to declare readiness to make peace with Israel if it withdrew from all territory it had captured in the Six Day War. Israel insisted, however, on territorial changes.
It took the 1973 Yom Kippur War to persuade Israel to withdraw from all Egyptian territory and for Egypt to agree to peace without insisting on Israel's withdrawal on other fronts as well.
The Oslo accords in 1993, marking the beginning of a dialogue between Israel and the Palestinians, also enabled Jordan to make peace with Israel without being accused of betraying the Palestinian cause.
In 2000, Syria announced its readiness for peace. Though negotiations with Damascus broke down, virtually the entire Arab world now accepted the legitimacy, or at least the existence, of the Jewish state in its midst.
But increasing radicalisation has brought to the Palestinian leadership a movement dedicated to Israel's destruction. If there is an answer for Israel, it lies, as in 1967, in bold and imaginative leadership — but this time on the political playing field.
Click here for the whole article.

West Bank Fence
Extract: Article by Amos Harel, Haaretz.com
July 14, 2009
Seven years after construction work began on the West Bank separation fence, the project seems to have run aground. Work has slowed significantly since September 2007. With fierce opposition coming from the United States, Israel has halted work on the "fingers" — enclaves east of the Green Line that were to have included large settlement blocs such as Ariel, Kedumim, Karnei Shomron and Ma'aleh Adumim, within the fence. The military has, in practice, closed up the holes that were to have led to these "fingers." But giant gaps remain in the southern part of the fence, particularly in the southern outskirts of Jerusalem, in the Etzion bloc and in the Judean Desert.
Since the cabinet under former prime minister Ariel Sharon first approved construction of the fence, in June 2002, the route has undergone some dramatic changes. The original route, which was inspired by Sharon, was to have effectively annexed about 20 percent of the territory of the West Bank to Israel.
In February 2005, the cabinet amended the route to include just nine percent of the West Bank. In April 2006 an additional one percent was shaved off by the government of Ehud Olmert.
In practice, however, the route encompasses only 4½ percent of West Bank land. The four "fingers" in the last map (and which Israel presented at Annapolis in November 2007) were never built, not at Ariel and Kedumim (where a "fingernail" was built, a short stretch of fence east of the homes of Ariel) — not at Karnei Shomron and Immanuel — not at Beit Arieh, nor south of that, at Ma'aleh Adumim. Instead, with little publicity, fences were put up to close the gaps closer to the Green Line, at Alfei Menashe instead of at Kedumim, at Elkana instead of Ariel and in the Rantis area instead of at Beit Arieh.
About 50,000 people in these settlements remain beyond the fence. West of Ma'aleh Adumim the wall built along Highway 1 blocks the gap in the barrier and leaves the city's 35,000 residents outside of the barrier, forcing them to pass through a Border Police checkpoint in order to reach Jerusalem.
Large gaps remain in the southern West Bank. Between Gilo in south Jerusalem and Gush Etzion are tens of kilometres of barrier, work on which was suspended due to High Court petitions. As a result access to Jerusalem from the direction of Bethlehem (now a part of the Palestinian Territories) is relatively easy — for commuters and terrorists both.
Click here for some news in Sep 2014.
A second, 30-kilometre gap in the fence, stretches from Metzudat Yehuda (Yatir) in the west to the Dead Sea in the east. The state announced during a recent High Court deliberation of a petition submitted by area Bedouin that work on the barrier there was suspended.
Defence Minister Ehud Barak is "determined to complete the security fence, despite the delays," his office said in a statement. "The minister and the military establishment are working to solve the problems delaying its completion."
Defence Ministry officials pointed out that Barak was "among the first supporters of the fence and did much to advance its construction."
Security officials claim the rate of construction depends on finding a solution to the legal issues and point out proudly that there is an unbroken barrier from Tirat Zvi in the Beit She'an Valley (in Northern Israel, just west of the Jordan River) to the southern entrance to Jerusalem, and from southern Gush Etzion (south west of Jerusalem) to Metzudat Yehuda (south east of Hebron).
Ma'ale Adumim and East Jerusalem
Click here for an article on East Jerusalem published by the Australia/Israel & Jewish Affairs Council (AIJAC) in mid 2011.
Unilateral Thinking in April 2006
Finally, after years in the planning, construction of an Israeli police station is under way in the now infamous E1 area, 12 square kilometers, a patch of empty West Bank land that stretches from the eastern municipal boundary of Jerusalem to the settlement-city of Ma'ale Adumim, which sits across the Jerusalem-Dead Sea highway some five kilometers (three miles) to the east.
Infamous, because every prime minister of Israel for the past decade has wanted to develop E1 in order to fill in the space between Ma'ale Adumim and Jerusalem, with the intention of securing Israel's hold over the settlement and its smaller satellite communities, which together constitute the Ma'ale Adumim settlement bloc. And every US administration up until now has nixed Israeli development here, on the grounds that it would seriously hamper Palestinian territorial contiguity between the north and south of the West Bank, as well as access from the West Bank to Jerusalem, thereby undermining the viability of a Palestinian state with East Jerusalem as its capital, the only realistic formula on the table for Israeli- Palestinian peace.
Click here for the full article
Updated photo December 1, 2012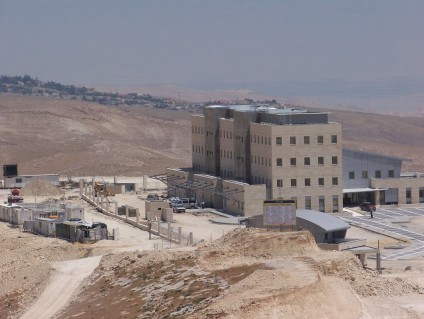 Gaza Strip
Israeli Gaza Strip Barrier
Wikipedia
The Israel and Egypt — Gaza Strip barrier is a separation barrier first constructed by Israel in 1994 between the Gaza Strip and Israel. An addition to the barrier was finished in 2005 to separate the Gaza Strip and Egypt. The fence runs along the entire land border of the Gaza Strip. It is made up of wire fencing with posts, sensors and buffer zones on lands bordering Israel, and concrete and steel walls on lands bordering Egypt.
Background: The Gaza Strip borders Egypt on the south-west and Israel on the south, east and north. It is about 41 kilometres long, and between 6 and 12 kilometres wide, with a population of about 1½ million people. The shape of the territory was defined by the 1949 Armistice Agreement following the creation of Israel in 1948 and the subsequent war between the Israeli and Arab armies. Under the armistice agreement, Egypt administered the Strip for 19 years, to 1967, when it was occupied by Israel in the 1967 Arab-Israeli War.
In 1993, Israel and the Palestinian Liberation Organisation signed the Oslo Accords establishing the Palestinian Authority with limited administrative control of the Palestinian territories. Pursuant to the Accords, Israel has continued to maintain control of the Gaza Strip's airspace, land borders and territorial waters. Israel started construction of the first 60 kilometres long barrier between the Gaza Strip and Israel in 1994, after the signing of the Oslo Accords. In the 1994 Interim Agreement on the West Bank and the Gaza Strip, it was agreed that "the security fence erected by Israel around the Gaza Strip shall remain in place and that the line demarcated by the fence, as shown on the map, shall be authoritative only for the purpose of the Agreement" (ie. the barrier does not constitute the border). The barrier was completed in 1996.
The barrier was largely torn down by Palestinians at the beginning of the Al-Aqsa Intifada in September 2000. The barrier was rebuilt between December 2000 and June 2001. A one-kilometre buffer zone was added, in addition to new high technology observation posts. Soldiers were also given new rules of engagement, which, according to Ha'aretz, allow soldiers to fire at anyone seen crawling there at night. Palestinians attempting to cross the barrier into Israel by stealth have been shot and killed.

Israel PM vows to annex West Bank settlements if re-elected
BBC News
Sunday, Apr 7, 2019
Israel elections 2019
Israeli PM Benjamin Netanyahu has said he will annex Jewish settlements in the occupied West Bank if he is re-elected.
Israelis go to the polls on Tuesday and Mr Netanyahu is competing for votes with right-wing parties who support annexing part of the West Bank.
The settlements are illegal under international law, though Israel disputes this.
Last month the US recognised the occupied Golan Heights, seized from Syria in 1967, as Israeli territory.
Israel has settled about 400,000 Jews in West Bank settlements, with another 200,000 living in East Jerusalem. There are about 2½ million Palestinians living in the West Bank. Palestinians want to establish a state in the occupied West Bank, East Jerusalem and the Gaza Strip.
What happens to the settlements is one of the most contentious issues between Israel and the Palestinians — Palestinians say the presence of settlements makes a future independent state impossible.
Israel says the Palestinians are using the issue of settlements as a pretext to avoid direct peace talks. It says settlements are not a genuine obstacle to peace and are negotiable.
What exactly did Netanyahu say?
He was asked during an interview on Israeli TV why he had not extended Israeli sovereignty to large settlements in the West Bank.
"You are asking whether we are moving on to the next stage — the answer is yes, we will move to the next stage," he said. "I am going to extend [Israeli] sovereignty and I don't distinguish between settlement blocs and the isolated settlements."
What has been the Palestinian reaction?
Senior Palestinian official Saeb Erekat said the statement by Mr Netanyahu was "not surprising". He added: "Israel will continue to brazenly violate international law for as long as the international community will continue to reward Israel with impunity, particularly with the Trump administration's support and endorsement of Israel's violation of the national and human rights of the people of Palestine."
A spokesman for Palestinian leader Mahmoud Abbas told Reuters: "Any measures and any announcements will not change the facts. Settlements are illegal and they will be removed."
Potentially explosive comments
By Sebastian Usher, BBC Arab affairs editor
These comments by Benjamin Netanyahu are potentially explosive over an issue that has helped stall peace efforts for years. They will resonate with several parties with which he'll try to form a coalition government if he wins the biggest share of votes.
But the very idea of annexation will rouse new Palestinian fury, as well as international condemnation.
Mr Netanyahu may have been emboldened by the Trump administration, which just last month recognised Israeli sovereignty over the Golan Heights.
---
What is the political background?
Mr Netanyahu's right-wing Likud party is in a tight race with the new centre-right Blue and White alliance.
However other parties, some of which support annexation, could end up being kingmakers when they try to form a governing coalition.
In Mr Netanyahu's own Likud party, 28 out of the 29 lawmakers running for re-election are on record as supporting this approach. Until now the prime minister was the only exception.
How are peace negotiations?
Mr Trump's administration is preparing to unveil a long-awaited Middle East peace plan, which US officials say will be fair.
However the Trump administration has carried out a series of actions that have inflamed Palestinian opinion and generally pleased Israel.
In 2017 Mr Trump announced that the US recognised Jerusalem as Israel's capital, overturning decades of official US policy.
In response Mr Abbas cut off relations with the US, saying Washington could no longer be a peace broker.
Last year the US stopped contributing to the UN Relief and Works Agency (Unrwa), which has been supporting Palestinian refugees since 1949.
In March President Trump officially recognised Israeli sovereignty over the occupied Golan Heights.
On Saturday, speaking at a meeting of the Republican Jewish Coalition, he warned that a Democratic victory in 2020 could "leave Israel out there", in an effort to make the case to Jewish voters to support his re-election.
Peace negotiations between Israel and the Palestinians have been at a standstill since 2014, when a US-brokered attempt to reach a deal collapsed.
Extract: As Gaza Fighting Intensifies, Israelis and Palestinians Bury Their Dead
David M Halbfinger and Isabel Kershner
New York Times
Monday, May 6, 2019
Jerusalem: Fighting between Israel and Gaza escalated rapidly on Sunday in the worst combat since the last full-blown war in 2014, with Palestinian rocket and missile attacks killing four Israeli civilians and Israeli forces taking aim at individual Gaza militants. Gaza officials said the two-day death toll for Palestinians had reached 22. At least nine militants and as many civilians were killed on Sunday alone. The civilians included a pregnant woman, a 12-year-old boy and 4-month-old girl, health officials said.
The outbreak of violence appears to have begun on Friday, when a sniper wounded two Israeli soldiers, a violent but localized expression of Palestinian impatience with Israel's failure to alleviate dire humanitarian conditions in Gaza. By Sunday, it had mushroomed into a display of firepower by both sides. The Israel army said Gazans had launched 600 projectiles in two days, with the territory's secretive armed factions letting loose hundreds of rockets that had long been hidden away in arsenals.
Howling air-raid sirens and buzzing smartphone alerts kept tens of thousands of Israeli civilians hunkered down in shelters. The country's Iron Dome antimissile batteries shot many — but not nearly all — of the incoming projectiles out of the sky as the Israeli military rumbled into action with jets, drones, tanks, artillery and attack helicopters. Palestinians seized every opportunity to wreak havoc, killing an Israeli civilian with an anti-tank missile when he made the mistake of driving his truck within range of Gaza. They fired another, this time unsuccessfully, at an Israeli armored personnel carrier that was only partially obscured by defensive berms.
Ratcheting up its response, Israel blew up a car carrying a Gaza man it said was a terrorist, and published video of that airstrike as a warning to others. It leveled the homes of several militant commanders, saying they were used to store weapons or as operational headquarters, and fired on a number of Palestinians it said were engaged in launching rockets. It also attacked a building it said had been used as a base for cyberattacks against Israel, partially destroying it.
The two antagonists have warred on and off since the militant Islamic group Hamas took power in Gaza in 2007 and Israel imposed a land, sea and air blockade of the territory and its roughly two million residents. But as much as they loathe one another, they are also codependent: Hamas uses its defiance of Israel to portray itself as the true voice of Palestinian resistance, and Israel's right-wing government exploits Gaza's unruliness to argue that it lacks a partner for peace talks.
The fury of the weekend's fighting reflected pent-up Palestinian frustrations over Israel's slow pace in easing restrictions that have sent the densely populated and impoverished territory into economic free fall, said Tareq Baconi, an analyst with the International Crisis Group. In November, Israel agreed to loosen the restrictions in an arrangement brokered by Egypt with Hamas. "Hamas agreed to restrain the protests in return for concessions," Mr Baconi said, referring to the frequently violent border demonstrations that began in Gaza in March 2018. "Those haven't materialized."
Israel's decision this weekend to resort to targeted killing and to signal its readiness for a ground war was a reminder of the country's low tolerance for the loss of civilian life. But as has happened in so many other rounds of fighting in recent months, the violence quickly became so intense that each side seemed to pause just long enough to listen for the words "cease-fire."
Late Sunday, it was Ismail Haniya, the political director of Hamas, who uttered them. Mr Haniya said that "returning to the state of calm is possible and depends on the occupation's commitment to a complete cease-fire" and on the "immediate start of implementing the understandings" reached with Egypt's help. But he also threatened to escalate if Israel did not comply, and more Israeli alerts of incoming rockets soon followed.
Asked why Israel had resumed the long-dormant tactic of targeted killings, Lt Col Jonathan Conricus, a military spokesman, said, "It's important for Hamas and Palestinian Islamic Jihad to understand the severity of the situation." All told, of the nine militants killed Sunday, only one was a Hamas member, Gaza officials said. Eight belonged to Palestinian Islamic Jihad, including two killed in an airstrike on the Al Buraij refugee camp.
The attacks from Gaza mostly hit targets in southern Israel with no military value, including a building housing a kindergarten in the town of Sderot and the oncology department at Barzilai Medical Center in Ashkelon. An army post in the community of Kissufim was hit by a mortar that struck its synagogue, lightly wounding two soldiers.
With rockets and mortars setting off sirens across southern Israel every few minutes, Prime Minister Benjamin Netanyahu ordered what he called "massive strikes," and the military deployed an armored brigade and the Golani infantry brigade to the Gaza frontier to be available for a possible ground incursion. Another infantry brigade was put on standby.
Israel pushed back aggressively on Sunday against Palestinian accusations that it had killed a pregnant Gaza woman and a young family member the day before. Army spokesmen insisted that the two had been killed by a misfired Palestinian rocket, not by Israeli munitions. Gaza officials continued to accuse Israel of what they called a war crime.
President Trump on Sunday came down decisively on Israel's side, condemning the rocket attacks from Gaza. "To the Gazan people — these terrorist acts against Israel will bring you nothing but more misery," he said on Twitter.
In late March, two weeks before Israel's parliamentary elections, a rocket hit a house northeast of Tel Aviv and caused Mr Netanyahu to cut short a trip to Washington. Now, with Israel's Memorial Day and Independence Day celebrations coming this week, and a stream of international singers arriving to compete in the Eurovision song contest in Tel Aviv later this month, the Gaza militant groups may have gambled that Mr Netanyahu would pay an even higher price for quiet in the short term.
Omar Shaban, an economist who runs Pal-Think for Strategic Studies, a Gaza think tank, said that some of the recriminations between Israel and Gaza officials over easing the deprivations in Gaza had been missing the point. "There's no shortage of food in Gaza, but people don't have purchasing power because there are no jobs," he said. "There are some demands by the political factions that cannot be implemented: If you open the crossings while people don't have cash for the private sector to operate, it's pointless. Gaza needs a package of assistance."
On the Israeli side, even some critics of Mr Netanyahu said that the cycle of violence with Gaza was only strengthening his hand politically. "His view — which, incidentally, is logical — is that the division between Gaza and the West Bank, which stems from the chronic conflict between Hamas and Fatah, weakens the national Palestinian movement and is worth the headache inherent in dealing with two semi-functional political entities," Shimrit Meir, an Israeli analyst of Palestinian politics, wrote in the daily Yediot Ahronot.
On Sunday, as the family of one of the Israelis killed in the attack, Moshe Agadi, 58, prepared to bury him, it asked the public to avoid his funeral for fear of another strike from Gaza. Hundreds of Israelis came anyway, and home front soldiers wearing orange berets passed out instructions on what to do if the cemetery came under attack. "We came to honor him, and to show that we're not afraid of them," said Tzipi Ben-David, 56, as distant blasts could be heard in the direction of Gaza. "Look how many came, even with this situation." At the home where Mr Agadi had been staying, a golden-painted suburban dream house, large shrapnel divots in the exterior wall, a felled tree and grapefruits strewn on the ground all testified to what had killed him.
David M. Halbfinger reported from Jerusalem, and Isabel Kershner from Ashkelon, Israel. Iyad Abuheweila and Ibrahim El-Mughraby contributed reporting from Gaza City.
Postscript Later Same Day
Extract Washington Post, www.haaretz.com
Efforts by Egypt and the United Nations to broker a cease-fire bore fruit by the early hours of Monday (Israel time), as armed factions in Gaza said they had agreed to a truce. Hamas and Islamic Jihad, the two largest militant groups in Gaza, confirmed that a cease-fire was in place. A spokesman for the office of Israeli Prime Minister Benjamin Netanyahu declined to comment on the reports, but the Israeli military said that protective restrictions for civilians in southern Israel were being lifted.
The leaders of Palestinian factions said Monday that they would give Israel a week to carry out its cease-fire commitments. According to the Palestinians, the understandings include Israel taking steps to ease the blockade on Gaza. If Israel fails to do its part within a week, fighting would resume within the next few weeks, they said. Since Monday morning, Hamas and the Islamic Jihad have been trying to project a sense that they had won the latest round of fighting.
Civilians on both sides of the fence said they were weary of the endless cycle of violence. The Hamas-run Ministry for Public Works in Gaza said 130 housing units in the strip were destroyed in the two days of strikes.
US Says Iran Likely Behind Ship Attacks
Wall Street Journal
Summer Said in Dubai, Nancy A. Youssef in Washington and Benoit Faucon in London
Tuesday, May 14, 2019
Rory Jones in Fujairah, United Arab Emirates, and Sune Engel Rasmussen in Beirut contributed to this article.
An initial US assessment indicated Iran likely was behind the attack on two Saudi Arabian oil tankers and two other vessels damaged over the weekend near the Strait of Hormuz, a US official said, a finding that, if confirmed, would further inflame military tensions in the Persian Gulf. The assessment, while not conclusive, was the first suggestion by any nation that Iran was responsible for the attack and comes after a series of US warnings against aggression by Iran or its allies and proxies against military or commercial vessels in the region.
The US official, who declined to be identified, didn't offer details about what led to the assessment or its implications for a possible US response. The US has said in the past week that it was sending an aircraft carrier, an amphibious assault ship, a bomber task force and an antimissile system to the region after it alleged intelligence showed Iran posed a threat to its troops.
"If they do anything, they will suffer greatly. We'll see what happens with Iran," President Trump said while meeting with Hungary's Prime Minister Viktor Orban at the White House earlier on Monday. Iran's office at the United Nations didn't respond to a request for comment.
The Saudi tankers were among at least four oil-industry vessels, including ships from Norway and the United Arab Emirates, attacked on Sunday in the Gulf of Oman off the U.A.E.'s eastern coast as they prepared to cross into the Persian Gulf, Saudi officials said. The attacks caused "significant damage to the structures of the two [Saudi] vessels," Saudi Energy Minister Khalid al-Falih said, calling the incident sabotage.
News of the attacks initially sent oil prices higher and heightened worries about global supplies amid petroleum-production outages because of unrest in Venezuela, a civil war in Libya and sanctions on Iran. Saudi and American US officials have long worried about the Strait of Hormuz becoming a battleground should tensions with Iran break out into open conflict. Washington has placed crippling economic sanctions on Iran and is trying to push its oil exports to zero to force the country to give up regional influence, scale back its military activities and stop threatening Israel.
Neither Saudi Arabia nor the United Arab Emirates have publicly blamed Iran for the attacks. Iran's foreign ministry spokesman, Abbas Mousavi, described Sunday's incident as dreadful and called for an investigation, Iran's semiofficial ISNA news agency reported. A third of the world's liquefied natural gas and almost 20% of total global oil production flows through the Strait of Hormuz for export from Persian Gulf countries. Cutting off oil shipped through the strait would cause shortages and soaring prices. Underscoring the risk, Mr Falih said one of the ships was headed to the Saudi port of Ras Tanura on the Persian Gulf to load oil bound for the US.
Earlier, an American official and a senior Saudi official said Washington and its allies don't know who was behind the attacks and doubted Iran's involvement because of the risk of escalation with the US At the U.A.E.'s request, the US military sent a team on Monday to inspect the ships to determine who was behind the sabotage, an American defense official said. Some Iranian officials have threatened to close the Strait of Hormuz in response to the sanctions, but there has been no follow-through. "It would be very clumsy from the Iranians," the US official said.
Exactly what happened to the tankers was difficult to ascertain, as Saudi and U.A.E. officials released few details. Mr Falih said the attacks caused no oil spills. One ship, a Saudi-flagged tanker called Al-Marzoqah, suffered an explosion after its main engine caught on fire, said officials involved with the vessel who added that the fire's cause remained unknown on Monday. The Marzoqah gave its destination as the Gulf of Oman port of Fujairah in the U.A.E., laden with oil picked up at the Saudi Red Sea port of Yanbu, according to TankerTrackers.com.
The other Saudi ship, the Amjad, is a tanker known as a Very Large Crude Container that can carry as much as 2.2 million barrels of crude. The other attacked ships were Norwegian tanker the Andrea Victory and the A. Michel, a U.A.E. fuel tanker. Fujairah's port was operating normally late Monday, and none of the damaged vessels had entered the harbor, according to workers and security at the site.
From videos shot by local camera crews, only the Andrea Victory had visible damage, with a small hole in the rear of the hull, but didn't appear in danger of sinking. The A. Michel and the Al Marzoqah were leaning into the water, but it wasn't clear how they were damaged, according to port staff and photos viewed by The Wall Street Journal. Fujairah's walled-off port runs along the coast for about 3 miles and is dotted with dozens of crude-oil storage tanks watched by security cameras.
Saudi oil tankers have in the past been vulnerable to attacks from regional foes. Saudi Arabia's state shipping company, Bahri, says it operates more than 90 vessels, including more than 40 VLCCs. Twice last year, Houthi rebels attacked Saudi tankers off the Red Sea coast of Yemen. After the second attack, in July, Saudi Arabia halted oil exports through the Bab al-Mandeb Strait, a key waterway for oil shipments.
In the absence of anyone claiming Sunday's attacks, the incident fed into suspicions simmering in the region. Iran last week said it would stop complying with some aspects of the nuclear deal it signed in 2015, and from which President Trump withdrew the US last year, and gave Europe two months to help it thwart American sanctions or risk Tehran restarting parts of its atomic program.
Secretary of State Mike Pompeo, en route to Russia, made an unscheduled stop in Brussels to discuss Iran with European leaders. Brian Hook, the State Department's special representative for Iran, told reporters Mr Pompeo had raised the matter of the attacks on the tankers, but wouldn't comment on whether Mr Pompeo holds Iran or its allies in the region responsible. "The developments warrant sharing more information, and this was a very good and convenient opportunity to stop and do a signals check with his European allies, and also to meet with NATO and the EU for similar discussions," he said of Mr Pompeo. Ahead of Mr Pompeo's arrival, UK Foreign Secretary Jeremy Hunt said he would share with his US counterpart his concerns "about the risk of a conflict happening by accident" between the US and Iran.
Golan settlers, all 10 of them, now call 'Trump' home
The Australian
AP
Tuesday, June 18, 2019
RAMAT TRUMP: The Trump name graces apartment towers, hotels and golf courses. Now it is the namesake of a tiny Israeli settlement in the Israel-controlled Golan Heights. Israeli Prime Minister Benjamin Netanyahu's cabinet convened in this hamlet on Sunday to inaugurate a new settlement named after Donald Trump in a gesture of appreciation for the US leader's recognition of Israeli sovereignty over the territory.
The settlement isn't exactly new. Currently known as Bruchim, it is more than 30 years old and has a population of 10. Israel is hoping the rebranded "Ramat Trump", Hebrew for "Trump Heights", will encourage a wave of residents to vastly expand it. "It's absolutely beautiful," said US ambassador David Friedman. Noting Mr Trump celebrated his 73rd birthday on Friday, he said: "I can't think of a more appropriate and a more beautiful present."
Israel captured the Golan Heights from Syria in the 1967 war and annexed it in 1981. Most of the international community considers the move illegal under international law. But during a visit to Washington by Mr Netanyahu in March, just weeks before Israeli elections, Mr Trump signed an executive order recognising the strategic mountainous plateau as Israeli territory. The decision, the latest in a series of diplomatic moves benefiting Israel, was widely applauded in Israel. "Few things are more important to the security of the state of Israel than permanent sovereignty over the Golan Heights," Mr Friedman said. "It is simply obvious, it is indisputable and beyond reasonable debate."
Mr Netanyahu and Mr Friedman unveiled a sign trimmed in gold with the name "Trump Heights" and adorned with US and Israeli flags. Mr Trump re­tweeted photos Mr Friedman posted of the event and thanked Mr Netanyahu "and the State of Israel for this great honour!" Addressing the ceremony, Mr Netanyahu called Mr Trump a "great friend" of Israel and described the Golan, which overlooks northern Israel, as an important strategic asset. "The Golan Heights was and will always be an inseparable part of our country and homeland," he said.
Developing Ramat Trump will not be easy. Ringed by high yellow grass and landmines, it is 20km from the Syrian border and a half-hour drive from the nearest Israeli town, Kiryat Shmona, a community of about 20,000 people near the Lebanese border. According to Israeli figures, almost 50,000 people live in the Golan, including about 22,000 Jewish Israelis and nearly 25,000 Arab Druze residents.
While Israel has encouraged and promoted settlement in the Golan, its remote location, several hours from Tel Aviv, has been an obstacle. The area is home to small agriculture and tourism sectors but otherwise has little industry. The eight-year Syrian civil war, which at times has resulted in spillover fire into the Golan, also could present an obstacle to luring new residents. Rosa Zhernakov, a resident of Bruchim since 1991, said the community was excited by Sunday's decision.
US to unveil 'economy first' approach to Mideast peace at Bahrain conference
Reuters
Matt Spetalnick, Stephen Farrell
Tuesday, June 25, 2019
Manama/Jerusalem (Reuters): The first stage of President Donald Trump's Middle East peace plan will be launched in Bahrain on Tuesday at a conference the White House touts as a bid to drum up $50 billion in investment but which Palestinians deride as an "economy first" approach doomed to fail.
The two-day international meeting, led by Trump's son-in-law, Jared Kushner, has been billed as the first part of Washington's long-delayed broader political blueprint to resolve the Israeli-Palestinian conflict, to be unveiled at a later date. But neither the Israeli nor Palestinian governments will attend the curtain-raising event in the Bahraini capital, Manama.
There will be close scrutiny as to whether attendees such as Saudi Arabia and other wealthy Gulf Arab states show any interest in making actual donations to a US plan that has already elicited bitter criticism from Palestinians and many others in the Arab world. Bahrain, a close American ally and home to the US Navy's Fifth Fleet, has been making preparations for weeks.
Although the event is supposed to focus on economics, Gulf Arab states hope it will also be used to show their solidarity with the Trump administration over its hard line against Iran, a senior Gulf diplomat said on condition of anonymity.
Under the plan, donor nations and investors would contribute about $50 billion to the region, with $28 billion going to the Palestinian territories – the Israeli-occupied West Bank and the Gaza Strip – as well as $7½ billion to Jordan, $9 billion to Egypt and $6 billion for Lebanon. Among 179 proposed infrastructure and business projects is a $5 billion transport corridor to connect the West Bank and Gaza.
"I laugh when they attack this as the 'deal of the century,'" Kushner told Reuters, referring to the lofty nickname that Trump's peace plan has assumed over the past two years. "This is going to be the 'opportunity of the century' if they have the courage to pursue it."
Kushner, a senior Trump adviser who like his father-in-law comes from the world of New York real estate, is presenting his plan in a pair of pamphlets filled with graphs and statistics that resemble an investment prospectus — in fact, he has repeatedly called it a "business plan."
PEACE TO PROSPERITY
Expectations for success are low. The Trump team concedes that the economic plan – billed "Peace to Prosperity" – will be implemented only if a political solution to one of the world's most intractable conflicts is reached. Any such solution would have to settle long-standing issues such as the status of Jerusalem, mutually agreed borders, satisfying Israel's security concerns and Palestinian demands for statehood, and the fate of Israel's settlements and military presence in territory that Palestinians want to build that state.
In an interview with Al Jazeera set to air on Tuesday, Kushner offered a rare glimpse into the possible political contours of the plan, saying a deal would not adhere to the Arab Peace Initiative, a Saudi-led plan that has been the Arab consensus on the necessary elements for a Palestinian deal since 2002. "I think we all have to recognize that if there ever is a deal, it's not going to be along the lines of the Arab Peace Initiative. It will be somewhere between the Arab Peace Initiative and between the Israeli position," Kushner told Al Jazeera.
The Arab Peace Initiative calls for a Palestinian state drawn along borders that predate Israel's capture of territory in a 1967 war as well as a capital in east Jerusalem and the right of return for refugees, points rejected by Israel.
Hanging over the entire initiative are persistent questions about whether the Trump team plans to abandon the "two-state solution," which involves creation of an independent Palestinian state living side by side with Israel.The United Nations and most nations back the two-state solution and it has underpinned every peace plan for decades. But the Trump team – led by Kushner, Trump's Middle East envoy, Jason Greenblatt, and US Ambassador to Israel David Friedman – has consistently refused to commit to it, keeping the political stage of the plan a tightly guarded secret.
Israeli Prime Minister Benjamin Netanyahu, a close Trump ally, has his own domestic problems, facing an election, and possible corruption charges after a long-running police investigation. He denies any wrongdoing.
"We'll hear the American proposition, hear it fairly and with openness," Netanyahu said on Sunday. Although no Israeli government ministers will attend, an Israeli business delegation is expected.
Palestinian leaders have boycotted the workshop, and are refusing to engage with the White House – accusing it of pro-Israel bias after a series of recent Trump decisions. Kushner told Reuters that "some" Palestinian businessmen would be present, but declined to name them.
Palestinian President Mahmoud Abbas, whose Palestinian Authority exercises limited self-rule in the Israeli-occupied West Bank, was scathing about its prospects of success. "Money is important. The economy is important. But politics are more important. The political solution is more important," he said.
Hamas, the Islamist militant group that controls Gaza, has found itself in rare agreement with its arch-rival Abbas. "The Palestinian people only and no one else can represent the Palestinian cause," Hamas official Mushir al-Masri said. He said the Trump approach "seeks to turn our political cause into a humanitarian cause, and to merge the occupation into the region."
Kushner said that even without the Israeli and Palestinian governments represented, the presence of Israeli business officials and journalists with their counterparts from the Arab world would be significant at a time of rising tensions with Iran. "People realize that the real threat to that region is Iran and their aggression, and Israel and a lot of the other Arab states have a lot more in common today than they did before," he said.
David Makovsky, a Washington-based Middle East expert, agreed that although the principal focus of the event was the Israeli-Palestinian conflict, "Iran is higher on the chain of interest right now." But Makovsky, whom the White House has invited as an observer, said the Trump/Kushner plan would ultimately succeed or fail on how it addressed the big underlying issues, not the money. "No one believes you can solve this thing economically without addressing the political issues."
Reporting by Matt Spetalnick and Stephen Farrell, Additional reporting by Nidal al-Mughrabi in Gaza and Rami Ayyub in Ramallah, Writing by Stephen Farrell, Editing by Peter Cooney
Follow up next day
Wall Street Journal
Some people have mockingly called this effort the 'deal of the century'–but at its core, this is not about just making a deal," Mr Kushner said. "This effort is better referred to as the 'opportunity of the century,'…if the leadership has the courage to pursue it."
Mr Kushner also sought to address a key criticism of his effort: that it makes little sense to roll out an economic program for the Palestinians ahead of a more contentious plan for a political settlement over borders, security and refugees that has been delayed until November. Mr Kushner said Palestinian economic growth can't come without "an enduring and fair political solution to the conflict," but that "today is not about the political issues. We will get to those at the right time."
The "Peace to Prosperity" conference, co-hosted by the US government and Bahrain, a key US ally in the Gulf, marked the first major public event centered on a discussion of a peace effort that until now has largely been conducted in secret. Last week, Mr Kushner's team revealed a $50 billion economic program for the Palestinians, including grants, loans and private capital.
Mr Kushner followed his prepared remarks with a slideshow, drawing from slides the administration had posted online over the weekend. He paced around the stage, with attendees surrounding him in a circle as he explained slides breaking down the potential investments. Borrowing from a tactic President Trump deployed in his meeting last year with North Korean leader Kim Jong Un, Mr Kushner then showed promotional videos meant to illustrate what Gaza, the West Bank and the region could look like.
Attending the conference were more than a dozen Palestinian businessmen, many with ties to Ashraf Jabari, a key figure in a joint Israeli-Palestinian chamber of commerce in the West Bank. The major business associations based in Ramallah boycotted the event and Palestinian government officials encouraged people not to go. Mr Kushner said the Trump team heard from Palestinian businessmen who wanted to go but felt doing so would harm their businesses in light of the Palestinian Authority's opposition to the conference.
Israelis and Palestinian businessmen were a relatively small fraction of the 300-plus attendees, including American, European and Middle Eastern officials and businessmen. "It would have been amazing to have everybody in one room. But every one of us, we are really Palestinian at heart," Mohamed Alabbar, an Emirati billionaire, said during a panel discussion following Mr Kushner's presentation. "The Palestinian issue is our issue."
About 300 people turned up for the two-day conference. Some Arab and European countries, including Morocco, Egypt and the UK, sent lower-level delegations from their finance ministries. Saudi Arabia, Qatar and the United Arab Emirates sent their finance ministers. Some attendees said two days wasn't enough time to review the US proposals and respond to them.
The crowd mingling in the Four Seasons included men in traditional Gulf Arab dress as well as Israeli and American participants wearing kippahs, the Jewish skullcap. US Treasury Secretary Steve Mnuchin and Trump administration officials Jason Greenblatt and Brian Hook – key figures in its Middle East policy – were in attendance along with several investors and business consultants with connections to the Trump administration.
Some attendees were relatively upbeat. An Arab official said the conference offered a chance to focus on the economy and examine the Trump administration's proposal, while adding "politics are always there."
A Western diplomat attending said while the Trump team wasn't wrong to point out inefficiencies generated by years of aid to the Palestinians, the international community remains concerned about the current situation on the ground in the West Bank and Gaza. Many believe conditions there have been exacerbated by Trump administration moves to slash funds to the Palestinians and the United Nations' Palestinian refugee agency. "Stability on the ground is a precondition to implement what is in this plan, even if you have a peace agreement," the diplomat said.
** End of article