1
2
3
4
5
6
7
8
9
10
11
12
MainBody
SWCS - scripture resources, historic timelines, and media
Click here for the latest news on the 2019 Federal Election
Intro. Spirit Soul and Body
Click here re the "God Revolution" in Australia by Tony McLennan of the Australia for Jesus Network.

Click here re Psychological Types and Temperaments - Our Souls.
Click here for a primer on life - Our Bodies.
Click here for What about the billions who have never heard about Jesus
1. Etymology
Click here for Etymologies of various phrases, the origin of the words in Hebrew (OT) and Greek (NT) and the way the meanings have changed through time
based on 2008 years of The Father — Adam to Abraham, 2008 years of The Son — Isaac to Jesus, 2008 years of The Holy Spirit — Establishing the Kingdom, then a statement of "peace" on Rosh Hashanah in Sep 2006 (click here to see this timeline).

2. Cycle of History
Click here for the timeline of the history of the world's calendar and click here for today's time zones.
Click here for the east-west timeline during the implementation of this Christ-centred calendar, after 532 BC.
Click here for the emperors and kings from Charlemagne to Kaiser Wilhelm II, plus the build up in Russia and Germany to World War 2.
Click here for languages and empires worldwide in 1800.
Click here for the timelines of the UN, IMF, NATO, G7 and the EU's 28 countries.
Click here for a snapshot of monarchies in 2019. Click here for republics (listed in date order & sortable by country).
Click here for a map of countries today, an offline Google mapped image to Europe Africa and Asia showing all major and many minor countries, plus an underlying link for "drill down" purposes.
Click here for World Leaders, with links to World Currencies, Languages and Life expectancies in 2019.
3. Trade and the Gold Standard
4. Computers
5. Bible
Click here for the timeline of the translations of our Bible.

Click here for an estimate of the total words in the original text.
6. Adam
Click here for the timeline of Adam, 6,027 years (in 2010 AD) from when God's logia in Adam first raises its head
Reconciling the Hebrew calendar with the Christian calendar
Eden→Eden with David the Shepherd King born the 3014th yr in the middle
noting that our earliest cuneiform writings go back to ca. the 34th century BC.
7. Jubilees and Jerusalem
Click here for Israel's Jubilees,

noting June 7 1967 occurred in the year of the 70th Jubilee.

Click here for estimated sketches of the Tabernacle, and the layout of the Temple in the days of Solomon, Zerubbabel, and Jesus.
Click here for the Old City of Jerusalem with its Walls and Gates built in 1538, plus earlier sketches from King David, Nehemiah, Jesus.
Click here for Jerusalem's timeline history.
8. Jesus
Click here for a timeline of Jesus, 2BC to 31AD.

9. Paul
Click here for a timeline of Paul's Journeying 33AD - 64AD.

10. Language
Click here for audible pronunciations of the name of Jesus in Aramaic, Italian, French, Spanish and Portuguese as well as suggestions regarding the ancient Latin and Greek

11. World
About 4,200 years ago, about 100 years after the Flood, the scriptures say that peoples — perhaps 200 - 300 or so families at that time — scattered all over the earth and during the next 200 years the earth "fractured" becoming continents and islands. By 1000 BC, based on anthropological and archaeological evidence, the population had become about 50 million.
Click here for the history of census taking according to brittanica.com
Click here for the Nations descended from Noah

as documented by the Jewish historian Josephus around 100 AD when the population had grown to about 200 million.

Click here to see today's population, the world now numbering 7½ billion descendants — showing the "declared" Muslim / Christian allegiance(s). Also showing a weighted average life span (Life Expectancy at birth) of 70 years — 69.82 to be exact— over all the world.
12. Love
Click here for another picture in space and time:

God's Plan of Love — Building His Body / Family.



Click here for our "Bios":

our human biology and its pressure factors, the story of Jacob, and his wrestling with the angel, "the man", a story that along with that of his son Joseph takes up half the book of Genesis.
Main Body
First Words regarding Australia in 1606
Click here for Christianity in Australia (pre 1945)

Who owns Australia, anciently referred to as terra australis incognita (Latin) - "unknown land of the south"? The words came just over 400 years ago: La Austrialia del Espiritu Santo - Australia of the Holy Spirit (click to hear the song), without the preceding "Terra" that had previously been used. These Spanish words were spoken by a spiritually minded Portuguese navigator with an Austrian king as his Spanish monarch on Pentecost Sunday, May 14th 1606 — were then adjusted and published in English (and Spanish) in 1625 as Australia del Espiritu Santo by Purchas, vol.iv, p.1432 — then changed again in Lieutenant James Cook's journal to Astralia del Espiritu Santo in 1770.
But Cook was noting that, even as Quirós proclaimed this to be the new name for the land he had been seeking — Terra Australis — south to the Pole, he had actually been on a small island group (Vanuatu) well to the east. Click here to see a copy of his map. And Quirós's second in command Torres had sailed on and come through Torres Strait, possibly sighting the hills of Cape York, but if so, taking no further notice.
Yes, mistakes occurred as so often happens when we "can't see the big picture". Still, later English writers declared their ongoing preference for Quirós's word though minus that first "i"

. So, while English explorer James Cook now named the east coast New South Wales using an incomplete map of New Holland — yes it had been named this by Dutch explorer Tasman in 1644 — both Matthew Flinders' chart of "parts explored 1798 — 1803" and Governor Macquarie's despatch on 21 December 1817 strongly recommended that the whole country reclaim the name Australia. Official recognition by the British Admiralty came in 1824.
Click here for more background on the naming of Australia.
Freedom and youth in 2006
Now click here to read about a get-together with vibrant imagery — tree-planting and "bread-breaking", between our recent Australian leader (John Howard)'s family, and American leader (George Bush)'s family on Sunday, May 14th 2006, a special day.
Firstly, it was the 400th anniversary of Quirós's proclamation

Secondly, it was the 200th anniversary of the successful English petition in 1806, when 2000 signatures laid before the House of Lords saw the abolition of the slave trade throughout the British Empire inside the year. It came at the time of London's rapid rise as a ruling "world city", the English navy ruling the seas, the English pound starting to rule the world's money markets, click here re the history of money, and along with new communications systems and a free press, the English language starting to rule the world's languages (e.g. Nigeria in Africa, India and Australia in Asia, U.S.A. in America), bypassing French as first or second language of countries everywhere.
Click here for interesting pictures in the origin of that word "English".

Thirdly, as second Sunday in May, it was worldwide Mother's Day.
Let us examine those scriptures on "Mother".
But Jerusalem above is free which is the mother of us all. Galatians 4:26
Yes, Jerusalem above is the heavenly mother, a kingdom that shines forth in wisdom — clarity. CS Lewis speaks of her as the enduring invisible church "terrible as an army with banners".
Further pictures on mother and child with John's vision in Revelation 12, see also Revelation 21, Genesis 4:25-26, Song of Solomon 8:5-7, Proverbs 8, and Proverbs 31.
Yes, free, along with her children.
And from the depths of a Tasmanian gold-mine to the snowy heights of Mt Everest, May that year certainly majored in Aussies being rescued. Click here for that last one. In June, the joy (and agony) of participating in world cup soccer. Click here for a short email sent via Col Stringer. In September, the worldwide sadness, as major news websites went into meltdown, at Steve Irwin's sudden death. Click here for one writer's review.
Whether we live or die, win or lose, there is enormous appeal in the freedom, the enthusiasm in someone like Steve's young, childlike (though a cynic would say childish) Aussie playfulness. To quote Bono: "things that really communicate universally are humour (surprised by joy), grace & strength of character" - three things often seen in little children. ok, not always at the same time

Truly, unless you about face, become as children, you shall not go in. Matthew 18:3
The word for child is "paidion", linked to "paideuo" meaning one who is trained up: chastened, and corrected.
See too Luke 7:35-50 regarding Wisdom and her children.
Enslavement and age in Palestine — Jerusalem below. Galatians 4:25, Isaiah 50:1
Sadly the contrasted worldview of shame (pale, confused & distracted), blame and guilt can intimidate and bind us all so easily. On August 14th 2006 (3 months following that Mother's day) a UN brokered truce was announced for Hezbollah and Israel — provisionally reckoned "a messy draw" by Greg Sheridan, foreign editor at "The Australian". Seen by many as a proxy war, the latest episode in a 2300 year conflict involving the South (Egypt), North (Syria/Iran) and Jews in the middle - click here. Then, under provocation on February 14th 2007 (6 months later), John Howard declared in Parliament why he was so adamant about keeping 1400 Australian personnel in Iraq to support US troops. "A defeat in Iraq for the US would be more than bad for the war against terrorism; it would be catastrophic," Mr Howard said. "It would lead to not only a bloodbath in Iraq but the destabilisation of Saudi Arabia and Jordan and the end of any real hope of getting a Palestinian peace settlement. It would also embolden the terrorist cause in our part of the world."
Latest news on Israel and the Middle East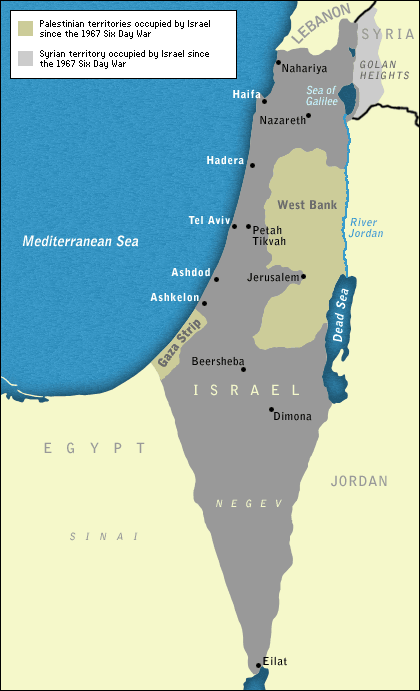 Click this map of Israel, another young yet ancient nation, prophetically entrusted with the oracles, the sayings of God Romans 3:2, for "Deep inside the plucky country" by Greg Sheridan in The Australian.
Plucky, but hemmed in.
Click Here for the latest News on Israel and Palestine — at June 25th 2019.
Click Here for the latest News on Iran — at June 18th 2019.
Click here to see the population growth in this land that now encompasses Israel, West Bank and the Gaza Strip. In 1920 it showed just 737 thousand but in 2017 there were 8 million in Israel, 3 million in the West Bank and 2 million in the Gaza Strip. Further east in Jordan 675 thousand to 7 million, Iraq 3 million to 37 million, Persia (Iran) 11 million to 81 million. Yes phenomenal growth, due in part to the abolition of slavery, the discovery of oil, and of course a massive decline in infant mortality rates click here — in Israel from 39 deaths per thousand in 1950 to 3 per thousand in 2019, in Palestinian territories from 140 to 21, in Jordan from 147 to 17, in Iraq from 225 to 32, in Iran from 220 to 15.
Click the appropriate country to see similar population growth in the north, in Lebanon 845 thousand to 6 million and Syria 2 million to 18 million, in the south, in Egypt 13 million to 93 million and Saudi Arabia 2 million to 32 million.
Current faith demographics on Israel's population of about 8 million show 75% to be Jewish, 2% Arab Christian, 1½% Druze, 18% Muslim and 3-4% nominally "other or none". In the 2011 census, non-Arab Christians estimated to number 25,000 (including "Messianic Jews"), were counted as "Jews and others". An important point, interfaith marriages are not permitted, when marrying in Israel, both parties must always be of the "same faith". Disputed East Jerusalem currently holds about 300,000 Palestinian Arabs and 200,000 + Israeli Jewish settlers. Then outside of Israel proper, about 2 million live in the Gaza Strip (99% Muslim), and about 3 million live in the West Bank (about 82% Muslim, 2% Christian, 15% Jewish settlers).
Click here for Wikipedia's latest historic perspective on the State of Palestine, a non-member observer state within the United Nations since November 2012, recognized as a "proper, separate nation" by some, and "definitely not" by others.
Click here for Rulers of Syria (in the north) 1920-2019, and a map of who controls what in its civil war.
Click here for an article on the Turkish President, following his friendly overtures to Russia, Saudi Arabia, and most recently, Iran, with US President Trump saying the US shouldn't criticize the purges, and seeing him as a partner in beating ISIS.
Prophecy
No prophecy (of scripture) ever came under human initiative, no, holy men received inspired utterance under the Holy Spirit. 2 Peter 1:21
"Iran has already threatened to bomb Israel's cities with its long-range missiles" - The Australian, Dec 15, 2009.
Click here for a built-in prophecy regarding the above statement in Isaiah 22. It shows Jerusalem fleeing together for mutual support as death occurs, not from close combat but from archers (or rockets). The warring nation is Elam - Iran (click here for a map) with Kir in Jordan uncovering the shield, and Babylon fallen, along with her false gods Isaiah 21:9. It shows Jerusalem tearing down houses to fortify the wall, rejoicing in her armour, but not looking to her maker, ignoring his call to repentance: "Let us eat and drink for tomorrow we die" Isaiah 22:13. Typified in a minister, Shebna meaning "growth" but seen as one digging a spectacular grave.
Click here for the Israeli Democracy Index survey from May 2017, 88% of Jews in Israel placing their highest trust in Israel's Defence Forces.
With such self-centred nihilism, the Lord declares this perversity would only be purged by death, as Shebna's powerful battle tanks become the disgrace of his master's house. And God calls Eliakim literally "God of resurrection" with words echoed in that promise to the church in Philadelphia of "laying the key of the house of David upon his shoulder, so he will open and none will shut, and he will shut and none will open" Isaiah 22:22.
The next chapter in Isaiah specifies how Tyre → Carthage collapses, see Isaiah 23 and Ezekiel 27, nor does the land of Egypt escape.
Tyre — Businesses and Politics
According to Jewish records, Tyre settled Carthage about 800BC and it became a mighty trading city. Carthage, spelt originally as Qart-Hadasht, means literally the "New City", the "New Meeting place", and is sometimes called the "Woman-City". Its Phoenician alphabet, derived from the Hebrew, spread throughout Europe for trading purposes, providing contracts for buying, for selling, for law: before and after an event. And thus with Jewish missionaries, tutors, and schools teaching basics of phonetics to the children of business people and political masters, adapting it to their local language, if God's people, also teaching about God to humble hearts. Good things. Followed by the Christian missionaries, doing the same, and teaching about Christ. Now in the past 100 years the script has become universal, via the League of Nations, the United Nations, in business and entertainment, in computers and smartphones, this "Roman", this Latin, now this English script.
See this article in relation to Tunisia, the modern day name for the place of ancient Carthage, the dawn of the so-called "Arab Spring" in 2011. And we see in Daniel, "He (i.e. the appointed enemy) shall have power over the treasures of gold and of silver, and over all the precious things of Egypt, and the Libyans and the Ethiopians shall be at his steps" Daniel 11:42-43